Abenaki Indian Gift Shop and Encampment Site
Introduction
From the parking area you can see the historic Abenaki Indian gift shop across the railroad tracks. Towards the right/south is an information kiosk and map showing the area's features. The site was established in 1884. In addition to the gift shop building are the remains of five cabins, one wigwam, a flag pole standard, a totem pole standard, and a monument to Joseph Laurent.
Images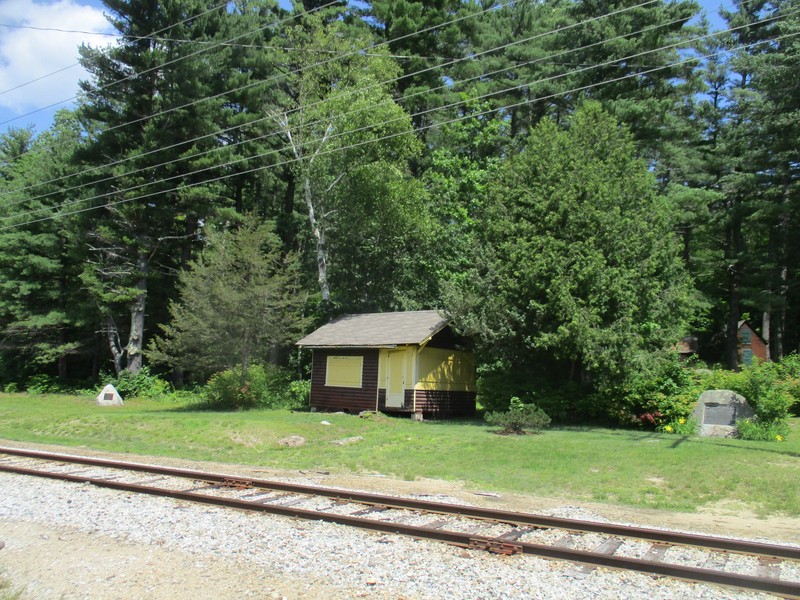 Train still comes by regularly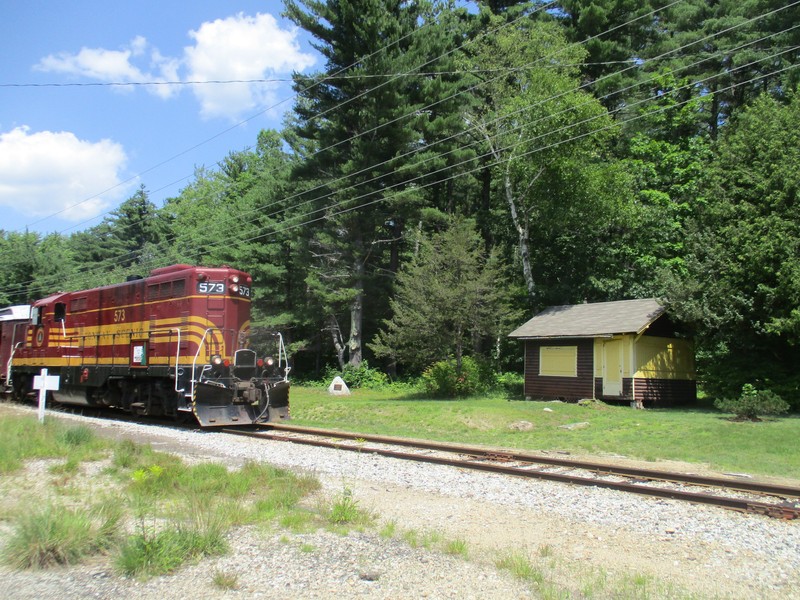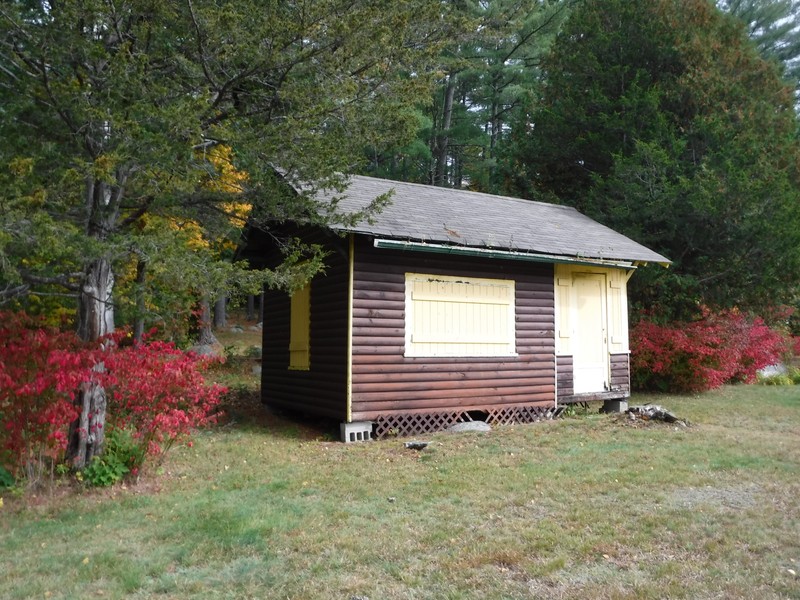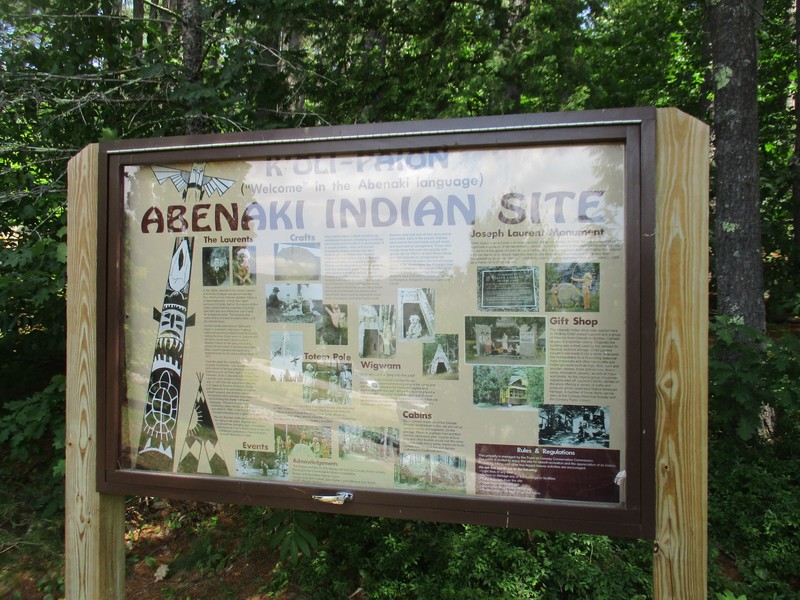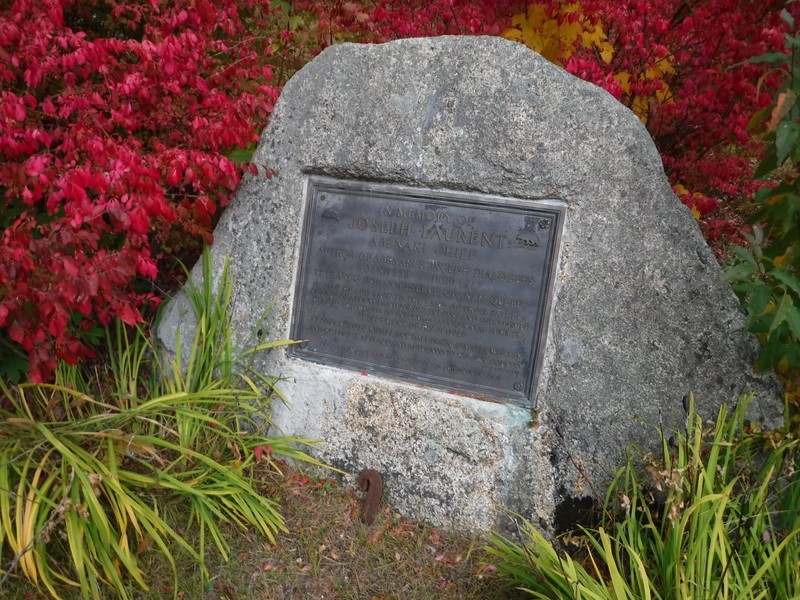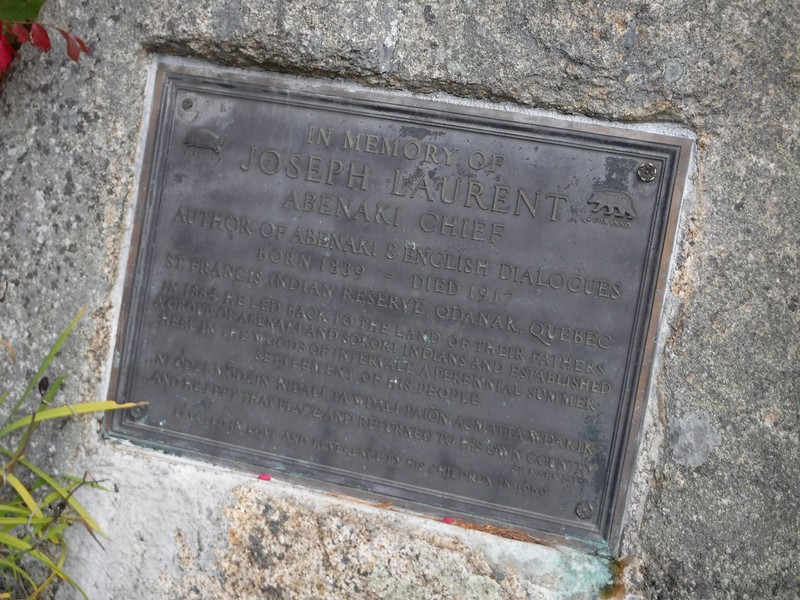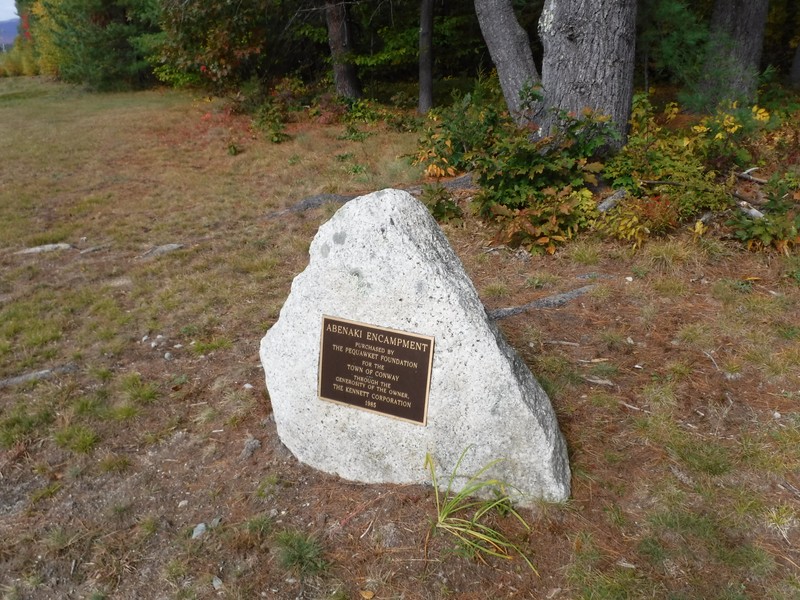 Detail of acknowledgement plaque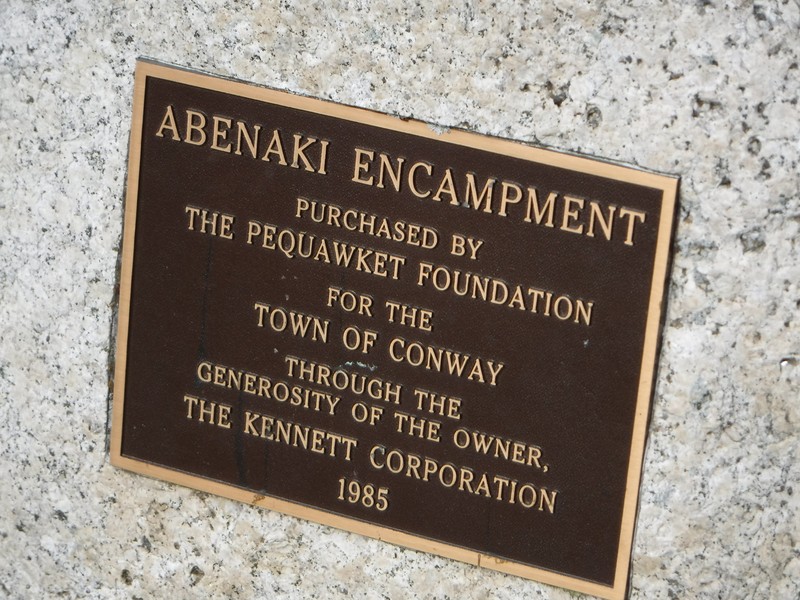 Intervale Abenaki Broadside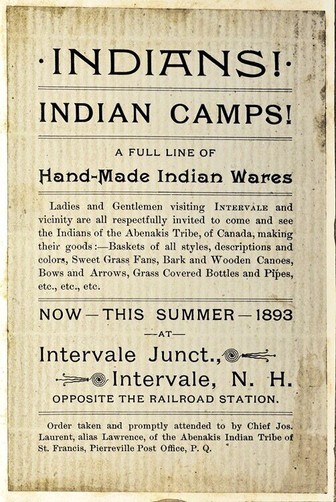 Backstory and Context
Archives and artifacts from this site can be found in the collections of the Conway Historical Society and the Conway Public Library's Henney History Room. You can also contact these organizations for a free outreach program on this topic for your school or community group.
In the 1880s, Abenaki Chief Joseph Laurent (1839-1917) began yearly trips to New Hampshire. At first, he spent summers in Center Harbor. During one of his visits, he met William M. Wyman, the proprietor of the Elmwood Inn. They struck up a business partnership. Wyman offered land for a permanent seasonal camp here in the Intervale area of Conway. This piece of land was scenic and conveniently located to nearby hotels and the railroad depot. 
In 1884 Joseph Laurent constructed several cabins and began a successful enterprise of selling crafts and providing entertainment to tourists visiting the area. Every summer, Laurent and his family would lead a small band of Abenaki Indians to the camp where they would sell their wares to tourists and locals alike. Laurent operated the camp on a seasonal basis for 33 years until his death in 1917. 
The gift shop was originally owned and used by the railroad as a shed for a handcar and tools, it was purchased by Chief Joseph Laurent from a woman who had bought it from the railroad around 1900.
The cabins you see here today were built or moved to the site starting in 1884 and have been remodeled over the years. They were used for a variety of purposes including cooking, storage and sleeping. 
Joseph Laurent was also an important scholar. In 1991 this site was entered into the U.S. National Register of Historic places "because of its association with Chief Joseph Laurent, one of three internationally-recognized native scholars responsible for documenting the Western Abenaki language." His work on grammar, vocabulary, place names, and dialogues was published in 1884, under the title New Familiar Abenakis and English Dialogue.
Sources
Johnson, Christopher. This Grand and Magnificent Place: The Wilderness Heritage of the White Mountains. pp. 140-143. Durham, NH: University of New Hampshire Press, 2006.
Leveillee, Alan. "Intervale Abenaki Camp" pp. 35-39, in Beyond the Notches: Stories of Place in New Hampshire's North Country. Littleton, NH: Bondcliff Books, 2011.
Image Sources
Cottrell photo

Cottrell photo

Cottrell photo

Cottrell photo

Cottrell photo

Cottrell photo

Cottrell photo

Cottrell photo

Wikipedia

Additional Information