Edith "Edie" Windsor
Introduction
Edith Windsor was an influential woman not only in Pennsylvania history but United States history. Edith Windsor grew up in Philadelphia, Pennsylvania where she suffered from anti-Semitism for a brief period. After high school, Edith attended Temple University in Philadelphia, New York University and then Harvard University. Edith paved a path for women in STEM, through her high status and career amongst software development, coding, and mathematics. Edith is most known through her relationship and marriage with Thea Spyer, which brought amongst the case of the United States vs Windsor in 2013 that set out a nationwide movement for same sex marriage equality. For the duration of Edith Windsor's life, she always strived for equality and representation by participating in Pride marches, investing in the education of LGBTQ groups, and volunteering with LGBTQ groups.
Images
A participant during a Pride march holding a sign thanking Edith Windsor, a hero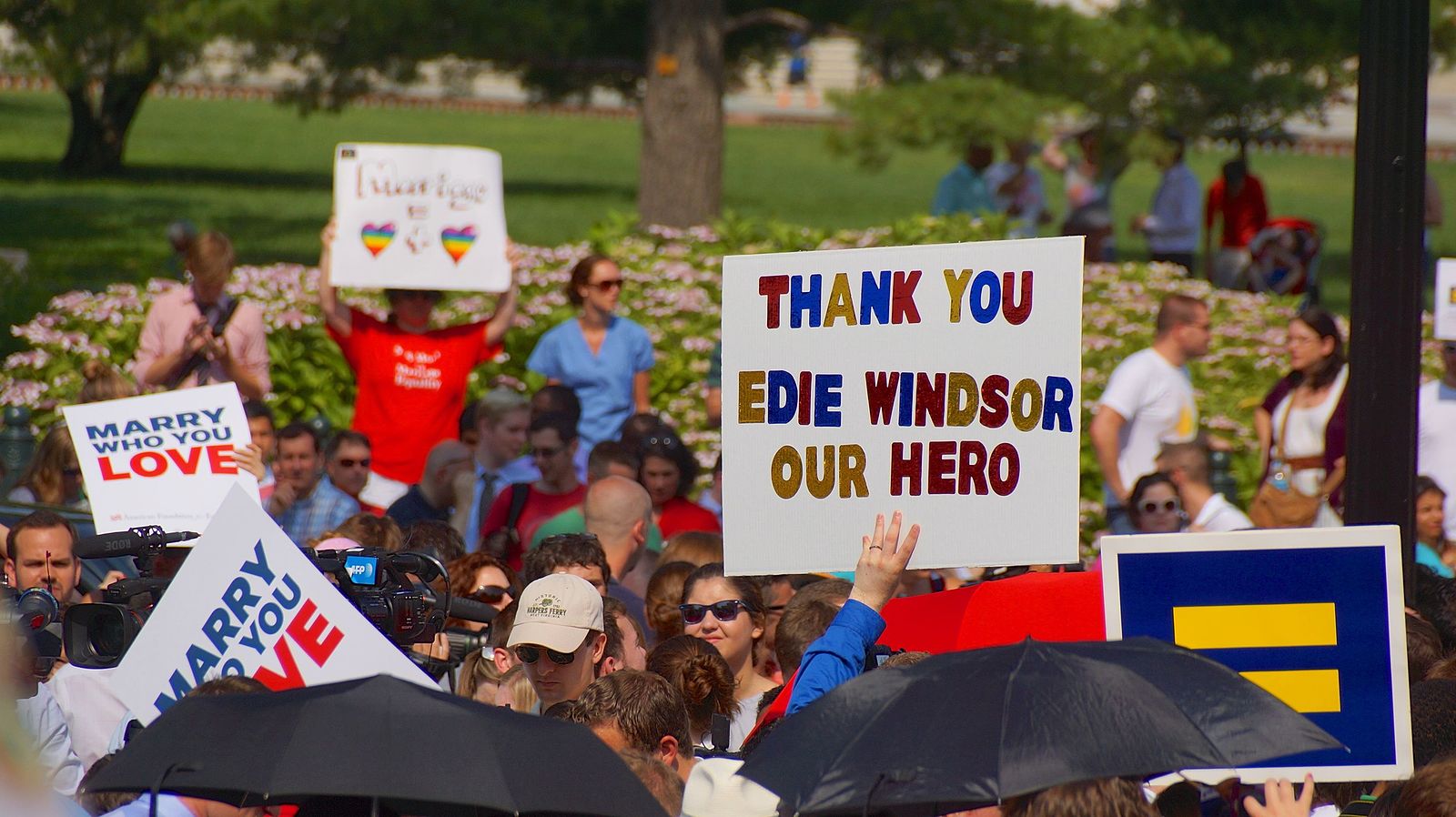 Edith Windsor celebrating at DC Pride in 2017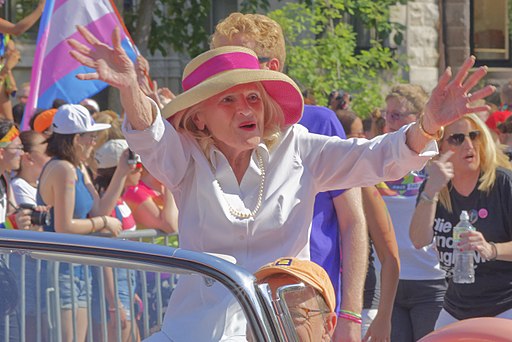 Edith Windsor with friend, Secretary Jewell, in 2016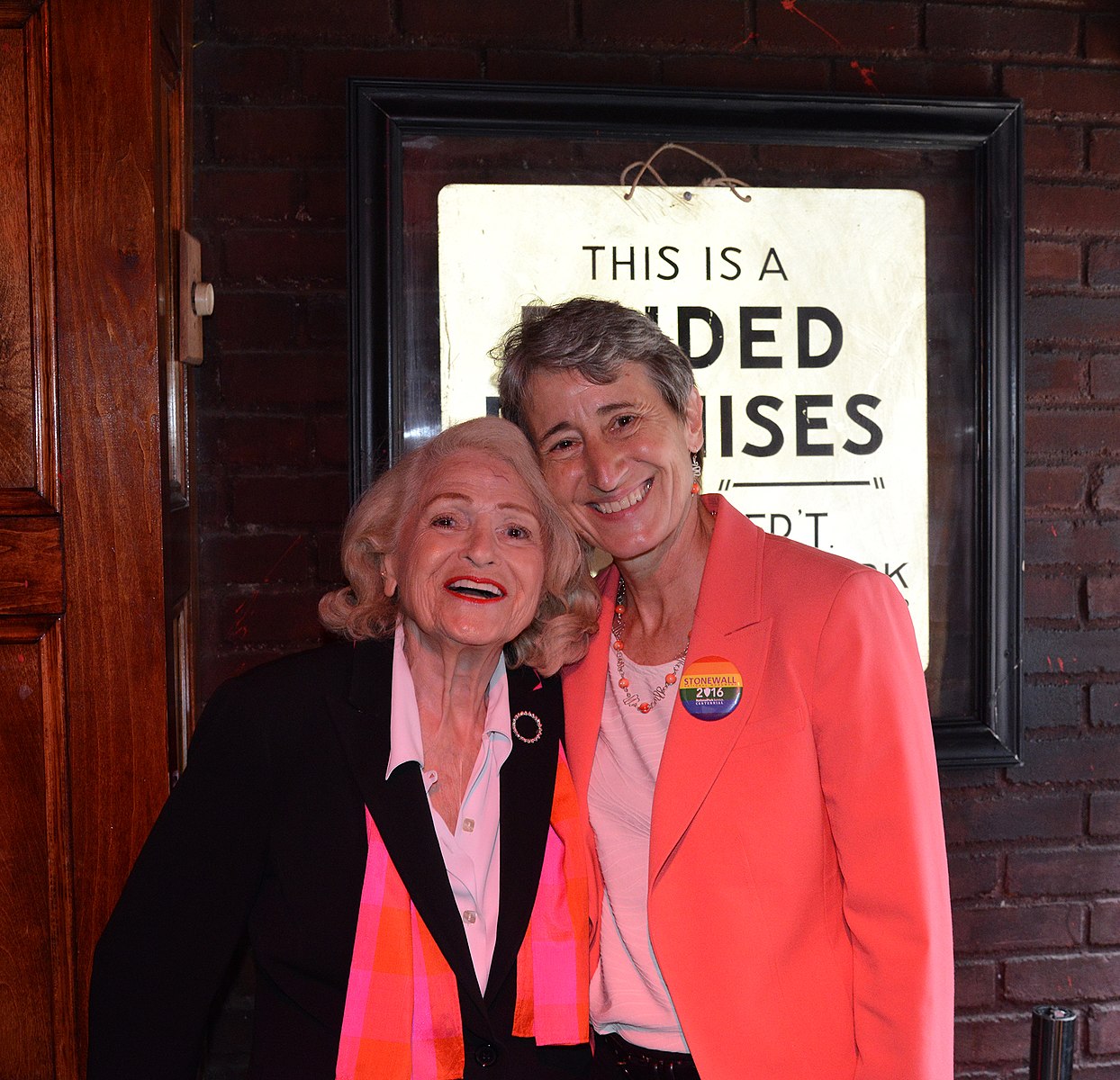 Edith Windsor showing her support at NYC Pride in 2013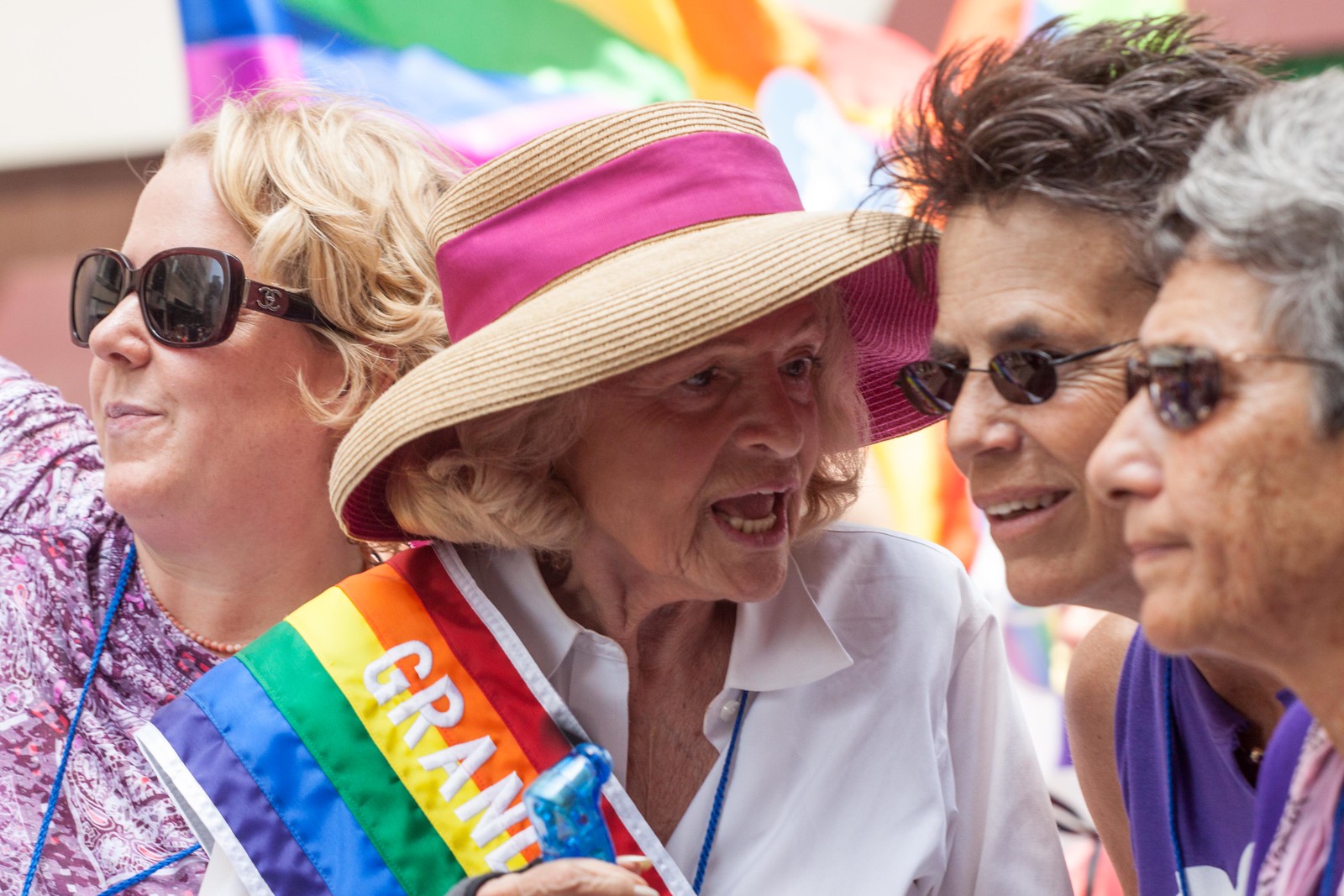 Edith Windsor's Historic Marker in Philadelphia on 13th and Locust Street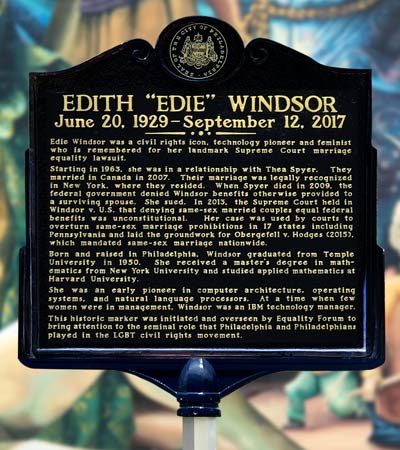 Backstory and Context
Edith Windsor, also referred to as Edie, grew up in Philadelphia, Pennsylvania as the youngest of 3 children. Windsor came from of a family of Russian-Jewish immigrants, and throughout her life in high school she was ridiculed and was on the receiving end of anti-Semitism. For a period of Edith's childhood, the Windsor family endured loss from the Great Depression.  Their means for living, being Edith's fathers candy shop, was taken away from them as well as their home. Despite the tribulations Edith and her family experienced, they were able to recover and put Edith through to college. 
In a time where women were scarcely involved with STEM related jobs, Edith was a pioneer. Edith attended Temple University in Philadelphia, Pennsylvania from 1946-1950 to earn a bachelor's degree in mathematics [1]. Next, Edith obtained her master's degree in mathematics at New York University from 1955-1957 [1]. During her time at NYU, Edith began working for the university's math department as well as a programmer at Combustion Engineering. In 1958, Windsor started working for the International Business Machines Corporation, IBM, until 1974 [1]. During Windsor's time at IBM, she was under a scholarship in which she studied at Harvard in Applied Mathematics. Edith's job at IBM focused on system architecture, operating systems, and natural log processors. Soon enough, Edith was already making great strides leading her to the highest position then as a Senior Systems Programmer [1].
Next for Edith was beginning her own company. In 1975, Edith became the founding president of PC Classics. Her company specialized in software development projects and aid [4]. Although Edith was praised as a woman in STEM throughout her job careers, she now pioneered a larger path for women in America. Once Edith started her company, her LGBTQ beliefs were out in the open. Edith began to use her status to aid LGBTQ groups become "technologically literate" while also consulting LGBTQ business or groups with their technological problems.  
Amongst Edith's life, she has dated both sexes, but the most important relationship Edith had was with Thea Spyer. Edith and Thea's relationship began in New York city at 1963, where they met at restaurant, then accompanied each other to a party. After that night, they couldn't leave each other's side. During this time, Edith was still being identified at heterosexual, due to homosexuality being classified as a mental illness, and hid their relationship from her colleagues at IBM. Although marriage equality laws weren't passed, Thea proposed to Edith in 1967 with an inconspicuous diamond broach rather a ring. A large improvement for Edith and Thea was that in 1993, they were officially registered as a partnership amongst new laws in the United States. Their relationship thrived despite the chaos in the government around equal marriage laws. In 2007, Spyer's health was deteriorating due to her heart condition. Since Thea's health was going downhill, on May 22, 2007, Edith and Thea traveled to Toronto, Canada to be officially married by Canada's first openly gay judge, Justice Harvey Brownstone. Two years later, Thea Spyer passed away in their home. 
What sparked Edith Windsor's fame amongst the LGBTQ community was United States vs Windsor.  After Thea's death in 2009, Edith was left with $363,053 in debt to pay for her wife's estate taxes [4]. Because of the federal law, DOMA, didn't recognize same sex marriages, Edith needed to pay in full. "DOMA was a major setback in the fight for marriage equality because it defined marriage as the union of one man and one woman, allowed states to refuse to recognize same-sex marriages granted under the laws of other states, and prohibited married same-sex couples from collecting Federal benefits.[2]" Edith didn't see that this law was fit and challenged her case in court in 2010 against the federal government in the U.S. District Court for the Southern District of New York [3]. 2 Years later, Judge Barbara S. Jones ruled that the section in DOMA was unconstitutional against same sex marriages. Then, in June of 2012 the jurisdiction went to the Supreme Court, where Justice Anthony Kennedy declared the law within DOMA to be unconstitutional in same-sex marriage as well. In 2013, DOMA was officially deemed unconstitutional and changed to honor same-sex marriages [5]. Edith's activism and court hearing set out a nationwide movement for same-sex marriage equality into the government and society that we have today, paving the way for all over LGBTQ members to have equal rights.
Edith was consistently open with her activism once she began her own company in 1975. Because homosexuality was still seen has a wrong act or an illness, Windsor used her power as an influential woman in stem to provide educational care of LGBTQ groups. Along with educational care, Edith along with her partner Thea were apart of many LGBTQ groups being: The Gay and Lesbian Advocates & Defenders, The East End Gay Organization, The LGBT Community Center, 1994 Gay Games New York, and Old Queers Acting Up [4]. In addition to her many groups and marches she attended, Edith also served from 1986-1988 and 2005-2007 on the board of Services & Advocacy for GLBT Elders. Due to Edith's effect on the LGBTQ community and allies, she was even the runner-up in TIME Magazine's Person of the Year in 2013 [6]. 
Sources
[1] Cosmos Mariner. Edith "Edie" Windsor, THE HISTORICAL MARKER DATABASE. June 25th 2019. Accessed April 28th 2020. https://www.hmdb.org/m.asp?m=135800.
[2] Kratz, Jessie. Milestones on the Road to Marriage Equality, National Archives: Pieces of History. June 26th 2019. Accessed April 28th 2020. https://prologue.blogs.archives.gov/2019/06/26/milestones-on-the-road-to-marriage-equality/.
[3] Supreme Court of the United States. 2/2/1790. U.S. v. Edith Windsor in Her Capacity as Executor of the Estate of Thea Clara Spyer, et al. (Case 12-307). Retrieved from the Digital Public Library of America. Accessed April 28, 2020. http://catalog.archives.gov/id/29308667.
[4] Wikimedia Foundation. Edith Windsor, Wikipedia. February 21st 2020. Accessed April 28th 2020. https://en.wikipedia.org/wiki/Edith_Windsor.
[5] Westfall, Laura R. "TAX LAW: UNITED STATES V. WINDSOR AND FEDERAL TAX LAW." GPSolo 31, no. 1 (2014): 72-73. Accessed April 28, 2020. www.jstor.org/stable/24630160.
[6] Grey, Eliza. Edith Windsor, The Unlikely Activist, TIME. December 11th 2013. Accessed April 28th 2020. https://poy.time.com/2013/12/11/runner-up-edith-windsor-the-unlikely-activist/.
Image Sources
https://commons.wikimedia.org/wiki/File:Marriage_equality_support_sign_thanking_Edith_Windsor_(9144992760).jpg

https://commons.wikimedia.org/wiki/File:Edie_Windsor_DC_Pride_2017.jpg

https://commons.wikimedia.org/wiki/File:Edie_Windsor_and_Secretary_Jewell_2016.jpg

https://www.flickr.com/photos/ennuipoet/9179605642

https://equalityforum.com/edie-windsor-historic-marker

Additional Information