Eddie's Restaurant
Introduction
Eddie's Restaurant once sat here at 2172 Wylie Avenue. Hill District native, August Wilson would come to this restaurant to write his "Pittsburgh Cycle" plays and it is believed that he used the restaurant as inspiration for Two Trains Running. Unlike the restaurant in Two Trains Running, Eddie's was demolished in 2008.
Images
Exterior of Eddie's Restaurant (1964-1975)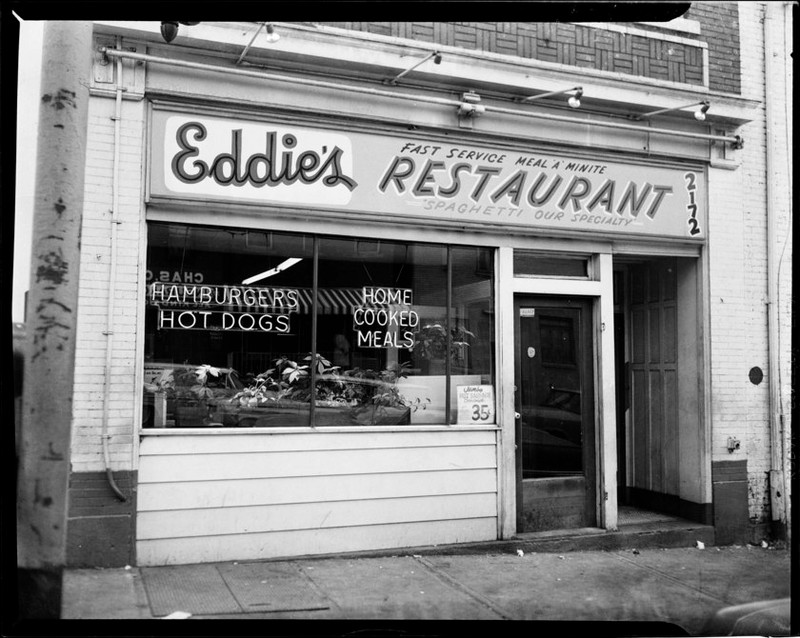 Exterior of Eddie's Restaurant (1998)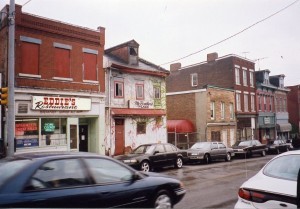 Backstory and Context
August Wilson came to Eddie's Restaurant to write his plays and to find inspiration. In Two Trains Running, the restaurant's future is being questioned. Due to the city's urban development plans, the restaurant's location is prime real estate. Most buildings in the Lower Hill District had the same fate at this time. However, Eddie's Restaurant was able to survive demolition until the twenty first century. The community did not want this business to be demolished and even considered it a historical landmark. However, the Urban Redevelopment Authority deemed the site not historically valuable and Eddie's Restaurant was demolished in 2008.
Sources
Harpaz, Beth J. "In Pittsburgh, 'Fences' and August Wilson's Hill District." The Seattle Times. February 27, 2017. Accessed April 27, 2020. https://www.seattletimes.com/life/travel/in-pittsburgh-fences-and-august-wilsons-hill-district/.
Rosenblum, Charles. "Echoes of August Wilson sound in the Hill District's new Carnegie Library." Pittsburgh City Paper. November 13, 2008. Accessed April 27, 2020. https://www.pghcitypaper.com/pittsburgh/echoes-of-august-wilson-sound-in-the-hill-districts-new-carnegie-library/Content?oid=1341057.
Image Sources
Teenie Harris Archives – Carnegie Museum of Art

Dick Bernard for Outside the Walls