Hartsdale Pet Cemetery
Introduction
Hartsdale Pet Cemetery in Westchester County, New York is nationally significant as a rare and outstanding example of funerary landscape architecture dedicated to the practice of burying animals and as one of the cornerstone institutions of the American humane movement. Founded in 1896, it was the first planned rural cemetery for pets in the United States and is the oldest continuously operated commercial burial ground for animals in the Western world. The application of eighteenth and nineteenth century garden aesthetics to emerging nonsectarian cemeteries figured prominently in the formative design of Hartsdale, which with its location on a scenic agrarian land track not far from New York City, made it a prime destination for the burying and contemplation of much-loved animals for an urbanized populace.
Images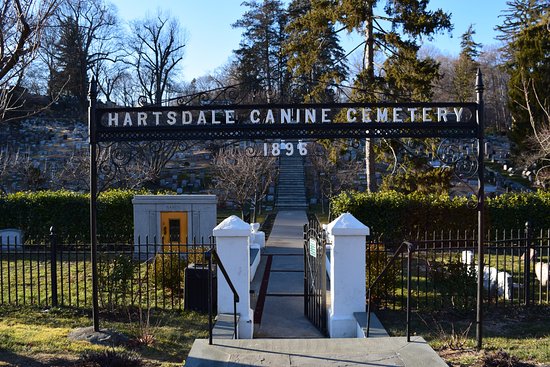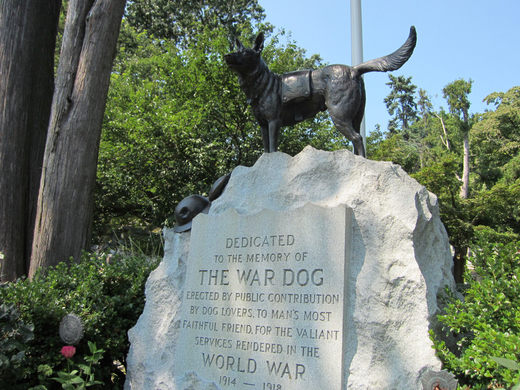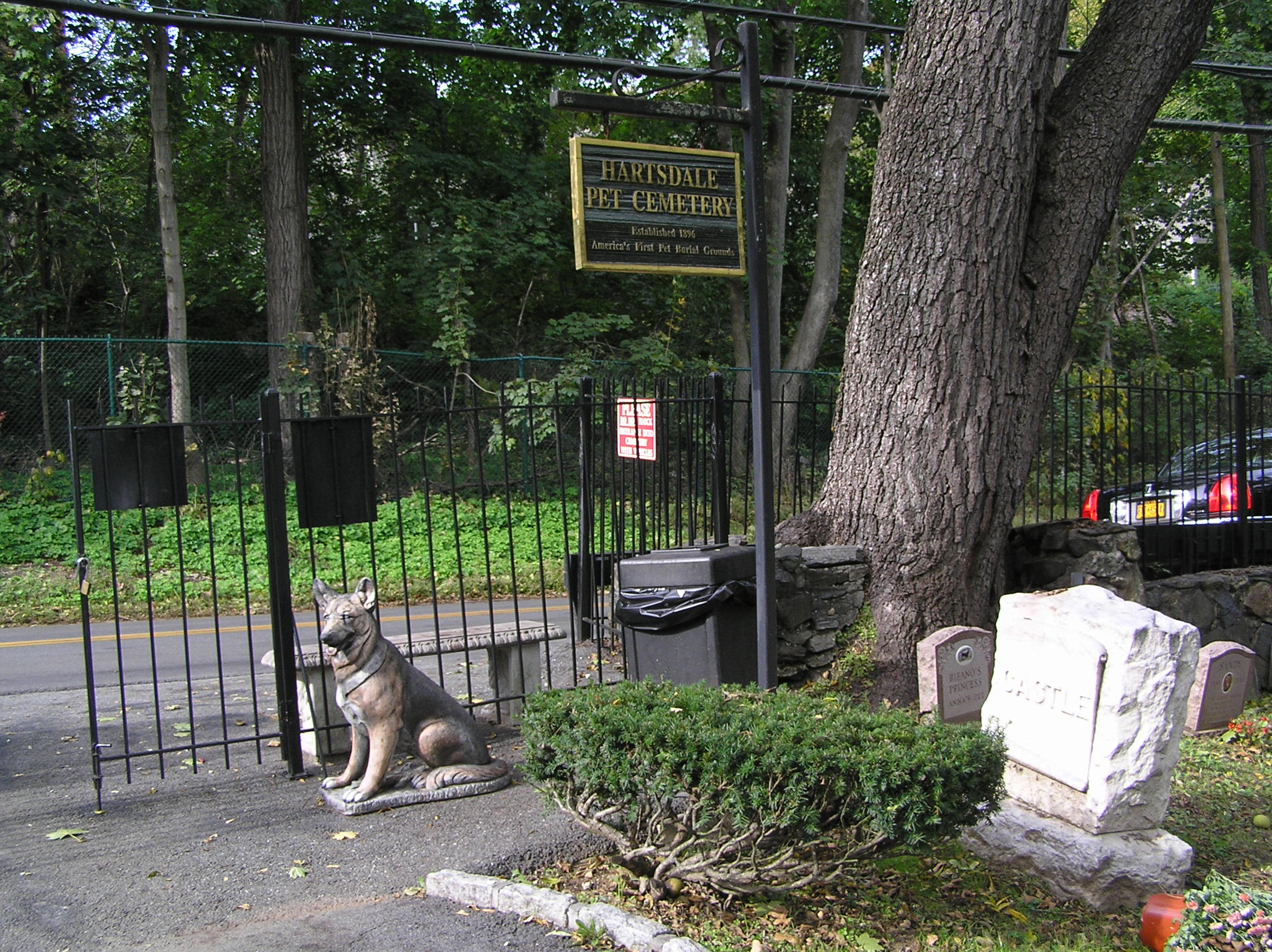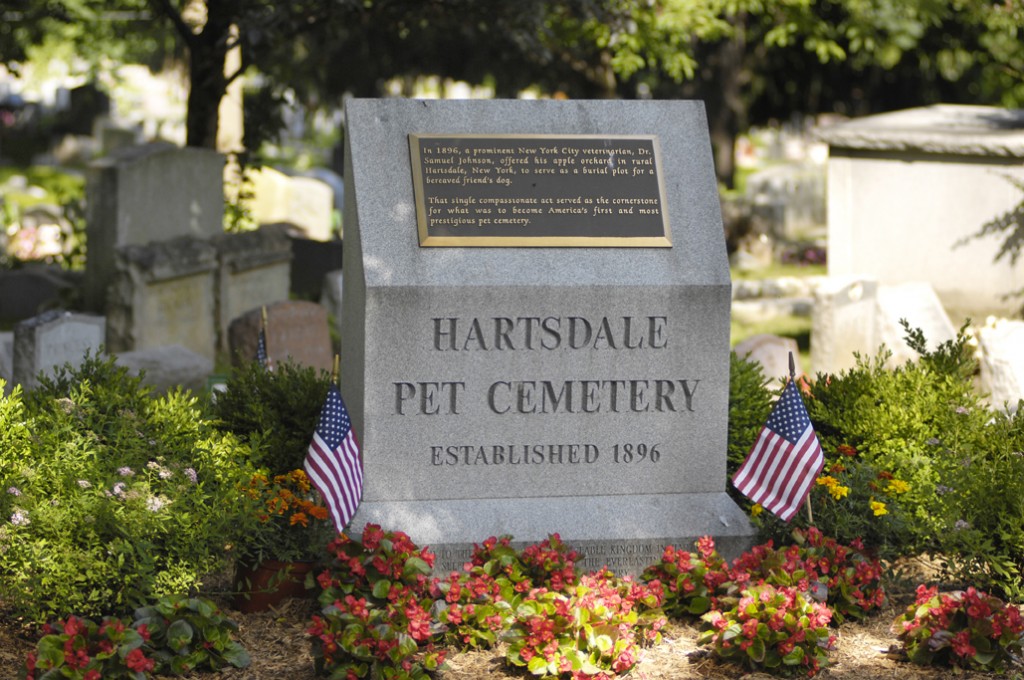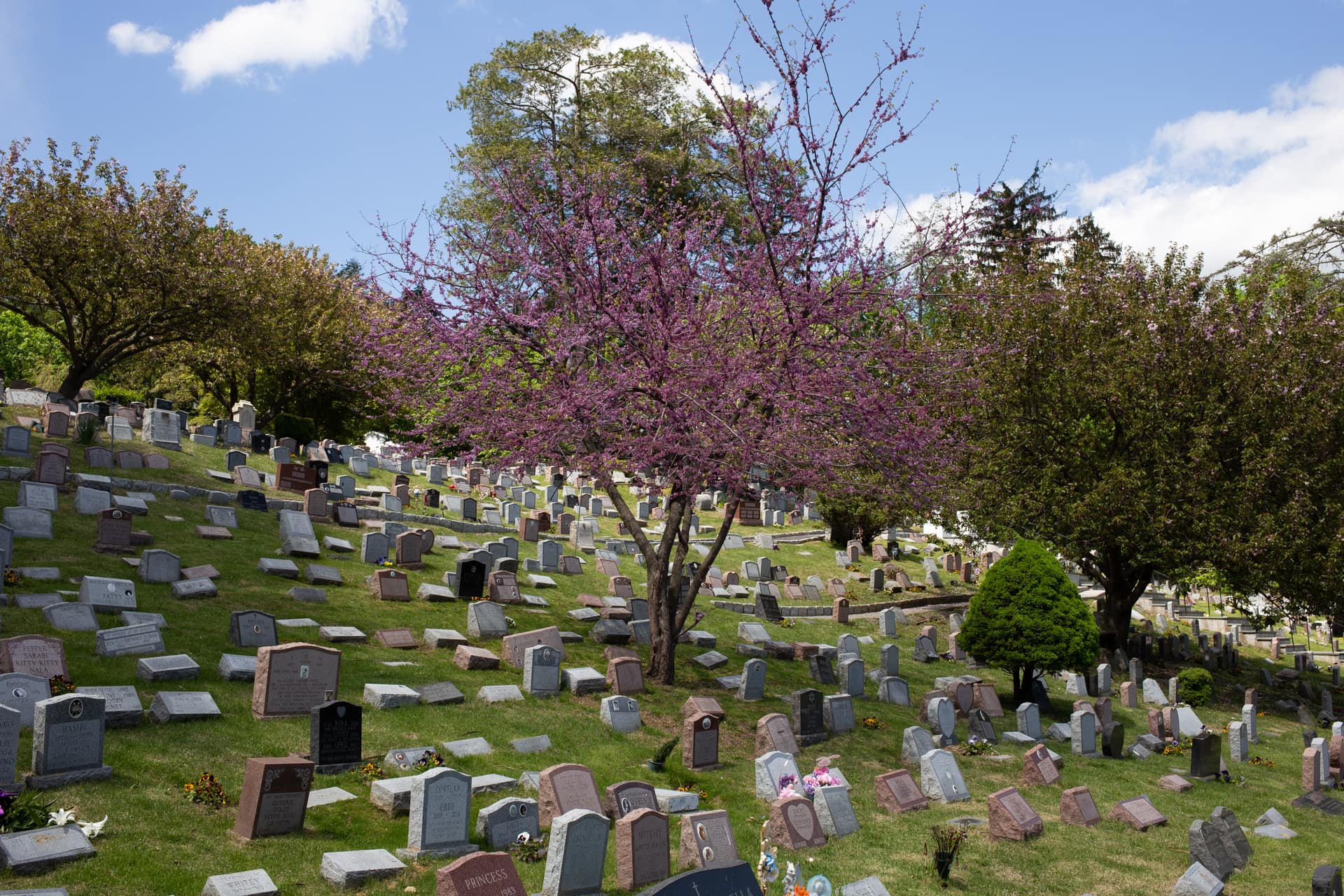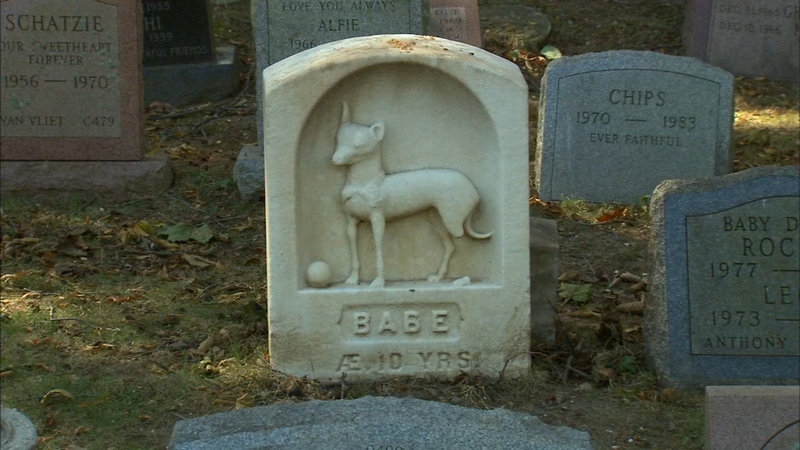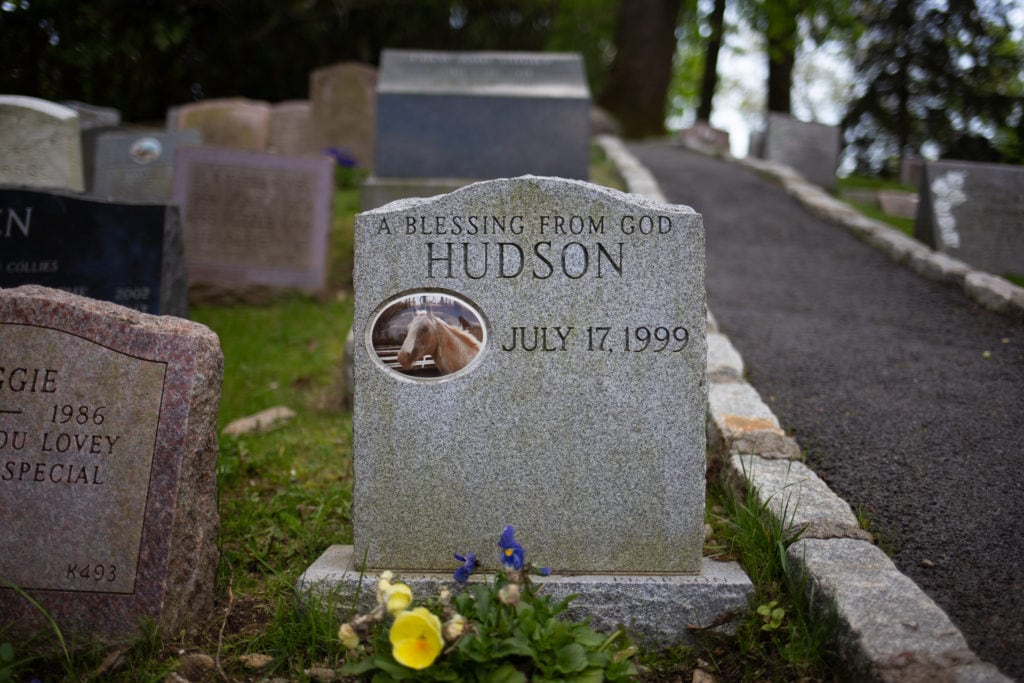 Backstory and Context
Prior to the industrial era, the notion of keeping animals strictly for companionship was largely a practice of only the more affluent classes. This is not to say that dogs and cats weren't commonplace, but the idea of sharing hard-earned resources with an animal that performed no service was widely viewed as an extravagance or a sign of personal weakness. That notion, however, began to lose favor in the latter half of the 1800s as thousands abandoned their rural way of life to emigrate to rapidly expanding urban centers such as New York City in search of opportunities for self-improvement. As working people attained new heights in prosperity, the material trappings of status – notably the keeping of animals for pleasure – emerged as a popular pursuit.  
Life in the city was not without drawbacks, however, and many were concerned that a commerce-drive culture was having a negative effect on values and morality. For as much as this modern world offered in the way of advancement, it could also be fickle, impersonal, and shockingly cruel, leaving many struggling with profound feelings of alienation. In these circumstances, pets assumed new significance as providers of nonjudgmental acceptance, and for many, they were the only "family" that could be counted on regardless of social standing or lack of. "Is not the dog an animal that we can exalt without any reservation?" challenged the French attorney and animal advocate Georges Harmois, who was an early proponent for pet cemeteries, "Is he not worth as much as many men, and more than some others?" 
As city dwellers increasingly turned to their dogs and cats for emotional support, the act of loving a pet had become a revelatory experience, prompting an "awakening of conscience", in the words of Henry Bergh, founder of the American Society for Prevention of Cruelty to Animals. He and others in the emerging animal welfare movement in New York City asserted that through positive interactions with animals, citizens would learn to embrace a new standard of empathy and compassion. In Bergh's opinion, this "humane" ethic was "to the profit of [all], for most assuredly mercy to animals means mercy to mankind". 
By all appearances, a pet culture not unlike the one that exists today was in full flower in the city currently. However, the question of how to deal with an estimated twenty thousand deceased pets per year was yet to be addressed. Decades earlier, dwindling available real estate and public health concerns had prompted the passage of ordinances restricting human burials in Lower Manhattan (and forbidding ones for animals altogether), spurring the creation of some of the first rural human cemeteries. Embraced by landscape architects with experience in estate-garden design, this new model for human cemeteries offered a less traumatic way to dispose of the deceased than the rank and neglected potter's fields of yesteryear.  
While praises abounded for these new open spaces where one could find respite from the pressures of everyday life, pet owners continued to agonize over what to do when their animal friends died. John Haines, who succeeded Bergh as the second president of the ASPCA, was quite outspoken on the issue of animals being afforded the same consideration in death as people. Referring to recurring outbreaks of typhoid linked to graveyards, Haines states, "There is no danger from animal cemeteries, not as much as from human cemeteries", he continued, "the careless tossing aside of bodies of faithful animal friends tends to lower the standard of regard for living animals". 
When veterinarian and ASPCA officer Dr. Samuel Johnson kindly offered a spot in his Hartsdale apple orchard to a woman distraught over the death of her dog in 1896, Haines and others at the ASPCA Animal Hospital already understood the need for an animal cemetery. Johnson split his time between his private practice and the new hospital, which he helped to found, where he and his fellow doctors dealt with inconsolable pet owners daily. Requiring periodic escapes from the pressures of his practice, Johnson had built a small house on a secluded seven-acre site twenty miles up the Hudson River in the rolling hills of Westchester County. Whether he knew at that moment that his weekend retreat would become the grounds for America's first rural pet cemetery is unclear, but on October 30, 1898, the opening of a "well-kept park … the first of its kind in this country", was officially announced. 
Under the auspices of the New York Animal Hospital, procedures were put in place for processing pets to be interred at Hartsdale. Those in the city were asked to bring their deceased animals to the clinic to be recorded and assigned a unique number before being sealed in a zinc-lined casket for transport by train to the Hartsdale depot. They would then be received by a horse-drawn wagon and delivered to the apple orchard, where the groundskeepers awaited the arrival of the grieving pet owners before proceeding with the burials.  
Thanks to early coverage by the press, Hartsdale Pet Cemetery's reputation as the ultimate destination for pampered pets was quickly set in the mind of the public. The growing number of large and elaborately carved monuments in the former orchard (many of them crafted by master stonecutters in the employ of Woodlawn Cemetery) was of endless fascination to reporters. Feelings of love and sadness, as well as gratitude for time well spent, were immortalized with inscriptions both poignant and heart-wrenching. "Our Precious Love" and "The Light of My Life" were typical themes speaking to the profound sense of loss felt by this first generation of plot-holders, who regarded their animals as equal, or in some cases preferred, to the company of people.  
Sources
"History." Hartsdale Pet Cemetery. Accessed April 28th 2020. https://petcem.com/history/.
Raftery, Patrick. The Cemeteries of Westchester County. Volume II. Elmsford, N.Y.. Westchester County Historical Society, 2011.
Hartsdale Pet Cemetery, National Register for Historic Places. Accessed January 15th 2021. https://catalog.archives.gov/id/75323051.
Our History, Hartsdale Pet Crematory. Accessed January 15th 2021. https://www.hartsdalepetcrematory.com/about-us/our-history/.
At America's first pet cemetery, beloved animals—from lizards to lions—find a peaceful resting place, Road Trippers. Accessed January 15th 2021. https://roadtrippers.com/magazine/hartsdale-pet-cemetery/.
Additional Information