Fallen Timbers Battlefield
Introduction
In 1995, archaeologists determined that this was the location of the Battle of Fallen Timbers, the final battle of the wars between the United States and the Native American tribes of this region in the 1790s. The battle occurred on August 20, 1794 when Native Americans of a variety of area tribes, with the aid of British traders and under the leadership of Chief Little Turtle of the Miami tribe, ambushed and chased a smaller force of Kentucky militia to this location where they clashed with a larger force of federal troops under General "Mad" Anthony Wayne. President George Washington had appointed General Anthony Wayne to lead troops to crush the Western Confederacy, and with his superior force and supply, he was able to defeat the Native American forces after a fierce battle that lasted for several hours. After the defeat, Native American tribes felt no choice but to agree to abandon their claim on the land and signed the Treaty of Greenville in 1795. The site features a visitor's center and a loop trail with a few spots where interpretive signs are located.
Images
A monument in the distance commemorates the battle. Photo: Wikimedia Commons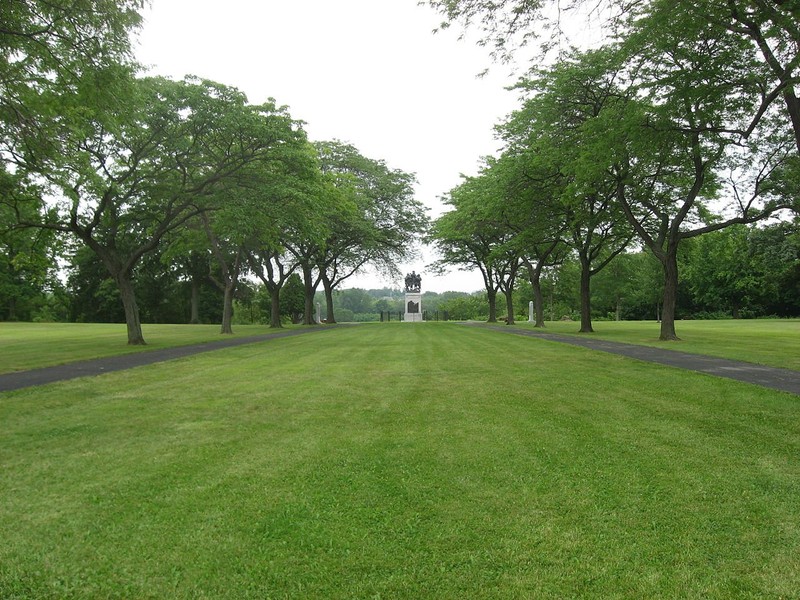 Closeup of the monument. Photo: Metroparks Toledo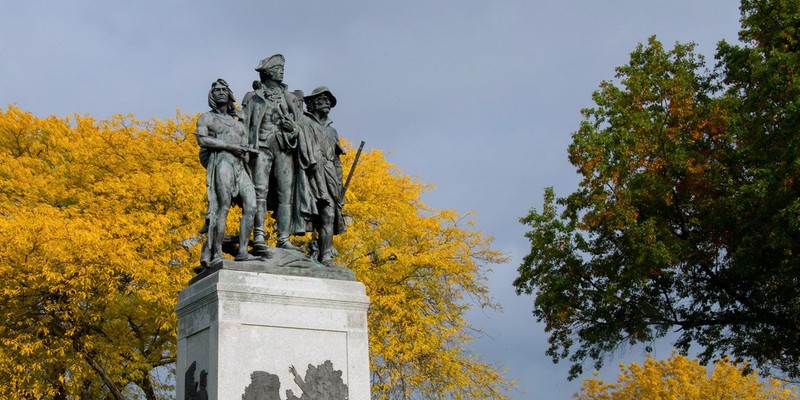 Backstory and Context
Despite the 1768 Treaty of Fort Stanwix, American settlers poured into the region and the United States government attempted to secure a new agreement with area tribes. Shawnee leader Blue Jacket led the Native Americans in the area who refused to give up their claim on area lands.

The Battle of Fallen Timbers was a lopsided victory for General "Mad" Anthony Wayne and his force of two thousand men. These troops departed from Fort Washington to this location and engaged a force of roughly fifteen hundred Native Americans. The Americans attacked with bayonets and the Native forces attempted to fall back to their British allies. The British refused to support their Native allies and with the defeat at the Battle of Fallen Timbers, American forces spent the next few days destroying the Indian emplacements. The Treaty of Greenville was signed in 1795 giving the United States control of the area.

Sources
"Battlefield Site History." Metroparks Toledo. Accessed July 16, 2018. https://metroparkstoledo.com/explore-your-parks/fallen-timbers-battlefield-ft-miamis/battlefield-sit...

"The Battle of Fallen Timbers." National Park Service. Last updated April 10, 2015. https://www.nps.gov/fati/learn/historyculture/the-battle-of-fallen-timbers.htm.

Mendinghall, Joseph S. "Fallen Timbers Battlefield." National Park Service - National Register of Historic Places Nomination Form. October 15, 1966. https://npgallery.nps.gov/GetAsset/0feddd4e-9f6b-44dd-8853-28bbaa019aaa.
Additional Information