Cocoanut Road House
Introduction
The Cocoanut Road House is a historic two-story home located near the coast in Boca Raton, Florida. Erected in 1937, it is significant for its Colonial Revival design and for the man who designed it, Swiss-born architect Maurice Fatio (1897-1943). Fatio was based in Palm Beach and is well-known for designing mansions there, New York, Dallas, and in Argentina and Dallas. Interesting features of the Cocoanut House include a symmetrical design, a brick facade, and Tuscan columns supporting a small pediment at the front entrance. The Colonial Revival style was most popular throughout the country from 1876 to around 1950. The house was added to the National Register of Historic Places in 2001. It is important in that reflects the architectural development of housing in Boca Raton.
Images
Built in 1937, the Cocoanut Road House is a fine example of Colonial Revival architecture.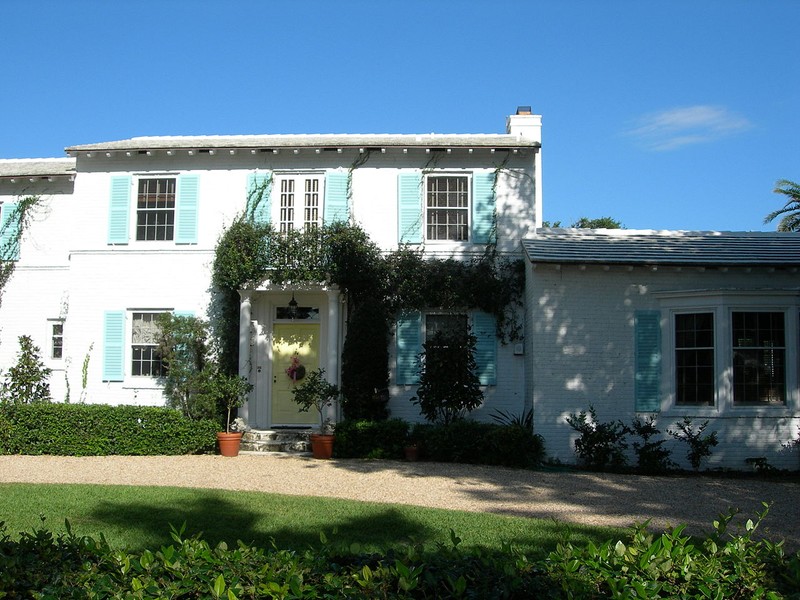 Backstory and Context
Maurice Fatio
Maurice Fatio was born in 1897 to an upper-class family in Geneva, Switzerland. He first studied architecture at Zurich Polytechnic (now known as ETH Zurich) and graduated in 1920. He immigrated to America shortly thereafter and settled in New York City. From the outset he was interested in country houses. He formed a partnership with a well-known architect and together they became ran one of the more successful architecture firms in the city.
In October 1923, the firm was hired to work on a development project in the what is now the town of Jupiter Island. Fatio began to make trips to Florida in early 1924 to oversee the project and he eventually opened a permanent office in Palm Beach (the firm now had two offices, one in New York and the other in Palm Beach). He designed a number of buildings, including the original First National Bank, and several houses in the Mediterranean, Colonial, and other architectural styles. Fatio was also involved in a number of other activities including serving as director of a local sports club, a local arts organization, and was a member of a few other clubs. Sadly, he died of a heart attack at the age of 46 in 1943, leaving his wife and two children (tragically, she passed away the next year). One of their two children wrote a book about Fatio's work in 1992.
Sources
Johnson, John P. "1240 Cocoanut Road." National Park Service - National Register of Historic Places Nomination Form. August 17, 2001. https://npgallery.nps.gov/GetAsset/69f72fad-bdd8-482d-b23f-12b2b14931af.
Image Sources
Wikimedia Commons: https://commons.wikimedia.org/wiki/File:1240-cocoanut-boca.jpg

Additional Information