Jefferson Museum of Art & History
Introduction
The Jefferson Museum of Art & History is dedicated to preserving and promoting the history of Jefferson County through its collections, research, exhibits, and programs. It is located in the historic former city hall, which was erected in 1891 and is listed on the National Register of Historic Places. The museum is operated by the Jefferson County Historical Society, whose offices are also housed in the building. City functions in the building included the city's fire station, council chamber, jail and police station, and courtroom. The museum's exhibits showcase the area's early settler period, Native American cultures, and maritime history. Today the courtroom is used as the art gallery. The building itself features a red-brick exterior with arched windows and decorative stonework.
Images
The Jefferson Museum of Art & History is housed in the former City Hall building, which was constructed in 1891.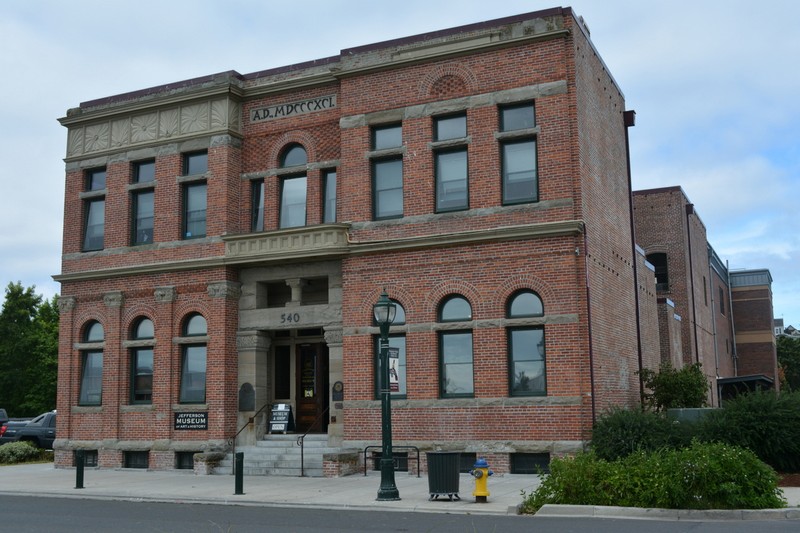 City Hall as it appeared with the third floor before a storm caused extensive damaged in 1945.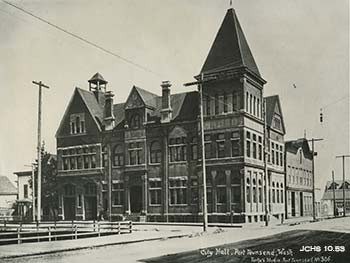 Backstory and Context
The Jefferson County Historical Society was founded on May 3, 1879. It is not clear where it was located in its early years but what is certain is that, beginning in 1932, it was located in the basement of the Carnegie Library. In 1951, the Society opened the museum in the courtroom of the City Hall building. Around this time, the Society started its first historic preservation project when it raised money to rehabilitate the historic Fire Bell Tower (it was repaired once again in early 1970s). The Society gradually expanded in the City Hall as room became available.
In addition to its restoration efforts, the Society also houses and maintains its large collection of 8,000 artifacts, 70,000 photographs, and 500,000 archival documents. It also manages the historic Rothschild House, the Commanding Officer's Quarters in Fort Worden State Park, the Olympic Peninsula Gateway Visitor Center, and the Archives and Research Center in partnership with the Jefferson County Genealogical Society.
As noted above, the old City Hall was constructed in 1891. Originally it had a third floor (see photo) with a sloped roof and a prominent tower but a strong storm in 1945 severely damaged it and it was removed. Another interesting anecdote about the building is that, according to some accounts, the famous late 19th and early 20th-century writer Jack London was briefly jailed here for drunkenness when he was making his way to Alaska.
Sources
"History of the Jefferson County Historical Society." Jefferson County Historical Society. Accessed April 24, 2020. https://jchsmuseum.org/About/OurHistory.html.
Hunt, Gerald A. "City Hall." National Park Service - National Register of Historic Places Nomination Form. May 14, 1971. https://npgallery.nps.gov/GetAsset/ce6ddfa9-c5b8-4ef0-8140-0e75aa7e1b59.
Image Sources
Wikimedia Commons: https://commons.wikimedia.org/wiki/Category:Old_City_Hall,_Port_Townsend,_Washington

Jefferson County Historical Society

Additional Information