Ann Louisa Lockwood's Bedroom
Introduction
Ann Louisa Lockwood's bedroom is located on the east side of the Mansion above the Dining Room. Although, at first glance, one would assume this impressive room would belong to her husband, it is believed to have been hers, according to a newspaper account describing the room and its extraordinary size. The balcony off of her room has views of the Norwalk River and the windows have wooden shutters that fold back into the walls, like all others in the house. Those on the second floor, unlike the first, are louvered to take advantage of summer breezes while allowing for privacy.
Images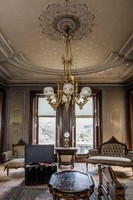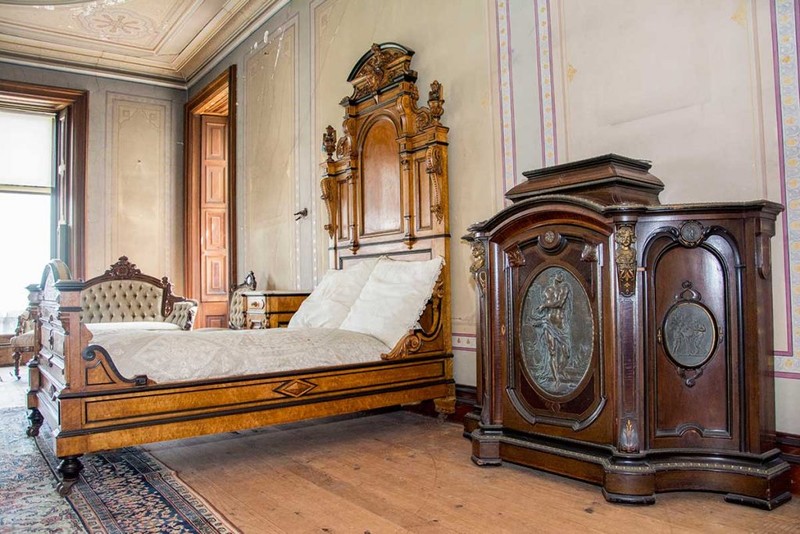 Gasolier in Mrs. Lockwood's Bedroom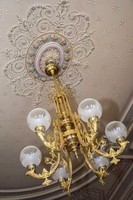 Sinks in Mrs. Lockwood's Bathroom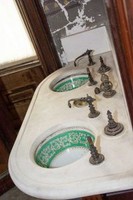 Backstory and Context
The bedroom and dressing room with fireplace was designed by her relative, George Platt, who also planned the décor of the Dining and Moorish Rooms. The walls and ceiling are frescoed in neutral tones and lavender with traces of gold throughout, which are still visible today. Pocket doors conceal a dressing room with double sinks, a closet, and a fireplace. Two steps lead up to Ann Louisa Lockwood's bathroom, which is located on the top level of the Servants' Quarters. The large fashionable dresses of the era required the assistance of a ladies maid, making the proximity of the bath and dressing rooms convenient for this purpose.
Sources
Ann Louisa Lockwood's Bedroom, The Lockwood-Mathews Mansion Museum. Accessed April 23rd 2020. https://www.lockwoodmathewsmansion.com/mrs-lockwoods-bedroom/.
Image Sources
Sarah Grote Photography, 2016

Sarah Grote Photography, 2016

Sarah Grote Photography, 2016

Sarah Grote Photography, 2016

Additional Information