Birds' Landing at Dorothy's
Introduction
With its location between the tall red pines of the Jon Rozman Memorial Forest and the meadow-like environment of the Ely Cemetery, Birds' Landing at the Dorothy Molter Museum is ideally situated to attract a wide range of birds throughout the year. This community pocket-park offers a beautifully landscaped space to enjoy bird-watching year-round and observing the many other pollinator species visiting this space during the "green" season. Dorothy Molter was famous for much more than just making root beer; she was also known for her love of birds. A remarkable assortment of birds visited the feeders around Dorothy's home on Knife Lake, and she easily went through 1,000 pounds of seed each season. Dorothy particularly enjoyed sharing her passion for birds with the many people that visited her. The museum also offers a selection of field guides for on-site reference and a free, take-home brochure featuring bird food recipes.
Images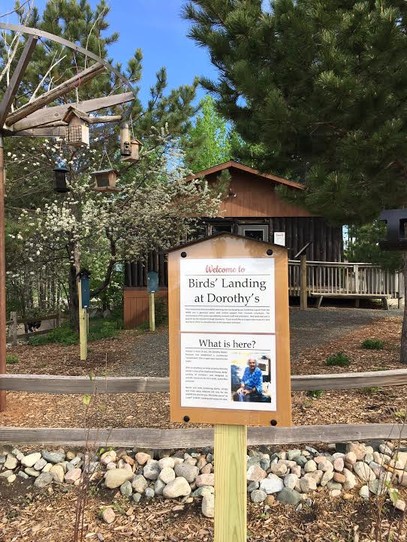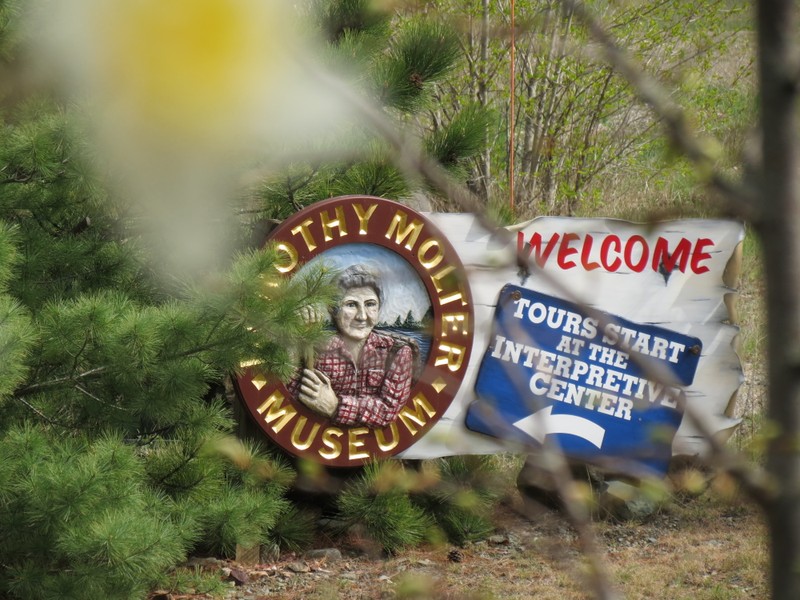 Custom Feeder Hub at Birds' Landing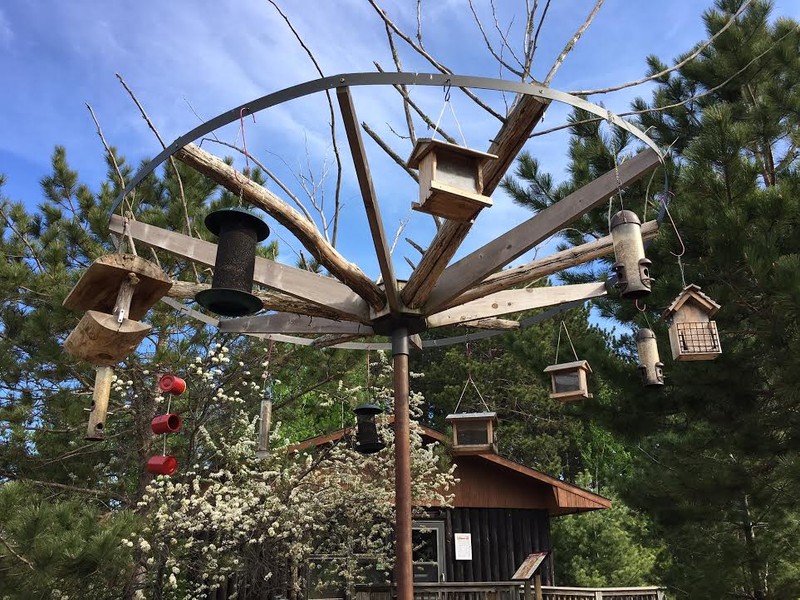 Ruby-throated Hummingbird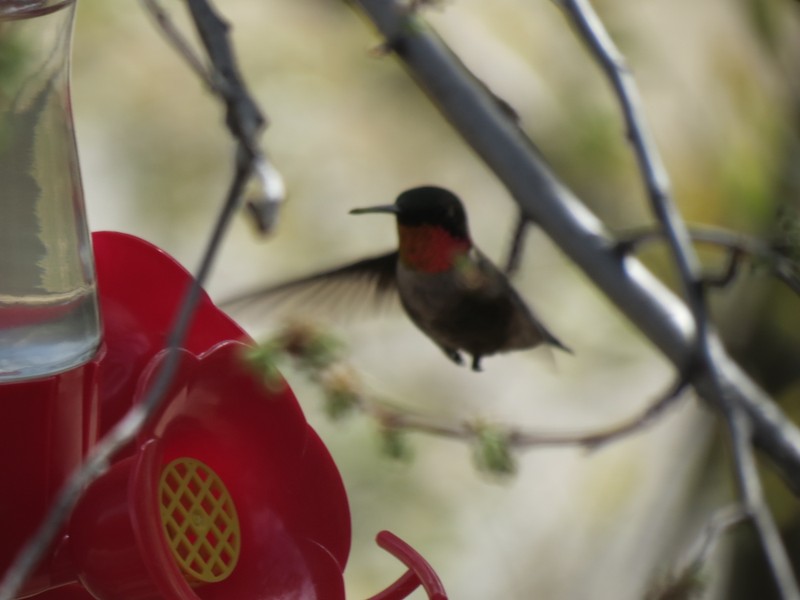 Bergamot in Birds' Landing Pollinator Garden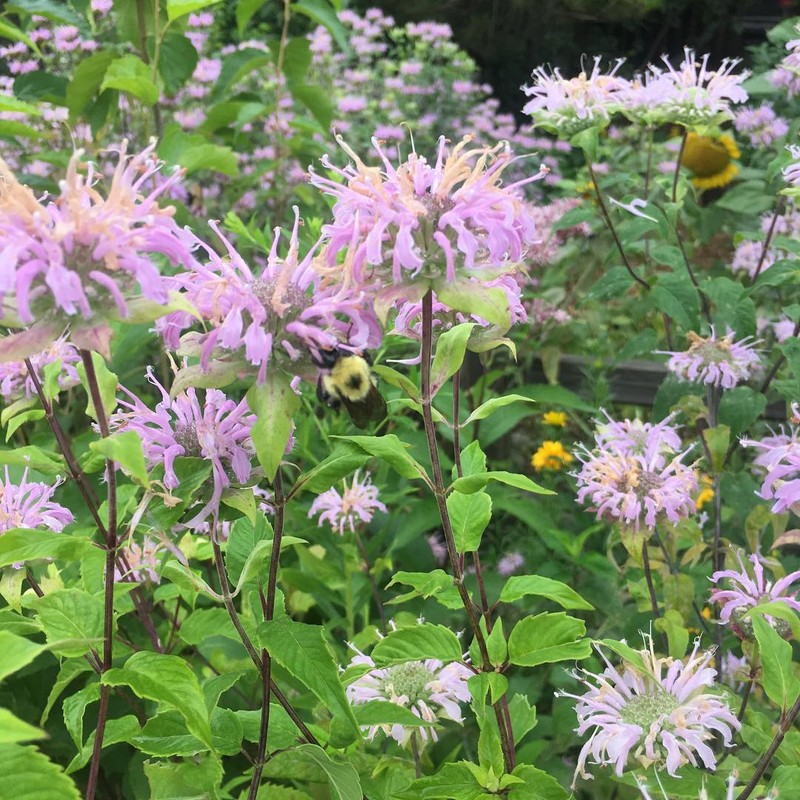 Custom Feeder Hub at Birds' Landing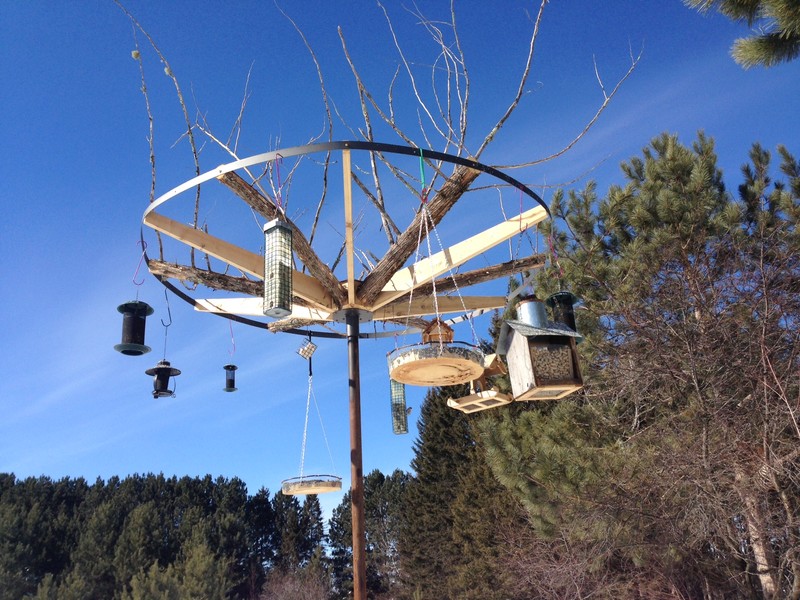 Backstory and Context
With an emphasis on birds to honor Dorothy Molter's love of her feathered friends, Birds' Landing at Dorothy's was designed to provide resources for Ely's birds, butterflies and bees. Nectar and seed producing plants, shrubs and trees were selected not only for the wildlife but also for our visitors.
There are a variety of native flower seeds that were planted here last fall to benefit and encourage birds, bees and butterflies to visit. A few examples of what native plants are present include purple coneflowers, milkweeds, fireweeds and Columbine. When planted in a yard or garden, native plants help the environment by requiring less supplemental watering, often reduce pest problems that require toxic chemicals, and assist in managing rain water runoff and maintaining healthy soils as their root systems are deep and keep soil from being compacted.
Plants were also selected for being nectar and pollen-rich to support local pollinators. A pollinator is any species that helps fertilize plants by carrying pollen on their body from plant to plant. The most commonly recognized pollinators are typically bees but pollinators include a variety of species, including birds, bats, bears and any creature that brushes up against pollen-laden plants. 
Known as "the hub" or the "feeder wheel" by staff and volunteers, this unique bird feeder set-up was custom designed by a local Minnesota Master Naturalist and built by local carpenters for the museum as part of a grant project. With ease of use in mind, the top wheel rotates to enable filling of the feeders from a stationary position on a ladder. The iron frame and post give it incredible structural stability with high winds and when deer (and occasionally Black bear) try to pull down feeders. The cedar branches/logs used as spokes provide perching options and a natural texture and look that appeals to the feathered visitors and human observers. 
The abundance of bird seed provides for a variety of animal species. All seven of the northeastern Minnesota squirrel family members frequent the Dorothy Molter Museum bird feeders as well. These rodents, members of the family Sciuridae, forage and prepare for winter by gathering bird seed and "squirreling" it away. Visitors who stand or sit long enough might just see an eastern gray squirrel, American red squirrel, Franklin's ground squirrel, eastern chipmunk and least chipmunk, or a woodchuck. The seventh member, the northern flying squirrel, visits Birds' Landing after dark when no one is here to see it.
This community bird and wildlife watching area landscaping was funded by a grant from the MN Dept of IRRR and a generous donor with in-kind support from museum volunteers. The maintenance of this area is provided by museum staff and volunteers. Bird seed and suet is paid for by the museum through donations. Click here if you would like to support the museum's bird feed fund..
Sources
Dorothy Molter Museum Staff
National Pollinator Garden Network. Accessed April 25th 2020. http://millionpollinatorgardens.org/.
The Xerces Society. Accessed April 25th 2020. http://www.xerces.org/.
Image Sources
Dorothy Molter Museum

Dorothy Molter Museum

Dorothy Molter Museum

Dorothy Molter Museum

Dorothy Molter Museum

Dorothy Molter Museum