Dorothy's Winter Cabin
Introduction
Step back in time as you enter this 90+ year old tamarack log cabin which, was Dorothy's home during the winter months. In the porch, the original root beer making equipment she used is displayed to help you envision the process of providing thousands of bottles of root beer to Isle of Pines visitors each summer. As you continue into her kitchen and dining area, imagine stoking the wood stove, entertaining visitors with piping hot coffee, and crafting her famous Christmas ornaments by lamplight. This cabin features personal items, memorabilia and clothing of Dorothy's as well as pictures of Dorothy with friends, family and visitors to Knife Lake.
Images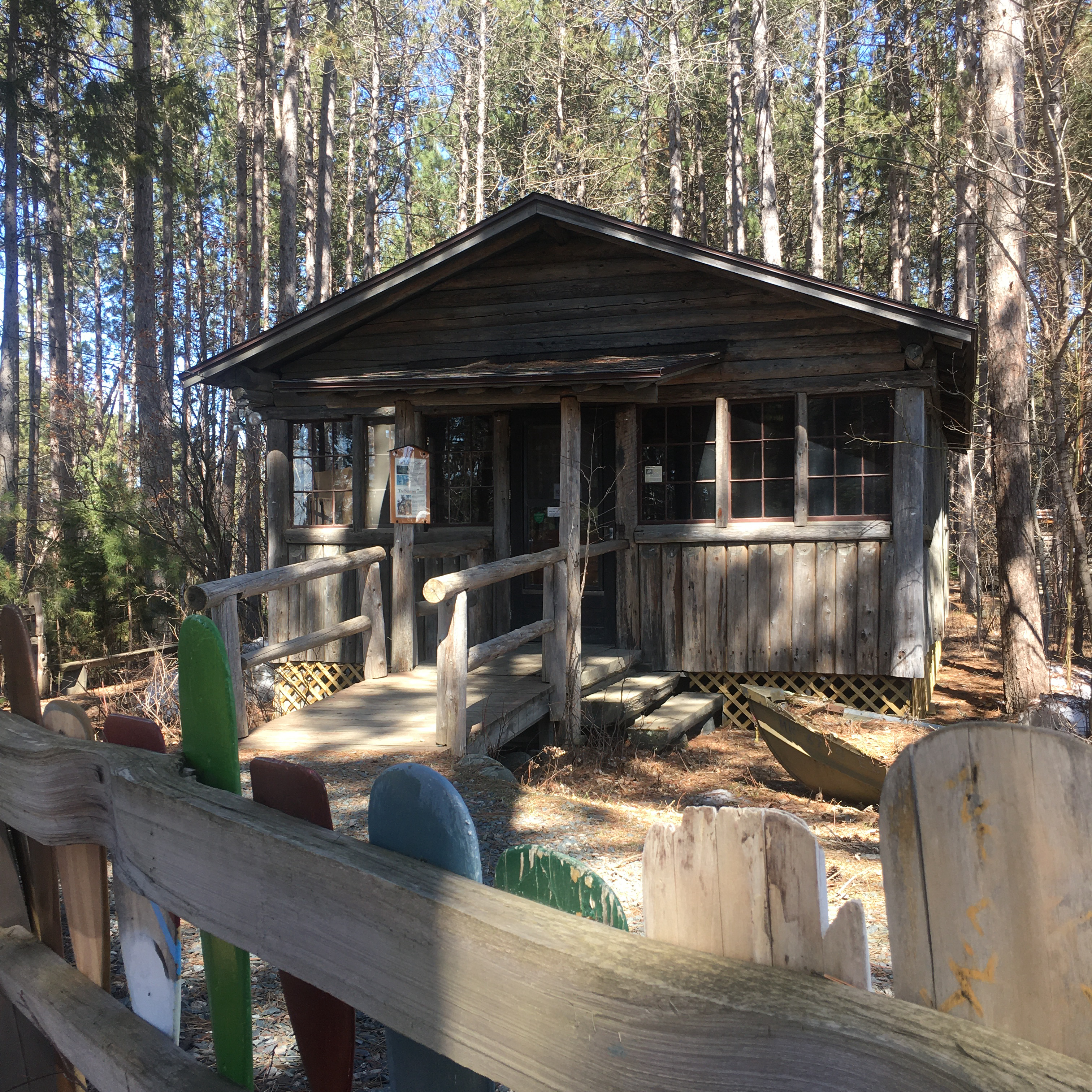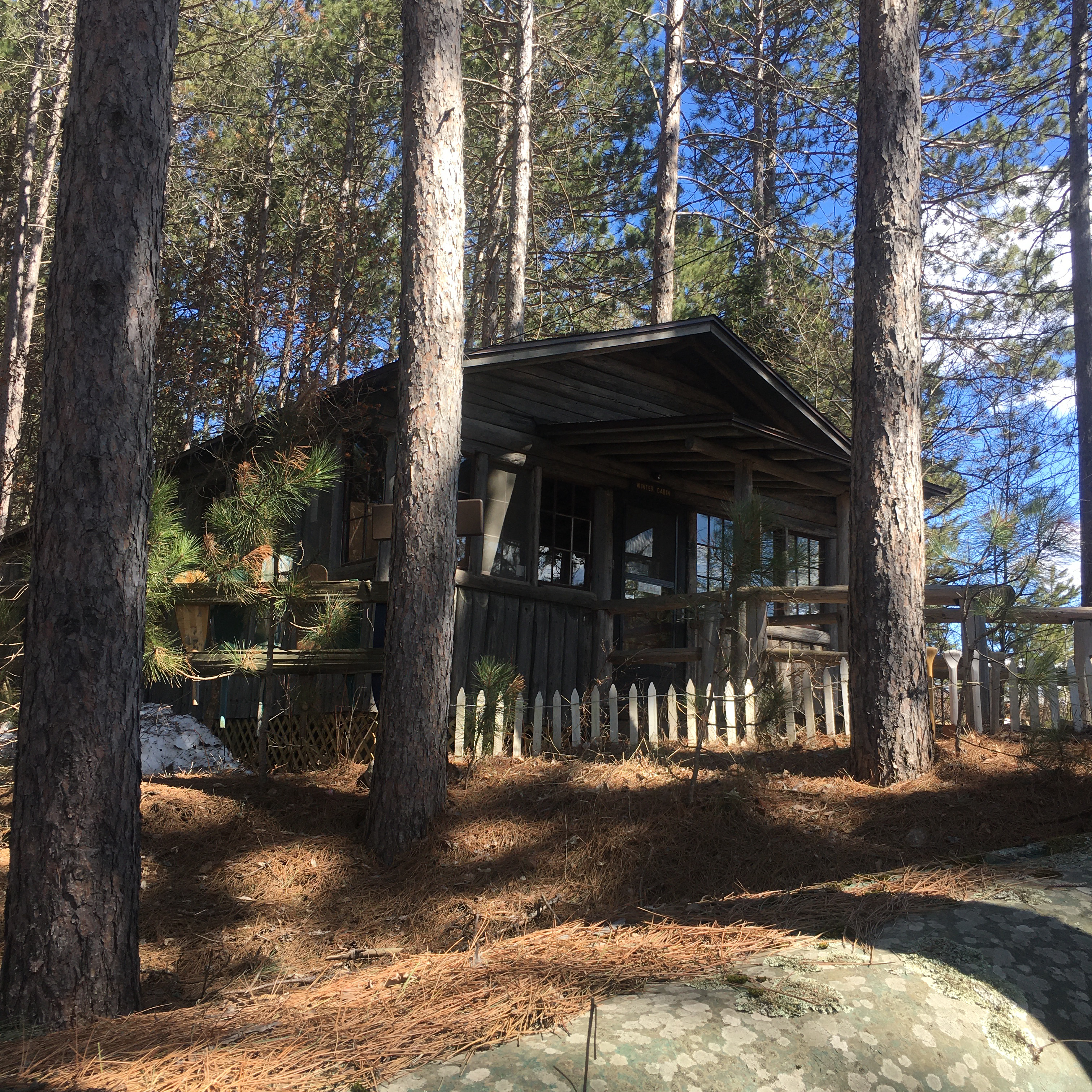 Approach to Winter Cabin (from Interp Center)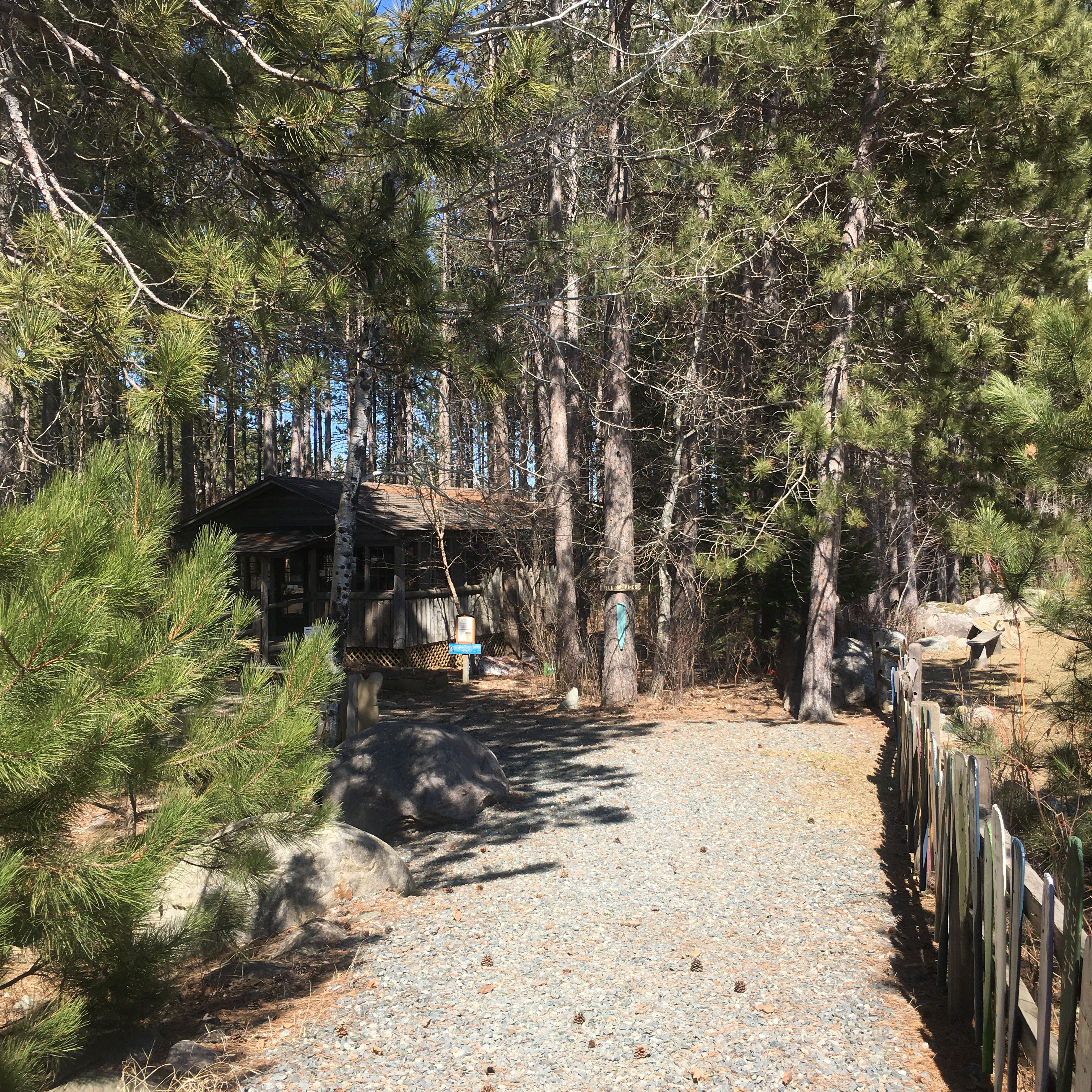 Winter Cabin & Summer Tent Original Locations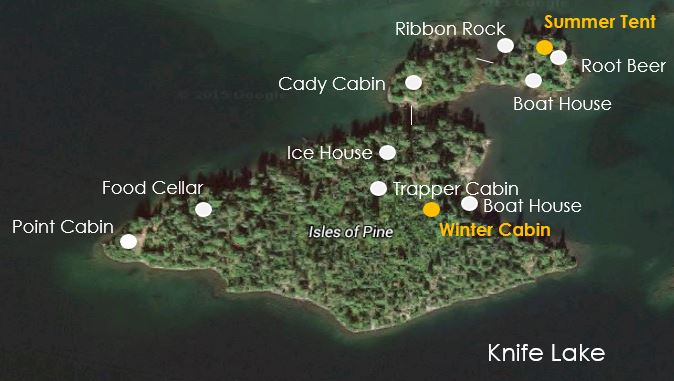 Porch of the Winter Cabin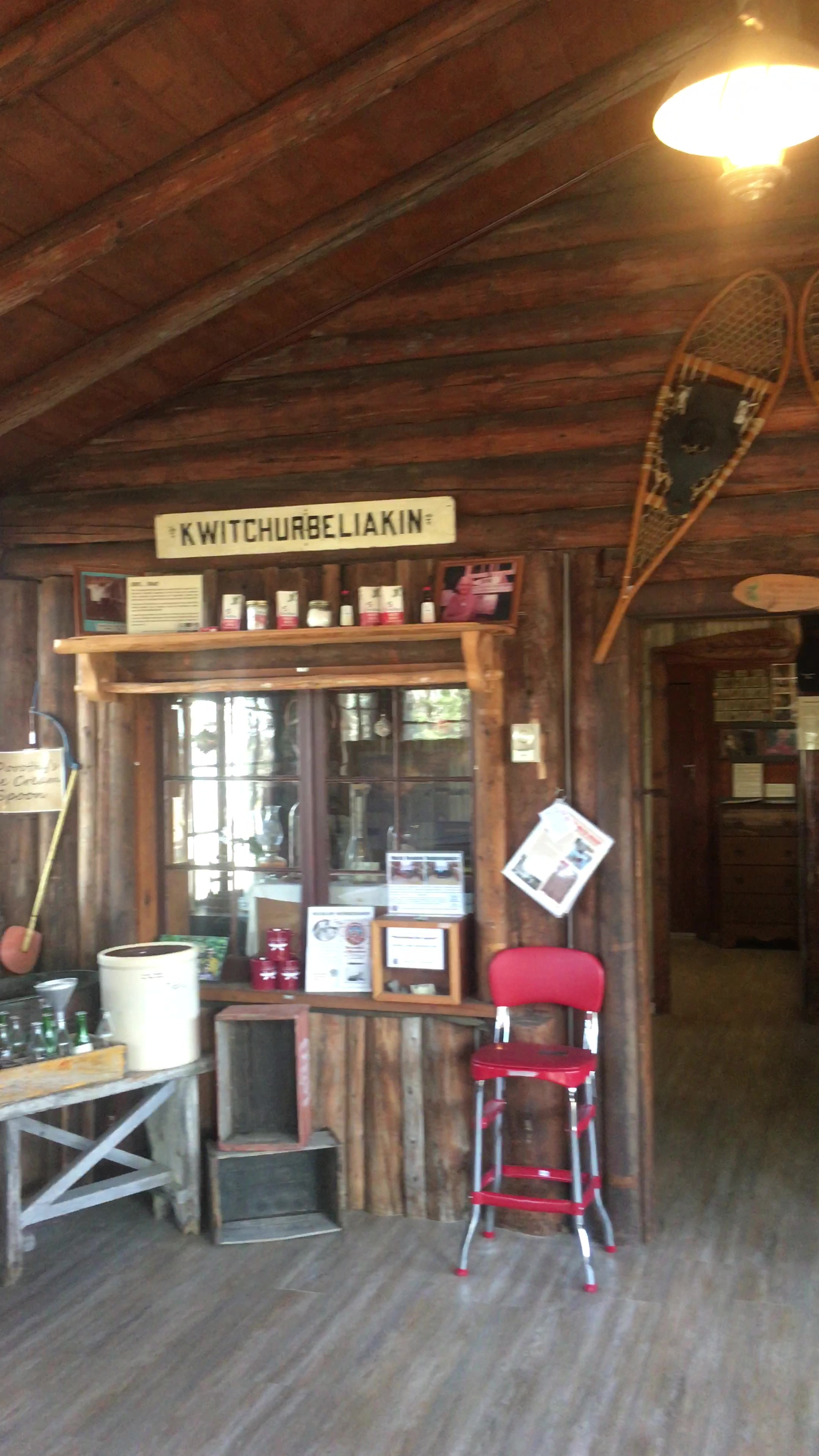 Backstory and Context
Originally built in the early 1920s by Bill Berglund, the Winter Cabin was initially a guest cabin as part of Berglund's Isle of Pines Fishing Resort. It was set back from shore off the east bay of the largest of the group of three islands that made up the Isle of Pines. The location of this cabin provided shelter from the westerly winter winds and snow drifting, and a beautiful view of the sunset.
This cabin eventually became Dorothy's home during the cold months of the year when she started living there year-round. Dorothy eventually took over ownership of the resort in 1948 when Berglund died. In the summer months, Dorothy would move to her Summer Island (the east satellite island) and stay in her Summer Tent so that the Winter Cabin could be rented to resort guests.
As a fishing resort, many supplies were needed to accommodate guests such as large appliances for the cabins and gasoline (appliances and motors) to bird seed, soda pop and other food items. Most supplies were transported to the Isle by float plane until 1949 when President Truman issued an executive order prohibiting planes from landing on lakes and flights below 4,000 feet. Although bush pilots challenged the decision in court, a few renegade pilots continued to fly supplies to Dorothy (in protest of the new law) until one pilot's plane was confiscated and impounded in 1952 for breaking the law.
Although Dorothy was sympathetic to the conservation approach of Sigurd Olson and Frank Hubachek fighting to preserve the primitive character of the wilderness, she also appreciated the perspective of the bush pilots Hoot Hautala and Elwyn West who argued it would make access to the wilderness extremely limited for older and mobility-challenged people. 
It certainly created a hardship for Dorothy in her ability to bring in supplies. After the pilots' planes were confiscated, only essential items to run the resort were transported by boat/canoe, dogsled or (later) by snowmobile. 
Due to the weight of bottled soda pop, Dorothy discontinued supplying it at the camp. With a large supply of empty soda bottles, she began making homemade root beer with water from Knife Lake and bottled it right at camp. She began selling the root beer to visitors from her Summer Island and quickly became known as the "Root Beer Lady." Having the base of her root beer making and selling business on the Summer Island ensured that any guests staying in the other cabins would not be disturbed by short-term visitors looking for a refreshing beverage or perhaps a Snickers bar.
From 1962-64, heated debate between the federal government and interest groups regarding logging roads, motors and snowmobiles in the BWCA continued. In 1964, the Selke Committee recommended a definition of wilderness as "…an area where the earth and its community of life are untrammeled by man, where man himself is a visitor who does not remain." This definition was accepted by Congress and moved the Wilderness Act of 1964 into law by President Lyndon B. Johnson.
This new law meant that Dorothy could no longer reside on the Isle of Pines within the designated BWCA wilderness. The USFS had a legal right to take her land as long as it was for the public good. In a letter dated April 23, 1964, the USFS told Dorothy their only option was to condemn her property.
A tremendous public outcry of support for Dorothy to retain her property convinced the USFS to negotiate with her further. In exchange for maintaining residency on the Isle of Pines through 1975, she sold the property to the government.
After the 1964 Wilderness Act, Dorothy was no longer able to operate the resort commercially. However, she continued to host guests but accepted donations in lieu of collecting payment.
However, Dorothy's perseverance, hard work and continued good health indicated to the USFS that she would not likely retire in 1975. They knew that if they evicted her, they would have another publicity issue on their hands. To avoid that, the USFS drafted an agreement to allow residency (for both Dorothy and Benny Ambrose) at the resort for the rest of her life. In the agreement, Dorothy was asked to keep records of visitors, distribute area information, and monitor campsite occupancy on the west end of Knife Lake. After 25 years of fighting to remain on her cherished lands, Dorothy was undoubtedly very relieved.
Although Dorothy and her friends had been at odds with the USFS for much of her life, the local USFS staff were not necessarily in support of evicting Dorothy. After she established her lifetime tenancy, they began supporting her by checking in on her and helping transport family members and supplies in USFS floatplanes.
Today, this cabin is filled with hundreds of her personal objects and is arranged similarly to when Dorothy lived in it. However, the porch of this cabin was used as a bedroom rather than the home of her famous root beer making equipment as it is now. Guided tour programs spend a considerable amount of time in this cabin.
Sources
Dorothy Molter Museum Staff
Andrew Hamilton. Loneliest Woman in America. Saturday Evening Post: October 18, 1952
File 2000.11.08.03 of the Dorothy Molter Museum, Courtesy of Superior National Forest Collection, Iron Range Discovery Center
Guy-Levar, Sarah and Terri Schocke. Dorothy Molter: The Root Beer lady. Cambridge, MN: Adventure Publications. 2011.
Cary, Bob. The Root Beer Lady, The Story of Dorothy Molter. Edition 1. Minneapolis, MN. Univ Of Minnesota Press, 2002.
Dorothy Molter: Living in the Boundary Waters. Black, Wade & Hadel, Judith. Documentary on/with Dorothy Molter. United States. 1987.
Image Sources
Dorothy Molter Museum

Dorothy Molter Museum

Dorothy Molter Museum

Dorothy Molter Museum

Dorothy Molter Museum

Additional Information