Westleigh Farms
Introduction
Westleigh Farms, located in Butler County and just southeast of Peru, Indiana, is the childhood home of famous Hoosier composer and playwright Cole Porter. The farm was owned by the Porter family and is where Porter's family resided after Cole's departure and catapult into musical stardom across the entirety of the world.
Images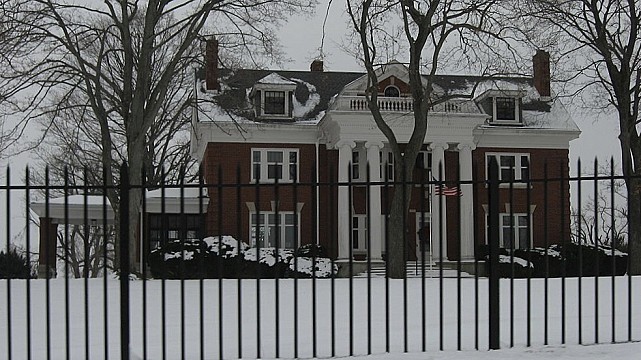 Backstory and Context
This site gives itself to the history of Indiana Agriculture as a prime example of the influences that have changed the career paths of many Americans across the country. In the early to mid 20th century, the country began to see more and more young adults pursue a college education and to make homes in more metropolis areas. The life of Cole Porter is an extreme example, but a prime one for making this distinction.
The July 15th, 1968 edition of the Rushville Republican Newspaper ran a piece entitled "Sophisticated Music Rolled From Cole Porter's Piano," which outlined how Cole's grandfather, James Omar Cole, was a member of the gold-rush before moving to Peru, Indiana and investing greatly into the surrounding farmland. James' daughter, Kate Porter, married a druggist by the name of Samuel. Together they had Cole, whose mother Kate would push him to take up violin and upright piano lessons.
After maturing and developing his artistry as a magnificent young musician, Porter left the farm for Worscester Academy in Massachusetts, which prompted a stonewall of silence from his disapproving grandfather. After graduating valedictorian from Worcester, Cole would spend his summers away from the farm. According to the article "To his grandfather's disgust he spurned summer work on the farm, feigning sunstroke."
Cole would go on to become one of the most accomplished composers and playwrights of his time, releasing the musical "Anything Goes," along with numerous American Songbook classics such as "I've Got You Under My Skin," "Begin the Beguine," and "Too Darn Hot." His mother would live on this property until her death, and the site is now listed on the National Register of Historic Places.
Sources
"Sophisticated Music Rolled From Cole Porter's Piano." Rushville Republican (Rushville, Indiana) July 15th 1968. , 5-5.
Image Sources
https://househistree.com/houses/westleigh-farms

Additional Information