Von Lee Theatre
Introduction
A building that was a theatre, but succumbed to the Depression then became a grocery store. From there, it was a theatre once again that hosted half a century of Indiana University students in its seats. The Von Lee Theatre has seen a dozen renovations and venue changes since it's conception in the 1920s and has been the center of controversy on whether it should be listed as a historical site.
Images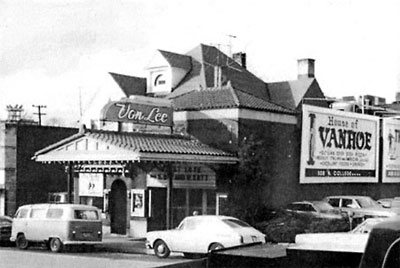 Backstory and Context
Originally, the Von Lee Theatre was called 'The Ritz Theatre' when it first opened in the early 1920s. However, the owner was forced to shut down in the wake of the Great Depression and the building was home to Peterson's Market for much of the 30s and 40s. Then, it reopened in 1949 as the Von Lee Theatre when Vonderschmidt Enterprises purchased the property and used its location just outside the Sample Gates to cater to students of Indiana University. During the 1960s, IU played a major role in selecting the programming for the theatre, coordinating shows to align with the summer school programing at IU (Huys, DNR). Then, in 1976, the Von Lee was purchased by the national theatre chain, Kerasotes Theatres and hosted major renovations, including adding 3 larger auditoriums that could seat 300 people each.
 Then, in 2000, after more than two decades of serving as the community's artistic theatre, Kerasotes shut the theatre down, siting sewage problems that diminished their business. When Kerasotes shut down the Von Lee, it instigated a ban on allowing the site to be credited with historical designation status and allowing the owner to show movies on the premises. After an anti-trust lawsuit ruled in favor of Kerasotes, the theatre company sold the property and was empty for about a decade. The site is now home to the popular restaurant 'Noodles and Company'
Sources
Huys, Karine. "Historic Theatre Case Study - Von Lee Theatre." DNR: Historic Theater Case Study - Von Lee Theatre, www.in.gov/dnr/historic/3805.htm.
Image Sources
https://www.in.gov/dnr/historic/3805.htm