Violet Oakley Historical Marker
Introduction
The historical marker dedicated to artist Violet Oakley (located in Philadelphia, PA) commemorates her work as a prominent female muralist and artist in other medias during the American Renaissance. Oakley's residence (dubbed the "Cogslea") from 1906 to her passing in 1961 stands beside the marker. Oakley was well-known as an advocate for universal peace and unity, and she acted as a proponent for the equality of oppressed individuals of her time, including women and racial minorities around the world. She observed the behavior of people with various cultures, different ethnicities, and varying worldviews, hoping to learn more about human nature. Oakley gained the most fame for her efforts in a series of mural commissions she completed for the Pennsylvania State Capitol in 1902, being the first American female artist to be commissioned for a capitol building. Her works were centered in faith and politics, primarily featuring scenes promoting unity of society and of self (both themes from William Penn's works). The historical marker serves to commemorate Oakley, whose efforts not only empowered women of her time but also served as an example of the influence art has on societal worldviews.
Images
Self-portrait – Violet Oakley, 1874-1961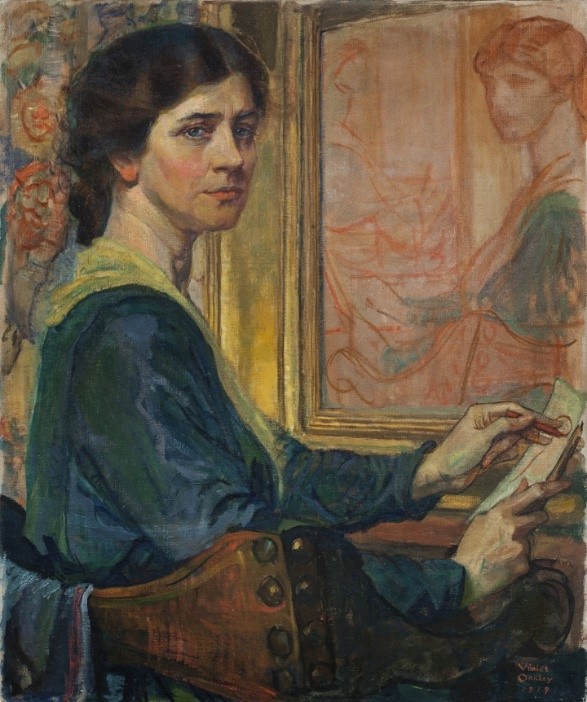 Violet Oakley Historical Marker, located beside Cogsley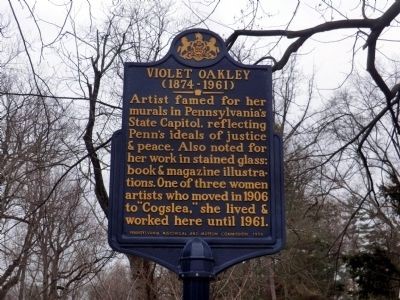 Portrait of a delegate, 1946, completed by Oakley while observing relations at a UN meeting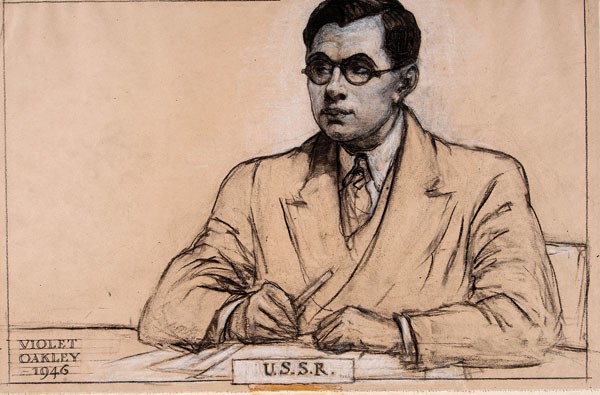 Oakley with her mural, "International Unity and Understanding," which stretches 44 feet wide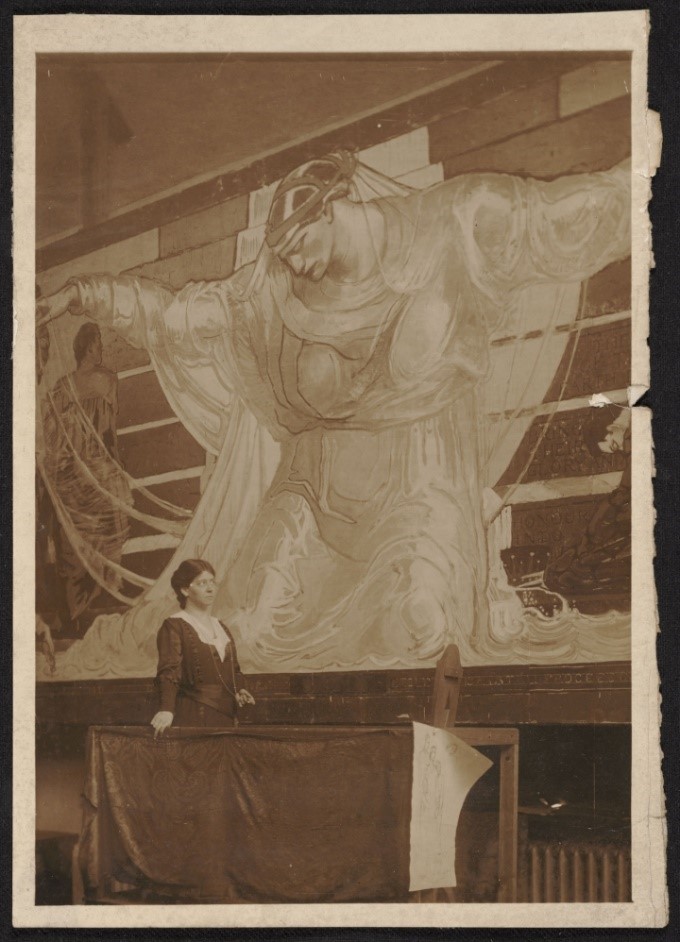 "International Unity and Understanding" completed mural, which promotes the sense of unity and equality Oakley strove for in her own life

"The Child and Tradition" completed mural, depicting a child's education in international disciplines promoting a unity of mind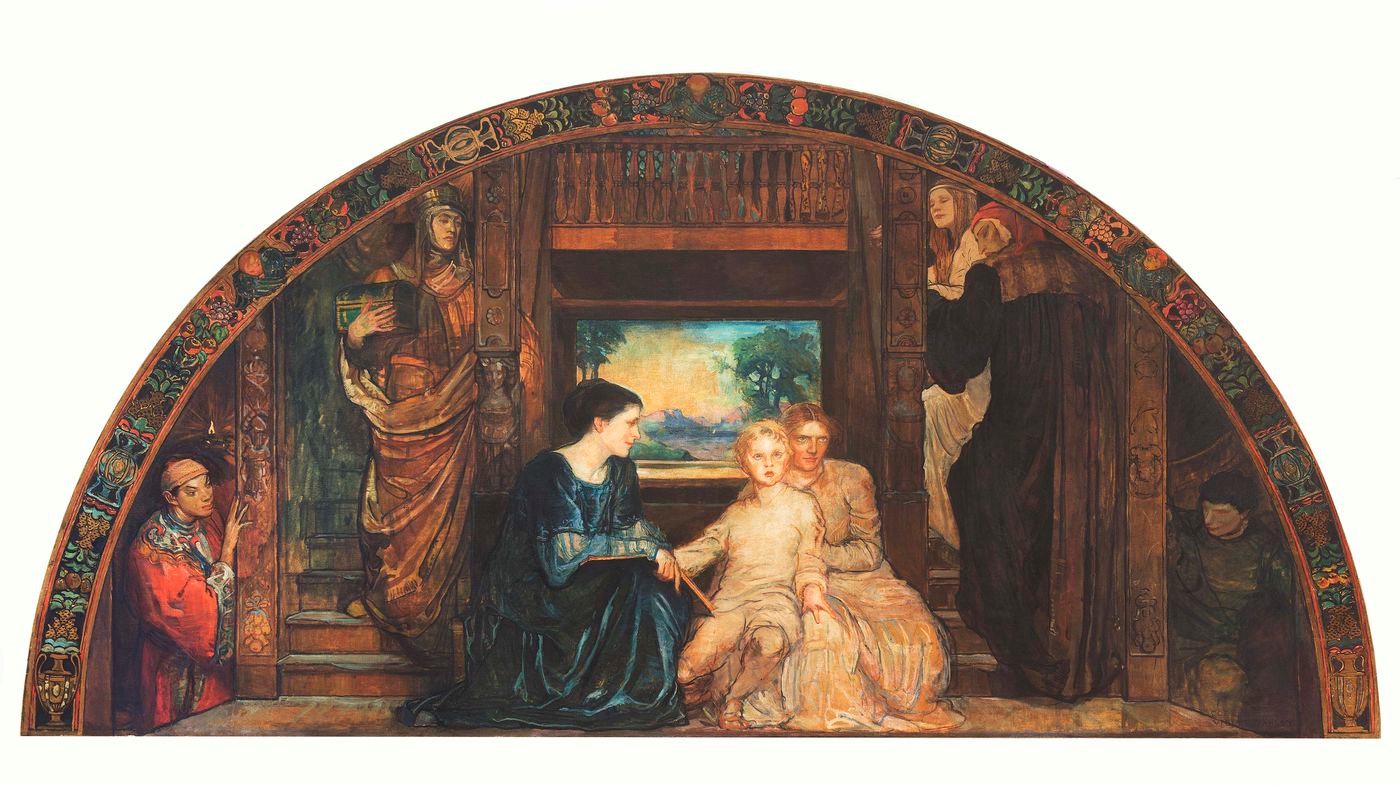 "General George Washington and the Troops of the Revolution" mural (making progress), displayed in the Pennsylvania State Capitol in commemoration of Washington's march through Philadelphia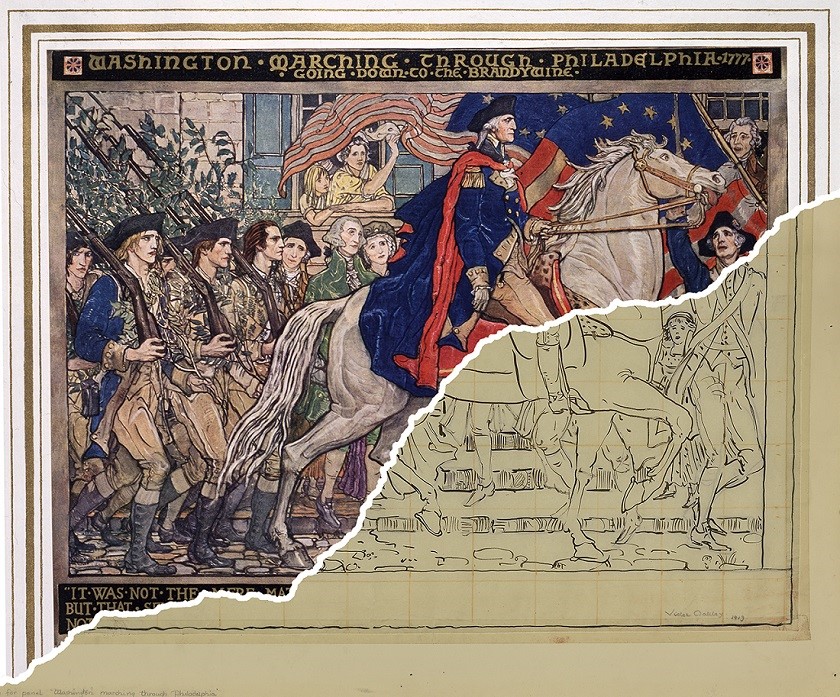 Backstory and Context
Violet Oakley was perhaps the most notable female artist in American history. She exposed women and other disadvantaged individuals of her time to equal rights opportunities and constantly strove to better people's lives around the world whilst also using her artist's prowess to promote unity and peace. Her efforts in multiple rights movements distinguished her from many women of her time and remain relevant to people, particularly women, today.
Oakley was born on June 10, 1874 in Jersey City, New Jersey but spent most of her life in Philadelphia, Pennsylvania.[4] [8] At the age of 21, she traveled to France with her family – there, she was exposed to work of the great Impressionists and studied at the Académie Montparnasse, working among notable painters such as Raphaël Collin and Edmond Aman-Jean.[8] Upon her return to the states, Oakley studied at the Pennsylvania Academy of the Fine Arts (PAFA) with two of her close friends. They "later took classes in book illustration with [instructor] Howard Pyle at Drexel Institute."[9] The three friends, Violet Oakley, Elizabeth Shippen Green, and Jessie Willcox Smith, had taken up residence in a studio on Chestnut Street in Philadelphia during this time. They later moved to the Red Rose Inn in Villanova, leading to their being dubbed the "Red Rose Girls" by Pyle. Another woman, Henrietta Cozzens, soon joined them to manage their household, prompting the new group of four to move to a shared residence in Mount Airy. They called this residence the "Cogslea," after their group name, the "Cogs" family (after the first letters of their last names). These strong females who had formed a lasting friendship and alliance with one another were supported by Harrison Morris, managing director of PAFA, because of their overflowing talent. Morris "had a vested interest in promoting the careers of the then-struggling artists who were living 'their daily artistic lives under one roof in the gentle comradery of some Old World 'school.''"[9]
In 1902, the Pennsylvania State Capitol architect, Joseph M. Huston commissioned the artist to decorate the Pennsylvania State Capitol in Harrisburg, a project on which Oakley worked feverishly (even traveling to Europe to conduct research on William Penn). In the following 25 years, Oakley was asked to paint murals for the Capitol Rotunda and for the Senate and Supreme Court chambers, and she completed 43 murals in all in the Harrisburg area over this span of time.[8] The Harrisburg murals she completed represented the first art project in an American government building commissioned to a woman.[1]
Throughout her life, Oakley stood as a symbol of power and opportunity for women all over America. Oakley was a female involved in the predominantly male movement that was the American Renaissance, and her murals and other artwork act as a symbol of the feminist power that has been growing more than ever since the 19th Amendment was ratified in 1920.[3] [4] Oakley was also the only prominent female artist serving as the direct product of the American Renaissance's mural-making movement specifically.[6] [4] Alongside her work for the women's rights movement, Oakley also supported other movements, both national and worldwide. She particularly favored those vouching for unity in spirit and for overarching peace in and between societies.[6] [4] Oakley's influence reached past the confines of Philadelphia, Pennsylvania, and even America, and this was all due to her striving for a more united world. Oakley portrayed the strong image of a successful, progressive woman until her passing in 1961.
Despite her lifetime efforts, Oakley's artwork was largely overlooked after her passing. It was examined more as a symbol of female accomplishment than as a substantial collection. Woodmere Museum displays Oakley's work as a physical medium of its own, separating the images from the artist in order to fully honor Oakley's artistic efforts and bring to light her years of hard work. Oakley painted in a style predominantly seeded in the English Pre-Raphaelite Movement, though it mirrored many elements of the realism and art nouveau tropes.[1] [7] [9] [8] Alongside her feminism- and various other rights-driven approaches to creating murals, Oakley also took an artistic, aesthetic, and often religious approach when going through the mural-making process. She did the same when delving into other artistic mediums such as illustration, stained glass designing, and manuscript illumination.[5] [8] Having been raised as an Episcopalian, Oakley put an incredible amount of thought into the spirituality of her works. She held a huge regard for William Penn's philosophies, which promoted vigilance and diligence. Thus, she constantly strove to spread messages of unity, equality, peace, and freedom through her philanthropic work and artistic work. In recent times, multiple organizations have made efforts to amend this marginalization of a great artist whose art is shrouded by its metaphorical significance, but there is still a lot of work left to be done in this regard.
Oakley's art is masterful enough to stand on its own without the benefit of its historical value. Nevertheless, the artist used her work as a vehicle for promoting human rights and was able to bring much-needed change and hope to many women. The plaque commemorating Oakley is a sign of her achievements as an activist, a woman, and an artist, and can be found at 40° 3.193′ N, 75° 12.232′ W in Philadelphia, PA.[2]
Sources
Crimmins, Peter. "Woodmere Offers New Look at Violet Oakley, Whose Murals Stand Timeless at Pa. Capitol." WHYY, WHYY, 1 Oct. 2017, whyy.org/articles/woodmere-offers-new-look-violet-oakley-whose-murals-stand-timeless-pa-capitol/.
Morfe, Don. "Violet Oakley Historical Marker." Edited by Bill Pfingsten, Historical Marker, 3 Jan. 2020, www.hmdb.org/m.asp?m=82045.
Nadan, Tal. "Violet Oakley: An Interview with Dr. Bailey Van Hook." The New York Public Library, The New York Public Library, 31 Aug. 2017, www.nypl.org/blog/2016/04/04/violet-oakley-dr-bailey-van-hook.
Pennsylvania Capitol Preservation Committee. "Violet Oakley." Pennsylvania Capitol Preservation Committee, Pennsylvania Capitol Preservation Committee, cpc.state.pa.us/history/artists/violet-oakley.cfm.
"Press Release: The State Museum Opens New Exhibit on Artist Violet Oakley's Studies for Pennsylvania Capitol Murals." The State Museum of Pennsylvania, 7 Nov. 2019, statemuseumpa.org/press-release-state-museum-opens-new-exhibit-artist-violet-oakleys-studies-pennsylvania-capitol-murals/.
Ricci, Patricia Likos. "Violet Oakley (1874-1961): American Renaissance Woman." Academia, Academia, Apr. 2002, www.academia.edu/23589512/Violet_Oakley_1874-1961_American_Renaissance_Woman.
"Violet Oakley." Woodmere Art Museum, Woodmere Art Museum, woodmereartmuseum.org/explore-online/collection/artist/violet-oakley.
"Women of History: Violet Oakley." Mary Baker Eddy Library, 18 June 2015, www.marybakereddylibrary.org/research/women-of-history-violet-oakley/.
"Women Together." That's So Gay: Outing Early America, The Library Company of Philadelphia, librarycompany.org/gayatlcp/section3.html.
Image Sources
https://hyperallergic.com/405626/a-grand-vision-violet-oakley-and-the-american-renaissance-woodmere-museum-2017/

https://www.hmdb.org/m.asp?m=82045

https://woodmereartmuseum.org/explore-online/collection/ussr-mr-andre-a-gromyko-united-nations-series

https://hyperallergic.com/405626/a-grand-vision-violet-oakley-and-the-american-renaissance-woodmere-museum-2017/

https://hyperallergic.com/405626/a-grand-vision-violet-oakley-and-the-american-renaissance-woodmere-museum-2017/

https://www.inquirer.com/philly/entertainment/violet-oakley-show-at-woodmere-reveals-this-philly-artists-great-skill-and-quiet-complexity-20171011.html

http://statemuseumpa.org/press-release-state-museum-opens-new-exhibit-artist-violet-oakleys-studies-pennsylvania-capitol-murals/

Additional Information