Sadie T.M. Alexander
Introduction
Sadie Tanner Mossell Alexander was born January 2, 1898 in Philadelphia, PA to her parents, Aaron and Mary Mossell. Sadie Alexander lived 91 years filled with breaking down barriers and defying the odds for African American females. She spent the majority of her time growing up with family members in Washington, DC. Her upbringing influenced much of what she did throughout her life. Her family was very distinguished and fueled her fire to make a difference. Her father, an attorney, had abandoned his wife and two daughters a year after Sadie was born. Aaron Mossell was the first African American to earn a law degree. Her mother suffered from depression after being left and was often absent from being a caretaker. Family members in Washington D.C. frequently cared for Sadie and her two sisters. She grew up in a segregated time when being a black woman set her at a major disadvantage in a patriarchal society. She was able to advocate for change in a number of areas that were biased about ethnicity. Sadie T.M. Alexander is a prime example of how important it is to follow your dreams regardless of the obstacles that may stand in your way.
Images
The marker for Sadie T.M. Alexander is located at 700 Westview Street, Philadelphia PA 19119, United States of America .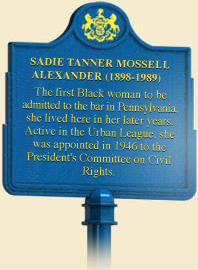 The picture below shows her marker as well as the house in which it is located at where she spent the majority of her life.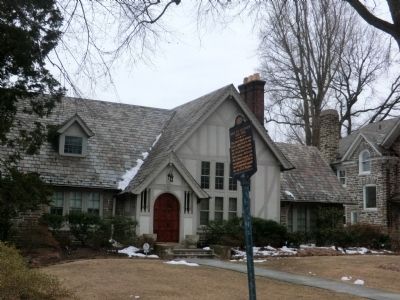 It shows Ms. Alexander prepared for graduation where she would be the first African American to graduate with a Ph.D in 1921.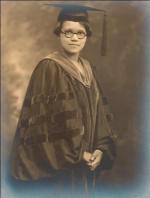 This picture was taken from the Delta Sigma Theta sorority where Sadie became the first president of the group, pushing people of every background to get an education.
A picture of Sadie and her husband . They had met during college and later became one of the earliest husband and wife legal teams.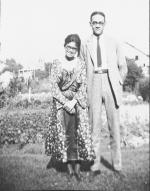 Backstory and Context
Sadie Tanner Mossell Alexander started her education at Dunbar Highschool in Washington D.C., formerly known as M Street School during her time of attendance. Ms. Alexander took her education very seriously from the time she started and received good grades and high honors throughout the years. She was granted a scholarship to Howard University but ultimately decided to go to Pennsylvania University in 1915 where she graduated with honors and a Bachelors Degree in education, while also facing discrimination regularly. In 1918, her acceptance into law school began her tremendous journey to advocate for civil rights because she saw the hardship that accompanied being a black female in the education system and did not want people to feel discouraged by their gender or ethnicity. She remained at Pennsylvania University in order to obtain a Ph.D. in economics where she became the first black woman in the United States to earn a degree by 1921. Being the first female to get accepted to the bar and then becoming the first African American to have both a Ph.D. and J.D. had increased her significance in history because females were not as privileged to a good education and equal opportunity, many females during this time had not attended a secondary education. 
She was the first president of the Delta Sigma Theta Sorority from 1919 to 1923 which assisted in promoting excellence in education and helping those in need which was specifically geared towards colored people who were still in the early stages of gaining equal rights. During Alexander's time the group consisted of 22 college educated females. It has since gained membership prominently from African Americans across the globe and typically houses more than ten thousand members at regional conferences. Alexander pushed to empower other minority women to get an education regardless of the obstacles they faced. Through a number of influential speeches she was able to motivate women everywhere to take their education seriously and make something of themselves. It was a crucial time in our history because segregation was declining slowly but by pushing minority parties to play their role they can better show how ethnicity and gender should not determine an individuals success.
In 1923, She married Raymond Pace, an attorney, whom she had met during her studies and they later had two daughters, Mary and Rae. She worked alongside her husband, making them one of the first couples to work together in law. Assistant City Solicitor of Philadelphia where she aided African Americans who could not afford lawyers. She was also an active member in the National Urban League which focuses on creating awareness and gaining equality among African Americans in areas such as social justice and economic standing. The group was predominant in fighting back against discrimination and Sadie T.M. Alexander was one of the leading activists. She was appointed to the President's Committee on Civil Rights founded in 1946 under President Harry Truman where they investigated civil rights reform.
She is best known for the number of speeches she gave primarily on education system reform and equal employment opportunity. She gave a memorable speech about Mary McLeod Bethune, another prominent black woman in society during this time, in 1941 where she admired all her work and advocated equal rights on behalf of "The Role of the Negro Women in the Economic Life of the Postwar South." She also pushed for reform in education and wanted everyone to be treated equally, she was enticing in her speeches and had learned most of what she talked about through her own personal experience. Working alongside her husband, the Alexander's had created change in the Pennsylvania Public Schools and colored sections in places such as movie theaters. She had pushed for equal opportunity across the board in areas such as education, employment, and the public sphere.
Sadie T.M. Alexander was not only the first female to excel in a number of areas where females had never dared to go before. She was appointed to a number of committees and spent the majority of her life speaking to the public about both economics and civil rights. She gave back to the community in ways that many African American females were unable to due to her education and influence in society. She was a great role model not only to women of color but for people of all orientations. 
Her marker is located at 700 Westview Street, Philadelphia PA, an area in which she spent most of her life. She practiced law until the age of eighty-five and left behind inspiration for people of all backgrounds. Important words to remember by Mrs. Alexander are, "Don't let anything stop you. There will be times when you'll be disappointed, but you can't stop. Make yourself the very best that you van make of what you are. The very best."
Sources
Fitch, Nancy Elizabeth. "Alexander, Sadie Tanner Mossell." In American National Biography 
Online. Oxford, United Kingdom: Oxford University Press, 2000. 
doi:10.1093/anb/9780198606697.article.1500988.
"Past National Presidents: Delta Sigma Theta Sorority, Inc." Past National Presidents | Delta 
Sigma Theta Sorority, Inc., 2017. https://www.deltasigmatheta.org/past-presidents.
"The Life and Speeches of Sadie Alexander." Financial Times, 2017. 
https://search.ebscohost.com/login.aspx?direct=true&db=edsfit&AN=edsfit.aec06568.91
2d.36c9.a483.fc422f9058d2&site=eds-live
"Sadie Tanner Mossell Alexander (1898-1989) Historical Marker." ExplorePAHistory.com, 
explorepahistory.com/hmarker.php?markerId=1-A-282.
Sadie Tanner Mossell Alexander. Interview with Sadie Alexander. Accessed 
February 12, 2020. https://search.ebscohost.com/login.aspx?direct=true&db=edsasp&AN 
=edsasp.ASP3180853.wass&site=eds-live.
Image Sources
Explore History.org.

https://www.hmdb.org/m.asp?m=82042

https://explorepahistory.com/hmarker.php?markerId=1-A-282

https://www.deltasigmatheta.org/past-presidents

https://explorepahistory.com/hmarker.php?markerId=1-A-282

Additional Information