Helen Richey Historical Marker
Introduction
Helen Richey was a female aviator during the early 1900's. She was born and raised in McKeesport, Pennsylvania. Richey was not very interested in college, so she dropped out of Pittsburgh's Carnegie Tech and enrolled in flight school. She was the first woman to be hired by a United States commercial airline. Throughout her career she many broke records, starred in newspaper headlines, and befriended co-pilot Amelia Earhart. Although it seemed that she had everything going well for her, there was an unknown problem. Unfortunately, Helen Richey committed suicide in 1947 in her New York apartment. Despite Richey's death, her legacy still remains a part of women's history. Her marker is located in McKeesport, Pennsylvania. It is a representation of the inspiration and hard work that women in the aviation field have faced since the beginning of time.
Images
Helen Richey (1909-1947) smiling and waving out the plane window prior to beginning her flight with the United States commercial airline.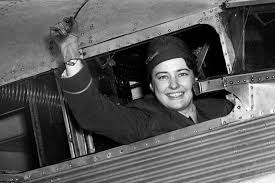 Helen Richey was a member of the WASP's (Women Air-force Service Pilots) during World War II.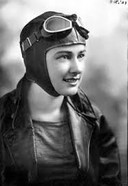 Helen Richey had an adventurous spirit as you can see from the eagerness she displays before hopping into the pilot's seat!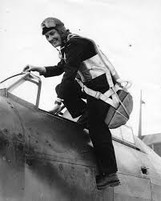 Helen Richey (left) sitting next to co-pilot and good friend Amelia Earhart (right) prior to their flight together.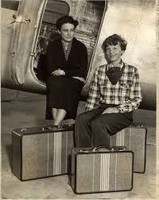 Helen Richey's plane taking off! She was the first woman to be hired by a commercial airline in the United States.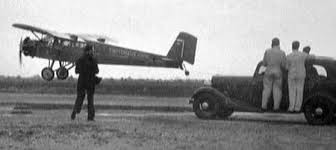 Here stands tall and proud: Helen Richey's historical marker in Allegheny County.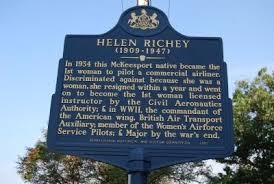 Backstory and Context
Helen Richey was born in McKeesport, Pennsylvania in 1909. Growing up, Richey was a tomboy. She consistently wore pants, kept her hair short, and played with mechanical boy toys. She graduated from High School in 1927 and then attended Pittsburgh's Carnegie Tech for a degree in Education. Within a few months Richey dropped out of college and enrolled in flight school. This is where her pilot journey begins…
In a bid to outshine a competitor James D. Condon the president of Pennsylvania's Central Airlines hired Helen when she applied for a copilot's position in December of 1934. Condon made sure that he reassured the U.S Department of Commerce that he was hiring a woman only for publicity purposes and didn't plan to keep her for long. Richey's first flight on January 1, 1935 was looked at as a breakthrough for women in aviation. Female pilots were rare. This brought popularity to Richey in newspapers. In 1934 the 25-year-old Native of McKeesport Pennsylvania beat out 7 male competitors for a position as copilot on the Central Airways mail route from Washington D.C. to Pittsburgh. She had more than 1,000 flight experience without an accident and had set a woman's endurance record of 197 hours and 5 minutes with Frances Harrell Marsalis in 1938. Central Airways pilots were unhappy about a female invading the male area of the cockpit implying that Richey was too weak to fly in rough weather. Central Airways stood by Richey stating: "This is Pilot Richey. Yes, she is a girl. She's young. She's pretty. She's a good flyer. But she's more than that…" Eventually the pilots took their complaints to the Pilot's Association which issued an advisory limiting woman to only flying in fair weather routes. Richey ultimately resigned in November of 1935.
In 1940 Richey became the first woman to earn her instructor's license and appointed as an instructor for air cadets in the Pittsburgh-Butler Airport. Two years later Richey joined the American wing of the British Air Transport Auxiliary (ATA). Her duties during the job included ferrying aircraft and materials through the British Isles. She headed the ATA's from 1942 until April 1943, when she returned to the states and joined the WASP's (Women's Air-force Service Pilots). Ultimately the WASP's were disbanded in 1944 and Richey couldn't find work.
After a brief unemployment period, Helen Richey felt the need to help England in its fight against Germany during second World War. So, she applied to the British air transport auxiliary for a pilot position. She had nearly 2,000 hours of flying experience, a commercial license, and her instructors rating. Richey also served as a flight instructor for the United States Army Air Corps. When she returned to the United States, Helen soon found herself in the Air Force service pilots' program. As a member of the fifth class to graduate she completed training at Avenger Field on September 11, 1943. Within the next couple months, she ferried twin engines Mitchell B – 25 bombers throughout the United States battle in war.
Other than flying, Helen Richey had a deep connection with co-pilot Amelia Earhart. In fact, Richey was convinced that Amelia Earhart's mysterious disappearance had sketchy undertones and believed there may have been secret activities surrounding the flight. Friends warned Helen that she was beginning to ask too many questions, when it was purely just an accidental tragedy. Soon after these accusations on Jan. 7, 1947, Helen Richey died in her New York City apartment. Her death was ruled a suicide, but some call it "impossible" to reject the possibility of a different cause (Tube City Almanac). Before her death, Richey's friends attempted to find help find her a new job after the war, but she showed barely any interest, always wanting to stay in her apartment and read. She became a ghost. Her sister Lucille noticed that Richey seemed unusually quiet, depressed, and disconnected from her life. On January 7, 1947, Richey folded her wings by her own hand in her apartment in New York's lower Manhattan's Chelsea District accomplished pilot. She committed suicide in 1947 on a pill overdose in her apartment.
Helen Richey's marker is in McKeesport in Allegheny County Pennsylvania. The marker states that she became the first woman to pilot a commercial airliner. She faced discrimination because she was a woman and resigned within a year and went on to become the first woman licensed instructor by the Civil Aeronautics Authority. In World War II the commandment of the American wing British Air Transport Auxiliary; member of the Women's Air-force Service Pilots and major by the war's end. Richey left an impact in the Pittsburgh community with help of the marker, articles and books from libraries. She is an inspiration for women in the aviation field all over the world who want to have faced discrimination or want to be pilots/work in the flight industry.
Sources
Michels, Kat. Helen Richey, Heroines of History . August 6th 2018. Accessed April 20th 2020. katmichels.com/about/heroines-of-history/helen-richey/.
Merry, Lois K. . Women Military Pilots of World War II: a History with Biographies of American, British, Russian, and German Aviators. McFarland, 2011.
Ware, Susan . Still Missing: Amelia Earhart and the Search for Modern Feminism. Norton , 1995.
Chan , Amy. Hometown Heroine: Helen Richey, History Net . March 6th 2018. Accessed April 20th 2020. www.historynet.com/hometown-heroine-helen-richey.htm..
Homan , Lynn M.. Reilly , Thomas. Women Who Fly. Pelican , 2004.
"Author Explores Story of Helen Richey's Death." Tube City Almanac . , Author Explores Story of Helen Richey's Death - McKeesport Announcements-Worthy of All Yohogania.
Weigand, Cindy. Helen Richey ATA Girl, WASP, Aviation Pioneer, 1933-1944. International Air and Space Museum.
Image Sources
Chan, Amy. "Hometown Heroine: Helen Richey." HistoryNet, HistoryNet, 6 Mar. 2018, www.historynet.com/hometown-heroine-helen-richey.htm

Helen Richey (1909-1947) - Find A Grave Memorial." Find a Grave, www.findagrave.com/memorial/33317571/helen-richey.

Pinterest." Pinterest, www.pinterest.com/

Amelia Earhart Sits on a Piece of Luggage with Fellow Female Pilot Helen Richey. The Luggage Was Designed b...: Amelia Earhart, Female Pilot, Amelia Earhart Projects." Pinterest, www.pinterest.com/pin/619174648744303602/.

"Historic McKeesport Aviator to Be Profiled in Documentary." Gazette, 7 Sept. 2006, www.post-gazette.com/life/lifestyle/2006/09/07/Historic-McKeesport-aviator-to-be-profiled-in-documentary/stories/200609070502.

"Helen Richey Historical Marker." Historical Marker, 2 Jan. 2020, www.hmdb.org/m.asp?m=47040.

Additional Information