Mayweather vs. De La Hoya
Introduction
Known as one of Mayweather's biggest PPV, despite De La Hoya's insistence that money was not a key factor in this bout, the Mayweather-De La Hoya bout set the record for most PPV buys for a boxing match with 2.7 million households, breaking the previous record of 1.95 million for Evander Holyfield-Mike Tyson II. About $120 million in revenue was generated by the PPV, another record. Including percentages De La Hoya earned $58 million for the bout, the highest purse ever for a fighter; the previous record was $35 million, held by Tyson and Holyfield. Mayweather earned about $25 million for the fight. One of Mayweather's only time being on the B-side of a contract. At one point, Mayweather Sr. was offered to train De La Hoya but declined the offer and stuck with trainer Freddie Roach. At this point, Mayweather was known very well as a showman but this particular promotion of Mayweather Jr. sticks with the fans till this day. One of his most famed antics in the boxing world. Addressing the crowd, "Mayweather told one of his wingmen to 'bring Oscar up here.' What appeared was a live chicken, wearing a faux gold medal around its neck, inside a cage that had a "Golden Girl" sign on it. It was a double dig at De La Hoya, mocking The Golden Boy and his medal from the 1992 Olympics." - Bleacher Report. The backdrop of Cinco de Mayo, "Mayweather insulted De La Hoya's legion of Latino fans by parading into the ring wearing shorts that bore the red, white and green colors of the Mexican flag. The added touch was a white sombrero that ironically completed Mayweather's Black-hat demeanor." -Bleacher Report. Telling press conferences "I'm the villain but I'm a damn good one." - Floyd Mayweather Jr.
Images
Mayweather landing a left hook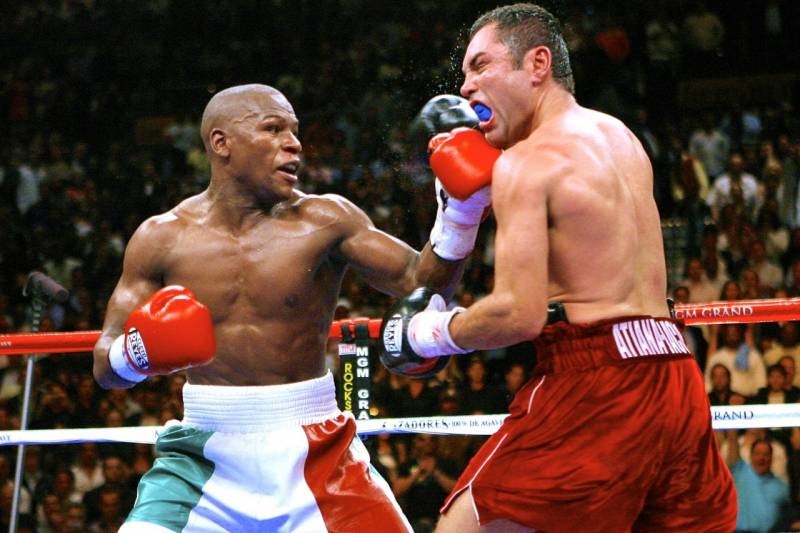 Mayweather slipping a shot from De La Hoya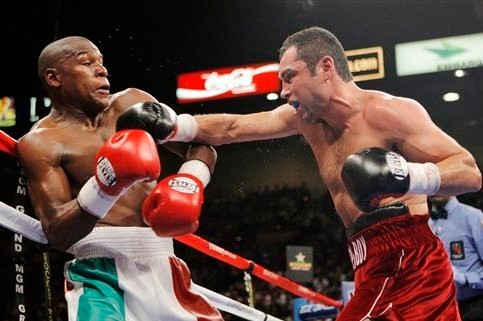 Mayweather landing a right hand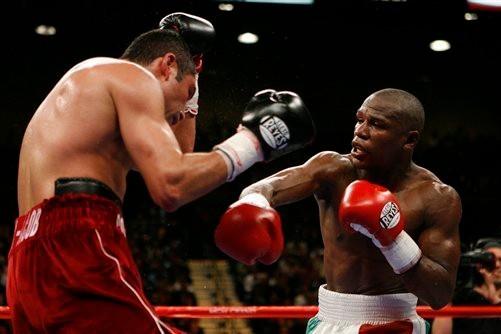 Mayweather landing another left hook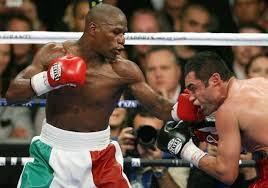 Backstory and Context
Mayweather won the fight by a split decision in 12 rounds, capturing the WBC title. However, many analysts and ringside observers felt Mayweather should have received a unanimous decision. During the early rounds De La Hoya had some success cutting off the ring, attempting to pound Mayweather on the inside. Despite his activity on the inside, however, many of De La Hoya's punches were ineffective and landed on Mayweather's arms or shoulders. By the middle of the fight, it was seen as an even bout by the announcers. Mayweather turned the tide in the middle and late rounds, often hitting De La Hoya at will. Official scorecards read 116–112 (Mayweather), 115–113 (Mayweather), and 115–113 (De La Hoya). CompuBox had Mayweather out-landing De La Hoya 207–122 in total punches and 134–82 in power punches, with better accuracy throughout the fight.
The comments made after the clinic Mayweather put on argued that Mayweather Jr. fought an older "dull" De La Hoya, De La Hoya entered the ring 38-4 losing two of his previous four bouts. His rust in the ring also showed, as this was his only the third time in the ring in 32 months. Retirement was on the come up for De La Hoya and after this, he fought only twice more. After the bout Mayweather contemplated retirement, saying he had nothing left to prove in the boxing world.
Sources
De La Hoya shuts door to Mayweather rematch. (2015, June 18). Retrieved from https://www.ringtv.com/392273-de-la-hoya-shuts-door-to-mayweather-rematch/
Weir, T. (2017, October 3). Remembering De La Hoya vs. Mayweather: The Fight That Made Floyd a Superstar. Retrieved from https://bleacherreport.com/articles/2438355-remembering-de-la-hoya-vs-mayweather-the-fight-that-made-floyd-a-superstar
Image Sources
https://bleacherreport.com/articles/2438355-remembering-de-la-hoya-vs-mayweather-the-fight-that-made-floyd-a-superstar

https://bleacherreport.com/articles/2438355-remembering-de-la-hoya-vs-mayweather-the-fight-that-made-floyd-a-superstar

https://bleacherreport.com/articles/2438355-remembering-de-la-hoya-vs-mayweather-the-fight-that-made-floyd-a-superstar

https://www.ringtv.com/392273-de-la-hoya-shuts-door-to-mayweather-rematch/