Wiggins Bar-B-Q (1950s-1980s)
Introduction
Wiggins Bar-B-Q was popular among the residents of Huntington, West Virginia for many years. Customers could choose from two different locations: one on Fifth Avenue across from Huntington East High School, and the other on the corner of Fourth Avenue and Sixteenth Street. Ralph Wiggins opened the Fifth Avenue Wiggins between 1949 and 1951, while Dave Freeman obtained permission to open a second Wiggins in 1957. Both restaurants quickly became local favorites, particularly among East High and Marshall students, and offered popular items like spaghetti, burgers, and milkshakes. The Fifth Avenue Wiggins was open until the mid-1980s, and the Sixteenth Street location remained in business until 1995. For several years, some of Wiggins' popular recipes continued to be served at Wiggins Central City at Madison Avenue and West Fourteenth Street, and at Tascali's on U.S. 60 East. Today, both restaurants are now closed, and the two Wiggins Bar-B-Q buildings have been demolished.
Images
Fifth Avenue Wiggins in 1964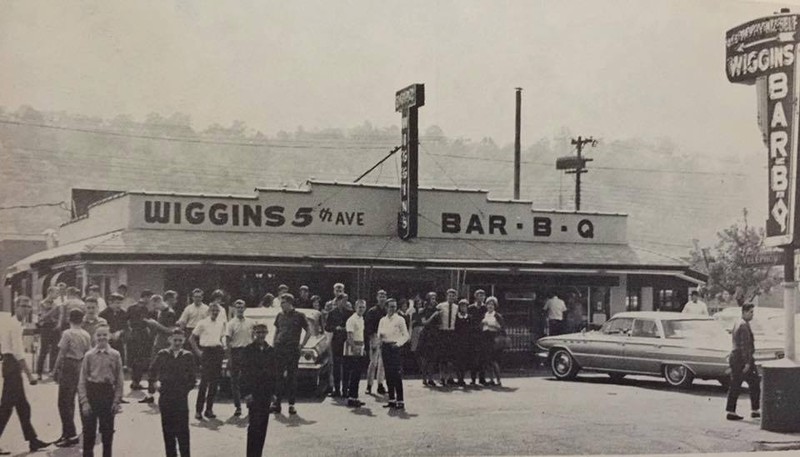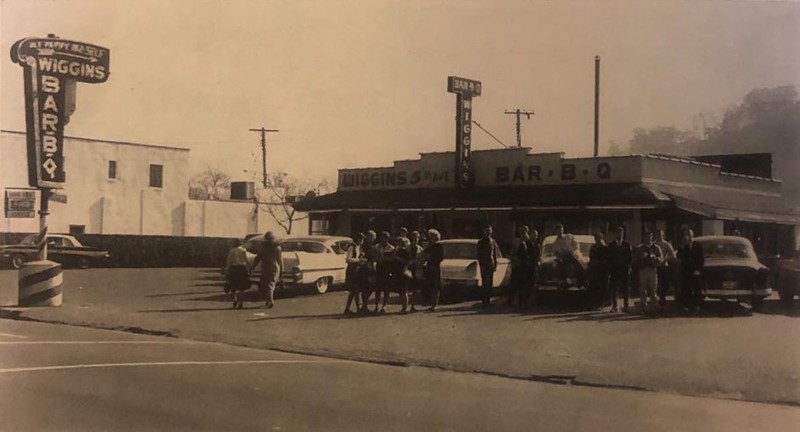 Sixteenth Street Wiggins, across from Old Main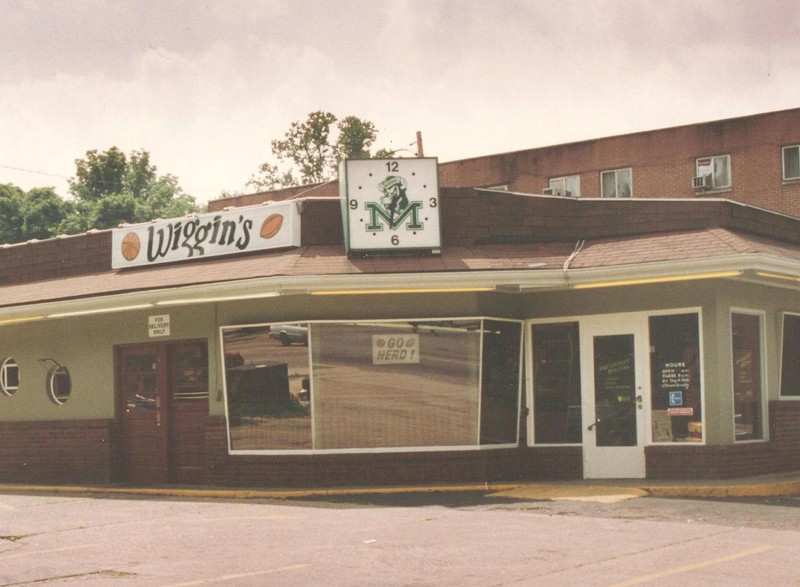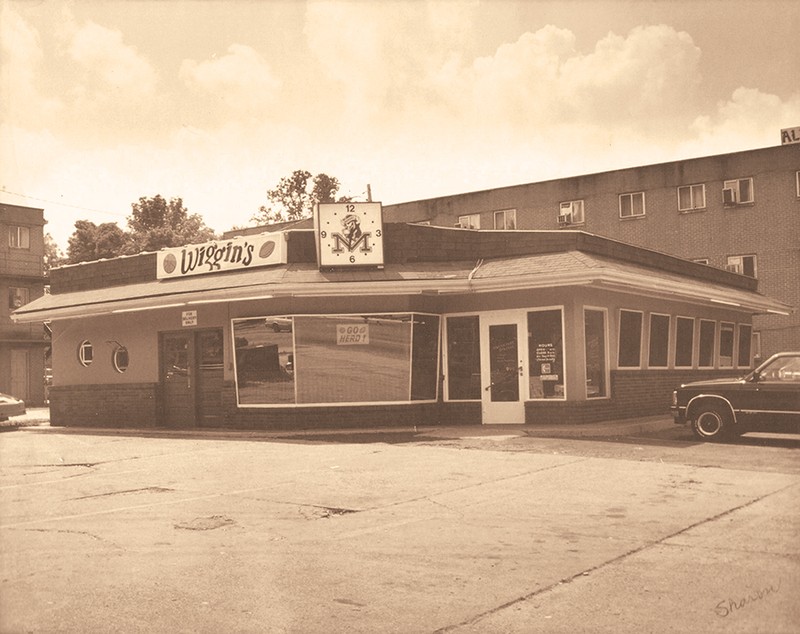 Inside the Sixteenth Street Wiggins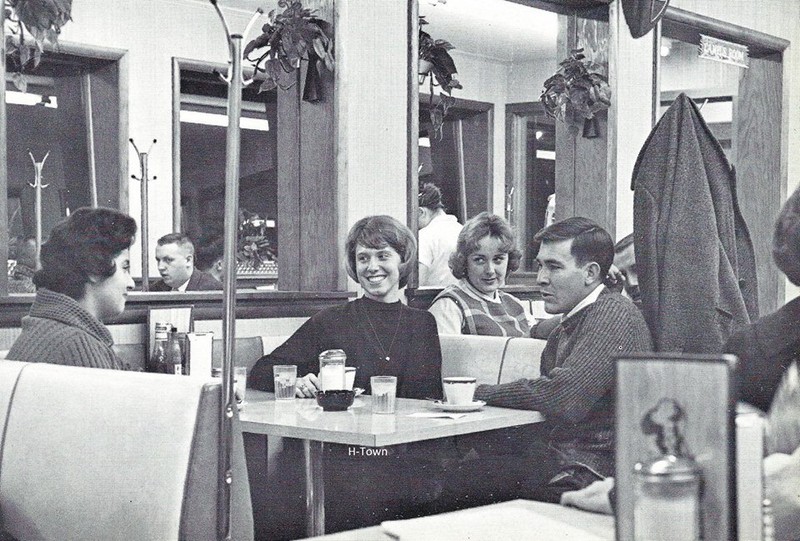 Pure Oil Station at Sixteenth Street and Fourth Avenue in 1937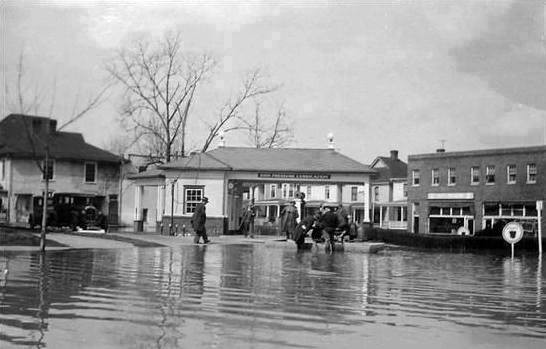 Corral Drive-In, before it was demolished to make way for the Sixteenth Street Wiggins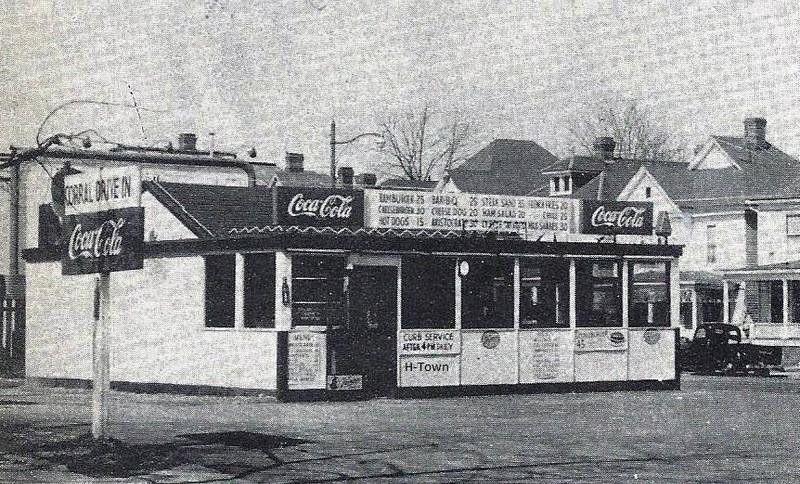 Karl Kirtley's Merry Go-Round, which later was occupied by Fifth Avenue Wiggins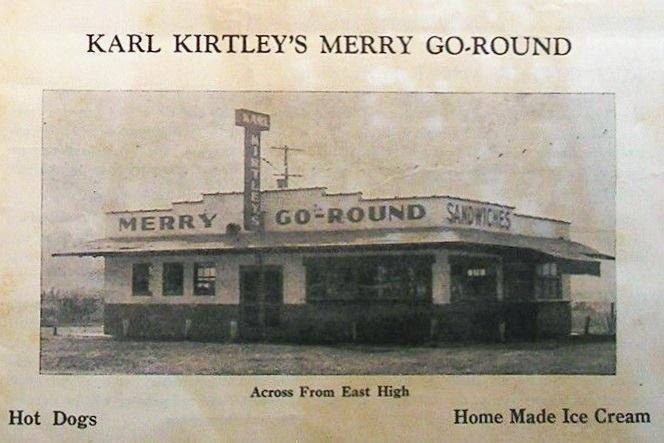 Knights Restaurant, which occupied the building before it was Fifth Avenue Wiggins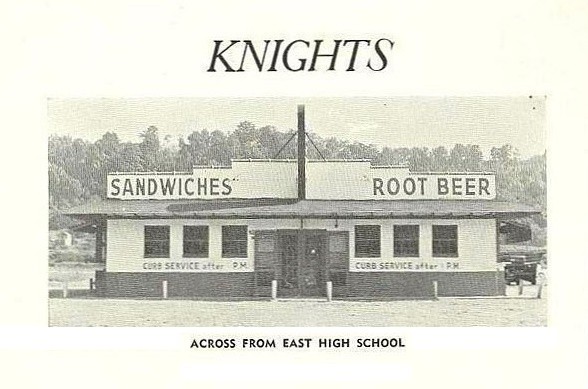 Fifth Avenue Wiggins, circa 1960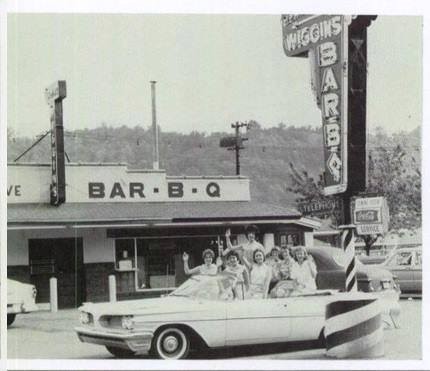 The Fifth Avenue Wiggins sign in the 1974 Huntington East High School yearbook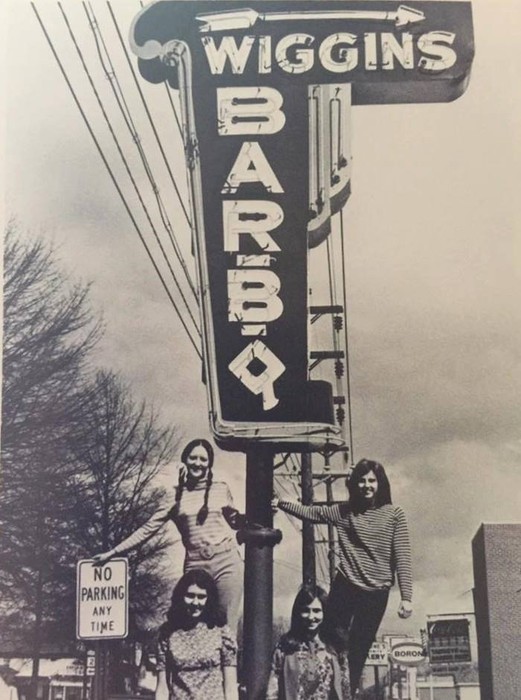 Fifth Avenue Wiggins during the HHS 1961 State Basketball Championship Parade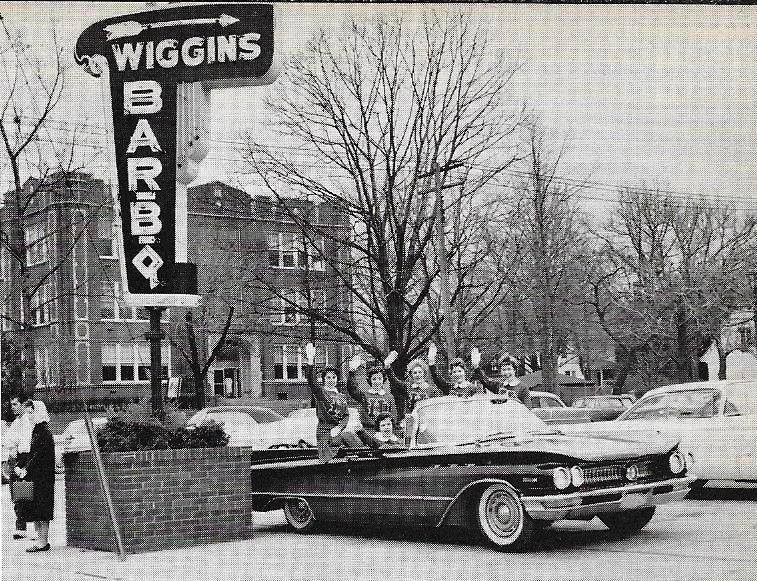 West side of the Fifth Avenue Wiggins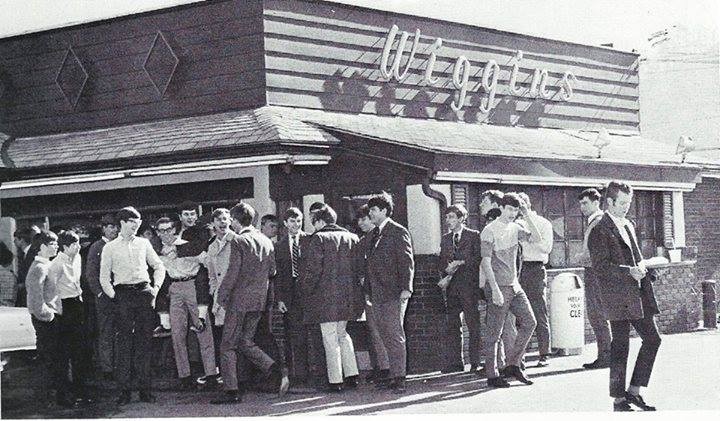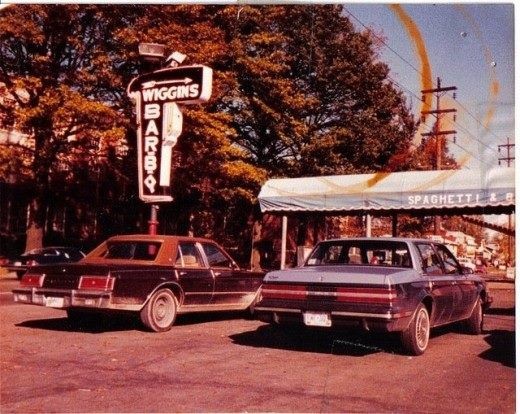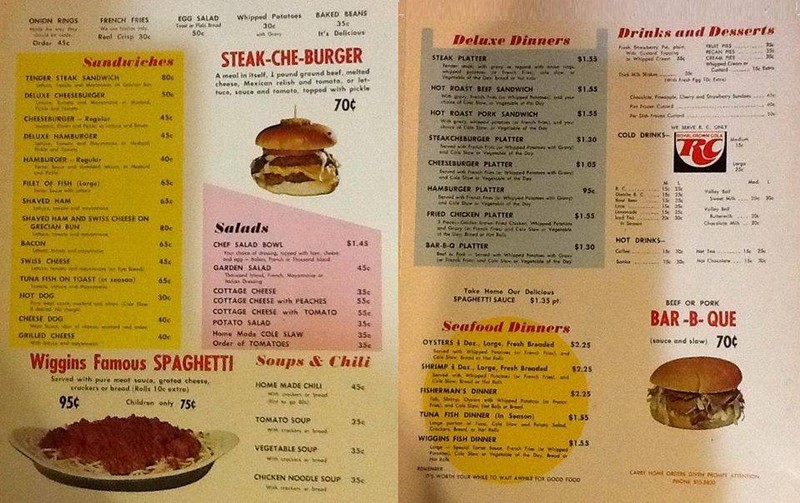 Backstory and Context
Ralph Wiggins opened Wiggins Bar-B-Q at 2877 Fifth Avenue between late 1949 and early 1951. Before opening at the Fifth Avenue location, Wiggins had owned a drive-in restaurant called Wiggins Outside Inn behind a gas station at the intersection of Washington Boulevard and U.S. Route 60. The Wiggins on Fifth Avenue became the third restaurant to occupy that structure. Around 1946, a restaurant called Karl Kirtley's Merry Go-Round was the first to use the space. The second, called Knights, was owned by Jack Knight, but it was only in business for a brief time. After Wiggins Bar-B-Q had operated for a few years, a group of local businessmen purchased the restaurant in 1956. 
Meanwhile, a second Wiggins was opened in 1957 by restaurateur Dave Freeman on the corner of Fourth Avenue and Sixteenth Street (now Hal Greer Boulevard), right across from Marshall University's Old Main. The site was once the location of a Pure Oil Co. gas station. These stations were notable for their unusual English Tudor design, including features like bay windows, steep gable roofs, and chimneys. The site was later occupied by a Corral Drive-In restaurant, which operated through the mid-1950s. The drive-in, which had become quite ramshackle by 1957, was torn down to make way for the new Wiggins Bar-B-Q. 
Both Wiggins restaurants quickly became favorites among Huntingtonians. The restaurants had a large menu, offering barbecue mainstays like pulled pork sandwiches, burgers, and hot dogs along with sides like onion rings and fries. Wiggins' most famous dish was its spaghetti, which was made with a distinctive chili-flavored sauce. The restaurant also offered sweet treats such as fresh strawberry pie, many flavors of milkshakes, and limeades. In addition to its food, Wiggins was also popular because of its social atmosphere. The Fifth Avenue location, which was across the street from Huntington East High School, quickly became a favorite spot among students, who filled the restaurant's booths during their lunch period and socialized in its parking lot during the evenings. The Sixteenth Street Wiggins proved to be just as popular among Marshall students, who gathered at the eatery when they needed a break from their studies. With such reliable sources of customers, business at both Wiggins locations boomed for many years. According to Rob Freeman, who took over operation of his father's Sixteenth Street Wiggins, business at the restaurant increased fivefold over the years. 
The Fifth Street Wiggins continued operating until the mid-1980s, while the Freemans sold the Sixteenth Street location in 1995. The following year, the building was damaged in a fire and never rebuilt. Although both restaurants were closed, the Wiggins legacy carried on, and its recipes were featured at other local restaurants for several years. In 1985, Darrell "Bo" Smith and Edward Humphries acquired several recipes from Wiggins - including its famous spaghetti - and began serving them at Tascali's Decades Pasta and Grill on U.S. 60 East in Barboursville. In 1999, Rob Freeman and local businessman Edsel Rollyson teamed up to serve Wiggins barbecue and spaghetti at Wiggins Central City, which was located at Madison Avenue and West Fourteenth Street. Both Wiggins Central City and Tascali's have now closed. When Tascali's shut down in 2015, Smith noted that he intended to sell the Wiggins recipes, which had comprised 40% of what his customers ordered over Tascali's nearly thirty years in business. 
Sources
Casto, James E.. Lost Huntington: 16th Street Wiggins, Huntington Herald-Dispatch. June 20th 2016. Accessed April 20th 2020. https://www.herald-dispatch.com/special/lost_huntington/lost-huntington-th-street-wiggins/article_04ff514d-a726-5ac4-a4a4-ad53b267276e.html.
Casto, Jim. Huntington's Favorite Former Eateries, Part 2, Huntington Quarterly. September 26th 2018. Accessed April 20th 2020. https://huntingtonquarterly.com/2018/09/26/issue-74-former-eateries/.
Roberts, Brandon. Owner of Tascali's wants to preserve memorabilia, recipes after closing, Huntington Herald-Dispatch. March 15th 2015. Accessed April 20th 2020. https://www.herald-dispatch.com/business/owner-of-tascali-s-wants-to-preserve-memorabilia-recipes-after/article_883040da-cbae-54c4-8682-9b5eabdf0525.html?fbclid=IwAR0wyHn9VzH8gBr3pnk9jyZj9GWqCCGC80iKit9j00bkF_ve-bj8--jo1CY.
Image Sources
https://www.facebook.com/photo.php?fbid=1711130088927177&set=p.1711130088927177&type=3&theater

https://www.facebook.com/photo.php?fbid=2944019265638247&set=gm.2299503910273679&type=3&theater&ifg=1

https://www.herald-dispatch.com/special/lost_huntington/lost-huntington-th-street-wiggins/article_04ff514d-a726-5ac4-a4a4-ad53b267276e.html

https://huntingtonquarterly.com/2018/09/26/issue-74-former-eateries/

https://www.facebook.com/photo.php?fbid=1711081278932058&set=p.1711081278932058&type=3&theater

https://www.facebook.com/photo.php?fbid=1039172826122910&set=p.1039172826122910&type=3&theater

https://www.facebook.com/photo.php?fbid=1709938005713052&set=p.1709938005713052&type=3&theater

https://www.facebook.com/photo.php?fbid=3710005872372912&set=p.3710005872372912&type=3&theater

https://www.facebook.com/photo.php?fbid=3706907819349384&set=gm.2499647123592689&type=3&theater&ifg=1

https://www.facebook.com/photo.php?fbid=1735096756530510&set=gm.1928355330721874&type=3&theater&ifg=1

https://www.facebook.com/photo.php?fbid=1795332797173572&set=gm.1948049982085742&type=3&theater&ifg=1

https://www.facebook.com/photo.php?fbid=1555745291132325&set=p.1555745291132325&type=3&theater

https://www.facebook.com/photo.php?fbid=982041858502674&set=gm.1642388792651864&type=3&theater&ifg=1

https://www.facebook.com/photo.php?fbid=2575289199177924&set=p.2575289199177924&type=3&theater

https://www.facebook.com/photo.php?fbid=1039172392789620&set=p.1039172392789620&type=3&theater

Additional Information