St. Paul's Anglican Cathedral
Introduction
Author-Uploaded Audio
St. Paul's Cathedral may be magnificent, but it shares something in common with countless churches: it conducted many weddings during and after the Second World War. When soldiers returned home, many reunited with sweethearts and married. However, many more returned with their significant others rather than to them: with the troops came over 60,000 new Canadians, 47,768 wives they had married while overseas, and 21, 950 children resulting from these marriages. The majority came from Great Britain. As such, the denomination of this cathedral, the Anglican Church, or as these brides would know it, the Church of England, took a special interest in the new arrivals. They, and other charitable groups and government agencies were so concerned with the welfare and transition of these women into Canadian society because they were not "coming home again"; they were coming home for the first time.
Images
Following their wedding, Florence (Lee) Holcombe went right back to nursing and her husband, G.T., right back to Holland. (transcript) Spr. And Mrs. G. T. Holcombe, who were married in Burbank Church of Scotland. The groom is the youngest son of Mr. and Mrs. A. C. Holcombe, Hamilton road, city, and the bride is the former Nurse Florence Lee, second daughter of Mr. and Mrs. John Lee, of Glasgow, Scotland. Rev. W. N. Scott officiated at the marriage ceremony at which the bride was given away by her father. The bride returned to the I.D. Hospital in Paisley, Scotland, when the groom resumed his duties with his unit in Holland. Spr. And Mrs. Holcombe are expected to come to Canada in the near future.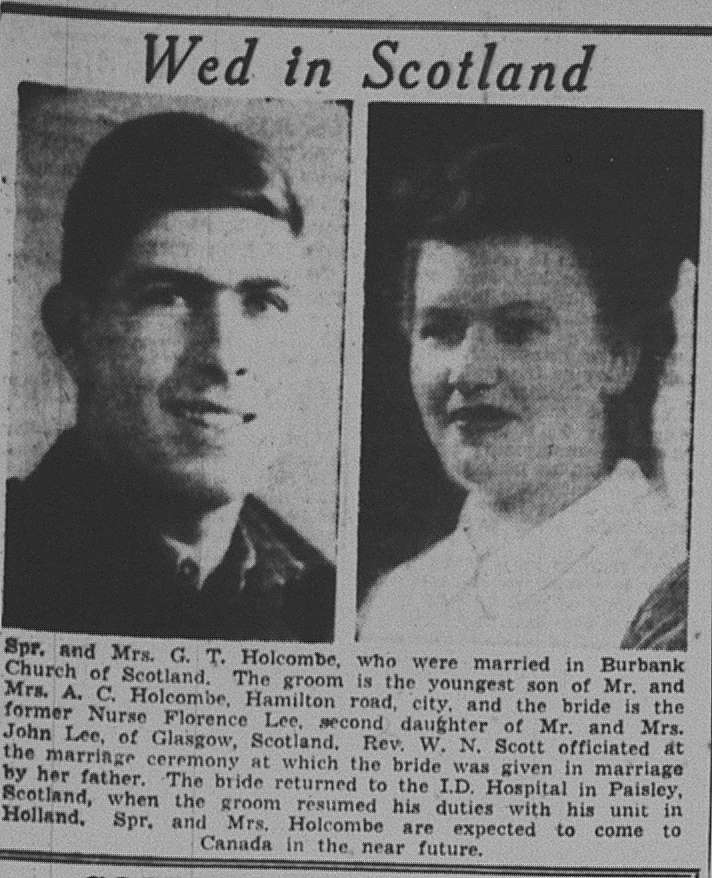 Casey and Edith (Swindlehurst) Donkervoort "will later make their home in this city" (London)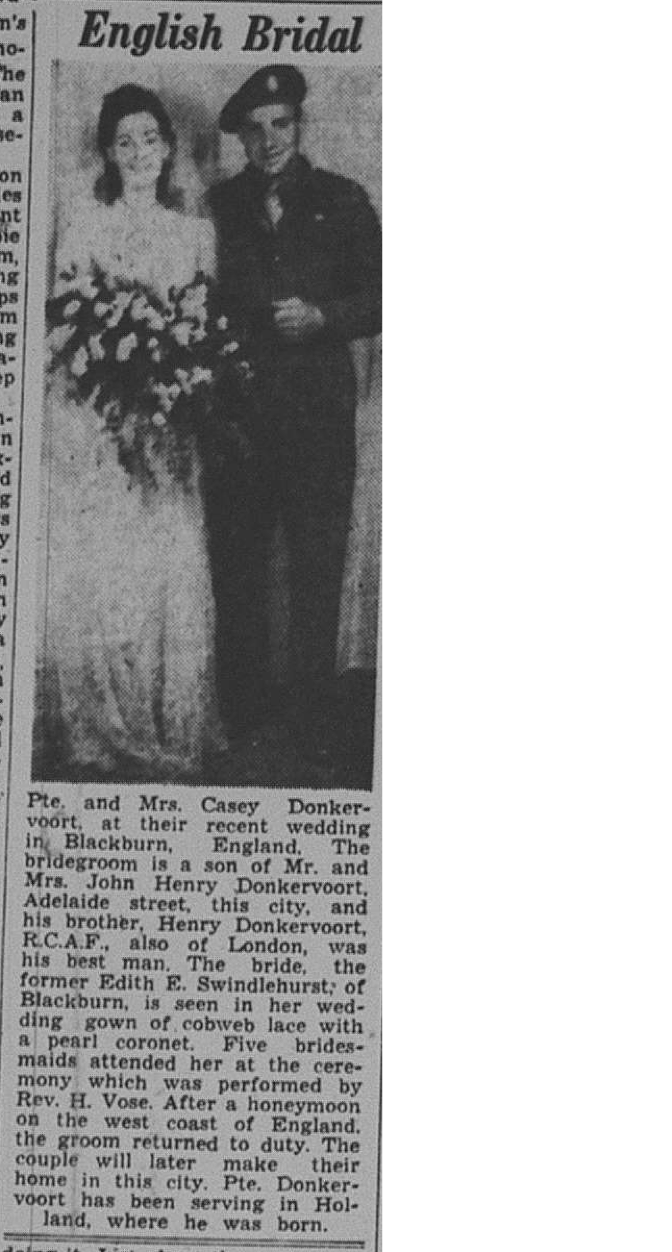 John and Margaret (Thompson) Houlding got a honeymoon in Scotland before having to part and each return to duty.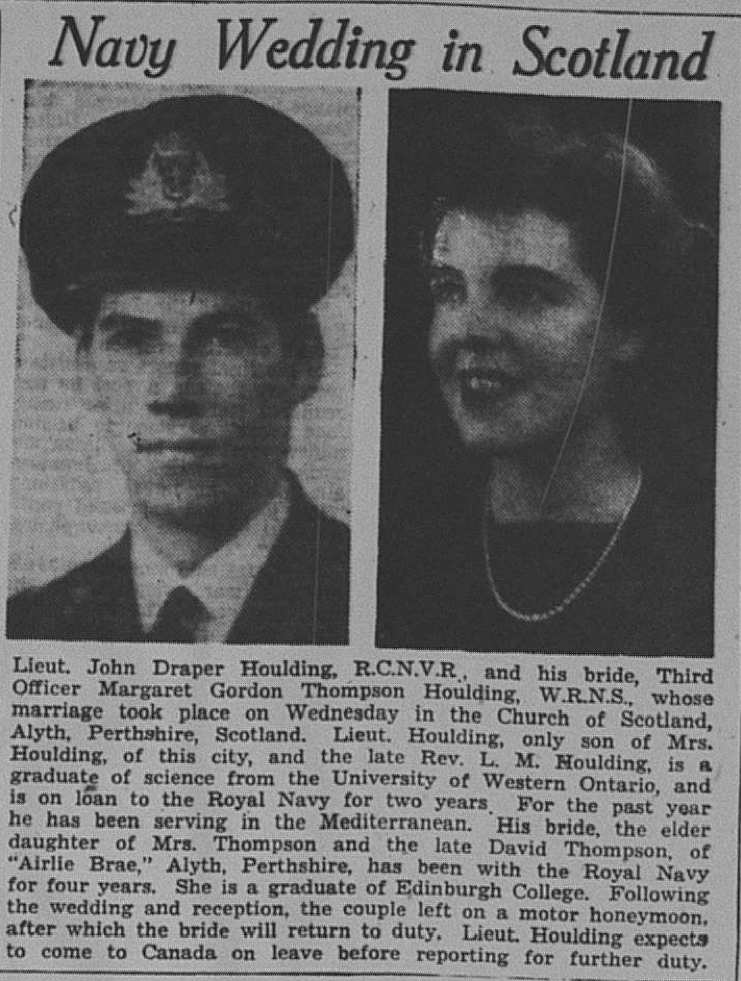 News spread that the wives and children were on their way in increasing numbers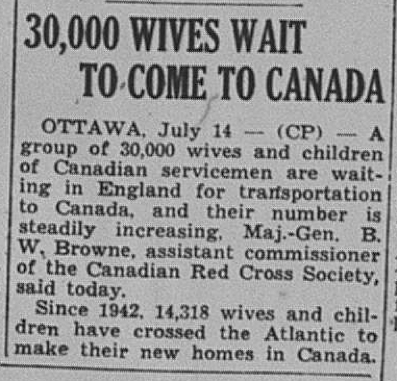 Backstory and Context
Author-Uploaded Audio
During their tours of duty overseas, many Canadian servicemen married women from, in order of frequency: Great Britain, The Netherlands, Belgium, France, the Caribbean, and other regions. On both sides of the Atlantic, "war brides," as they would come to be known, were accepted or vilified. Many women, who were waiting for the men's return, felt dejected when they arrived home with brides from abroad. Throughout their journeys, the new wives of Canadian servicemen had to deal with the hurt caused by the separation of time and space.
Numerous women had been married for years when the war ended but had only spent a short time with their husbands during their leave. Another group had only dated their husbands briefly during the war. These couples made the decision to marry when the man was leaving, knowing it was the only way the woman would be accepted into Canada. The process to go with their husbands was extensive and involved permission from military authorities and parents (if either of them was under 21). Most war brides came after Victory in Europe day, during 1945 and 1946.
Women and children were frequently on different ships than their husbands when traveling to Canada and could arrive years apart. If the war brides arrived before their husbands, they would be at the mercy of their new in-laws, as immigration law stated a wife had to have another Canadian resident to act as her "sponsor." While some in-laws were supportive, others were not.
As there were previous war brides from the First World War, the government was better prepared for the needs of the coming women. Pamphlets and films were available to teach women about Canadian climate, customs, and language, and a lending library was created in London. As a lot of war brides had been living off rations, the abundance of food in Canadian shops struck them with awe, with bananas being a particular novelty. Clothes too had been rationed, and their first outing was often to buy a new dress- or, during winter, a warmer coat.
As was the case with all Canadian society at the time, war brides suffered from the housing crisis. Few homes had been built during the Depression and construction had been restricted during the war. Additionally, many young men had been living with their parents before the war- now they were returning with more women and children to be housed. Numerous couples lived with their in-laws for years, regardless of how large the family, until the government agreed to build them housing.
Did these marriages last? It is hard to know since they were included under the national divorce statistics with other couples. This period is often seen as one of triumph, but also of hardship. Husbands who suffered ill mental health from their wartime experiences had difficulty creating a happy home. Some turned to alcoholism or committed acts of domestic abuse. Some women "stuck it out", while others divorced or returned to their homelands. Those who stayed integrated into their community. For example, they formed their own club where they could have the foods of home and discuss the issues which were unique to them. Most of the war brides who have been interviewed over the years now consider Canada their home and cannot imagine living anywhere else.
Sources
"30, 000 Wives Wait to Come to Canada." The London Free Press. July 15, 1945.
"Bride Welcomed to Ontario Home." The London Free Press. July 13, 1945.
Butler, Cheryl A. Janey Canuck: Experiences of World War II British War Brides Who Emigrated to Canada. Ottawa: National Library of Canada = Bibliothèque nationale du Canada, 1996.
Granfield, Linda. 
Brass Buttons and Silver Horseshoes: Stories from Canadas British War Brides. Toronto: CNIB, 2003.
Hibbert, Joyce. The War Brides. Scarborough, Ont.: Macmillan-NAL Pub., 1980.
Wicks, Ben. Promise You'll Take Care of My Daughter. Toronto, Canada: Stoddart Pub., 1993.
Image Sources
The London Free Press, July 16 1945.

The London Free Press, July 15 1945.

The London Free Press, July 12 1945

The London Free Press July 15, 1945.