The Homesteaders statue
Introduction
Dedicated in 1952, this statue was purchased by J. C. Nichols Company and originally placed at the entrance to the Prairie Village Shopping Center as part of an effort to build a connection between the postwar Kansas City suburb and the area's pioneer history. The statue was later moved and placed within a fountain at the entrance to the town in 2002.
Images
"The Homesteaders" statue. Photo by Cynthia Prescott.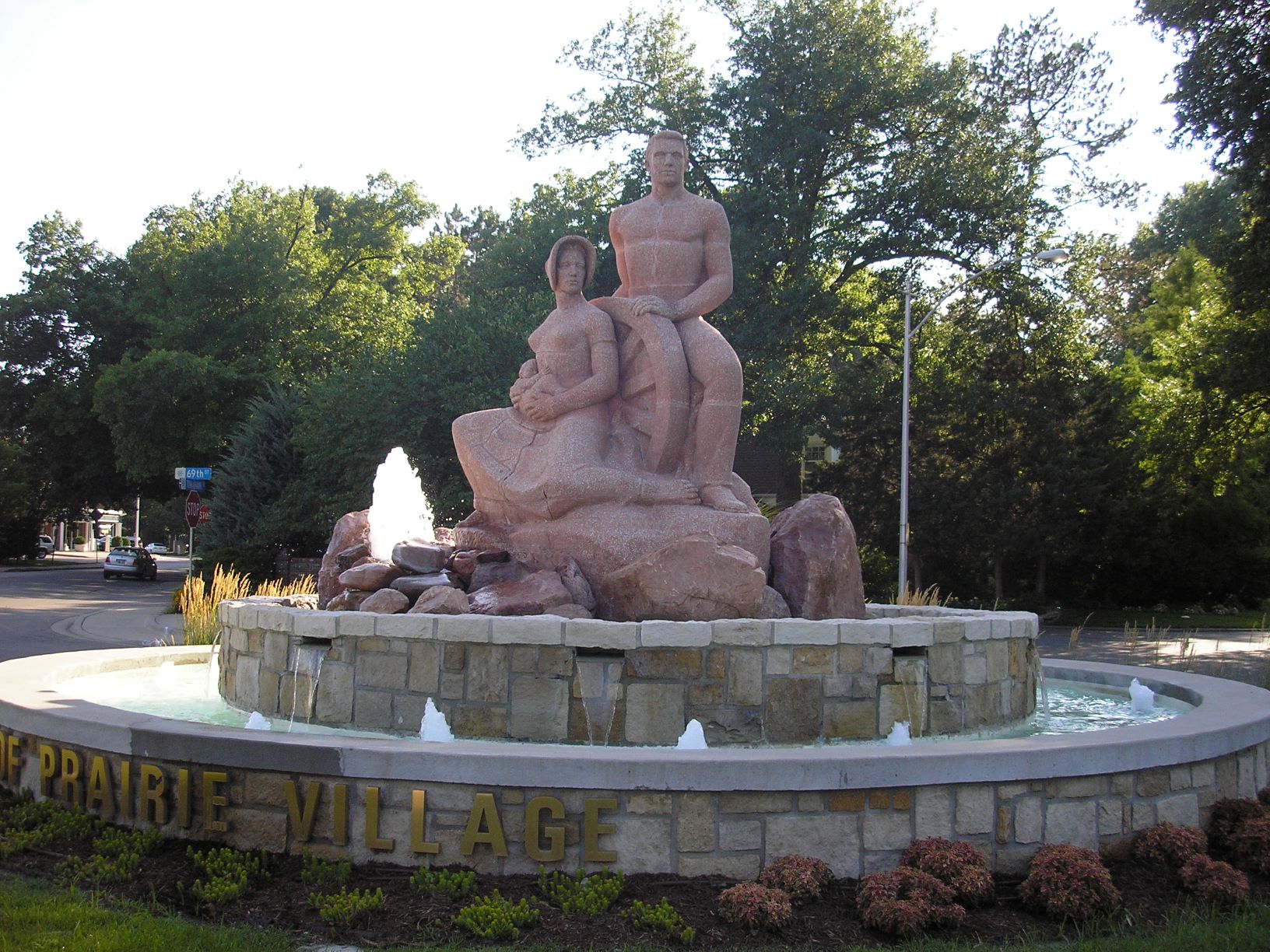 Backstory and Context
In the 1920s, Kansas City joined other prominent western American cities in erecting monuments to pioneers, with a special emphasis on pioneer women who were depicted as mothers who helped convert the wildness of what was viewed as frontier with civilization, stability, and familial values. After World War II, larger cities moved away from this trend while smaller communities in the West, including suburbs, turned to local artists who continued to create monuments to pioneers as part of their effort to claim a unique history. Those local artists increasingly depicted nuclear families rather than solo white women. Residents of Prairie Village, Kansas selected this sculpture of a strong father, a submissive mother, and a young baby, for the town's new shopping center.
 Real estate developer J. C. Nichols Co. sponsored a contest at the Kansas City Art Institute for an original sculpture for its new Prairie Village Shopping Center. Six students entered, and Prairiie Village residents voted for their favorite. The winning design was "Homesteaders" by Anna Belle Campbell. It took nearly a year for Campbell and her friend—and later husband—Joe Cartwright to complete the 12-foot-tall statue. It was cast in stone and marble by Ornamental Casterworks in Kansas City. The completed sculpture was dedicated in June 1952. 
The sculptor knew little about frontier clothing and wagon wheels when she designed the "Homesteaders" statue. But her interest in local history persisted, and she later became the curator at the National Frontier Trails Center in nearby Independence, Missouri. When Highwoods Properties purchased the J. C. Nichols Company in 1999, the statue was donated to the city of Prairie Village. It was placed on a fountain to mark the city's entrance in 2002.
Sources
Howard, Trisha L. "Sculptor of Prairie Village statue remembers its making." Kansas City Star June 3, 1998.
City of Fountains Kansas City, "Prairie Village Gateway," accessed August 27, 2015, http://www.kcfountains.com/fountains/details.php?photo=188
Prescott, Cynthia Culver. Pioneer Mother Monuments: Constructing Cultural Memory. University of Oklahoma Press, 2019.
Additional Information