Posey Tube
Introduction
Opened on October 27, 1928, the Posey Tube is an immersed underwater tunnel connecting Oakland to the City of Alameda under the Oakland Estuary. It was named after Alameda County Surveyor George Posey. Originally, the Tube provided two-way access between Oakland and Alameda. In 1963, with the completion of the Webster Street Tube, the Posey Tube was converted so that it was used only for northbound traffic from Alameda to Oakland. On June 23, 1992, the Posey Tube Portal was designated as an Oakland Landmark.
Images
A Black and white shot of the tunnel building on the Oakland side of the estuary.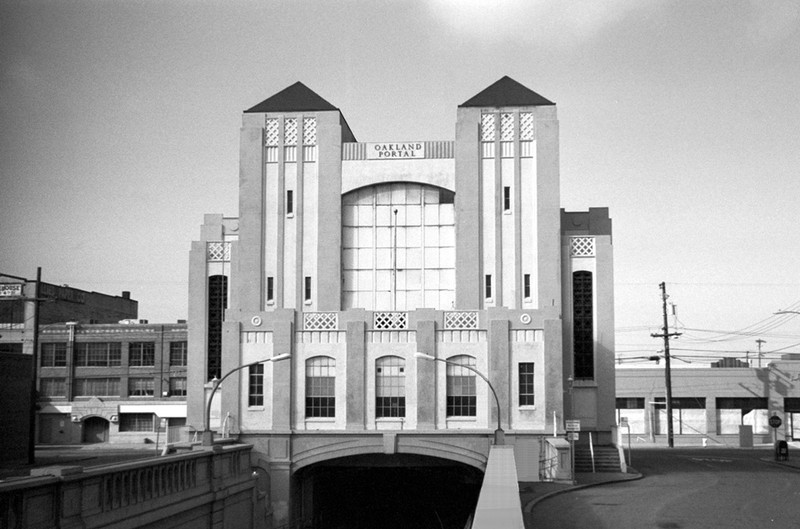 A Black and white shot of the entranceway to the underwater tunnel.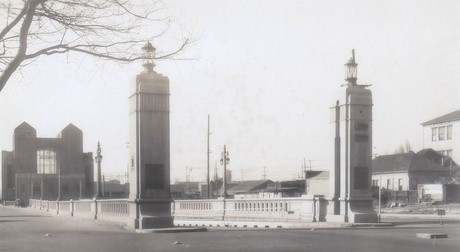 Backstory and Context
The Posey Tube is a submerged tunnel that passes below the Alameda Estuary. Planning for the creation of a submerged traffic route that wouldn't interfere with shipping routes through the estuary began in 1908. It took a further tow decades until the Posey Tube was completed in 1928. Prior to the creation of the tunnel, the crossing from Alameda to downtown Oakland was made via a swing bridge.
The bridge placed limits on both vehicular and shipping traffic and its
removal were heavily lobbied for by the Alaska Packer's Association, a prominent salmon canning company that had it's processing facilities in Alameda and moored its fleet in Alaska Basin in order to clear the estuary of obstructions to shipping.

In 1922 the Alaska Packer's Association announced plans to build a new $2 million packaging and processing plant in Alameda, but only if the tube bond issue that had been proposed a year earlier was passed. On May 8th, 1923, Alameda voters approved $4,496,000 in bonds to build the tunnels. The following day, May 9th, the Alaska Packers Association announced the construction of it's new canning, packing, and shipping facility in Alameda.

The tunnels are made of pre-cast concrete segments that were fabricated at the Hunter's Point Dry Dock in San Francisco. These tube segments were then fl
oated across the bay and sunk into a trench that had been cut through the estuary. The pieces were joined and sealed and the tube was then buried in material that had been dredged from the floor of the bay. The Webster Tube was constructed later and opened for use in 1963.
Sources
Posey Tube. Local Wiki. Accessed July 01, 2017. https://localwiki.org/oakland/Posey_Tube.

Larson, Sam. The Posey and Webster Tubes. Cycling Through History. July 28, 2011. Accessed July 01, 2017. http://cyclingthroughhistory.blogspot.co.uk/2011/07/posey-and-webster-tubes.html.

Building Spotlight: Historic Posey Tube and 2016 Renovation Plan. Jack London Oakland. Accessed July 01, 2017. http://www.jacklondonoakland.org/historic_posey_tube_and_renovation_plan.