Robert Irvin House
Introduction
The Robert Irvin home, built in 1885 and located in East Austin, is unique for its T-plan design, which differed from more "boxy" houses that emerged during the late nineteenth century. The home is located in the Robertson Hill neighborhood, which enjoyed a population boom during the last few decades of the nineteenth century, largely comprised of European immigrants and African Americans.
Images
Robert Irvin House in Austin, Texas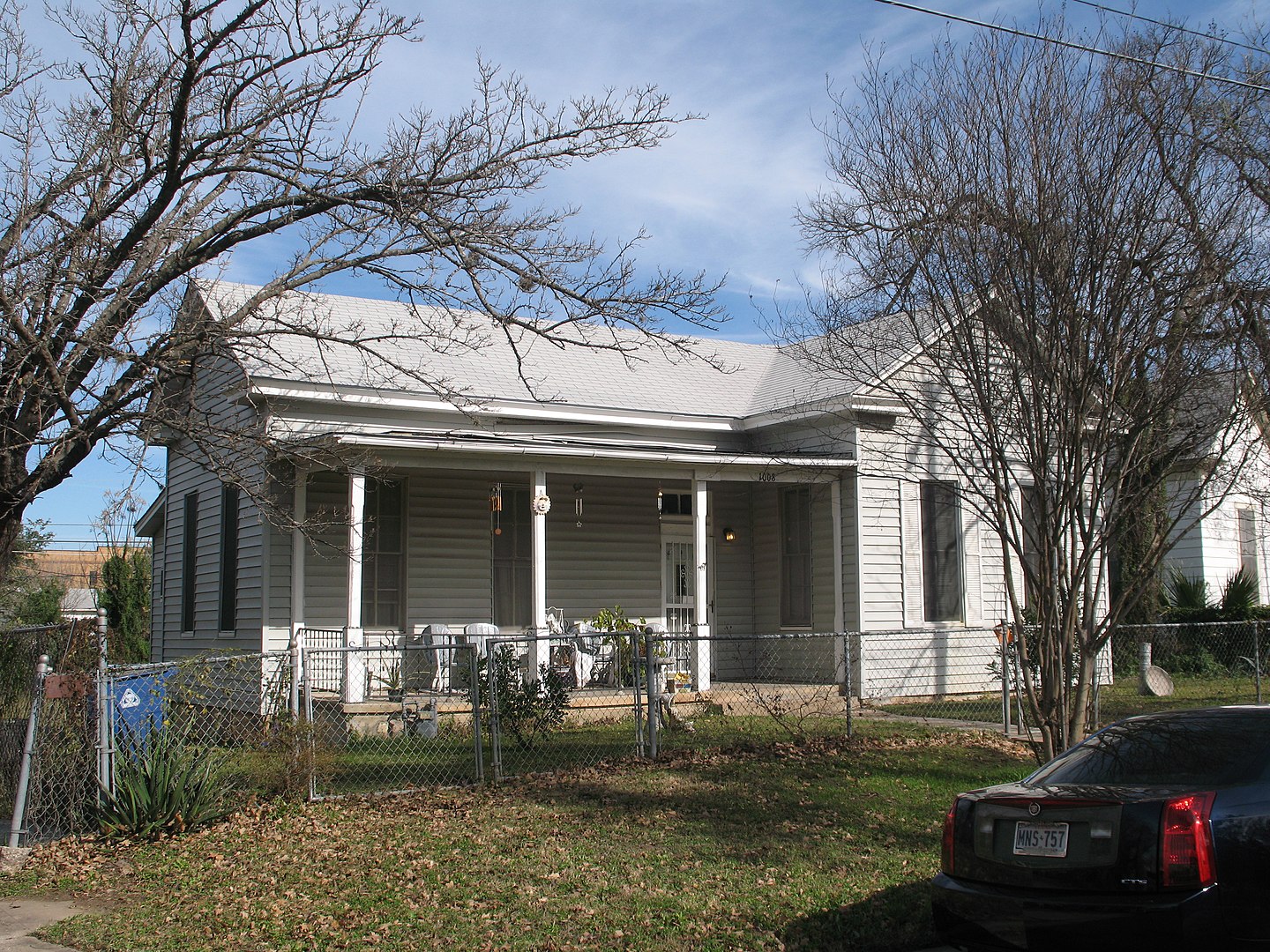 Backstory and Context
The Robert Irvin home (built in 1885) stands as one of the first residential structures constructed on Robertson Hill, a multi-ethnic Austin neighborhood that grew substantially during the last few decades of the nineteenth century. Robert Irvine worked as a carpenter, contractor, and builder. While the house enjoys less ornate features than many homes built during the period, the Robert-Irvine home stands out due to its gabled roof, T-plan architectural design, and attractive porch.
The T-plan differs from the plethora of box-shaped homes built during the era, but it also enjoys less ornate features. The one-story, wood-frame, T-plan Victorian structure combines simple elegance with pragmatism. For instance, its wide porch, supported by three columns, not only serves as an attractive feature, but also adds to the already 3,500-plus square feet of living space in the Irvin House. The T-Plan also requires an expansive roof. Sitting atop the roof is a large, finely detailed brick chimney, centered on the intersection of the two gable ridges, and a less elaborate brick flue (probably associated with the kitchen) located at the rear of the T-section.
Austin population growth slowed during the Civil War, but the arrival of the railroads during the 1870s (along with gaining the rights to become the state capital and home city to the University of Texas) fostered a renewed population boom. With railways located in East Austin, the once-sparsely populated area of Austin suddenly transformed into a popular spot for residents. The Robertson Hill neighborhood, named for the Robertson family who sold many of its lots in the area, exists as the location for which Robert Irvin settled during the 1880s.
Sources
Freeman, Martha Doty and Kenneth Breisch. "Nomination Form: Historic Resources of East Austin." nps.gov. September 17, 1985. https://npgallery.nps.gov/GetAsset/ae795ed3-9ae7-41a5-bedd-9474ae3bcf75

----. "Nomination Form: Robert Irvin House." nps.gov. September 17, 1985. https://atlas.thc.state.tx.us/NR/pdfs/85002270/85002270.pdf.

Humphrey, David. "Austin, Texas (Travis County)." Texas State Historical Association. tshaonline.org. Accessed July 16, 2019. https://tshaonline.org/handbook/online/articles/hda03

Photo Source

Robert Irvin House: By Happywaffle at en.wikipedia - User:Happywaffle, Public Domain, https://commons.wikimedia.org/w/index.php?curid=17359942
Additional Information