Joan of Arc Memorial
Introduction
This Joan of Arc sculpture was created by Anna Vaughn Hyatt Huntington in 1915. In the early 20th century, Joan's fame had reached new heights, thanks to artists' and authors' romanticized depictions of her late medieval martyrdom. The statue stands on a pedestal on a hill, drawing the eye upward. Joan wears a suit of armor and wields a sword, standing in her stirrups as she prepares to enter battle. Huntington conducted extensive research for her design, studying medieval arms and armor at the Metropolitan Museum of Art and borrowing a horse to examine its anatomy.
Images
The statue is situated above eye level, forcing the viewer to look up at her as she rides into battle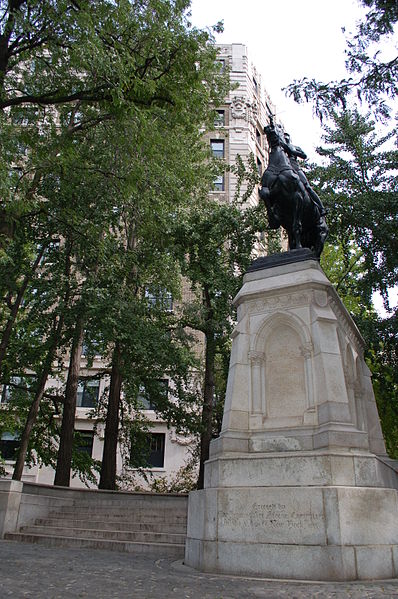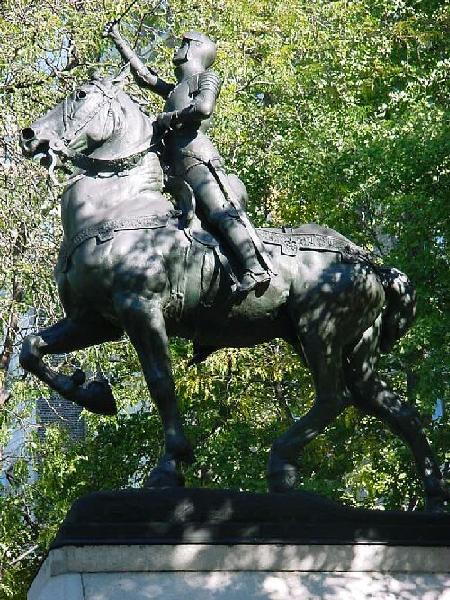 Backstory and Context
Anna Hyatt Huntington (1876-1973)

Creation of the statue unfolded over several years. Huntington hailed from the United States but moved to Paris in 1906, where she developed a fascination with Joan of Arc. After learning more about Joan's history and visiting relevant historic and cultural sites, she began work on a sculpture of Joan. Huntington entered her life-size plaster sculpture in a French competition in 1910, where it earned an Honorable Mention. Meanwhile, a group of New Yorkers formed a fundraising committee to install a statue celebrating the 500th anniversary of Joan's birthdate (1412). They chose Huntington's design. After further research and a few tweaks to her design, she completed the statue in 1915. Architect John van Pelt produced the statue's granite pedestal, which features blind arches and coats of arms.

Joan of Arc (1412-1431)
Joan earned her fame during the Hundred Years' War (1337-1453), fought between the House of Plantagenet (England) and the House of Valois (France). Joan was presented to the French king, claiming to receive visions from God telling her to defend France. In 1429, Joan led the French into battle, and soundly defeated English troops at Orléans. Later that year, she crowned Charles VII, the young French king. In 1430, she was captured by the English and put on trial. Accusations against her included: dressing like a man, leading troops, and committing heresy. She was found guilty and burnt at the stake in Rouen.
The Church reopened the trial years later, determined that she had in fact been innocent, and restored her reputation, ultimately canonizing her in 1920. Joan's story gained considerable popularity during the late 19th and early 20th century, inspiring numerous works of art and literature, such as Mark Twain's novel The Personal Recollections of Joan of Arc (1896), George Bernard Shaw's play Saint Joan (1923), and Carl-Theodor Dryer's film The Passion of Joan of Arc (1928). Huntington's New York statue was unveiled amidst this cultural fascination with Joan. She remains an important symbol of French national identity.
Sources
"Joan of Arc, 1915." New York City Public Art Curriculum. Accessed April 29, 2017. http://www.blueofthesky.com/publicart/works/joanofarc.htm.

"Riverside Park: Joan of Arc Memorial." NYC Parks. Accessed April 29, 2017. https://www.nycgovparks.org/parks/riverside-park/monuments/819.

Photo credits:
1- https://commons.wikimedia.org/wiki/File:WTM3_The_Fixers_0005.jpg.
2- https://www.nycgovparks.org/parks/riverside-park/monuments/819.


Additional Information