NAACP Tablet Commemoration
Introduction
In 1932, a delegation of NAACP members led by W. E. B. DuBois journeyed to Storer College's campus and attempted to place a plaque honoring abolitionist John Brown. John Brown's Fort, the armory engine house where Brown and his followers made a last stand during their 1859 raid, was located on the campus at that time. The structure was held in high esteem by many who considered John Brown a heroic figure for his attempt to end slavery by force. Storer College refused to allow the plaque, known as "The Great Tablet" on their campus due to its wording. In 2006, the National Park Service allowed the NAACP to bring the tablet to Storer, and was ceremoniously placed at the site where John Brown's Fort formerly stood on campus.
Images
The inscription on the tablet was originally rejected by Storer College for sounding too militant. Image obtained from alliesforfreedom.org.
NAACP leaders at the commemoration of the tablet. Image obtained from John Brown the Abolitionist Blog.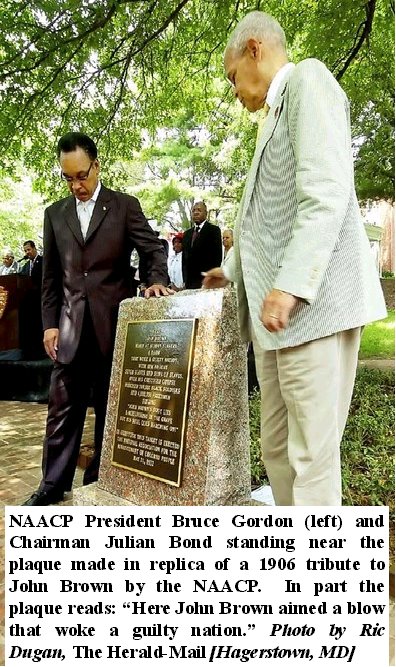 Backstory and Context
The town of Harpers Ferry has many ties to African American history and the civil rights movement. In 1859, Harpers Ferry was the site of John Brown's raid on the United States Armory and Arsenal. John Brown was an avid abolitionist, nicknamed "Osawatomie Brown" for his actions in "Bleeding Kansas," where he became a wanted man for killing five pro-slavery individuals. In Harpers Ferry, Brown devised a plan to raid the federal armory and arsenal, arm slaves across the South, and lead an insurrection. On October 16th, 1859, Brown and his raiders entered Harpers Ferry, took several local citizens as prisoners, and exchanged fire with local militia. The U.S. Marines from Washington D.C., under the command of Colonel Robert E. Lee offered Brown terms of surrender, but Brown refused and was captured and arrested. Brown was tried and found guilty of three crimes: murder, treason, and conspiring and inciting a slave rebellion, and was sent to the gallows on December 2, 1859. Brown was envisioning a Civil War to occur - and it did. John Brown was hailed as a hero by some and denounced as a terrorist by others. The event heightened tensions that would eventually culminate in the outbreak of the Civil War in 1861.
Following the Civil War, many Freewill Baptists from New England came to Harpers Ferry to help educate freed slaves. In 1867, Storer Normal School, later Storer College, was the first African American college in West Virginia as well as one of the first integrated colleges. In August 1906, Storer was the site of the first public meeting of the Niagara Movement, a coalition of prominent African Americans advocating for civil rights. The movement was founded the previous year at a private gathering in Ontario, Canada, near Niagara Falls, to counter the disenfranchisement and segregation of African Americans under Jim Crow law. The group chose Harpers Ferry as the site of their second meeting specifically because of its connection to John Brown's raid and his crusade against slavery. During this meeting, members made a pilgrimage to John Brown's Fort, the fire engine house where Brown and his raiders hid in 1859, which had been moved to the Murphy Farm. There, the group sang "The Battle Hymn of the Republic" and "John Brown's Body." The Niagara Movement would last until 1911 when it became part of the new National Association for the Advancement of Colored People (NAACP).
The NAACP challenged inequality in the courts, in society, and also in the memorializing of the past. As suppression of and violence against African Americans continued, so did a trend of Southern heritage groups memorializing myths about slavery. In 1931, the United Daughters of the Confederacy and the Sons of Confederate Veterans erected the Heyward Shepherd memorial in honor of a black civilian who died during John Brown's raid. Because this memorial perpetuated the "faithful slave" myth, the NAACP sought to erect their own memorial praising John Brown's abolitionist cause. On May 21, 1932, following the NAACP's 23rd Annual Convention in Washington D.C, W. E. B. DuBois led a group to Harpers Ferry to place a bronze tablet at John Brown's Fort on the Storer College campus (it had been moved there from the Murphy Farm in 1910). The Storer College administration refused to allow the tablet to be placed, citing the language as being too militant. Part of the tablet reads "over his crucified corpse marched 200,000 black soldiers and 4,000,000 freedmen signing 'John Brown's body lies a-mouldering in his grave, but his soul goes marching on!'" The tablet would instead be put on display at the NAACP's offices in New York.
After Storer College closed in 1955, the National Park Service would acquire ownership of the college's campus. In 1968, it also moved John Brown's Fort back to near its original location in Lower Town. In 2006, the National Park Service invited the NAACP to return and finally place the tablet on Storer's campus. On July 14, a delegation of 125 people arrived in Harpers Ferry on vintage 1932 train cars to reenact the ceremony. It consisted of NAACP leaders, West Virginia NAACP members, and Storer College alumni. NAACP president emeritus Benjamin Lawson Hooks presided over the event. A replica plaque, containing the original wording, was attached to a stone and placed on the original site W. E. B. DuBois had selected, near where John Brown's Fort once stood on the campus.
The tablet inscription reads:
HERE
JOHN BROWN
AIMED AT HUMAN SLAVERY
A BLOW
THAT WOKE A GUILTY NATION.
WITH HIM FOUGHT
SEVEN SLAVES AND SONS OF SLAVES.
OVER HIS CRUCIFIED CORPSE
MARCHED 200,000 BLACK SOLDIERS
AND 4,000,000 FREEDMEN
SINGING
"JOHN BROWN'S BODY LIES
A-MOULDERING IN THE GRAVE
BUT HIS SOUL GOES MARCHING ON!"

IN GRATITUDE THIS TABLET IS ERECTED
THE NATIONAL ASSOCIATION FOR THE
ADVANCEMENT OF COLORED PEOPLE
MAY 21, 1932
Sources
Aines, Don. "Plaque honoring Brown is dedicated." The Herald-Mail, July 15, 2006. Accessed March 4, 2017.
http://articles.herald-mail.com/2006-07-15/news/25035812_1_storer-college-niagara-movement-john-brow...
Janney, C. E. "Written in Stone: Gender, Race, and the Heyward Shepherd Memorial."
Civil War History
Vol.
52, No. 2 (2006): 117-141.
Gilbert, David T. A Walker's Guide to Harpers Ferry, West Virginia. 8th ed. Harpers Ferry, WV: Harpers Ferry Historical Association, 2016.
Hayes, Dianne. "NAACP Retraces History at Harpers Ferry." Diverse: Issues in Higher Education 23, no. 13 (August 10, 2006): 17. Accessed March 4, 2017. EBSCO.
"NAACP kicks off convention by honoring abolitionist John Brown." The Daily Jeffersonian, July 13, 2006. Accessed March 4, 2017.
Photo 1:
http://www.alliesforfreedom.org/images/NAACP_tablet.jpg
Photo 2:
http://photos1.blogger.com/blogger/878/2007/1600/7-14-06.0.jpg
Additional Information