The Ronald-Brennan House & Medical Office Museum
Introduction
The Ronald-Brennan House is the last remaining house in what was once a residential street brimming with similar homes for wealthy Victorian-era families. Built in an Italianate style for tobacco wholesaler Francis Slaughter Jones Ronald in 1868, its architect is unknown, but resembles the designs of local Irish architect Henry Whitestone. The house was purchased by inventor Thomas Brennan in 1884 and remained in the family for seventy-five years. Thomas's son, Dr. J.A.O. Brennan, added a wing to accommodate an in-house medical office in 1912. The house is now the headquarters of Preservation Louisville, and open to the public for special events, particularly during the holiday season.
Images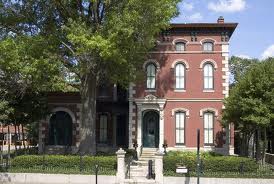 Entry to the medical office from Thomas Brennan's study (image from Savannah Darr)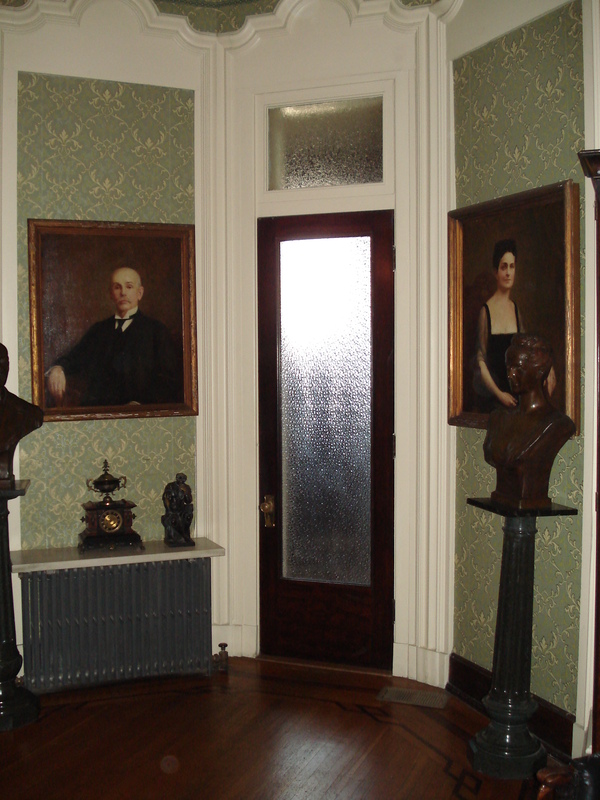 Dr. J.A.O. Brennan in front of the house (image from Savannah Darr)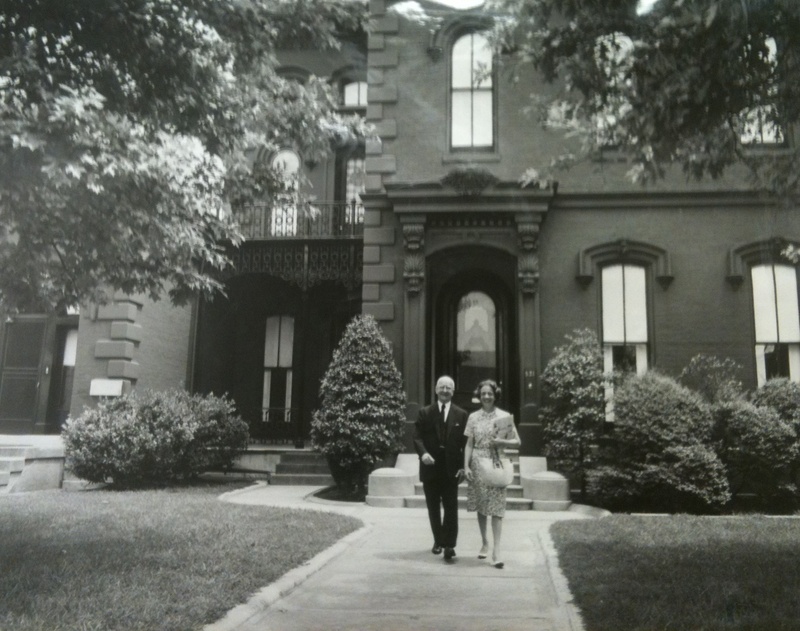 Dr. J.A.O. Brennan with nurses (image from Savannah Darr)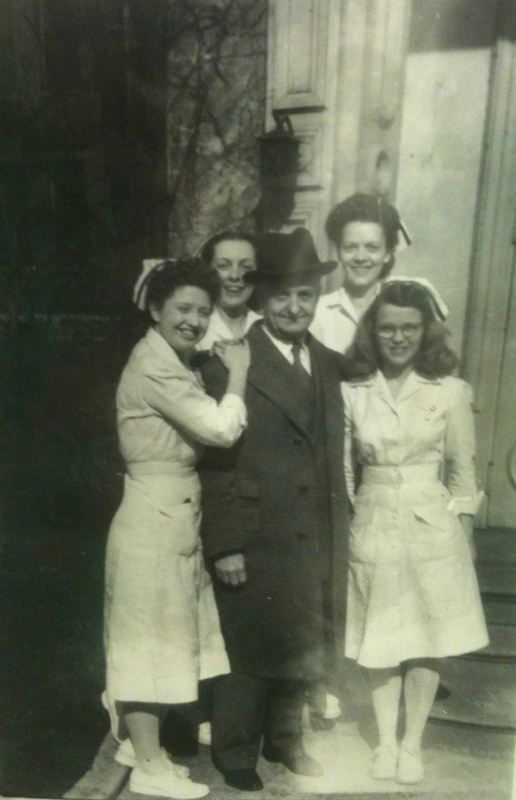 Thomas Brennan (image from Savannah Darr)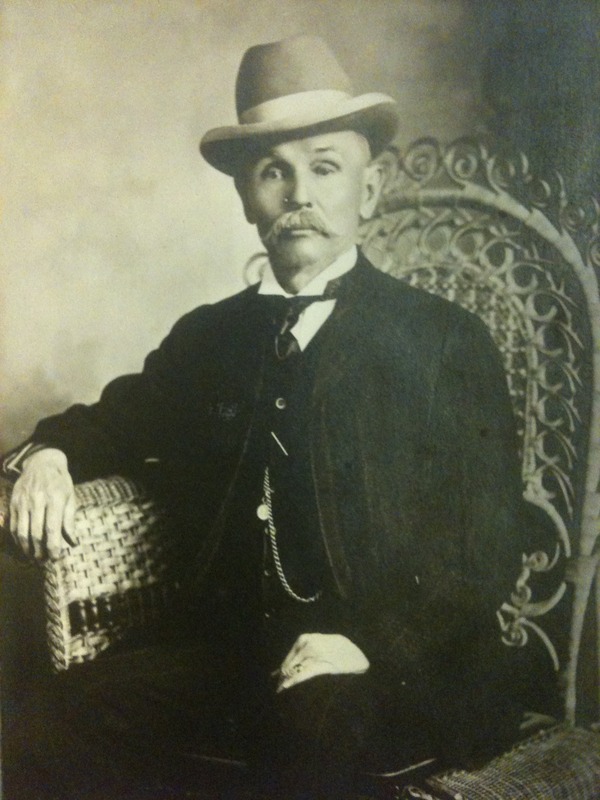 Anna Bruce Brennan (image from Savannah Darr)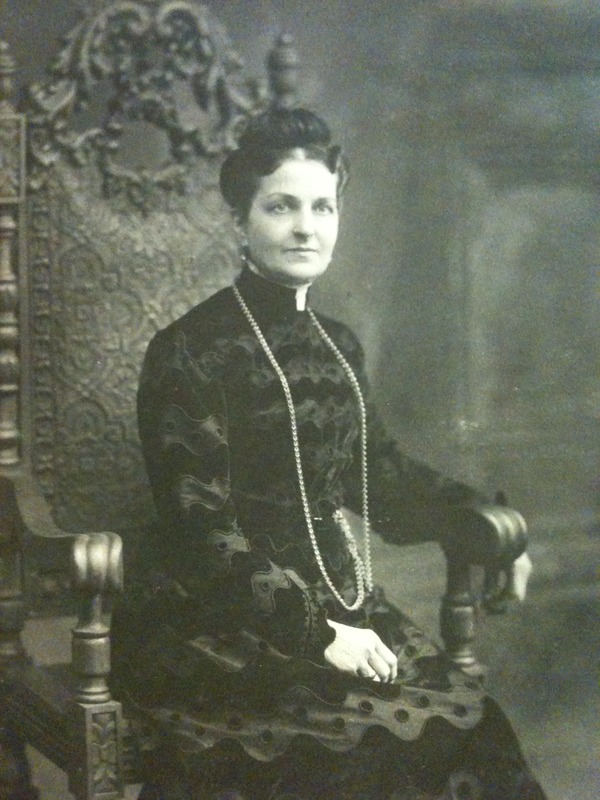 Backstory and Context
The Ronalds and the Brennans
The Ronald-Brennan House is typical of the antebellum Italianate townhouses designed by the Irish-American Louisville architect Henry Whitestone, though there is no proof that he worked on this particular home. Built for Francis Slaughter Jones Ronald, it was one of the first residences in Louisville with electricity, and features crystal and etched-glass chandeliers and a signed Tiffany lamp. Ronald and his son owned a warehouse and tobacco wholesale company on Main Street, but the financial panic of 1873 and the ensuing depression (lasting until 1879) caused Ronald and Co. to declare bankruptcy in 1877. Francis died during the crisis, and in May of 1884, a trustee for the family sold the Ronald house to Thomas Brennan.
Thomas Brennan immigrated to the United States from Ireland in 1842 and made a fortune as an inventor, with twenty-seven patents for agricultural equipment including a new, more efficient milling mechanism. He was awarded first prizes for two of his inventions at Chicago's 1893 World's Columbian Exposition, and founded the farm machinery manufacturing Brennan & Co., Southwestern Agricultural Works. In 1869, he married Anna Bruce, an immigrant from the Isle of Jersey whose Anglican priest father was descended from soldiers in Napoleon's army and who was a friend of author Victor Hugo. In America, Anna studied five languages at Wesleyan College in Cincinnati before her marriage to Thomas.
Thomas and Anna had nine children, one of whom died in infancy, and none of whom had children of their own. Those who survived to adulthood were Mae Bruce, a multi-linguist and pianist, and her sister Beulah Bruce, a violinist and pianist who studied in Paris; Henry Martyn, founder of the Arctic Ice Company, president of the Metropolitan Realty Company, and U.S. Collector of Customs for the Port of Louisville; Albert Andrew, who lived in New York City for most of his life and worked for the Yankees baseball team; Thomas Jr., who worked for his father and then in agricultural manufacturing in Chicago; Robert Emery, a doctor who served in the First World War and became professor of surgery at the New York Polyclinic School and Hospital, where he treated boxer Jack Dempsey and author Damon Runyon; lawyer and FBI agent Napoleon Bruce; and Dr. John Arvid Ochterlony Brennan, who, like Robert, studied medicine at the University of Louisville (under his namesake, Dr. Ochterlony) before serving in the Medical Corps during World War I.
Dr. J.A.O. Brennan returned to Louisville after post-graduate work in London, Paris, Vienna, and Berlin and service during the war, working in St. Mary's, St. Elizabeth's, and St. Anthony's Hospitals. In 1912, architect C.A. Curtin designed an addition to the family home for Dr. Brennan's medical office, complete with a waiting room and exam rooms, in the style of the original design. It connects to the house through what was once the bay window in Thomas Brennan's study, with the central panel converted into a doorway and the other two windows bricked up.
After Dr. J.A.O. Brennan's death in 1963, only Albert and Napoleon remained in the house. All of the Brennan siblings had periodically or permanently returned to the family residence, and were members of the Filson Historical Society, to which they each donated numerous items; in 1969, the last remaining brothers donated the house and furnishings to the Filson. Much of the old Victorian style had been preserved. The house was turned into a museum and has been maintained ever since. Featuring 16-foot ceilings, hand-carved marble and slate mantels, stained-glass windows, family portraits, antique furniture, and a period garden, the historic Ronald-Brennan house also includes Dr. J.A.O. Brennan's examining table and medical literature from the turn of the century.

Sources
1. Chipman, Melissa. "'Gussied up' Brennan House open for holiday tours."
Insider Louisville
. December 17, 2014. http://insiderlouisville.com/lifestyle_culture/gussied-brennan-house-open-public-holiday-tours/.
2. Darr, Savannah. "Last Historic Residence in Downtown Louisville." Accessed March 10, 2017. https://brennanhouse.omeka.net/exhibits/show/brennanhouse.
3. Kentucky Historical Society. Historical Marker Database: Jefferson County. Accessed March 10, 2017. http://migration.kentucky.gov/kyhs/hmdb/MarkerSearch.aspx?mode=County&county=56.
4. Zickuhr, Marianne. "The Brennan House." ExploreKYHistory. Accessed March 10, 2017. http://explorekyhistory.ky.gov/items/show/194.

Additional Information