Lucille Ball Statues
Introduction
Lucille Ball was an actress who appeared in over one hundred film and television roles, most notably playing Lucy Ricardo on I Love Lucy. After the whirlwind success of I Love Lucy, Lucille went on to become the first woman to run her own TV studio, Desilu, which produced shows like Star Trek and Mission: Impossible. Lucille was born on August 6, 1911 in Jamestown, New York. The Lucille Ball Memorial Park near her hometown is now home to two statues of Lucille Ball. One was not well-received and became known as "Scary Lucy," while the more recent is thought to better capture her likeness.
Images
A side-by-side comparison of the two statues of Lucille Ball, nicknamed "Scary Lucy" and "Lovable Lucille" respectively.
Full view of Carolyn Palmer's Lucy statue.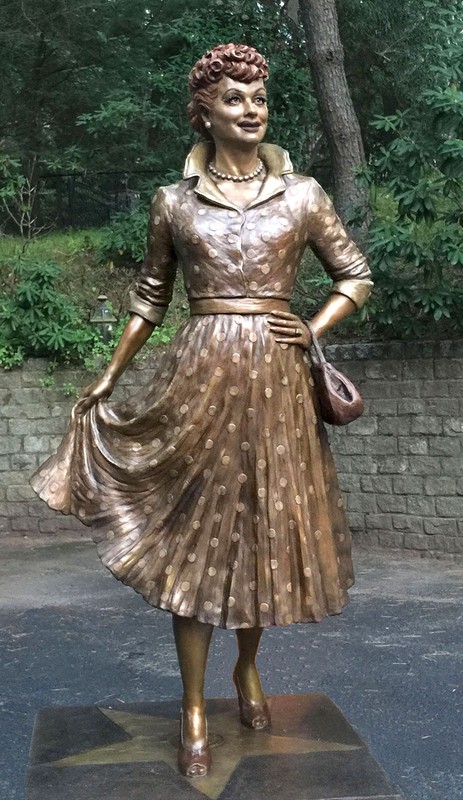 Lucille Ball in the 1950s.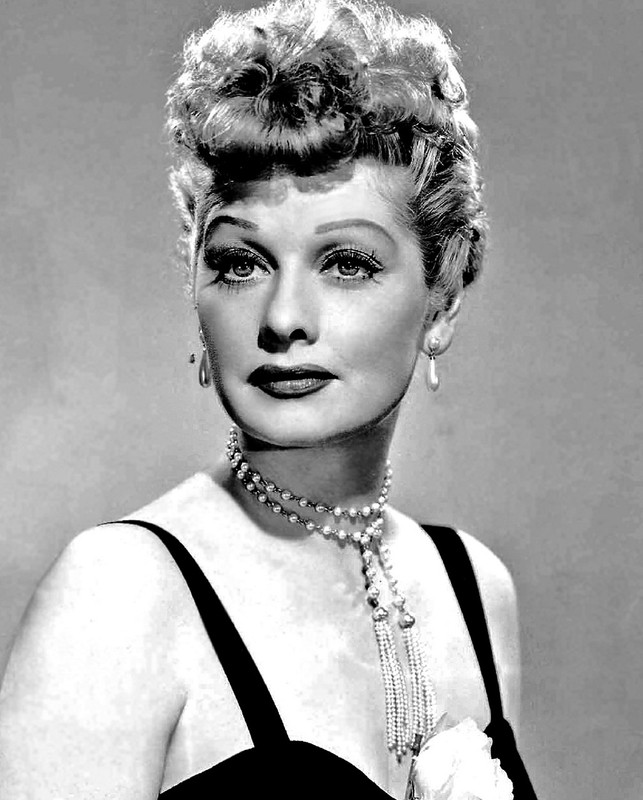 Backstory and Context
Lucille Ball was born on August 6, 1911 in Jamestown, New York. Her father, Henry Durrell Ball, was an electrician who moved the family around while she was young. He died from typhoid fever when she was only three years old. Lucille's mother, Desiree Ball, was pregnant with the couple's second child during this ordeal, and she moved back to Jamestown to live with her parents. Desiree remarried, but because her new husband did not like children, she left Lucille and her baby brother Fred behind when the couple moved to Detroit. Fred stayed with Desiree's parents, while Lucille stayed with her new grandparents, the Petersons. Desiree and her husband Ed returned when Lucille was eleven, and the family lived together again.
At age fifteen, Lucille convinced her mother to send her to a drama school in New York City. Eventually, the teachers at the school gave up on Lucille and wrote to her mother suggesting she drop out. She did, but Lucille kept working in New York as a model and sometimes as a showgirl. During this time, Lucille died her hair platinum blonde and tried out the name Diane Belmont. She gave up the pseudonym by the time Hollywood came calling, however. She had been hired by MGM to work as one of twelve "Goldwyn Girls" who would appear in the film Roman Scandals. Once shooting finished, Lucille decided to stay in California and take whatever bit parts she could. In the 1930s, she worked her way up from chorus member to the "Queen of the Bs," so called because she starred in many "B," or low budget, films. It was for a B film that MGM requested that Lucille dye her hair red so that it would stand out in Technicolor. Make-up artist Max Factor was the man to dye Lucille's hair in the shade that would become her signature red.
In 1940, Lucille met and married the Cuban bandleader Desi Arnaz. The marriage would prove to be a tumultuous one, with Lucille filing for divorce four years later but ultimately reconciling with her husband. One of the main sources of struggle for the couple was that while Lucille was in Hollywood recording her radio show My Favorite Husband, Desi was touring the country with his band. When CBS decided to make a TV version of My Favorite Husband, Lucille and Desi realized that they had a prime opportunity to work together. CBS did not like the idea of having an interracial couple on TV, however, claiming that audiences would never accept an all-American redhead with a Cuban. To prove the station wrong, Desi and Lucille embarked on a vaudeville tour about a bandleader whose wife tries to break into the act. It was a hit, and CBS relented. They also agreed to let the show be shot in California on film as opposed to live in New York so long as Lucille and Desi's production company, Desilu, took over the storage costs for the film.
I Love Lucy premiered on October 15, 1951. The series focused on a happily married couple, with Lucille playing the zany housewife, much like her character in the radio program. It also borrowed the show business elements from Lucille and Desi's roadshow. The sitcom was wildly successful, remaining the number one TV show for its first four seasons. When presidential candidate Adlai E. Stevenson interrupted the show's broadcast to give a message, he received piles of angry letters. One large department store posted a sign explaining "We Love Lucy, too, so from now on we will be open Thursday night instead of Monday [the night I Love Lucy was on]." This success was seemingly going to be thwarted on two important occasions. In 1952, the House of Un-American Activities Committee found out that Lucille had registered as a communist in 1936. This was during the Red Scare when even an insinuation of communist sympathies could ruin an actor's career, much less proof of an affiliation with the party. Lucille's name was cleared when it was learned that she never voted as a communist and had only registered as one to please her ailing and political grandfather. Shortly after that scandal, Lucille found out that she was pregnant. Having a pregnant woman on TV was unheard of in the 1950s, but producer Jesse Oppenheimer insisted that audiences would love to see the characters Lucy and Ricky Ricardo have a baby. Indeed, the episode in which Lucy gives birth to Little Ricky was viewed by more people than President Eisenhower's inauguration, the first presidential inauguration broadcast on TV.
I Love Lucy ended in 1957, and Lucille and Desi's marriage ended three years later. Still, Desilu churned out hit TV shows like The Dick Van Dyke Show and Star Trek. Lucille married Gary Morton in 1962. That same year, Lucille bought out Desi, making her the first woman to run her own television studio. She sold the company to Gulf + Western in 1967. She also acted in two more beloved sitcoms: The Lucy Show and Here's Lucy. Her last TV role came in 1986 in the less successful Life with Lucy. Lucille Ball died three years later from complications from open heart surgery.
A couple from Celoron, New York (near Jamestown) commissioned a statue in Lucy's likeness which was completed in 2009. The six-foot-tall bronze statue, designed by artist Dave Poulin, gained attention almost immediately. Unfortunately, it was not flattering attention. The statue was soon nicknamed "Scary Lucy," and a local resident set up a Facebook page to voice the community's displeasure with the piece. Poulin later admitted that it was not his best work and offered to improve it, but the community was hesitant. Instead, a search was conducted to find a new sculptor. Carolyn Palmer, who has also designed statues of other historical figures, took on the task. She watched and re-watched episodes of I Love Lucy to get a sense of what Lucy looked like and who she was. Palmer completed the work in 2016, on what would have been Lucille Ball's 105th birthday. Since then, the statue has been well-received by fans.
Sources
Chappell, Bill. Lucille Ball Sculptor Apologizes For 'By Far My Most Unsettling' Work. National Public Radio, Inc.. April 07, 2015. Accessed March 26, 2018. https://www.npr.org/sections/thetwo-way/2015/04/07/398032028/lucille-ball-sculptor-apologizes-for-by....

Gonzales, Richard. A New Lucille Ball Statue Replaces 'Scary' One In Her Hometown. National Public Radio, Inc.. August 05, 2016. Accessed March 26, 2018. https://www.npr.org/sections/thetwo-way/2016/08/05/488386630/a-new-lucille-ball-statue-replaces-scar....

O'Neil, Lorena. Lucille Ball Sculptor on New Polka-Dotted Statue: "I Just Hope Everyone's Pleased". The Hollywood Reporter. August 05, 2016. Accessed March 26, 2018. https://www.hollywoodreporter.com/news/new-lucille-ball-sculpture-scary-916859. Information and photos source.

Lucille Ball. Biography.com. . Accessed March 26, 2018. https://www.biography.com/people/lucille-ball-9196958.

Arnold, Roxane. Lucille Ball Dies; TV's Comic Genius Was 77. Los Angeles Times. April 27, 1989. Accessed March 26, 2018. http://www.latimes.com/local/la-me-lucille-ball-19890427-story.html.


Additional Information