The National Comedy Center
Introduction
The National Comedy Center opened in August 2018 in Jamestown, New York, the hometown of actress Lucille Ball. Before her death, Ball suggested that her hometown make a museum celebrating comedy rather than her career specifically. After years of work, her suggestion has become a reality in the form of the $50 million National Comedy Center. The center is located in a 37,000 square-foot space that includes a former train station, trolley garage, and a new building. The museum focuses on individual comics as well as the art of comedy in general. On display are props such as the polka-dot dress Lucille Ball wore on "I Love Lucy" and Jerry Seinfeld's puffy shirt seen on his sitcom. In addition, the museum screens clips from comedic bits and sketches as well as contextual pieces. Exhibits include the Hologram Theater, where visitors can watch holograms of comedians over the years.
Images
"This is the best thing that ever happened to comedy." - George Schlatter, producer of "Laugh In." Photo from the National Comedy Center's website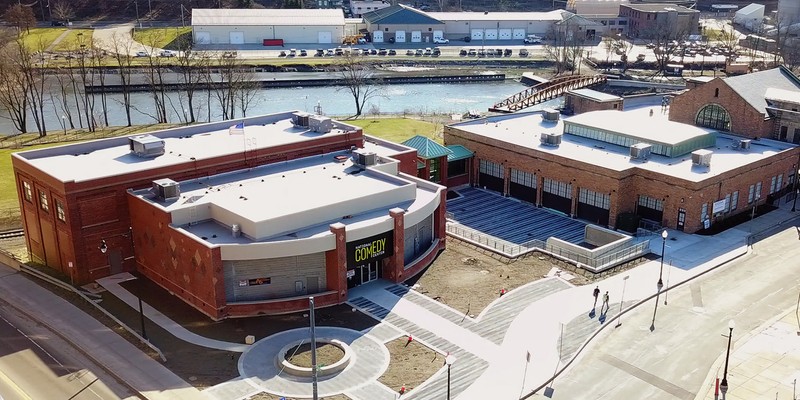 Backstory and Context
The National Comedy Center also features the George Carlin Archives. Carlin's daughter Kelly donated his papers and other memorabilia to the museum. The basement of the Comedy Center, the adults-only Blue Room, is adorned with Carlin's "seven dirty words you can't say on TV" in various languages. Other comedians who were also criticized for pushing boundaries, such as Richard Pryor and Lenny Bruce, are also examined in the Blue Room.
Sources
The Experience. The National Comedy Center. Accessed May 03, 2019. https://comedycenter.org/about/.

National Comedy Center Announces Grand Opening. The National Comedy Center. April 02, 2018. Accessed May 03, 2019. https://comedycenter.org/national-comedy-center-announces-grand-opening/. Information and photo source.

National Comedy Center Holds Grand Opening Celebration in Lucille Ball's Hometown of Jamestown, NY. The National Comedy Center. August 06, 2018. Accessed May 03, 2019. https://comedycenter.org/grand-opening-celebration-of-national-comedy-center/.

Glaser, Susan. National Comedy Center in Jamestown, NY, gets the last laugh with engaging, entertaining museum: Preview. Cleveland. July 27, 2018. Accessed May 03, 2019. https://www.cleveland.com/travel/2018/07/new_national_comedy_center_in.html.


Additional Information