Blackstone Building
Introduction
Built in 1939, the Art Deco-style building was designed by Preston M. Geren. The six-story building's purpose was to provide more office space for the expanding city of Tyler in the age of the East Texas oil boom. It stood along side the Blackstone Hotel, which was built in 1929 and owned by the same company--unfortunately, the hotel is no longer there because it was demolished in 1985. Some of the professionals who originally occupied the Blackstone Building included oil entrepreneurs, geologists, attorneys, and engineers. The building also housed the Union Bus Terminal from 1938 to the 1950s. Today, the building is still used for office space as well as the headquarters for the Tyler Chamber of Commerce. It is also listed on the National Register of Historic Places.
Images
The Blackstone Building was built in 1939 and was added to the National Register of Historic Places in 2002.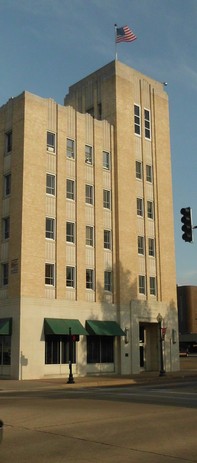 Backstory and Context
Hotel Blackstone was a 5-story building constructed in 1922 and featured a downtown atmosphere. Some years after it opened, a 9-story tower was added to the existing building which allowed for the addition of 64 guest rooms.
When the Blackstone Building was constructed in 1939, it was strictly to be used as office space. Housing a variety of business professionals during its years, it also was the center for the Union Bus Terminal from the 1930s to the 1950s.
Designed in the Art Deco-style by Preston M. Geren, an architect from Fort Worth, the building is a highly-prized historical site. It underwent a large renovation and expansion during the 1950s, which included the addition of an east wing featuring 30 additional rooms and a parking garage as well as New Orleans-style exterior features. Unfortunately, the Blackstone Building's older sister building, the hotel, was closed in 1975 and imploded a decade later. A parking lot has taken its place.
Sources
"Hotel Blackstone, Carlton Hotel and Other Motels in Tyler Texas." Tyler Texas Online. Accessed July 20, 2015. http://www.tylertexasonline.com/tyler-postcard-collection-hotels-motels.htm.

Williams, Diane E. "Blackstone Building." National Park Service - National Register of Historic Places Nomination Form. June 14, 2002. https://atlas.thc.state.tx.us/NR/pdfs/02000645/02000645.pdf.

Photo:
Mastersyfodiaz - Own work. Licensed under CC BY-SA 3.0 via Wikimedia Commons - https://commons.wikimedia.org/wiki/File:BlackstoneBuilding.jpg#/media/File:BlackstoneBuilding.jpg

Additional Information