Liberty Hall (Liberty Theater)
Introduction
The Art-Deco style theater was opened in 1930 by a Mr. and Mrs. Wilbur Shields. The movie house operated for fifty years before closing and remaining vacant until the City of Tyler purchased the building in 2008. Extensive renovations headed up by architect Mike Butler resulted in the pristine Art-Deco architecture, 330 seats in the auditorium, and a stage that allows for both on screen movie showings as well as live performances. Renamed Liberty Hall, the theater began its second life in September of 2011.
Images
Liberty Hall opened in 1930 and operated for several decades before closing. It now is called Liberty Hall and presents movies and performances.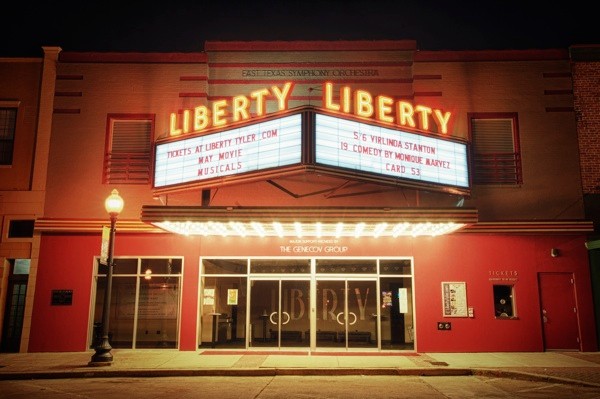 Sources
"Liberty Hall." Cinema Treasures. Accessed July 20, 2015. http://cinematreasures.org/theaters/8066.

"Downtown Liberty Hall: A Theatre's Historic Significance." Eguidemagazine. Accessed July 20, 2015. http://eguidemagazine.com/liberty-hall-a-theatres-historic-significance/ http://www.libertytyler.com.
Additional Information