Fort Huntington Park
Introduction
Located just a block from FirstEnergy Stadium (home of the Cleveland Browns), Fort Huntington Park features monuments and historical markers. It is named after the American fort built 500 feet to the northwest in 1813 to serve as a military fortress and supply depot for the United States Army during the War of 1812 (1812-1813). The fort was named after Samuel Huntington, the governor of Ohio from 1808-1810.
Images
The canon recovered from the British during the Battle of Lake Erie. Photo: Christopher Busta-Peck, via the Historical Marker Database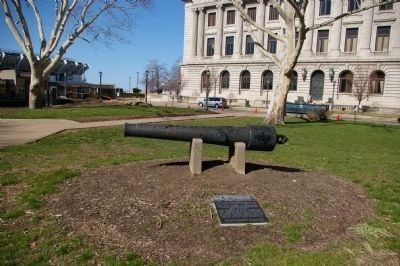 The John T. Corrigan memorial and statue. Photo: Cleveland Seniors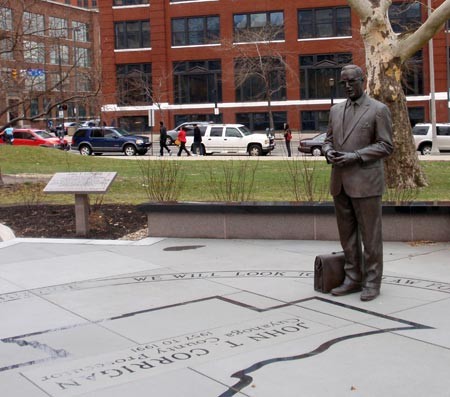 Samuel Huntington served as the governor of Ohio from 1808-1810.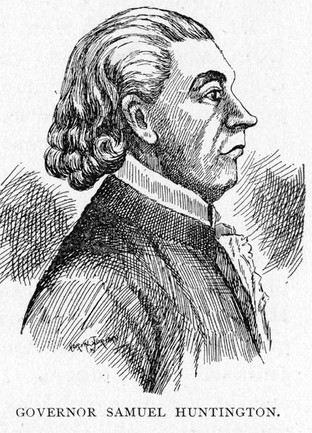 Backstory and Context
The park features a statue of Commodore Oliver Hazard Perry, the hero of the Battle of Lake Erie, which took place on September 10, 1813. Perry led the Americans to victory, helping to secure American control of the lake (and the Northwest Territory) for the duration of the war. A marker near the statue commemorates the capture of British ships; a canon from one of these vessels is displayed in front of the marker. Another statue in the park commemorates Cleveland-native Jesse Owens, the African American sprinter who won gold medals at the Berlin Olympics in 1936. Another memorial honors John T. Corrigan, who, among his various occupations, served as Cuyahoga County Prosecutor from 1957-1991. Corrigan was a veteran of WWII (he lost his right eye at the Battle of the Bulge) and a state senator. The park was first dedicated in 1937 and underwent a revitalization in the late 1970s.
Sources
"Dear General, We have met the enemy and they are ours." The Historical Marker Database. Accessed May, 2017. https://www.hmdb.org/Marker.asp?Marker=18039.

"Fort Huntington." Case Western Reserve University: Encyclopedia of Cleveland History. Accessed May 29, 2017. https://case.edu/ech/articles/f/fort-huntington.

Oreh, Nick. "Fort Huntington Park." Cleveland Historical. Accessed May 29, 2017. https://clevelandhistorical.org/items/show/518#.WSyVIxPyscA.

"Where is this statue of former Cuyahoga County Prosecutor John T. Corrigan?" Cleveland Seniors. Accessed May 29, 2017. http://www.clevelandseniors.com/forever/pquiz-corrigan.htm.