Cleveland Public Library, Main Branch
Introduction
The Cleveland Public Library, originally called the "Public School Library," was the first U.S. library to let its guests choose books directly from the shelves. It was located in a number of rented spaces from 1869 until the Main Building was completed in 1925. A new building, the Louis Stokes Wing, was added to the main downtown branch in 1997. Since then, the original building has been updated and refurbished. Today, the Cleveland Public Library circulates one of the largest and most extensive collections in the country, boasting close to ten million items.
Images
The Cleveland Public Library's main building was opened in 1925 and renovated in 1999.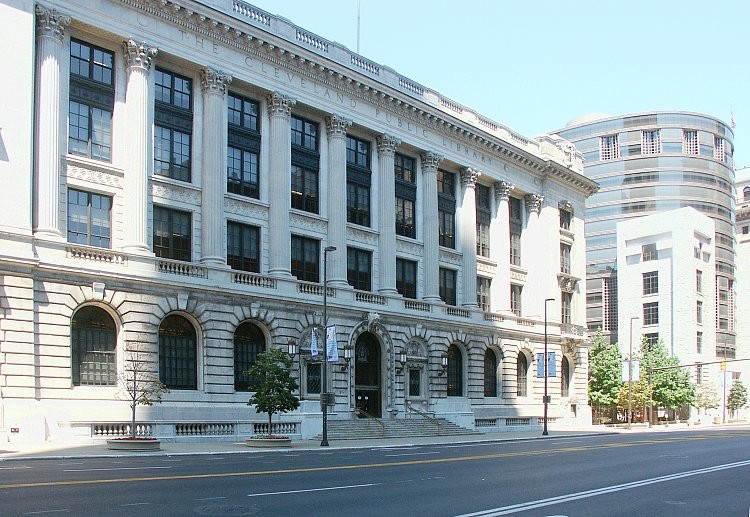 Backstory and Context
After the Cleveland Library's opening in 1869, it was housed in temporary and rented spaces until the Main Library building was completed in 1925. A contest had been held to decide who would build the new library; the architectural firm Walker & Weeks won. It took two years and nearly five million dollars to construct the beaux-arts style building. Inside, the library recalls the Renaissance style with Italian marble, vaulted ceilings, grand carved staircases, and paintings of mythological figures. The new library was a hit with the community early on, reaching a peak of 12,000 visitors a day in the early 1930s.
In November 1957, legislation was approved for the library to purchase and renovate a building previously owned by The Plain Dealer newspaper for three million dollars. The additional space was necessary for the library's ever-growing collection. But, the library, like most others in the country, saw a decline in use over the next few decades. Circulation went from a high of 10,374,652 books and materials in 1932 to 3,402,050 in 1970. Because of this, funds decreased also. During the 1980s, the Cleveland Public Library updated its branches before voters approved a ninety-million-dollar bond to improve the main downtown branch.
In 1997, a new building was added the main library: The Louis Stokes Building, named for the first African-American Congressman from Ohio. The Stokes Building features eleven floors of more than thirty miles of bookshelves. It has also been equipped with the latest electronic resources. Meanwhile, the twenty-four-million-dollar renovation of the Main Building in 1999 replaced electrical, plumbing, and ventilation systems. Other parts of the library were updated to meet modern safety codes and to accommodate new technology. Historical features, such as the ceilings and the marble, were refurbished as well.
Sources
Richard Raponi, "Cleveland Public Library," Cleveland Historical, accessed Oct. 5, 2016, http://clevelandhistorical.org/items/show/309.
Main Library. Cleveland Public Library. Accessed August 24, 2018. http://cpl.org/locations/main-library/.
Additional Information