Rosie the Riveter WWII Home Front National Park
Introduction
Broadly representing the millions of American women who stepped into industrial roles during World War II to support the Allied war effort against Germany and Japan, this unique National Park preserves not only the historic status of these "Rosie the Riveters," but also the legacy of the Henry J. Kaiser Company's Richmond Shipyards. Springing into life almost a year before the Japanese attack on Pearl Harbor, to this day the Kaiser Shipyards still hold the record for shipbuilding speed--roughly 745 vessels in four years, including a Liberty cargo ship in less than 5 days. The accompanying massive influx of workers forever changed the landscape of the San Francisco Bay Area. Rosie the Riveter Park includes a museum and memorial dedicated to female war workers, the yard's original central warehouse, a Ford Motors assembly plant, Kaiser field hospital, a housing development and nurseries for workers and their children, and the SS Red Oak Victory, the last surviving Victory ship.
Images
The Park's visitor center. The park hosts a variety of historic attractions, as well as a theater, event spaces, outdoor park, and guided tours.

The Rosie the Riveter Memorial, designed to resemble the hull of a ship. The Park was dedicated after three years of effort by local citizens to memorialize the contributions of female workers during World War II.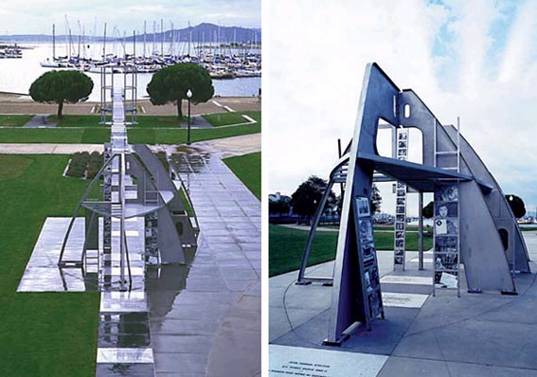 Kaiser's Richmond shipyards were crewed by a startling cross-section of Americans for the era. Women and minorities comprised a significant percentage of the workforce. Unfortunately, they still often faced unequal pay and discrimination.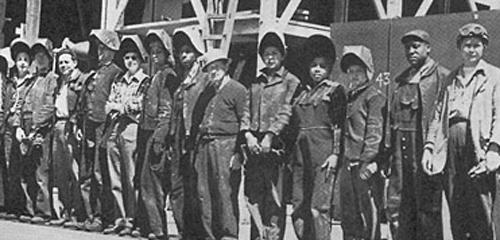 Official logo of the park.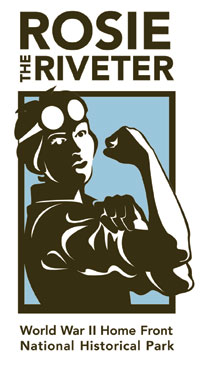 A Liberty ship in Richmond on its fourteenth day of construction. Its keel and hull are finished--decking and superstructure are already being fixed into place. (SanPedro.com)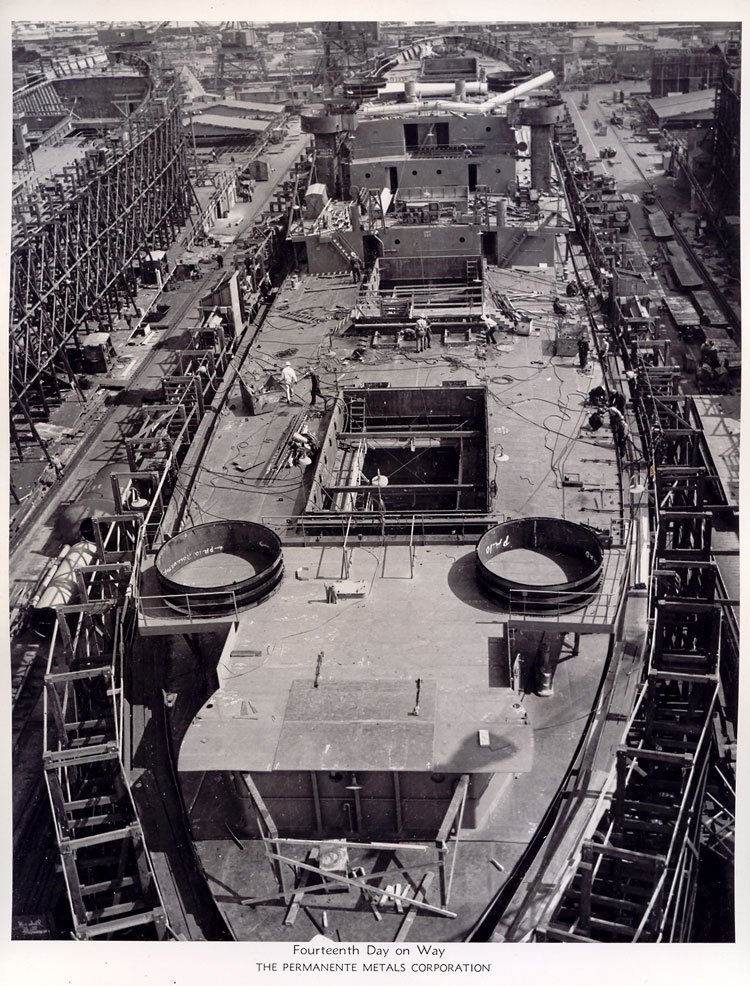 The SS Benjamin Warner, last Liberty ship launched on the West Coast and 519th manufactured by the Richmond Shipyard. (SanPedro.com)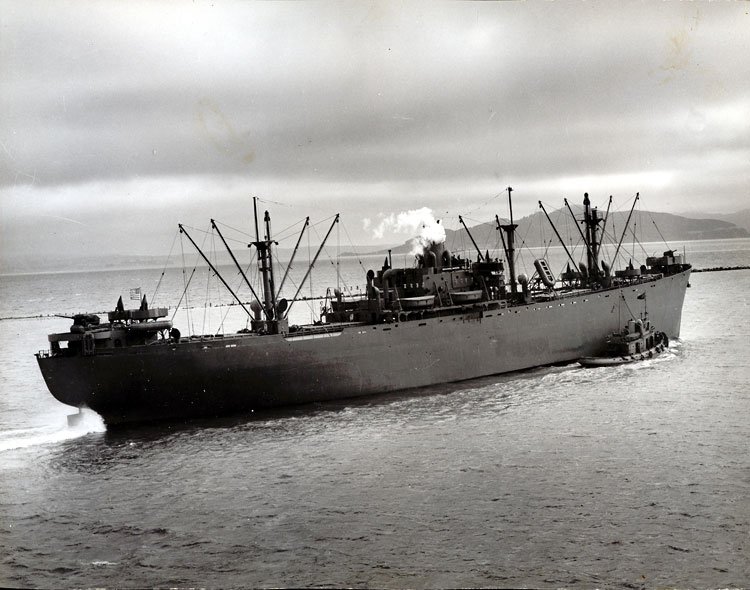 Clay P. Bedford, Vice President and General Manager of Kaiser's Richmond yards, and one of many brilliant logistical minds that helped revolutionize the shipbuilding industry during World War II. (UC Berkeley, Bancroft Library)
Richmond welders at work deep inside the hull of a ship. Welding (versus riveting) was one of the recent technological advancements that sped up shipbuilding during World War II. (UC Berkeley, Bancroft Library)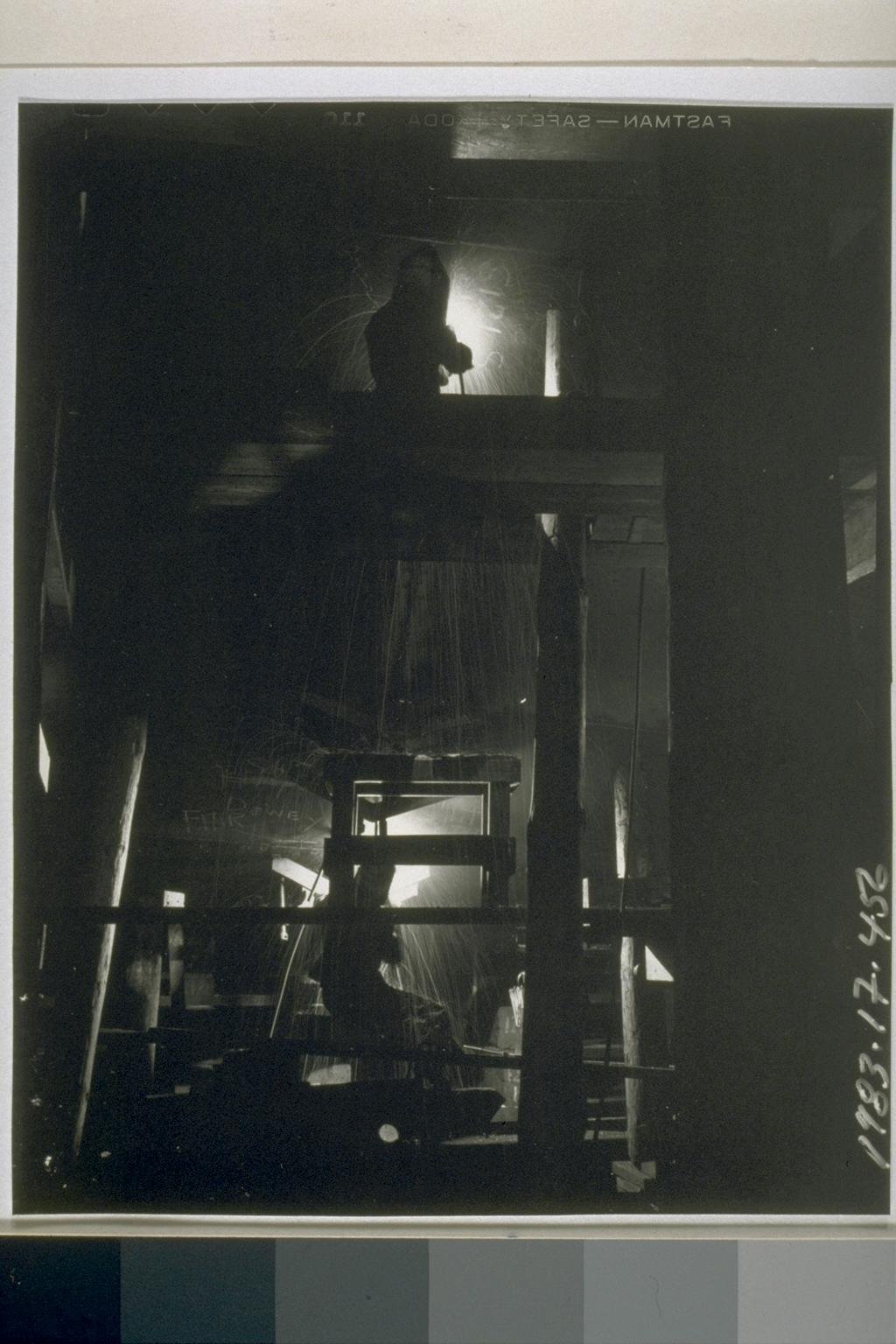 Excerpt from a 1942 Kaiser orientation booklet entitled "How'dy Stranger" intended to show new workers the various roles found in a shipyard (Kaiser Archives).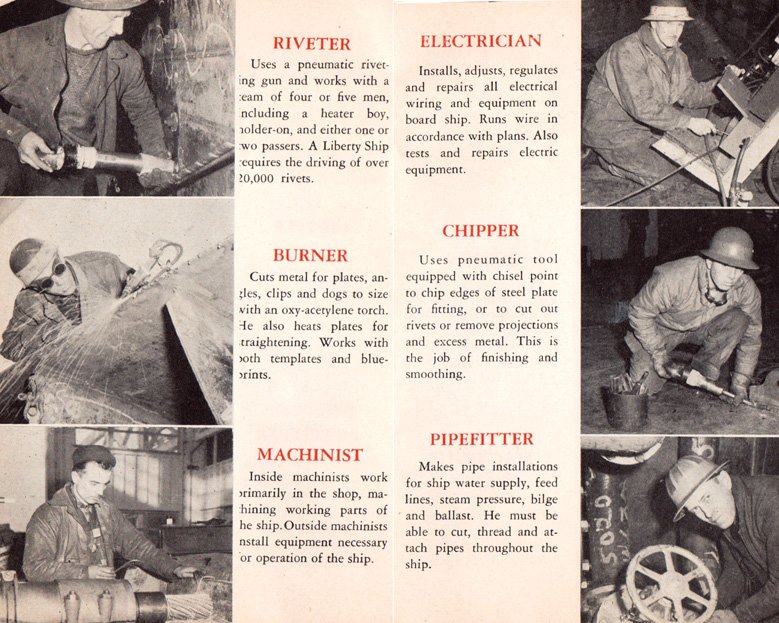 General historic layout of the Richmond shipyards (SanPedro.com)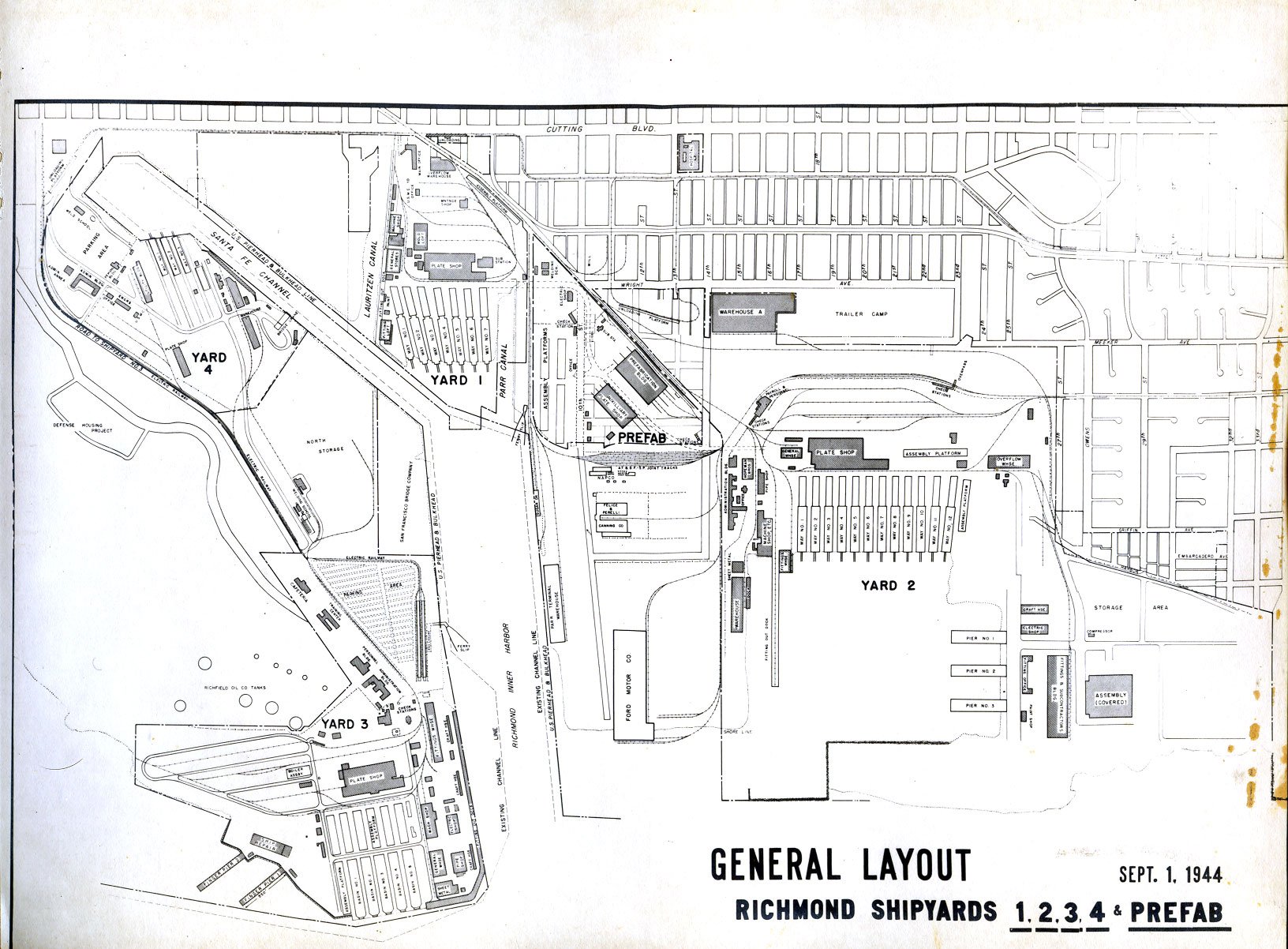 Present-day map of the National Park, which encompasses a wide variety of historic attractions.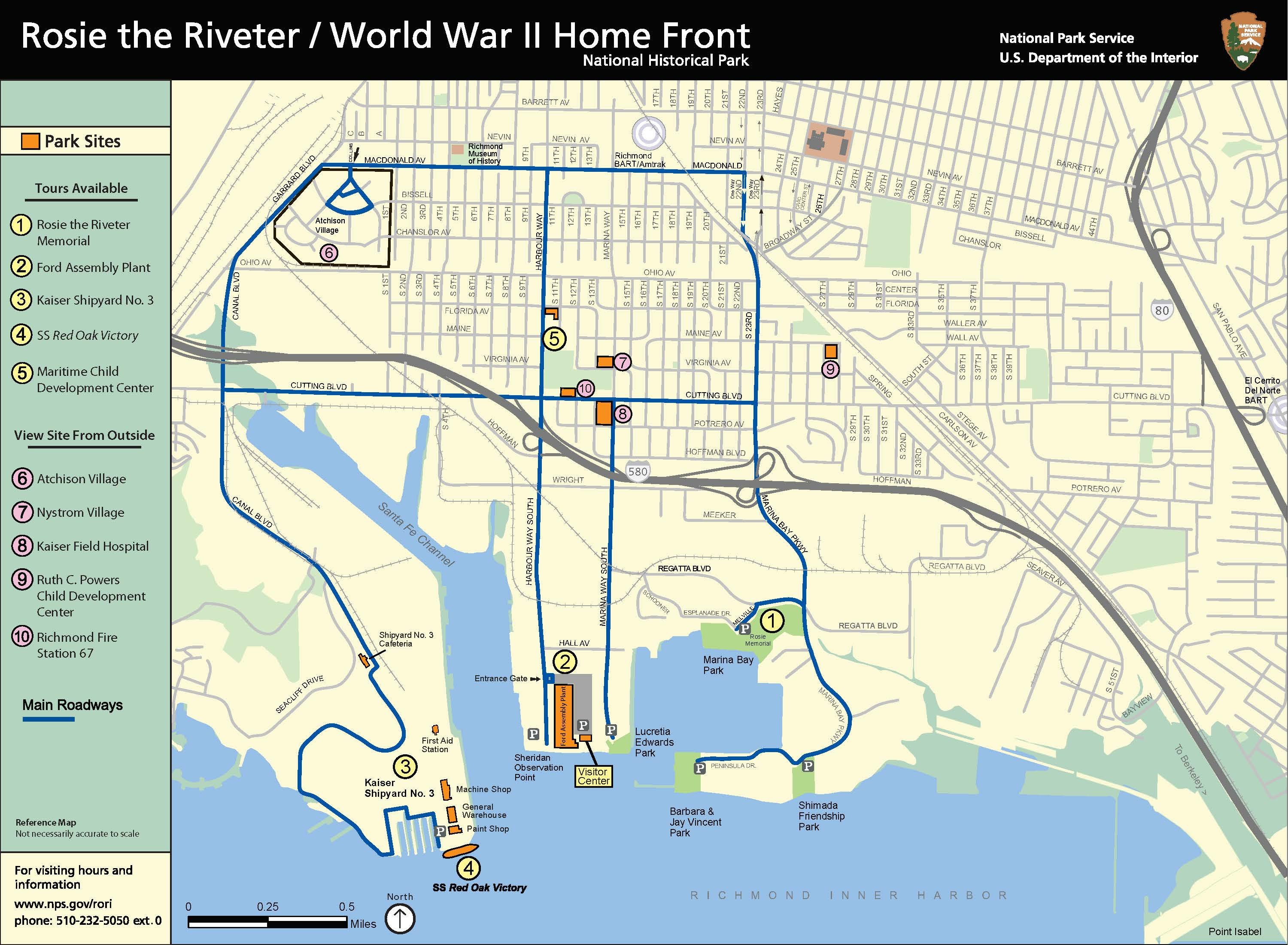 Backstory and Context
Prior to World War II, Richmond was a sparsely populated town largely dedicated to a rail depot serving the larger cities of San Francisco and Oakland. In 1940-41, however, the United Kingdom, President Franklin Roosevelt, and industrial tycoon Henry J. Kaiser would change all that.

After the fall of Poland to German invasion in 1939, followed by the rapid occupation of France and the Low Countries the following year, the United Kingdom was growing ever more desperate for weapons and supplies necessary to carry on the war against Hitler's aggression. More and more, British Prime Minister Winston Churchill and his emissaries turned to the United States for assistance, finding a sympathetic ear in President Roosevelt, who in turn devised the Lend-Lease program to furnish the British with "loaned" tanks, warplanes, and ships.

Sensing an economic opportunity, construction mogul Henry J. Kaiser and a consortium of seven other companies partnered with a shipbuilding firm to branch out beyond infrastructural projects (Kaiser and his allies had built the Hoover Dam, Golden Gate Bridge, and Bay Bridge, among other notable landmarks). When the U.S. Maritime Commission decided to split a contract for 80 British freighters between West and East Coast shipyards, Kaiser was ready to make his move: construction of the shipyard began immediately on a few acres of mud in Richmond shortly after securing the contract. Key to selecting the Richmond site was quick access to the deep but easily defended waters of San Francisco Bay.

Work began on the new yard on 14 January 1941--and the keel of the first new ship was laid exactly three months later, on 14 April. Demand for merchant marine ships to replace those sunk by German submarines was skyrocketing, however, and Kaiser correctly assessed this is his chance to sever ties with Todd Shipbuilding Corporation, the partners from whom his company had learned the shipyard trade. Under the umbrella of another of his subsidiaries, Permanente Metals, Kaiser would go on to build three more yards and swap assets with Todd to acquire the first Richmond yard as well.

The primary product of these yards was Liberty Ships (and later the better-designed Victory Ships), which could be assembled from massive sections prefabricated on-site in about 50 days. In November 1942, Kaiser Shipyards built the Liberty ship SS Robert Peary in 4 days, 15 hours, and 29 minutes--a record that still holds today for a ship of that size. In addition to these inexpensive cargo ships, the Richmond yards also constructed C-4 troop transports and landing craft.

At the height of production in summer 1944, Kaiser's bustling yards employed roughly 100,000 workers, of whom 24,500 were women. These women, many of them in their first industrial jobs, comprised forty percent of the welders at the yard, along with significant portions of the other skilled labor positions. Due to the predominance of welding at the shipyard versus the older method of riveting, women at Richmond were more often known as "Wendy the Welder" instead of "Rosie the Riveter." An influx of African Americans from the South and Midwest, following job opportunities and fleeing racial violence, also significantly changed the demographics of both the West Coast shipbuilding industry and the Bay Area as a whole.

All told, the Richmond yards alone would go on to produce roughly twelve percent of the American merchant marine during World War II, along with pioneering new methods of employee health care (in the system that would later become Kaiser Permanente) and revolutionizing the way ships were assembled. But the boom was not to last--despite strident efforts from Kaiser, who begged the U.S. Maritime Commission to let him at least purchase Yard Three from the government at war's end, and vocal urging from the city of Richmond, the Marine Commission instead declared all four yards surplus and sold them at liquidation prices after war's end in 1945.

The Rosie the Riveter World War II Homefront National Park was dedicated in 2000 by President Bill Clinton after three years of intense efforts by local citizens to dedicate a memorial to the civilian workers who made Richmond the most productive shipyard in the nation. The present-day park incorporates a restored Yard 3 complete with a Whirley Crane of the type used to lift large prefabricated ship sections into place.

Additional historic buildings belonging to the shipyard include a machine shop, warehouse, sheet metal shop, first-aid station and a former cafeteria for workers. The park also incorporates other important World War II sites such as the nearby Ford Motors plant, which assembled tens of thousands of tanks and jeeps for the military, as well as the original Kaiser field hospital, day care, and housing developments for workers. Finally, the last surviving Victory ship, SS Red Oak Victory is berthed alongside the record-breaking shipyard where so many of her sisters were manufactured
Sources
Rosie the Riveter National Historical Park. National Park Service. . Accessed March 11, 2019. https://www.nps.gov/rori/learn/historyculture/places.htm.
Wartime History. Rosie the Riveter Trust. . Accessed March 11, 2019. http://www.rosietheriveter.org/visit-discover/park-sites.
Historic American Engineering Record, Creator, Henry Kaiser, U.S. Maritime Commission, Hugo Black, Joseph P Kennedy, Thomas Woodward, Shipping Board Bureau, et al. Rosie the Riveter National Historical Park, Kaiser Shipyards, San Francisco Bay, Richmond, Contra Costa County, CA. California Contra Costa County Richmond, 1968. Documentation Compiled After. Photograph. https://www.loc.gov/item/ca3393/.
Cushing, Lincoln. The World War II Kaiser Richmond shipyard labor force. Kaiser Archives. January 09, 2015. Accessed March 11, 2019. https://kaiserpermanentehistory.org/latest/the-world-war-ii-kaiser-richmond-shipyard-labor-force/.
World War II in the San Francisco Bay Area. National Park Service. . Accessed March 11, 2019. https://www.nps.gov/nr/travel/wwiibayarea/ric.htm.
Permanente Metals Corporation - Kaiser Richmond CA Shipyards. SanPedro.com. August 29, 2013. Accessed March 11, 2019. https://web.archive.org/web/20130829051031/http://www.sanpedro.com/Kaiser_Richmond/Kaiser-Richmond_1.htm. Archived by the Wayback Machine.
Additional Information