The Hendley Building, Galveston
Introduction
The Hendley building is the oldest remaining commercial building in Galveston. Constructed by Joseph and William Hendley between 1858 and 1860, it was the site of important events during the Civil War. Although vacant for many years, the first floor of the building was restored thanks to joint efforts by preservationists and developers.
Images
The Hendley Building was restored in 2015 and is now home to retailers.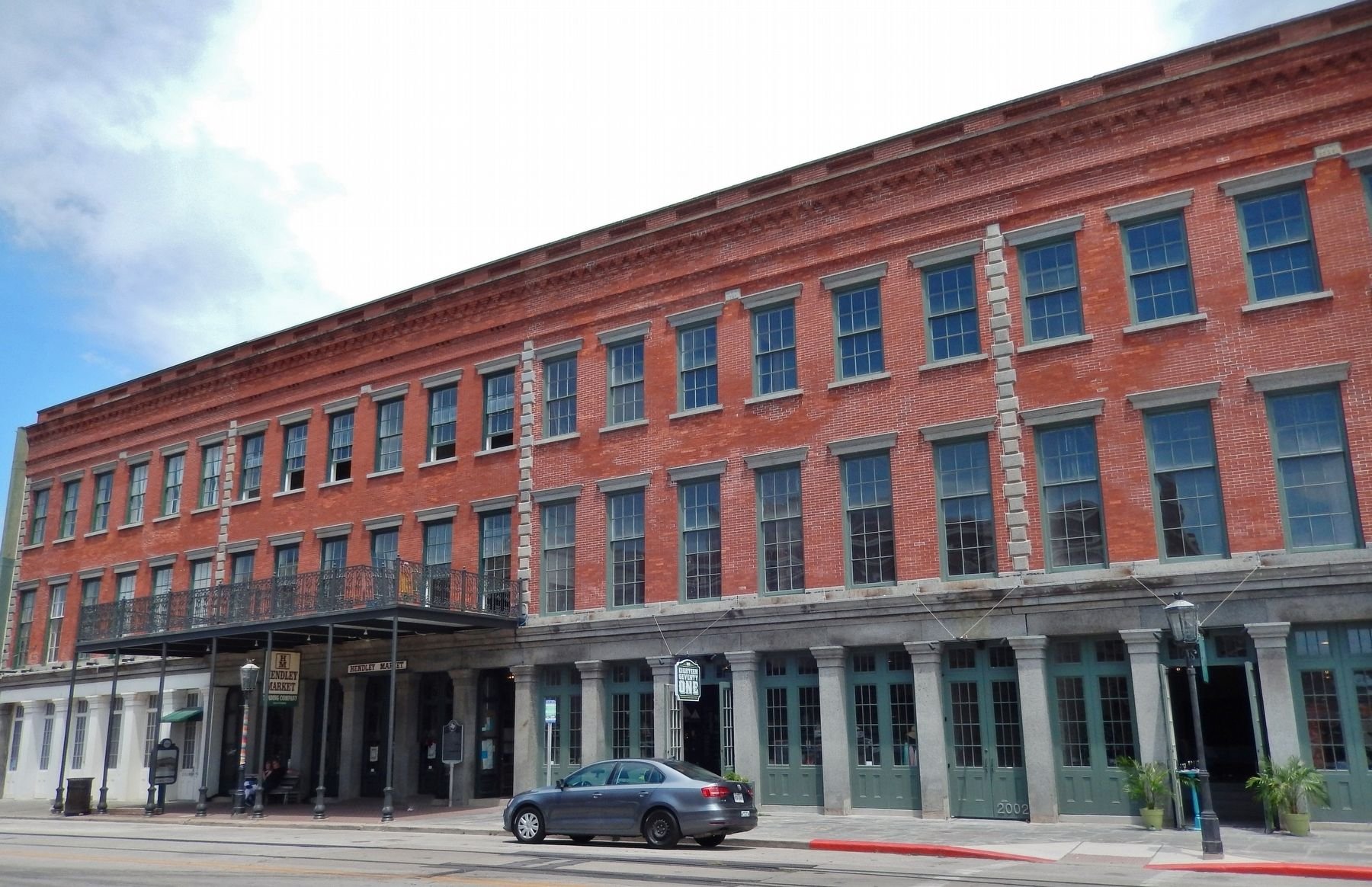 Comparison of the building today and how it appeared a century prior.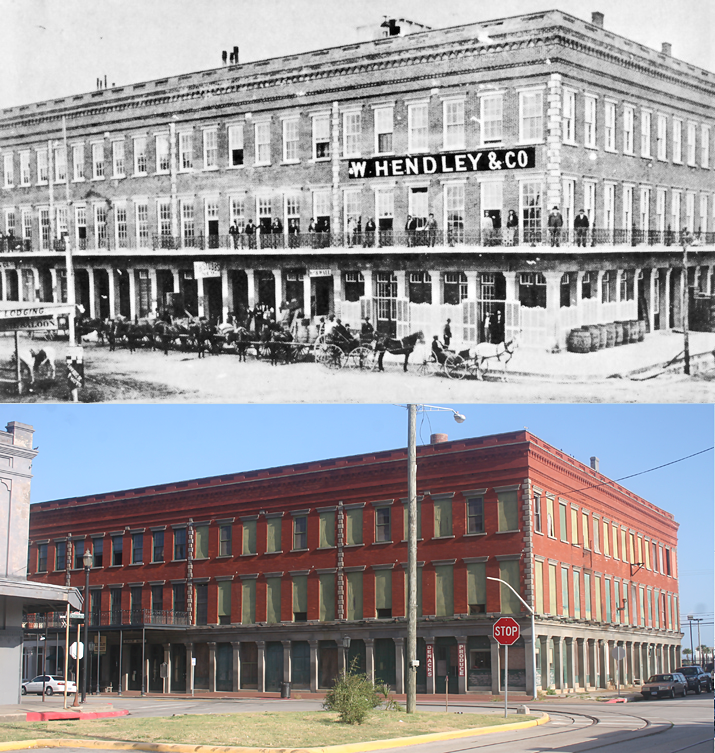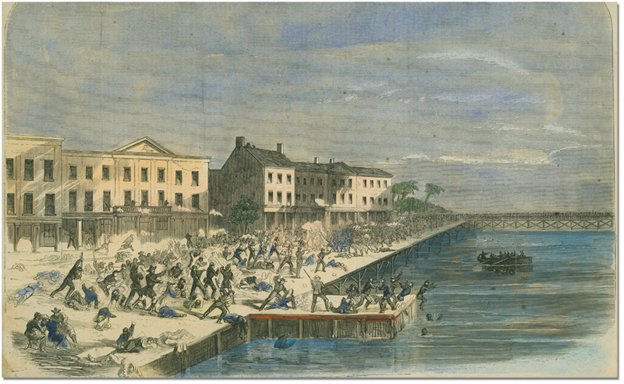 Damage from a cannon can be seen on a cornice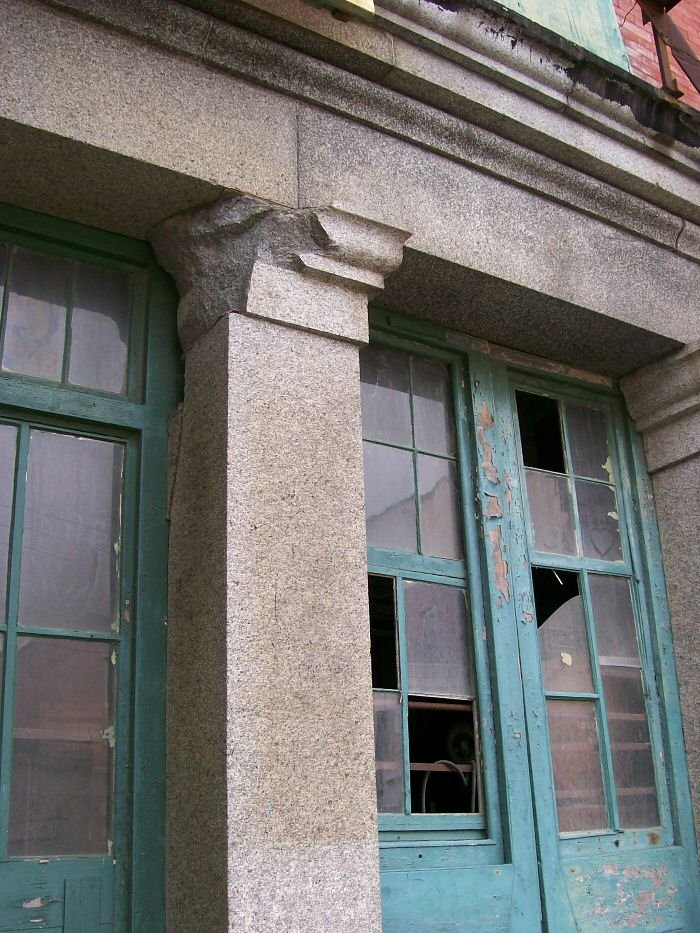 Backstory and Context
Known simply as the Hendley Building, this structure consists of four attached building and features the Greek Revival style of architecture. The Hendley brothers ran one of the leading cotton brokerages.
The Hendley building was used by Confederate troops during the war and during the Battle of Galveston on January 1, 1863, the first cannon fire came from the roof of the building. Union troops fired at the Confederates who were occupying the building, and part of the building is still damaged today. Visitors to the city should view this damage from the USS Owasco, which is visible on 20th Street.
The battle was one of the few instances where Confederate defenders were able to maintain control of a port city. The Union focussed most of their efforts on other port cities, and as these fell under Union control, Galveston became central to the Confederacy.
The Hendley is one of the only buildings to survive the hurricane of 1900 that hit the city, the worst natural disaster to hit the United States to that date. The building was used as a temporary morgue for family members to come and try to identify their lost loved ones.
Sources
Bozic, William. Galveston, TX. Civil War Album. January 01, 0006. Accessed September 20, 2018. http://www.civilwaralbum.com/misc2/galveston06_1.htm#blank_3.

Preservation Texas. . . http://www.preservationtexas.org/endangered/the-hendley-building/.

National Dept of the Interior. National Register of Historic Places Inventory. . . https://npgallery.nps.gov/GetAsset/52e82761-999a-4af6-9bde-1ec8f1a2871d.

Haunted Hendley Row. Galveston Ghost. . . https://npgallery.nps.gov/GetAsset/52e82761-999a-4af6-9bde-1ec8f1a2871d.

Battle of Galveston. Wikipedia. . . https://en.wikipedia.org/wiki/Battle_of_Galveston.

Mariner, Cosmos. The Hendley Building. . . https://www.hmdb.org/marker.asp?marker=119196.


Additional Information