Fort Trumbull Cold War Marker
Introduction
A marker at Fort Trumbull State Park in New London Connecticut stands to commemorate the creation and importance of the Navy Underwater Sound Laboratory (NUSL). The NUSL, once housed on the grounds at Fort Trumbull, played a crucial role in the research and development of military underwater sound technologies during the Cold War. The facility was closed in the late 90's succeeding the end of the Cold War earlier in the decade. A 1950's style research and development lab is also on display at the fort.
Images
Cold War Marker Photo By Bill Coughlin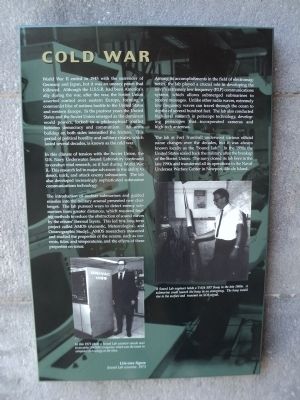 The Life-size figure next to the marker depicts a Sound Lab scientist from 1973. Photo By Bill Coughlin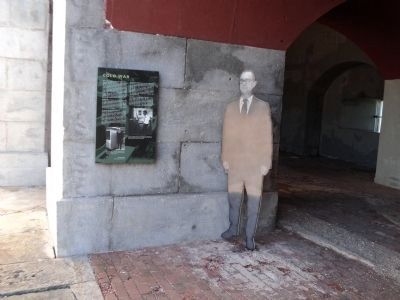 Backstory and Context
The inscription on the Cold War marker gives a brief synopsis of the Cold War in order to explain the utility of the U.S. Navy Underwater Sound Laboratory. The marker explains that, during the Cold War, research done at the NUSL, locally known as the "Sound Lab," was a continuation of the work done during WWII.
Research at the "Sound Lab" during the 1950s and 1960s was focused on the Cold War military issues posed by the existence of nuclear submarines and guided missiles. The lab played a crucial role in the development of submarine sonar and radio communication systems and antisubmarine sonar systems for surface craft. Research efforts also included ocean surveillance systems for continental defense against missile-launching submarines, underwater acoustic research, and Polaris command communications. More specifically, the lab can be credited with developing periscopes that incorporated cameras and high-tech antennas. Most notably, the lab contributed to the development of the navy's extremely low frequency (ELF) communications system, which allows submerged submarines to receive messages.
Sources
http://www.hmdb.org/marker.asp?marker=48405 http://teachinghistory.org/history-content/historical-site/10175 http://www.fortfriends.org/history.htm http://www.ct.gov/deep/cwp/view.asp?a=2716&q=325200&deepNav_GID=1650%20
Additional Information