Mount Pleasant Cemetery
Introduction
Mount Pleasant Cemetery is located at the intersection of Crocker and Cohannet Streets in Taunton, Massachusetts. It is the third "garden-style" cemetery established in Massachusetts. However, this burial ground is more than a place for the dead to rest in eternal peace. It has an enchanting landscape, so that those still living who come to visit their deceased ancestors and friends can enjoy a scenic walk around the park with its short hills, gravel walkways and beautifully planted trees and shrubbery.
Images
George E. Wilbur Memorial at the Mount Pleasant Cemetery (Courtesy of the Taunton Daily Gazette)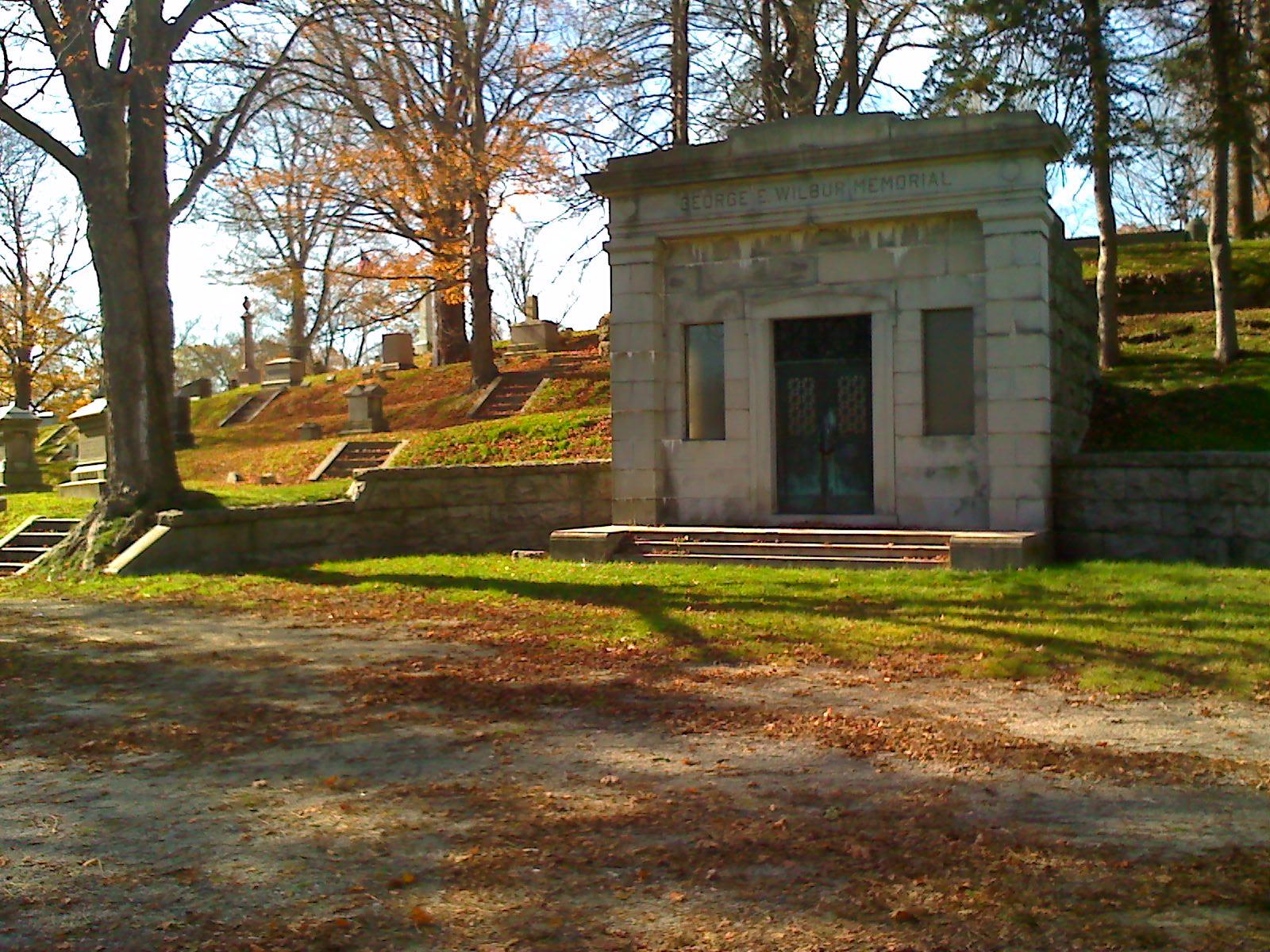 Backstory and Context
The Mount Pleasant Cemetery was officially opened on July 4, 1836. It is a "garden-style" cemetery as opposed to a simple, dreary burying ground. The cemetery was the first of its kind in the City of Taunton and the third in the state. The Pere Lachaise Cemetery in Paris and the English Gardens are the inspiration for these landscaped burial grounds in America. The first public garden was established in Boston, near the common, just a year after the Mount Pleasant Cemetery was opened.
Mr. Samuel Crocker was a wealthy businessman and politician in Taunton. In 1835, he deeded a parcel of his own land to be used for the new cemetery. Previously, the King family had their own small burial ground on the land. Their graves continued to lie in the new cemetery, as well as the graves of important politicians and veterans of several wars, including Queen Anne's War; the American Revolution; and the War of 1812.
The cemetery was transferred to the City of Taunton in 1985. In 2002, it earned a spot on the National Register of Historic Places.
Who is buried in the Mount Pleasant Cemetery?
There are several men and women buried in the Mount Pleasant Cemetery who were important to Taunton's strong history.
Samuel Leonard Crocker (1804-1883). Mr. Crocker was the man who provided the land for the cemetery in the beginning. He was born in Taunton in 1804 and became an established businessman and politician representing the area. He served as a member of the Massachusetts Governor's Council in 1840 and then as a member of the U.S. House of Representatives from the Massachusetts 2nd District from 1853-1855. Mr. Crocker also operated the Taunton Locomotive Manufacturing Company for over 20 years as President (1862-83). He died in Boston in 1883 and was interred at the Mt. Pleasant Cemetery.
Mr. Crocker was the father of Sally Crocker (who married Edmund Hatch Bennett) and Mary Caroline Crocker (who married Darius Nash Couch).
Edmund Hatch Bennett (1824-1898) was born in Vermont in 1824. He became a lawyer and served as a probate judge in Massachusetts from 1858-63. He also served as the mayor of Taunton from 1865-67, before he resigned 1867. Eventually, he became a law professor and died in Boston in 1898. The epitaph on his tombstone reads: ""Greatly Beloved." / "He rests from his labors, and his works do follow him."
Darius Nash Couch (1822-1897) was born in Putnam County, New York in 1822. He served in the U.S. Army during the Mexican War and as a general in the Union Army during the Civil War. Couch was also a naturalist and a merchant. In 1865, he vied as a candidate for Governor of Massachusetts. He didn't win that campaign, but he did serve as the U.S. Collector of Customs from 1866-1867. He died in Norwalk, Connecticut in 1897.
Sources
Mount Pleasant Cemetery 1836. SouthCoast Ghost. Accessed May 18, 2017. http://southcoastghost.weebly.com/taunton.html.

WHO LIES HERE: Mt. Pleasant Cemetery third in country designed to evoke European outdoor spaces. Taunton Daily Gazette. November 25, 2011. Accessed May 18, 2017. http://www.tauntongazette.com/x839929648/WHO-LIES-HERE-Mt-Pleasant-Cemetery-third-in-country-designe....

Crocker Family of Taunton and Boston, Massachusetts. Political Graveyard. Accessed May 18, 2017. http://politicalgraveyard.com/families/19339.html.


Additional Information