Belhurst Castle
Introduction
Belhurst Castle is a historic residence in Geneva, New York that has been operating as a hotel for several decades. The modern addition features a winery, restaurant (there is another restaurant in the house itself), a spa-salon, event space for weddings and other gatherings, and the Vinifera Inn. Belhurst Castle also operates another hotel called White Spings Manor, which is located two miles to the west. The house was built in 1889 by Carrie Young Harron and her husband Louis Dell Collins and is a fine example of Romanesque architecture. Listed on the National Register of Historic Places, the house also features a solarium, projecting porches, and towers with conical roofs.
Images
Belhurst Castle was constructed in 1889 and is an excellent example of Romanesque architecture.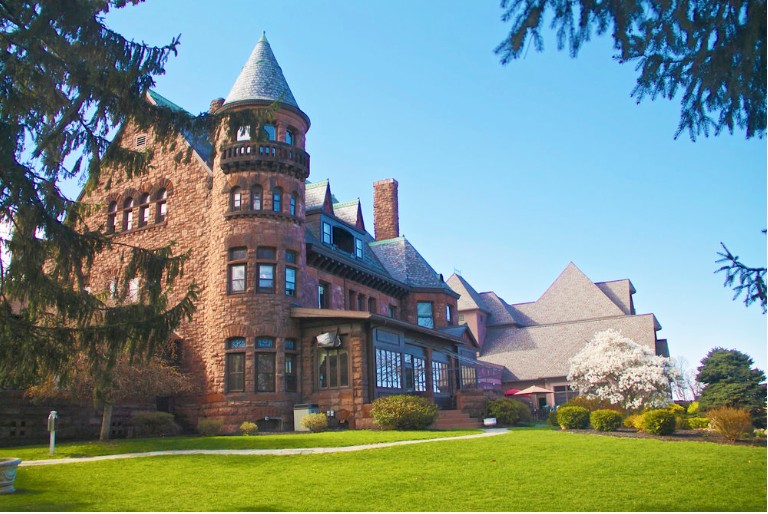 The Vinifera Inn addition features a restaurant, event space, and a spa-salon.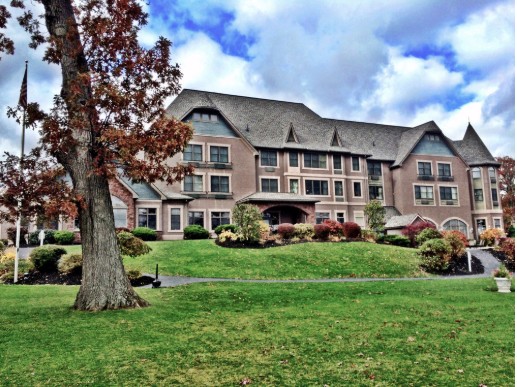 White Springs Manor is located two miles to the west.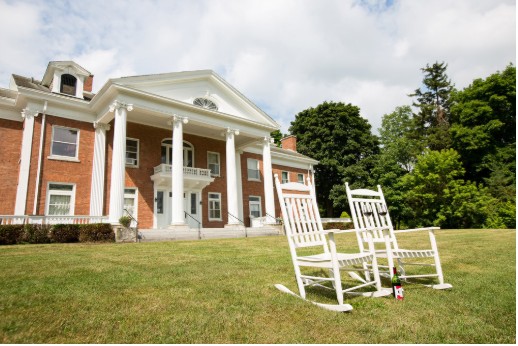 Backstory and Context
Interestingly, the land on which the house stands was the site of a Seneca Indian village, which was also the location of the Council of the Six Nations of the Iroquois. The property became part of Massachusetts in the early 1700s. It passed onto a series of owners over the next century before being acquired by Joseph Fellows, a lawyer from England, in 1820. Around 1830, he built the first structure on the property, which he called the "Hermitage."

Fellows never lived in the house. A man named William Henry Bucke lived in it under a deed of trust. Bucke was probably the most interesting resident of the Hermitage. He lived alone except for one servant and died after complications from a fall in 1836. Upon his death, it was discovered that Bucke had embezzled money from the Covent Garden Theater in London, where he worked as treasurer. He also apparently married his stepmother. He fled to the United States to evade capture and used the alias Henry Hall.

Two owners later, the property was purchased by Harrison G. Otis in 1852, who was the originator of the name "Bellehurst" (which means "beautiful forest"). The Otis family lived at the Hermitage until 1873, at which point the government assumed ownership of the property. Carrie Harron bought it in 1885 and in a few years divorced her husband (he stayed in New York, where they lived) to marry Louis Dell Collins, who was her manager at the time.

Carrie died in 1926 and the property passed on to her grandson, Hal Harron Jr. He leased it to Cornelius J. Dwyer, who bought it outright in 1932. Dwyer became infamous for opening a speakeasy and gambling casino in 1933, operating it in defiance of Prohibition laws. These activities finally ended in 1952 but Dwyer continued to run the restaurant until 1975.
The new owners continued to run the restaurant and eventually converted the house into a hotel. The current owners bought the house in 1992. They added the modern wing in 2003.
Sources
"The History of Belhurst." Belhurst Castle. Accessed December 22, 2018. https://www.belhurst.com/history.

Photos: Belhurst Castle
Additional Information