DANK Haus German American Cultural Center
Introduction
The DANK Haus German American Cultural Center in Chicago is dedicated to the preservation and promotion of German language and culture. The center has its roots with DANK, the German American National Congress, which was founded in 1959. The current building in Lincoln Square was purchased in 1967. The cultural center hosts a variety of events exploring German heritage, culture, and language. It also serves as the meeting place for many German clubs, and is home to a language school, a museum, a library, and an art gallery. It is a member of the Chicago Cultural Alliance.
Images
DANK Haus has occupied this building in Lincoln Square since 1967. Before that it was home to a fraternal organization. Image obtained from Open House Chicago.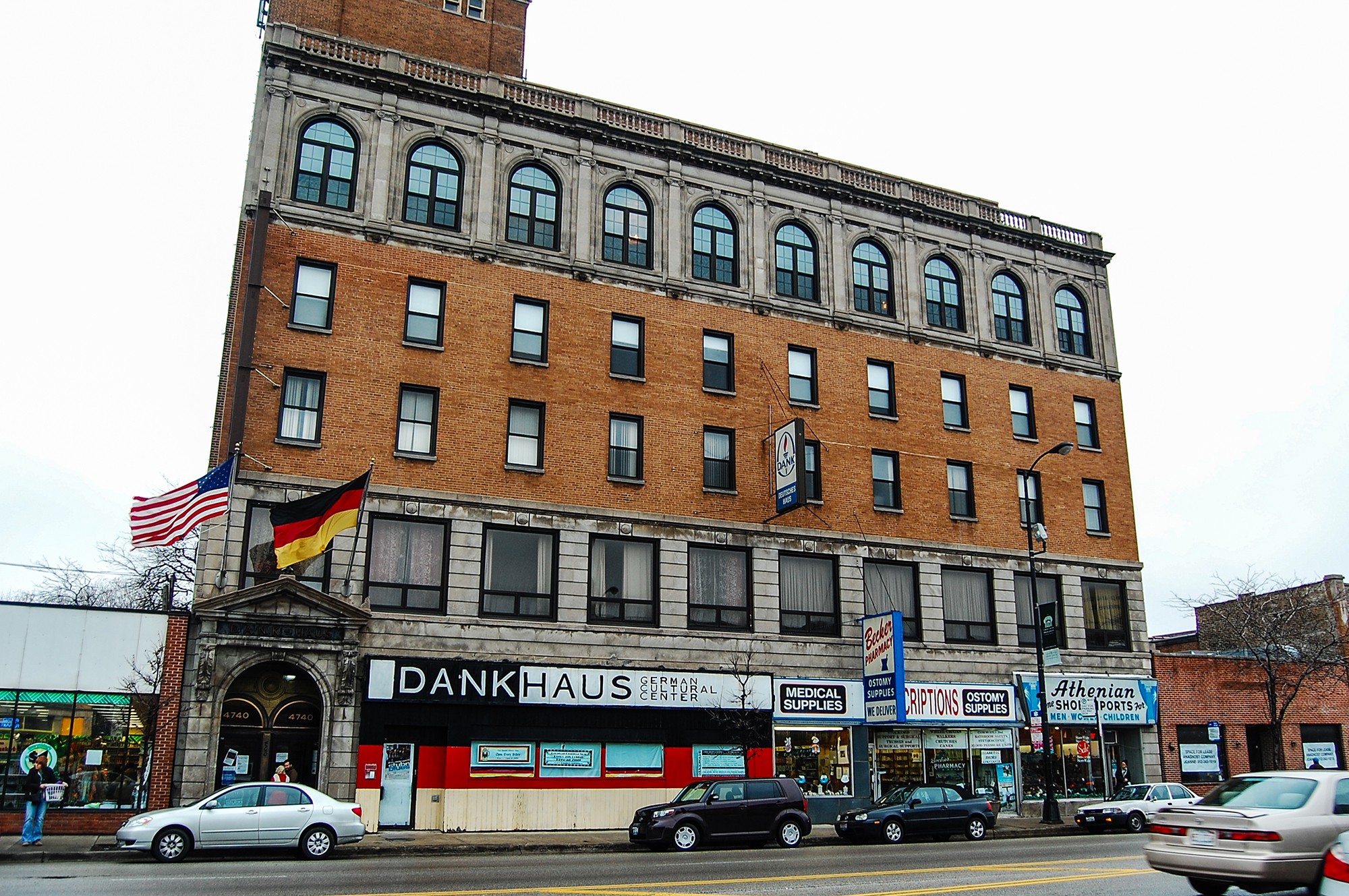 The Deutsch Amerikanischer National Kongress (German American National Congress) was founded in 1958 to preserve and promote German American culture in the face of declining interest. Image obtained from DANK.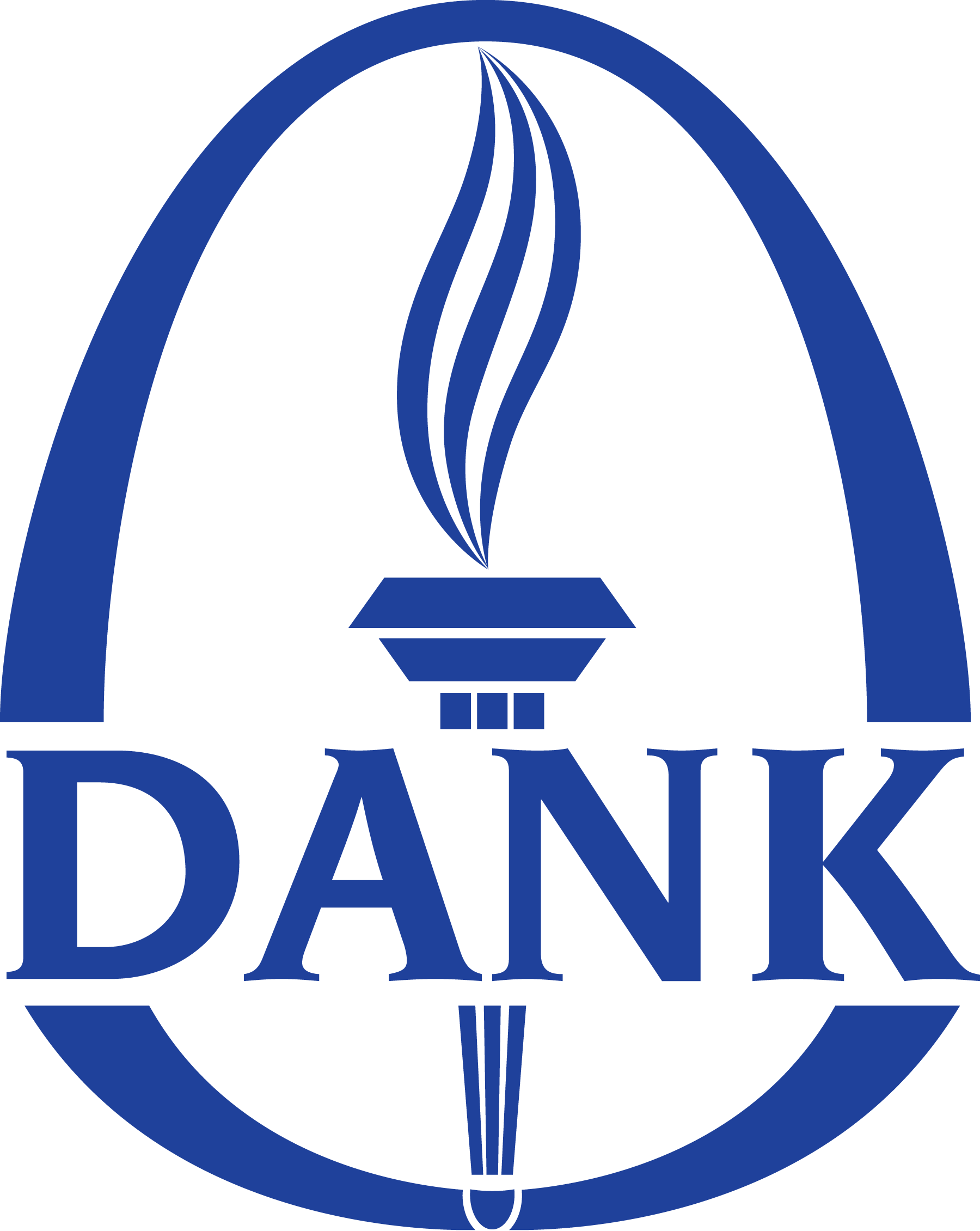 The Marunde Ballroom is one of DANK Haus' most popular venues, used for weddings and other events. Image obtained from SpaceFinder Chicago.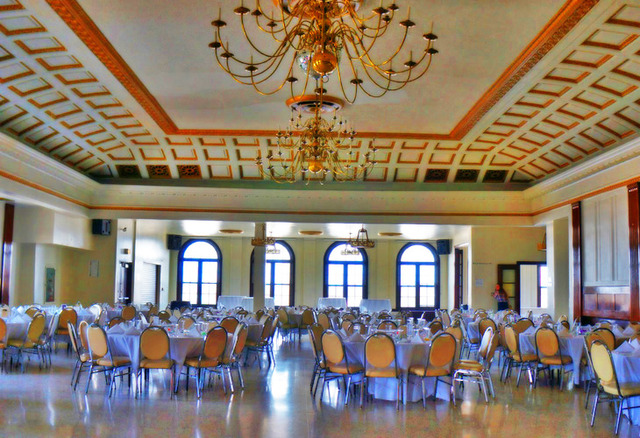 Backstory and Context
Historically Germans have made up one of the largest ethnic groups in the United States. Nearly six million immigrated to America from 1820-1930; they were compelled to leave Germany for reasons such as population growth, poverty, religious persecution, and war. Many German immigrants in the mid-1800s chose to settle in the Great Plains. Many passed through Chicago on the journey west; some skilled workers and their families decided to stay in the new, growing city. As early as 1850, Germans and those of German descent made up the largest ethnicity in Chicago.
Throughout the 1800s and early 1900s the German American community remained connected through a variety of fraternal organizations, clubs, churches, businesses, and German-language newspapers; many Chicago public schools even had German language programs. Expression of German cultural declined sharply due to the World Wars, and many of these groups vanished or were Anglicized. As relations between the United States and Germany began to improve in the 1950s, some German Americans sought the creation of a national organization to represent their interests. These efforts were spearheaded by Leonard Enders, the editor of a German newspaper, who published an editorial calling for such an organization. On December 12, 1958, a group of German American representatives gathered in Chicago and founded the Deutsch Amerikanischer National Kongress (German American National Congress) also known as DANK. Since then, DANK has worked to preserve and promote German language and culture in the United States. In 1987 it successfully lobbied to have October 6 designated national German American Day. Today DANK has chapters all over the nation; it operates a series of German language schools and publishes a bi-monthly German and English magazine, the German-American Journal.
Chicago's DANK Haus German American Cultural Center was established in 1967 by the Chicago North chapter of DANK. The group purchased a six-story, 77,000 square foot building constructed in Lincoln Square, a historically-German neighborhood. Built in 1927, it was designed by German American architect Paul Gerhardt Sr., who designed numerous public and commercial buildings in the Chicago area. It originally housed a fraternal organization called the Three Links Association. DANK Haus today is one of the centers of German American culture in Chicago. In addition to housing the Chicago North chapter, the cultural center also serves as the meeting place for numerous smaller German clubs and societies. It houses a language school, offering courses for people of all ages as well as classes in German history and theater. The center is home to the DANK Haus Museum, containing artifacts on Chicago's German American community; the Scharpenberg Art Gallery, featuring rotating art and history exhibits; and the DANK Bibliothek (DANK Library) which contains over 7,000 mostly-German-language books. Several rooms are offered as venues to rent for events, such as the Marunde Ballroom, Skyline Lounge, and Brandenburg Room.
Sources
Harpig, Christiane. "Germans." Encyclopedia of Chicago. Accessed March 7, 2018. https://www.encyclopedia.chicagohistory.org/pages/512.html
"History of DANK." German American National Congress. Accessed March 6, 2018. http://www.dank.org/history/
"History of DANK Haus German American Cultural Center." DANK Haus German American Cultural Center. Accessed March 6, 2018. https://www.dankhaus.com/History
Image 1: https://openhousechicago.org/sites/site/dank-haus-german-american-cultural-center/
Image 2: http://www.dank.org/images/press/DANK_Logo.png
Image 3: https://chicago.spacefinder.org/spaces/11965
Additional Information