Pythian Castle (Toledo)
Introduction
The Pythian Castle was built by the Knights of Pythias fraternal organization in 1890. The space was also occupied by various businesses over the years. Its most recent resident was an arts center in the 1970s. Since then, the Pythian Castle has sat dormant. Renovations on the historic structure began in 2017 and were resumed in 2018.
Images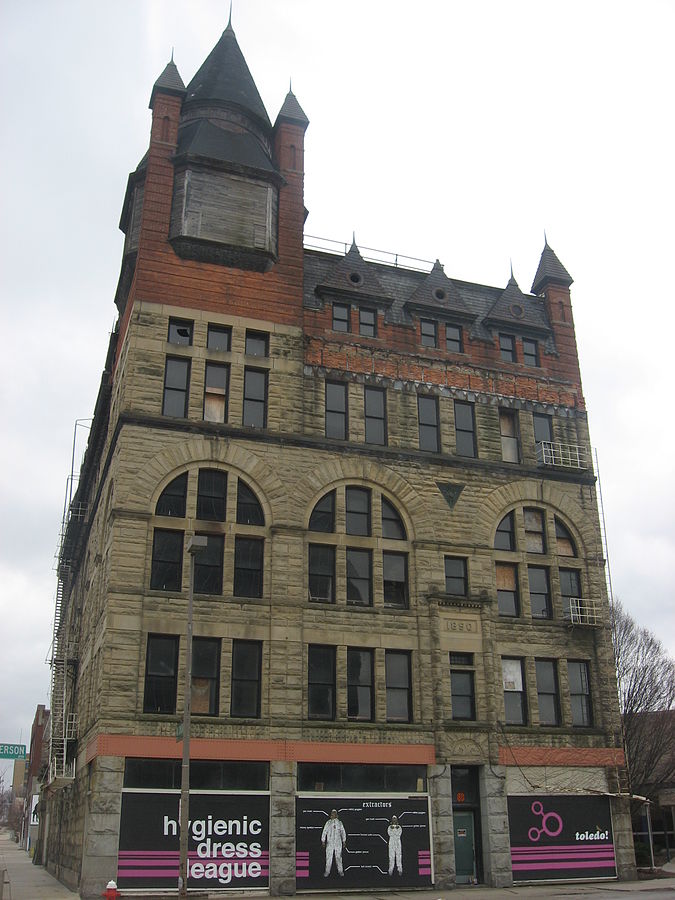 Backstory and Context
The Knights of Pythias bought this property on the corner of Jefferson and Ontario in 1889 and completed their "castle" the next year. The Pythian Castle was designed in the Romanesque style by the architect team Bacon and Huber of Toledo. The Castle features a textured sandstone exterior, a conical roof, arches over windows, and a tower. Inside, there is an auditorium, ballroom, and over 30,000 square feet of space used by the Knights and businesses.
The J. W. Greene Company was one of the longest-residing businesses in the castle. The company, which sold pianos, resided on three floors from 1890 until 1960. The Knights themselves quit meeting here in 1951. In the 1970s, the Pythian Castle was briefly used as an arts center, and it has remained vacant ever since. The Castle fell into such disrepair that in 1986, the weight of pigeons on the roof was enough to cause a metal cornice and gutter to come loose.
More recently, the Lucas County Land Bank obtained the property and loaned money to Water Street Development to renovate the building. Work began in the spring of 2017, starting with repairs to the roof and walls. Currently, plans are to rent the ground floor for commercial use and convert the upper floors into apartments.
Sources
Monk, Jonathon. Downtown Toledo's Pythian Castle is seeing new life. WTOL. February 17, 2017. Accessed October 26, 2018. http://www.wtol.com/story/34535402/downtown-toledos-pythian-castle-is-seeing-new-life/.

Downtown Architecture 101 Part I. Downtown Toledo. November 07, 2017. Accessed October 26, 2018. https://www.downtowntoledo.org/news/posts/2017/november/downtown-architecture-101-part-i/.

Henry, Tom. Pythian Castle a monument to hard times. Toledo Blade. February 25, 2013. Accessed October 26, 2018. https://www.toledoblade.com/Real-Estate/2013/02/25/Pythian-Castle-a-monument-to-hard-times.html.

Pythian Castle, Ceasar's Showbar brought back to life?. WTOL. July 11, 2013. Accessed October 26, 2018. http://www.wtol.com/story/22821023/pythian-castle-ceasars-showbar-brought-back-to-life/.

Speck, William D. Toledo: A History in Architecture, 1890-1914. Images of America. Charleston, SC. Arcadia, 2004.