Primus King and the Civil Rights Movement Historical Marker
Introduction
Dedicated in 2015, this state historical marker commemorates the fortitude of Primus King who defied white supremacists to cast his ballot. On July 4, 1944, Primus King decided that he was going to vote in Columbus, Georgia's primary election at the Muscogee County Courthouse, even though the primary was operated by the Democratic Party, a private organization which limited membership to white residents. King was denied entry to the building because of the color of his skin. With the support of fellow activist Dr. Thomas Brewer, he was able to enact a plan that would lead to a lawsuit against the Muscogee County Democratic Party Executive Committee. The lawsuit named Joseph Chapman, the head of the county's all-white democratic party at that time, as the defendant. King v. Chapman was a court case that followed a similar case, Smith v. Allwright, and likewise resulted in a judgment against Chapman and the Democratic party stating that primary elections that were limited to one race were a violation of the Constitution even if political parties were private organizations. During this time period, most African Americans in the Deep South were deprived of their rights to vote due to a variety of state and local laws that were carefully framed to not explicitly mention race. King's faced death threats for almost two years for his challenge to the all-white primary. However, the federal judge's ruling in King's favor on October 12, 1945, paired with a similar decision in Smith v. Allright in Texas, marked the end of the all-white primary. However, the two court decisions alone did not end voter suppression, the leading issue of the Civil Rights Movement of the 1960s, and an issue that remains just as salient today.
Images
Primus King as he finally receives his settlement from the case against Muscogee County Democratic Party in 1977. He was awarded $324.70, even if the ordeal cost him thousands of dollars in the end.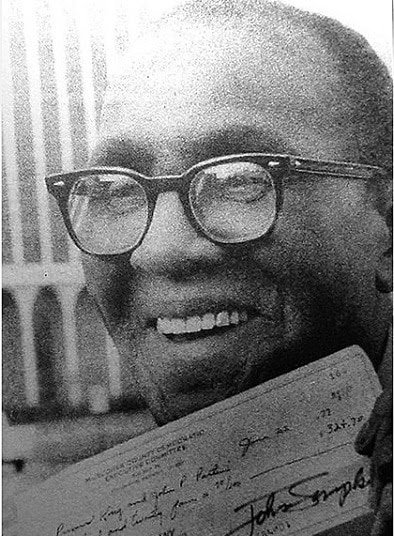 A section of a road in Columbus, GA was also named after him.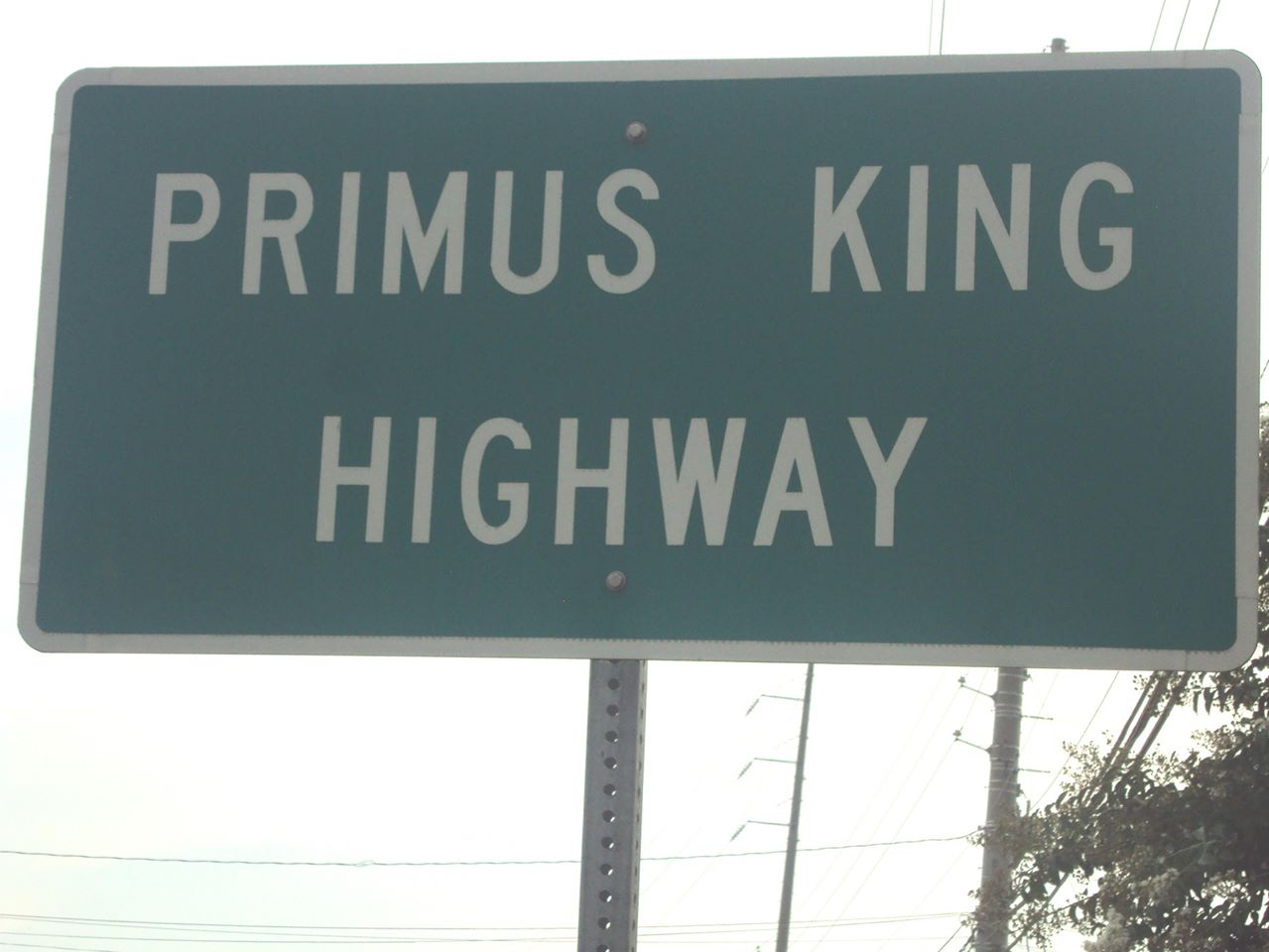 Historical marker dedicated to Primus King outside of the Muscogee County courthouse. It reads, "The modern Civil Rights Movement in Georgia began on July 4, 1944, when Primus E. King, an African-American barber and minister, attempted to vote at the Muscogee County Courthouse in the Democratic Party's primary election, which barred Blacks from participating. King, a registered voter, was roughly turned away by a law enforcement officer. With the encouragement and financial backing of local activist Dr. Thomas Brewer, King filed suit in Federal court in Macon, arguing that excluding Black voters was unconstitutional. The court ruled in King's favor, as did the U.S. Circuit Court of Appeals, ending Georgia's "whites only" primary. King's challenge eliminated the legal barriers to Black voting in Georgia's state and local elections and set in motion a statewide Black voter registration campaign that helped end disfranchisement and the system of Jim Crow discrimination."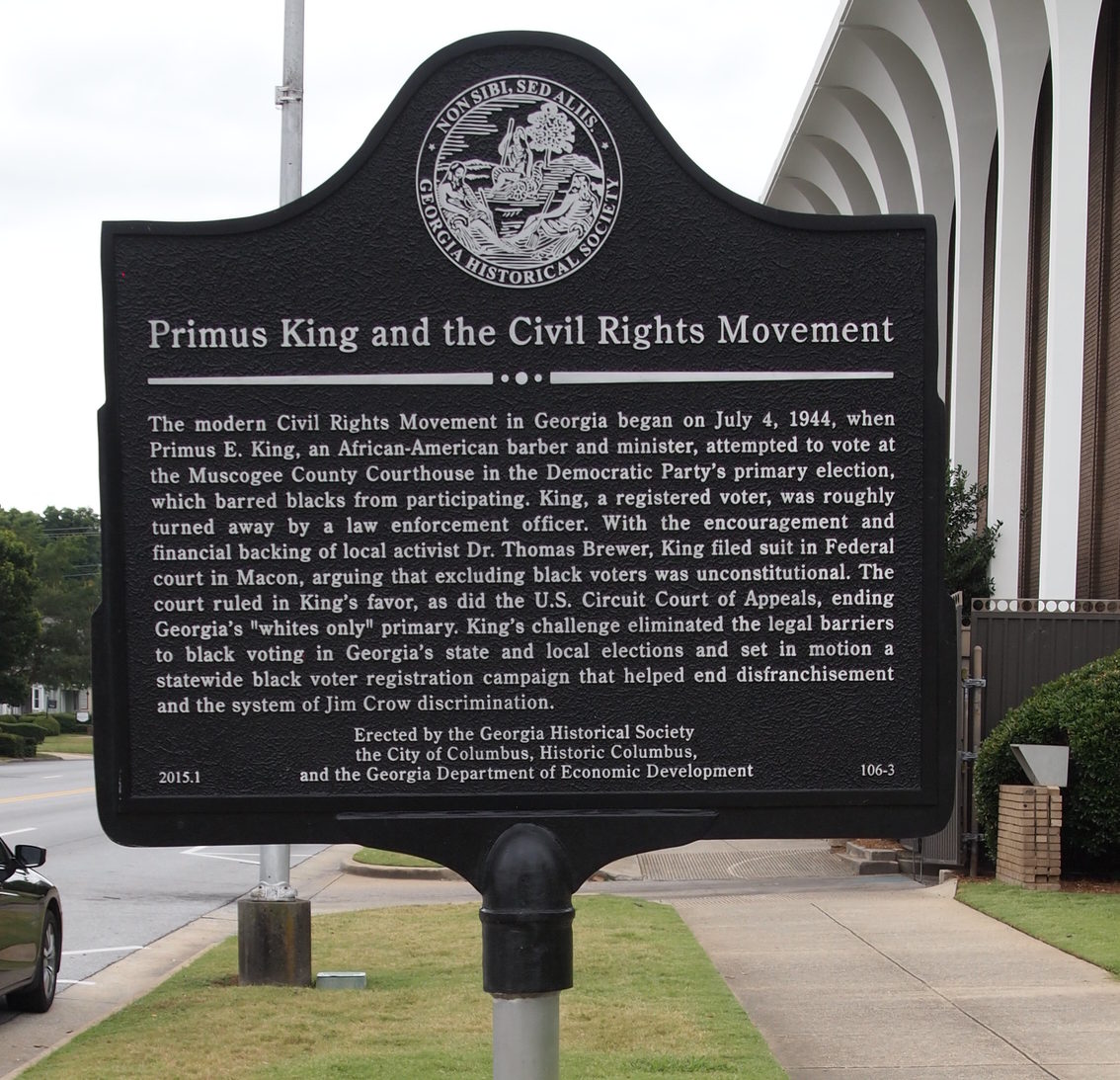 Backstory and Context
Dr. Martin Luther King said, "You don't have to see the whole staircase, just take the first step." Primus King took that first step on the morning of July 4, 1944, when he decided to cast a ballot at the Muscogee County Courthouse. Despite the Democratic primary election in Columbus, Georgia being limited to whites, he put his body on the line and attempted to cast a ballot. Immediately after entering the building, an officer roughly turned King away telling him he wasn't allowed to vote. Afterwards, King walked several blocks to the law office of Oscar D. Smith Sr. to file a lawsuit against the members of the Muscogee County Democratic Party Executive Committee. The committee was chaired by Joseph E. Chapman and claimed that the party had denied his right to vote as guaranteed by the 15th Amendment which guaranteed the right to vote regardless of race. 
In September of 1945, King's attorney Oscar Smith commenced arguments in a federal court in Macon, Georgia. Smith argued alongside attorney Harry S. Strozier and made the case that King's right to vote under the Fourteenth, Fifteenth, and Seventeenth amendments had been violated. The case concluded when Federal Judge T. Hoyt Davis ruled in favor of King on October 12, 1945. King's ruling legally allowed all African American people in the state of Georgia the right to vote in primary elections, but this only marked the start of the long and ongoing fight against mechanisms designed to prevent or discourage African Americans from exercising their right to vote. .
King was a barber, a civil rights activist, and reverend in Columbus, and he was one of several civil rights activists in the decades leading up to the challenges against voter suppression in the late 1950s and early 1960s that culminated with the passage of the Voting Rights Act. In the 1940s Jim Crow laws and a variety of legal and extralegal conditions created a situation where African Americans were not permitted to vote or did so at their peril.
In his early years when King worked as a chauffeur and butler, he was constantly humiliated at the hands of his white employers. These experiences helped strengthen his determination later in life leading up to his decision to challenge the all-white primary. King has said that he has always been a man that loved his people, but he could never say that about white people. When a group of Columbus-area civil rights activists made a plan to challenge the July 4, 1944 primary, Primus King was the group's volunteer. When they denied him his right to vote, he immediately walked three blocks to a lawyers office to file a suit.
During that time, King received many threats from the Ku Klux Klan that included specific details about what they would do to kill him, including the threat to throw his lifeless body in the Mississippi River so that his loved ones would never have closure. White supremacists visited King's house at night, making treats and shooting firecrackers or using other methods in hopes of scaring him into reversing course. When these tactics didn't work, white supremacists set a trap by trying to trick him into visiting a white woman's house by having her say how much she loved him and how she thought he was a fine looking man. King reportedly responded to her by saying "I'm proud that somebody's got enough Christ in them to love......If you got love in your heart, that's really a superb thing for you to have." Many other attempts were made to intimidate King or trick him so he would miss his court date, but failed. Thirty years later, the Democratic Party of Muscogee County paid King the financial judgement that the court declared they owed him with interest, a check for $324.70.
The payment was the only acknowledgment of wrongdoing, but Primus King had begun an effort that would challenge the exclusion of African Americans and later lead to a profound shift in the Democratic Party of Georgia. Following years of African Americans challenging their exclusion despite violence, the Voting Rights Act of 1965 gave the federal government the power to prevent discrimination at the polls. By that time, the Democratic Party had become the defender of civil rights and African Americans began to vote in elections in large numbers. By the 1970s, white politicians turned the direction of the Republican Party and most African Americans supported the Democrats. This marker denotes an important moment in that long transition, but more importantly, it shares the history of African Americans like Primus King who challenged their exclusion from the democratic process.
Sources
General Oral History Collection, Columbus State University Archives, Columbus, Georgia, http://archives.columbusstate.edu/oral_history/Primus_King_Transcript.pdf
Hutton, Alison. "Primus E. King Helped Reclaim African American Voting Rights." SaportaReport, SaportaReport, 24 July 2017, saportareport-com.cdn.ampproject.org/v/s/saportareport.com/primus-e-king-helped-reclaim-african-american-voting-rights/amp/?usqp=mq331AQIKAGwASDYAQE%3D&_js_v=0.1#aoh=15954240137392&referrer=https%3A%2F%2Fwww.google.com&_tf=From%20%251%24s&share=https%3A%2F%2Fsaportareport.com%2Fprimus-e-king-helped-reclaim-african-american-voting-rights%2F
Lloyd, Craig. "Primus E. King (1900-1986)." New Georgia Encyclopedia. 17 July 2017. Web. 31 July 2020.
Image Sources
https://saportareport-com.cdn.ampproject.org/v/s/saportareport.com/primus-e-king-helped-reclaim-african-american-voting-rights/amp/?usqp=mq331AQIKAGwASDYAQE%3D&amp_js_v=0.1#aoh=15954240137392&referrer=https%3A%2F%2Fwww.google.com&amp_tf=From%20%251%24s&ampshare=https%3A%2F%2Fsaportareport.com%2Fprimus-e-king-helped-reclaim-african-american-voting-rights%2F

https://www.facebook.com/CBHMA/posts/reverend-primus-e-kingfebruary-5-1900-november-3-1986after-being-denied-the-righ/2600798406686565/

https://georgiahistory.com/ghmi_marker_updated/primus-king-and-the-civil-rights-movement/

Additional Information