Erie Federal Courthouse
Introduction
The Erie Federal Courthouse, also known as Erie Federal Courthouse and Post Office, is a complex of buildings that serve as a courthouse of the United States District Court for the Western District of Pennsylvania, and house other federal functions. The main courthouse building was built in 1937 in Moderne architecture style. It served historically as a courthouse, as a post office, and as a government office building. It was listed on the National Register of Historic Places in 1993. By the late 1980s, the federal courts needed more space to effectively serve the public. To resolve the space shortage, the General Services Administration undertook a bold plan to purchase, restore, and adaptively use two adjacent historic buildings: the Main Library and the Isaac Baker & Son Clothing Store. The existing courthouse was rehabilitated and two additions were constructed. Each of the buildings in the complex is of a different architectural style.
Images
Original Erie Courthouse built in 1887 as it looked in 1901. Demolished in 1936 to make way for construction of today's courthouse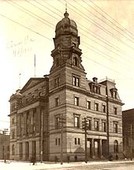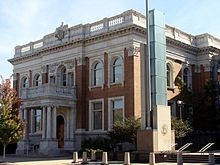 1937 courthouse as it looks today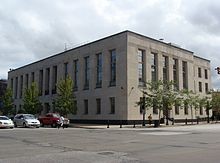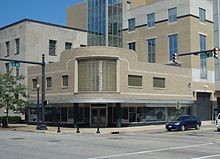 Backstory and Context
The first United States courthouse in Erie had been constructed at this location in 1888 under the supervision of Mifflin E. Bell., also in the service of the Western District of Pennsylvania. This building also served as a post office
. It was demolished to make way for the existing 1938 courthouse.


The 1938 courthouse was designed by Rudolph Stanley-Brown, a Cleveland architect who was the grandson of President James A. Garfield. Built during the Great Depression with funds from New Deal programs, its construction provided local jobs. However, the Erie Public Library, completed in 1899 and incorporated into the United States Courthouse complex in the 1980s, is the oldest building in the complex. The Library was designed by the firm of Alden & Harlow of Pittsburgh.
The 1947 Baker Building was originally a clothing store. Isaac Baker and Son established its first store in the 1850s at another downtown location. When fire destroyed an earlier building, the proprietor hired Erie architect Walter Monahan and consulting architect George Mayer of Cleveland to design a new building. Construction of the building occurred during the period 1943-1946 by the Henry Shenk Company, a prominent Erie general contractor. Shenk had constructed the adjacent Erie Library, over 40 years earlier, and his company was quite large when it began constructing the Baker Building. Work was stopped on the building shortly after it began, because of the constrictions imposed by World War II; however, it resumed in 1945 and was substantially completed in 1946.
The new portions are the Courthouse Annex and the Connector, which unite the annex, library, and courthouse. Both are clearly modern. The design and restoration was completed in 2004 by DPK&A Architects and Kingsland Scott Bauer Associates. The courthouse complex overlooks Perry Square, a park named to honor Admiral Oliver Hazard Perry. Other major buildings front the square, creating a monumental town center.
Sources
Pollalis, Spiro N. "Erie Federal Courthouse Complex." Harvard Design School. November 2005, Accessed July 15, 2016. http://www.gsd.harvard.edu/images/content/5/3/538960/fac-pub-pollalis-case-Erie-Nov05-public.pdf "Erie Federal Courthouse." Living Places. Accessed July 15, 2016
Additional Information