Negro Leagues Murals at Buck O'Neil Tribute Park
Introduction
Author-Uploaded Audio
Located on the side of the historic Paseo YMCA where the Negro Leagues were founded in 1920, this mural depicts members of the Kansas City Monarchs along with team owner J. L. Wilkinson. A second and larger mural honors one of the most influential baseball lives of the 20th century, Hall of Famer John Jordan "Buck" O'Neil. The players called O'Neil "Skip," a term of respect for the man who served as team captain and later manager of the Monarchs, a veritable Mothership that sent more Negro League veterans to the once white-only Major Leagues than any other team in history. O'Neil shaped the baseball careers of major leaguers such as George Altman, Gene Baker, Ernie Banks, Willard "Home Run" Brown, J.C. Hartman, Pancho Herrera, Elston Howard, Connie Johnson, Sweet Lou Johnson, Hank Mason, Satchel Paige, Hank Thompson and Bob Thurman, to name a few. O'Neil played in four East-West All-Star Games in three seasons and two Negro World Series, 1942 and 1946.
Images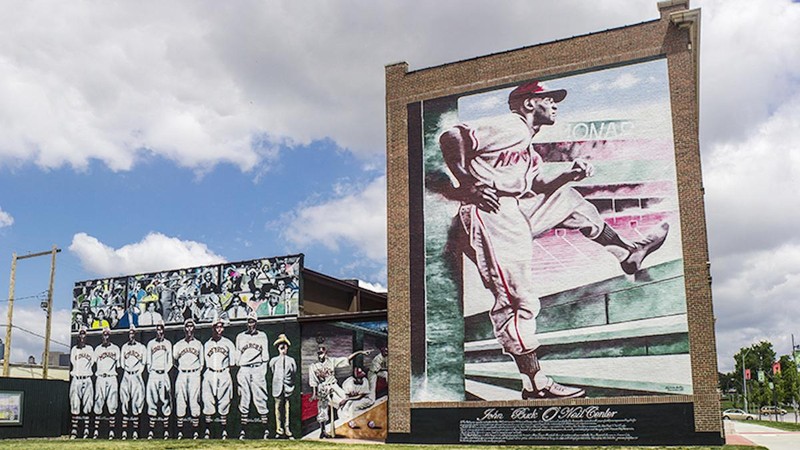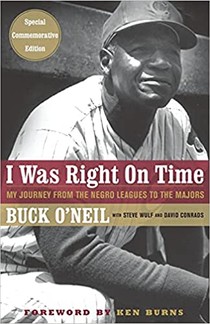 Buck O'Neil Hall of Fame Plaque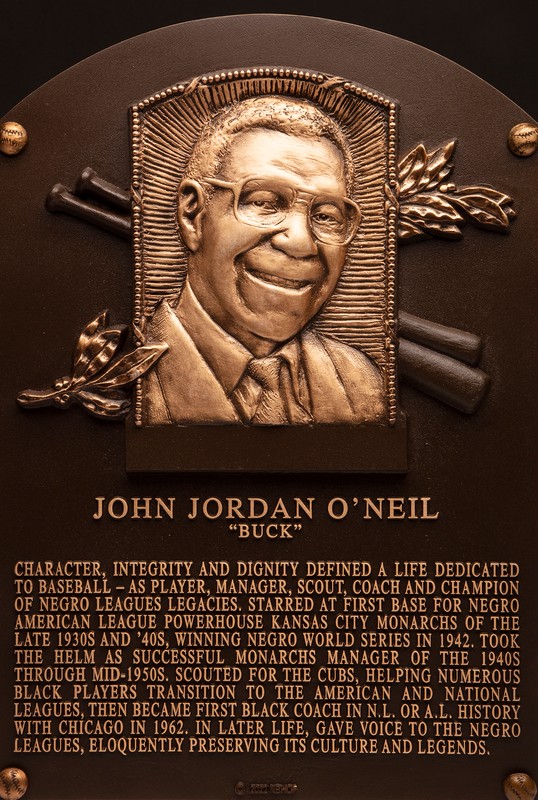 Backstory and Context
John Jordan O'Neil, Jr., was born 13 November 1911 in Carrabelle, Florida. At the age of 94, on 6 October 2006 in Kansas City, O'Neil died of bone cancer and was interred at Forest Hill Cemetery.A longtime local legend, Buck O'Neil became nationally famous when his friend and NLBM co-founder Larry Lester introduced Buck to Lynn Novick, the executive director for Florentine Films, owned by Ken Burns and others. Novick was so impressed with Buck, her son James would later share O'Neil's middle name of Jordan.
The 1994 nine-inning PBS documentary miniseries simply entitled Baseball won the 1995 Primetime Emmy Award for Outstanding Informational Series. The much talked about "Shadow Ball" segment de-Negrofied the debonair Buck, transforming him into the "Smithsonian" of black baseball. O'Neil gained national prominence and afterwards, became the subject of countless national interviews, including appearances on the Late Show with David Letterman and The Late Late Show with Tom Snyder.
O'Neil is the subject of several area landmarks which include a statue in the NLBM's Field of Legends designed by Kwan Wu, et al. In 2010, an incredible mural, by Alexander Austin, can be seen on the south side of the Buck O'Neil Education and Research Center at 18th and The Paseo. The 25' x 50' mural includes O'Neil and three Negro League players in a dugout and seven images of legendary Kansas City Monarchs, chosen by BBQ king Ollie Gates, who later played in the re-integrated majors. These remarkable players include Ernie Banks, Willard Brown, Elston Howard, Buck O'Neil, Satchel Paige, Jackie Robinson and Hank Thompson.
A statue of O'Neil statue appears at the Kansas City Royals Hall of Fame Museum at Kauffman Stadium, designed by Harry Weber. At Kauffman Stadium is also the Kansas City Royals Legacy Seat, in bright red behind home plate, in Section 127, Seat 9, Row C, to celebrate this Hall of Fame executive. Sculptor E. Spencer Schubert created an O'Neil bust at the Hall of Famous Missourians in Jefferson City, MO, while the Missouri Sports Hall of Fame in Springfield, MO, has a marker and bust in O'Neil's honor. The former Broadway Bridge is now the John Jordan Buck O'Neil Memorial Bridge. And finally a KC Ride streetcar, #22, honors the Buck O'Neil legacy.
On 12 November 2001, a Kansas City street formerly known as 17th St. Terrace between Paseo and Highland Avenue, directly behind the Negro Leagues Baseball Museum, was renamed John "Buck" O'Neil Way in recognition of his 90th birthday and community contributions.
The Kansas City T-Bones retired his number #22 on 26 May 2006. On 7 December 2006, O'Neil was posthumously awarded the Presidential Medal of Freedom by President George W. Bush; the award was presented to his brother, Warren, on his behalf on December 15. He was chosen due to his "excellence and determination both on and off the baseball field," according to the White House news release. 
On 24 October 2007, O'Neil was posthumously given a Lifetime Achievement Award by the National Baseball Hall of Fame (HOF), eventually named after him. On 5 November 2021, O'Neil was voted into the HOF by the Early Days Committee as an "executive."