Fairholme Carriage House and Stables - Wallace Hall
Introduction
Wallace Hall is currently owned by Salve Regina University and is used as a residence hall. It was built in 1875 and used as the carriage house and stables for a Guilded Age mansion, Fairholme Estate. Fairholme Estate was built for Fairman Rogers and was designed by architect Frank Furness. The carriage house and stables were acquired by Salve Regina University in 1991.
Images
Street view of Slave Regina University's Wallace Hall, formerly known as Fairholme Carriage House and Stables. The arched entryways that were formerly used to store horse drawn carriages remain a distinguishing feature.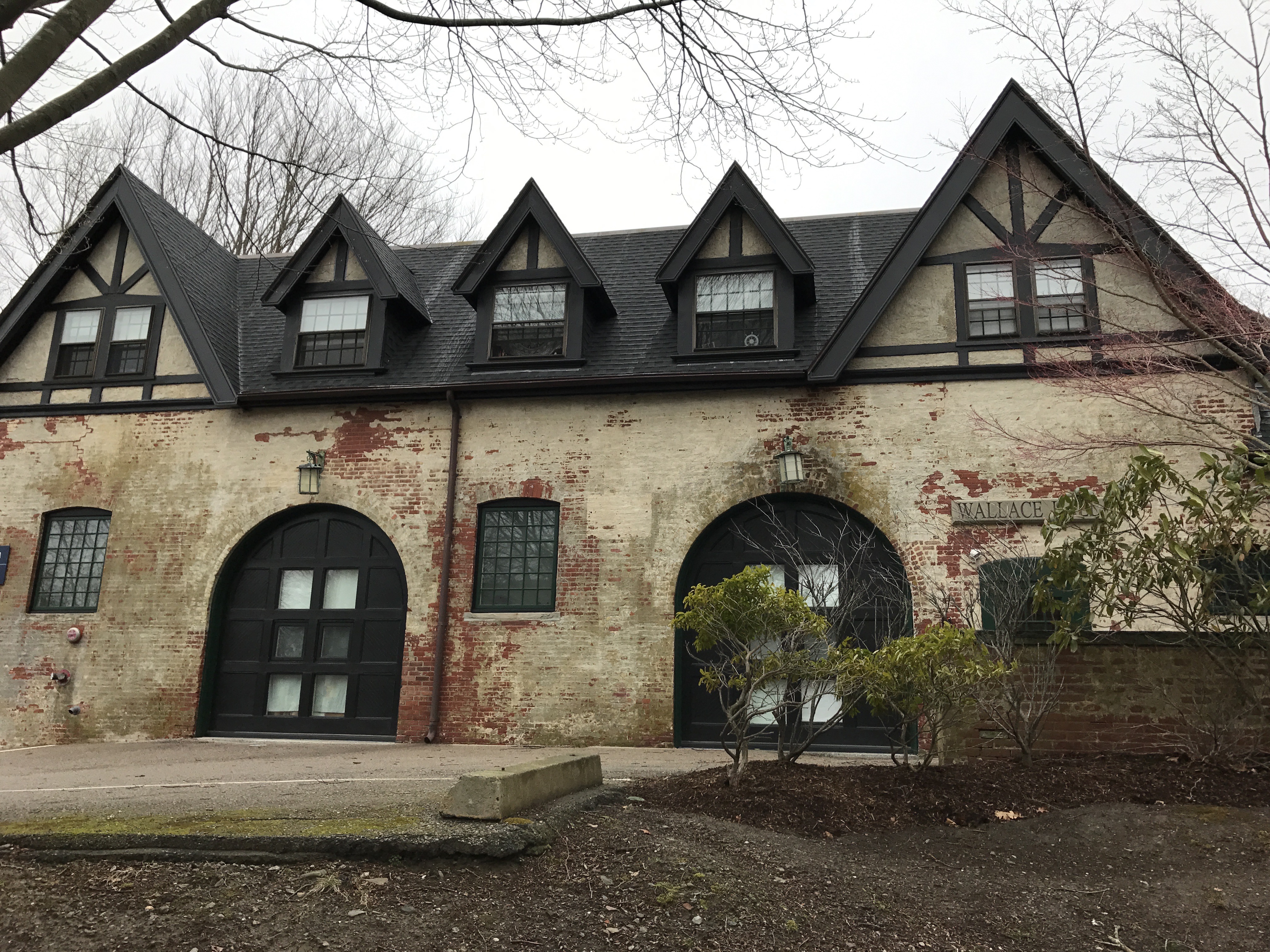 Wallace Hall. The long windows are shown, which was a common feature of Tudor Revival Style homes.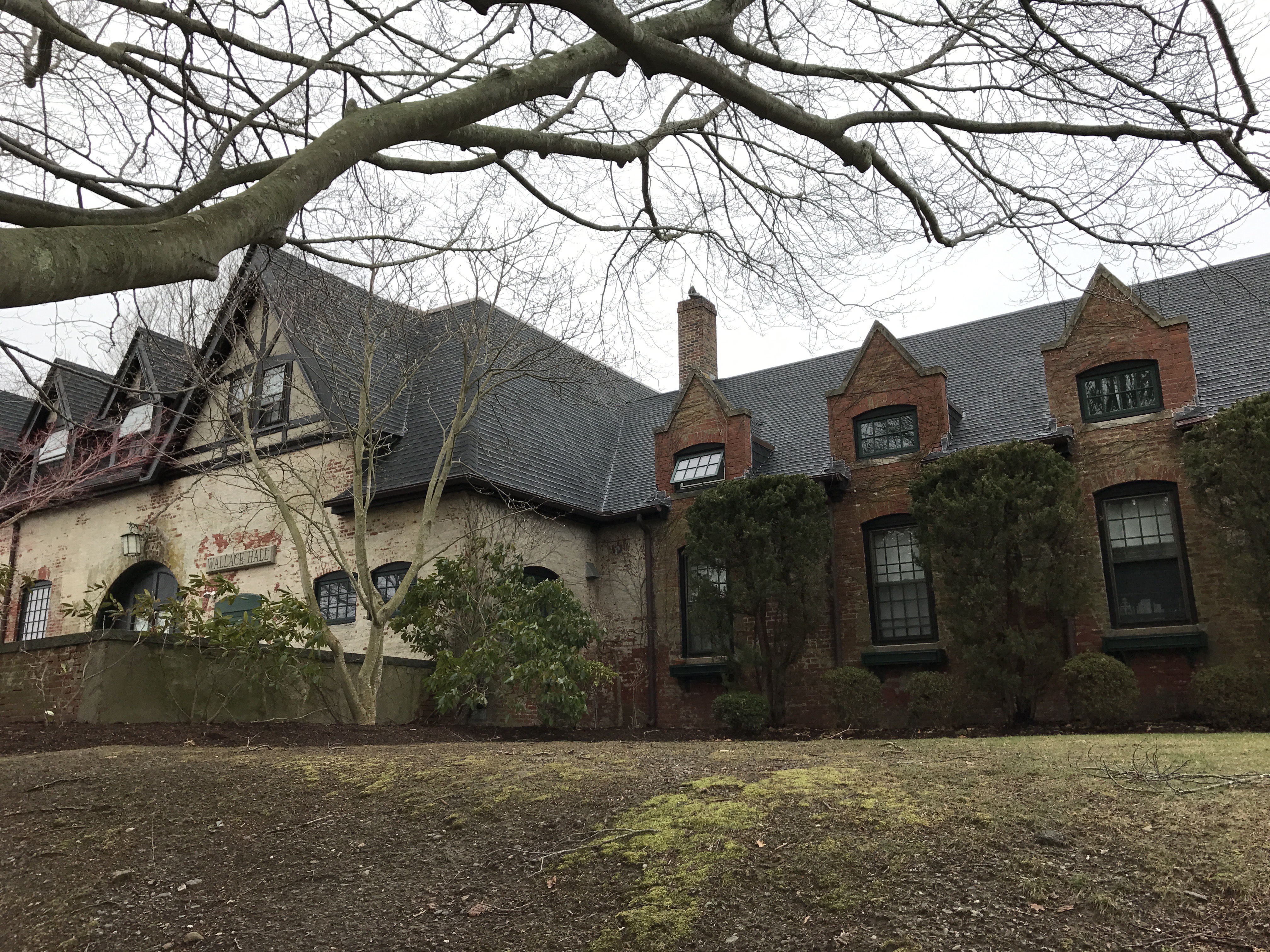 Wallace Hall. Steep ceilings and long windows are common features of the Tudor Revival Style.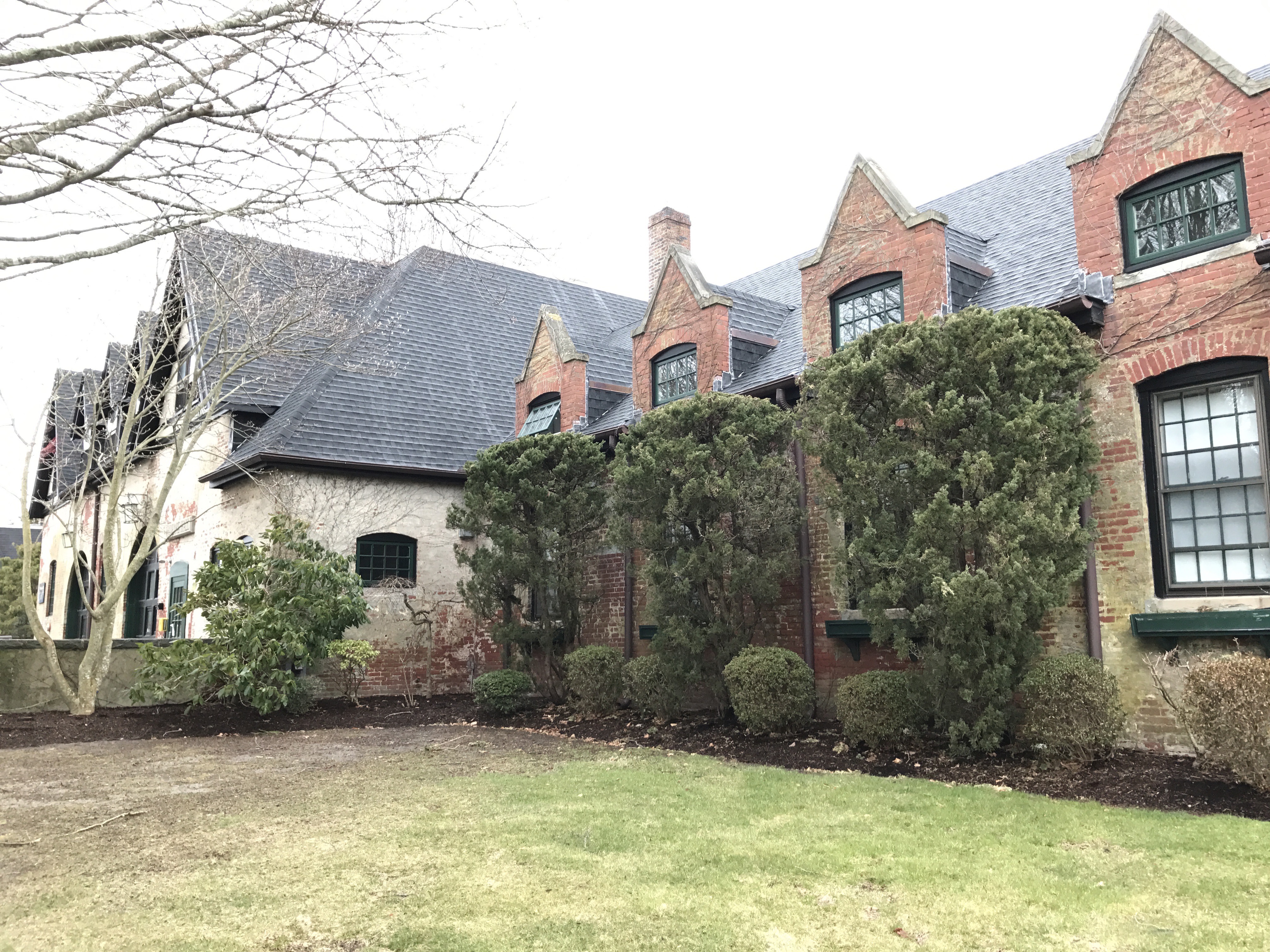 Wallace Hall side view. Wooden beams, stucco surfaces, and steeply pitched roof are shown, which are other common features of Tudor Revival Style.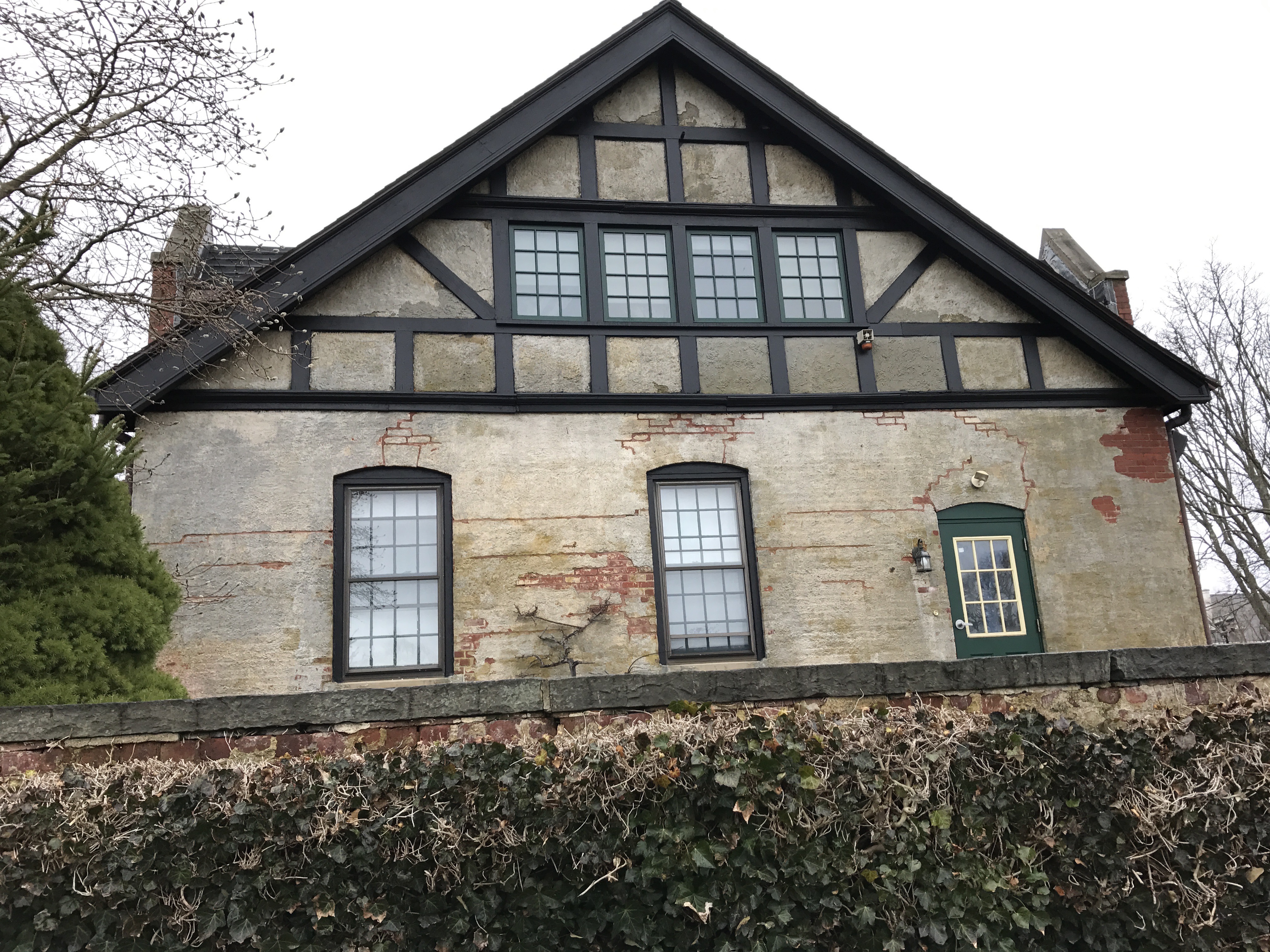 Wallace Hall side view. Exposed brick surfaces, steeply pitched roofs and long windows are shown.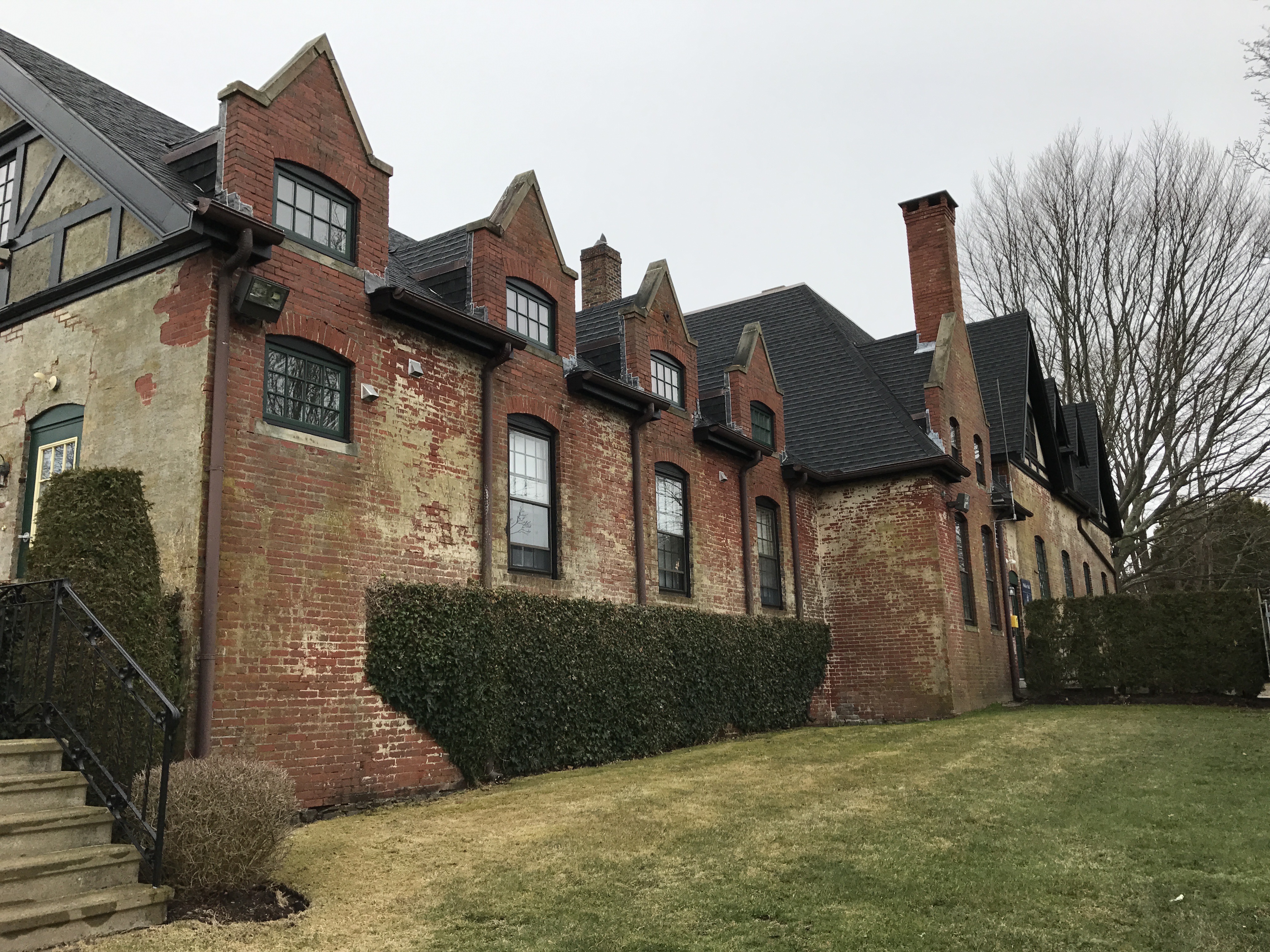 Wallace Hall rear view. Many chimneys, brick and stucco surfaces, steeply pitched roof, and beams shown. All of these are common features of Tudor Revival Style Homes.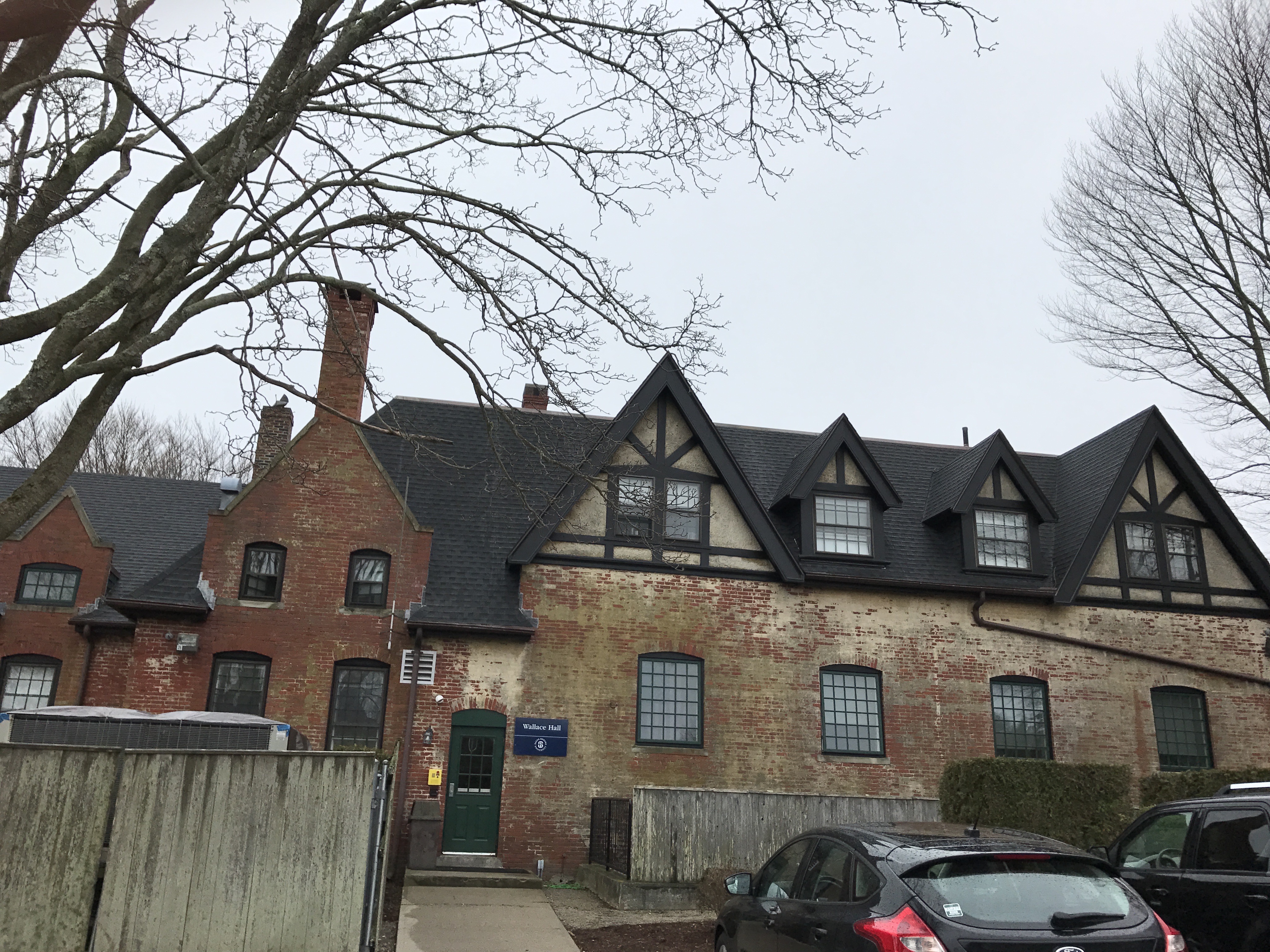 Backstory and Context
Wallace Hall is a Tudor Revival cottage that was built in 1875. Wallace hall was formerly the carriage house, stables and later, the gardeners cottage, for the Fairholme estate. Architect Frank Furness designed both the Fairholme estate and the carriage house and stables.
The Fairholme carriage house and stables was made in a style that mimicked the architectural characteristics of Tudor England (the early sixteenth century). One of the distinguishing features of the carriage house and stables is the massive arched entryway for horse-drawn rigs. Some other distinguishing features are stick-style wooden beams, and cream-colored stucco surfaces. The steeply pitched roof and the tall windows are very common features of a Tudor style cottage. Like many Tudor style buildings, Wallace Hall has brick wall cladding, which is contrasted with the cream-colored stucco surfaces.
Frank Furness was born in 1839 in Philadelphia, Pennsylvania. While he studying at the Ecole des Beaux-Arts is Paris, the only course that interested him was one on architecture. Although it was always his family's intention that he study at Harvard, Furness began training in the office of a local architect, John Fraser in the 1850s instead. While he was an apprentice under Fraser, Furness became friends with and eventually worked under another architect, Richard Morris Hunt. Hunt is known as the designer of many of the Gilded Age houses in Newport, Rhode Island including the Marble House, the Breakers, and Ochre Court. Furness remained an apprentice of Fraser for three years. He met another young architect, George Watson Hewitt and eventually they formed a partnership that became Furness & Hewitt. Furness diverged from the mainstream Victorian architecture of his time and designed buildings that embraced more Gothic, Classical and diverse features. Over his 45 years of working as an architect, Furness designed over 600 buildings.
Fairholme Estate was built for Fairman Rogers who was an American civil engineer, educator, and philanthropist. He was born in Philadelphia, Pennsylvania and graduated from the University of Pennsylvania where he taught civil engineering from 1855 to 1871. He served in the Union Cavalry during the Civil War, and fought in the Battles of Antietam and Gettysburg. He became the chairman of the Building Committee for the Pennsylvania Academy of the Fine Arts and ran the 1871 design competition for the museum and art school's new building. The firm of Furness & Hewitt won the competition. Fairman Rogers's sister was married to Horace Howard Furness, brother of the winning architect Frank Furness. He hired Furness to design Fairholme Estate, which served as his summer cottage.
Fairholme is one of the many Newport cottages built during the Gilded Age. It is located on 4.3 acres of land near the eastern end of Ruggles Avenue. The carriage house and stables are also located on Ruggles Avenue. Fairholme Estate was remodeled in 1905 by John R. Drexel and was sold before 1955 to Robert A. Young. The Fairholme Carriage House went through many owners before being acquired by Salve Regina University. By 1890, it belonged to Catherine Kernochan Pell, in 1922 to Edson Bradley, and in 1930 to Julie F. Shipman. Julie Shipman Fremont sold the property to Anita O'Keeffe Young in 1943. In 1985, the property went to Edwin L. Cox, and was sold to Salve Regina University in 1991.
At first the carriage house was used as support for the university's grounds and maintenance programs. In 1998, it was proposed that it be converted into a residence hall. The University named the former carriage house Wallace Hall after University friends and benefactors, David and Jean Wallace. The Wallace's made a significant impact on the development of the University's campus through their support and counsel. After a dedication ceremony in April 2000, the Fairholme Carriage House and Stables became Wallace Hall. The carriage house is still being used as a residence hall for Salve Regina University.
Sources
Lewis, Michael. Frank Furness: Architecture and the Violent Mind. New York, New York. Norton, 2001.

MacAlester, Virginia. MacAlester, Lee. A Field Guide to American Houses. New York, New York. Knopf, 1984.

Thomas, George E. Cohen, Jeffrey A. Furness, Frank. Lewis, Michael. Frank Furness: The Complete Works. New York, New York. Princeton Architectural Press, 1996.

Salve Regina Archives
Additional Information