Gen. Joseph B. Palmer House
Introduction
The General Joseph B. Palmer House is a historic residence on East Main Street in Murfreesboro. The Italianate-style home was built in 1869 by Joseph Palmer (1825-1890), a prominent local lawyer and politician. Palmer served as a Brigadier General in the Confederate military during the Civil War, and participated in many of the most important engagements in Tennessee. After the war he built this house as a wedding present for his new wife. Decades later the home was occupied by Edward Carmack Jr., a newspaper editor and failed businessman, from 1943 to 1972. In 1973 the house was listed on the National Register of Historic Places. It remains a private residence and is not open to the public.
Images
This Italianate-style mansion was built in 1869 by former Confederate General Joseph B. Palmer as a wedding present for his second bride. Image obtained from flickr.
A historical marker describing Joseph Palmer stands near the house. Image obtained from flickr.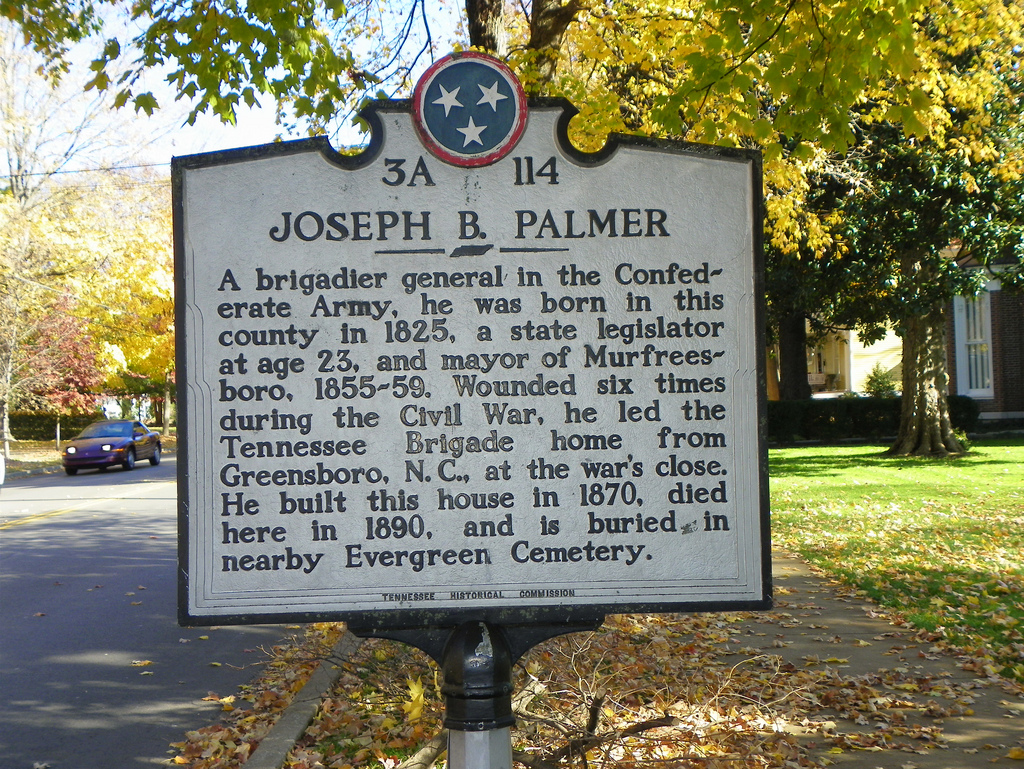 Joseph Benjamin Palmer (1825-1890) was a prominent lawyer, Mayor of Murfreesboro, and served as a Confederate Brigadier General during the Civil War. Image obtained from Wikipedia.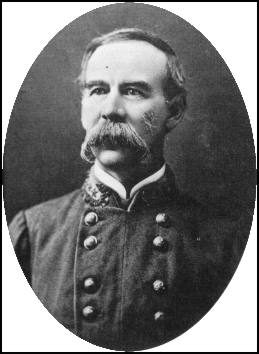 Backstory and Context
Joseph Benjamin Palmer was born in Bedford County in 1825. He first came to Murfreesboro to attend Union University. After being admitted to the state bar, Palmer stayed in Murfreesboro and operated a law office. He became involved in local politics and for years was an active member of the Whig Party. From 1856 to 1859 he served as Mayor of Murfreesboro. When the Civil War began in 1861 Palmer sided with the Confederacy, reportedly due to his opposition to Abraham Lincoln's call for volunteers to suppress the secession. Palmer organized the 18th Tennessee Infantry Regiment and was elected its colonel. He and his regiment served in the Confederate Army of Tennessee.
Palmer had a storied career in the Confederate military that was ultimately dominated by failures. In 1862 he was captured by Ulysses S. Grant's forces at the Battle of Fort Donelson and spent eight months as a prisoner of war in Boston. After being exchanged Palmer fought in the Battles of Murfreesboro and Chickamauga, and was seriously wounded on both occasions. He was promoted to Brigadier General in 1864. He participated in the Battles of Franklin and Nashville and subsequently covered General John Bell Hood's retreat from Tennessee. Towards the end of the war Palmer's forces traveled to the Carolinas and were absorbed into General Joseph Johnston's Army of the South. Under Johnston, Palmer fought in the Battle of Bentonville on March 19, 1865, one of the last engagements of the war.
After the war Palmer returned to Murfreesboro and resumed his law practice. In 1869 he erected an 18-room, brick mansion on East Main Street as a wedding present for his new bride. The architect for the structure is unknown, but it was designed in the Italianate style, which was popular during the mid-1800s. Palmer lived in the home until his death in 1890. His heirs sold the house to George Beesley in 1918. In 1943 it was acquired by Edward Carmack Jr., the son of U.S. Senator and newspaper editor Edward Carmack Sr. Carmack Jr. was the editor of the Murfreesboro Daily News Journal and was plagued by a lifelong series of failed business ventures and runs for political office. His behavior was erratic at times; reportedly he continually claimed to have murdered a man named Robin Cooper, even though all the evidence pointed against him committing the crime. Carmack died in the Palmer House in 1972, leaving behind a handwritten will distributing his assets to fourteen beneficiaries over the course of twenty years. The home was soon sold at auction and today remains a private residence.
Sources
La Paglia, Peter S. "General Joseph B. Palmer House." National Register of Historic Places Inventory/Nomination Form. 1973. Accessed August 1, 2018. https://npgallery.nps.gov/GetAsset/6a62a095-fc6c-4260-b91c-0991f1a6d20b
Tucker, Greg. "Carmack Never found his Place of Purpose." Daily News Journal. May 1, 2011. Accessed August 1, 2018. http://rutherfordtnhistory.org/419/
Tucker, Greg. "Joseph Palmer's Sulphur Spring was Blount's Lick." Daily News Journal. Accessed August 1, 2018. http://rutherfordtnhistory.org/699/
West, Mike. "Stones River: Palmer's life illustrates Tennessee's plight." Murfreesboro Post. November 5, 2006. Accessed August 1, 2018. http://rutherfordtnhistory.org/stones-river-palmers-life-illustrates-tennessees-plight/
Images 1-2: https://www.flickr.com/photos/jstephenconn/5212312003
Image 3: https://en.wikipedia.org/wiki/Joseph_B._Palmer#/media/File:J_B_Palmer_CSA_ACW.jpg
Additional Information