Barney Allis Plaza and Fountain
Introduction
Author-Uploaded Audio
This large fountain was built in 1985 as part of a redesign of the Barney Allis Plaza, and urban park located above a parking garage at the site of the city's first convention hall which was built to host the Democratic National Convention of 1900. That convention hall was used until the 1930s and today, the plaza where it once stood is a tree-lined urban park that features several statues and is named after the manager of the former Muehlebach Hotel which was located across the street. That historic hotel is now part of the Marriott Hotel. Barney Allis managed the hotel for three decades beginning in 1931. Despite his short stature of 5 foot 3 inches, Allis had a tremendous presence and ran the hotel in a way that left a positive impression on visitors to the city. Allis earned a reputation as a perfectionist and his leadership bolstered the hotel's reputation which compelled a number of celebrities, including the Beatles, Frank Sinatra, Bob Hope, and future President Harry Truman, to choose to stay at the Muehlebach. The fountain is on the north end of the plaza and features 112 water jets. The plaza was first created in 1956.
Images
The Barney Allis Plaza Fountain was installed in 1985.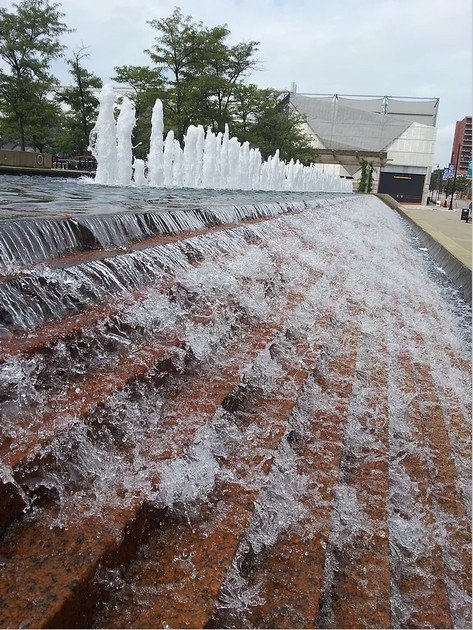 Backstory and Context
Every President from Theodore Roosevelt to Ronald Reagan styed at the Muehlebach Hotel, which is now one of three buildings that make up the Kansas City Marriott. The hotel was created by George E. Muehlebach, the son of the founder of Kanas City's Muehlebach beer. While President, Harry S. Truman stayed at the hotel so frequently that some referred to the Muehlebach as the far west wing of the White House. The hotel hosted the guests of the 1928 Republican Convention and the 1976 Republican National Convention, an event that saw the nomination of Gerald Ford despite a strong challenge by supporters of Ronald Reagan. Ten years later, the Muehlebach Hotel closed and was vacant for ten years until acquired by Marriott. The grand lobby of the original 1915 hotel has been restored.
Sources
Arnett, Dugan. "The Muehlebach — once KC's heart, still a proud monument." The Kansas City Star. April 20, 2015. https://web.archive.org/web/20150422071610/http://www.kansascity.com/news/local/article19107345.html.
"Barney Allis Plaza Fountain." KC Fountains. July 16, 2016. http://www.kcfountains.com/single-post/2016/07/16/Barney-Allis-Plaza-Fountain.
Photo: Alexis Webb Bechtold, via KC Fountains
Additional Information