Main Office of the New Castle Leather Company and Allied Kid Company
Introduction
Wilmington's leather industry grew substantially during the nineteenth and early twentieth century, which helped Wilmington's economy and population grow. The New Castle Company, created in 1901, grew into the nation's leading leather manufacturer by World War I. Allied Kid purchased the company in 1933 and success continued. Both companies used the main office building, with its unique Spanish-style architecture, from 1917 to 1977. It stands as one of the few reminders of the once thriving leather industry.
Images
Main Office of the New Castle Leather Company and Allied Kid Company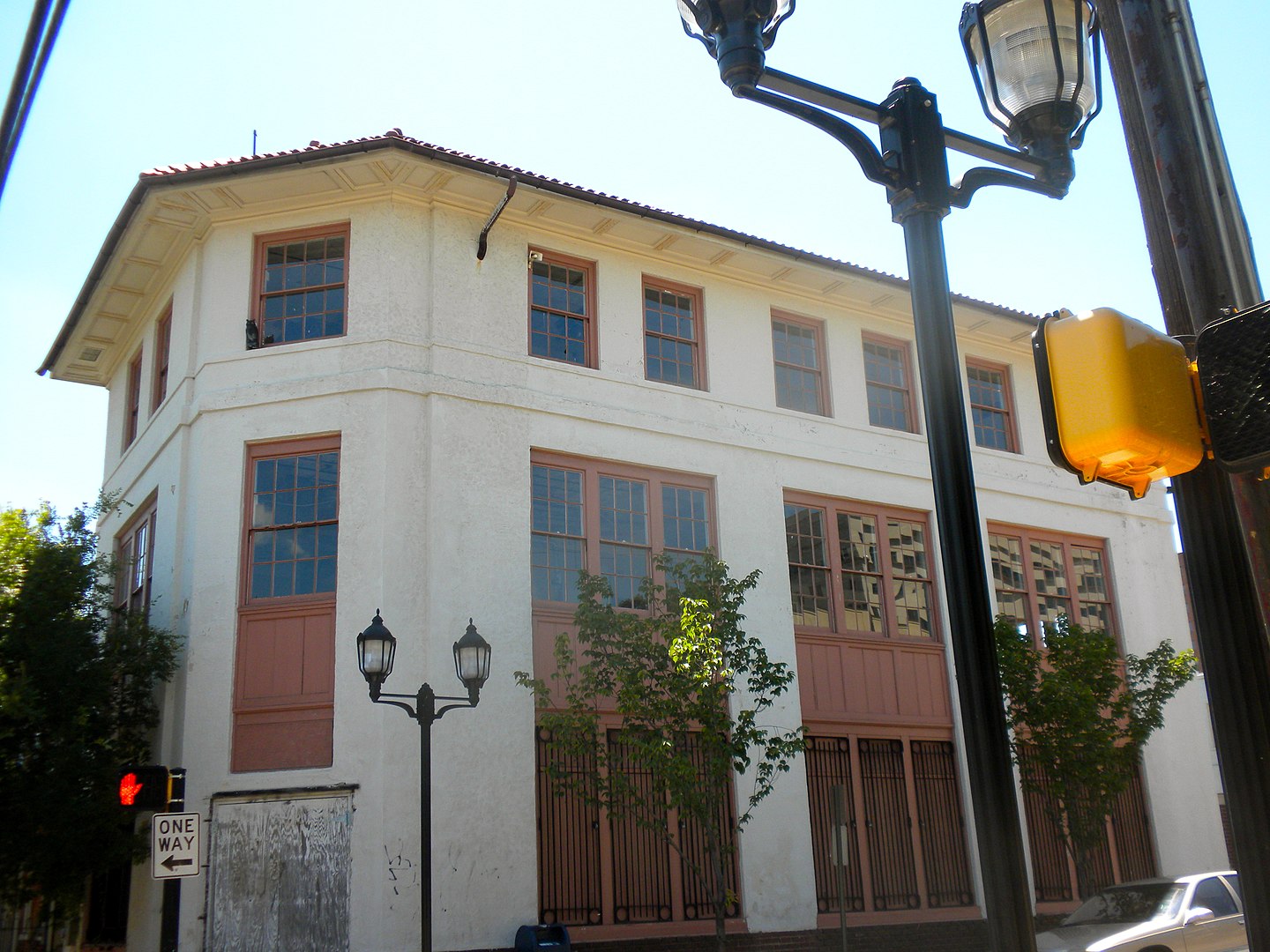 Backstory and Context
The historic building, along with the warehouse built a few blocks to its north, enjoys an association with two world-renown leather companies: New Castle Leather Company and the Allied Kid Company. Both companies were leaders in their field and employed significant numbers of people in Wilmington. The fireproof office building, erected in 1917, enjoys Spanish Colonial architecture -- a unique style for Wilmington -- and served the companies from 1917 to 1977. The main office building survives as a lasting reminder of Wilmington's once bustling leather industry.
Wilmington once stood as the world's second-largest producer of Moroccan leather. The manufacturing of Moroccan leather in Wilmington got its start in 1828, and the leather trade grew rapidly throughout the 19th century. Wilmington's location near the Atlantic Ocean (thirty miles closer than Philadelphia) and at the apex of the Christina, Brandywine, and Delaware Rivers, along with an established seaport, allowed for easy transportation of leather goods to other markets. By 1870 larger mechanized leather factories replaced neighborhood tanyards, and mechanization allowed for increased production and profit. By the late nineteenth century, many of the employees involved with leather manufacturing trades comprised of Polish immigrants. At the turn of the century, Wilmington supported forty plants that employed 3,000 leatherworkers, which climbed to 6,000 leather-industry workers by 1933. 
Richard Patzowsky started New Castle Leather Company when he built a tannery on 11th and Poplar Streets in 1901. Patzowsky came to America from Prague at the age of eighteen and then spent seven years learning the trade by working as a manager for F. Blumenthal and Company. His New Castle Leather Company grew into the world's leading Moroccan leather manufacturer. On November 24, 1916, Richard Patzowsky died, leaving the company to his friend and co-worker, J. Wirt Willis. Under his leadership, New Castle Leather Company served as the first tannery to develop colored glazed leather. The rapid success forced the company to expand its tannery warehouse to a size of eight city blocks. The warehouse construction (located blocks away from the main office building) consisted of steel beams, concrete floors, brick and tiles laid between floor joists, and an expansive sprinkler system, all of which served as excellent designs to protect the tannery from fire. Still, a large fire on December 22, 1921, damaged the warehouses and leather. Regardless, the company recovered and continued to grow.
The culmination of several leather makers merging during the 1920s led to the Allied Kid Company's establishment in 1929. Four years later, in 1933, Allied Kid purchased New Castle Leather Company and, consequently, became Wilmington's largest manufacturer. Along with a large Polish workforce, Allied employed numerous women. Regardless of their ethnicity or gender, the Allied crew managed to unite and unionize. Allied dominated the markets for years, but market changes and consumer habits ultimately led to the decline of the leather market; Allied closed its facility in 1977. 
The main office survives and sits vacated today, it is the goal of the African American Heritage Center of Delaware to establish a Black-controlled site at the former Allied Kid Building. In addition to supporting their needs, it will preserve the historic building for years to come. Most of the other tannery buildings that once dominated eastern Wilmington's have long since been demolished or converted in such a way that makes them unrecognizable as former tanneries. Hence, the historic building, which supported the New Leather Castle Company and Allied Kid, survives as a distinct reminder of an industry that once substantially boosted Wilmington's economy and helped its population grow. 
Sources
Bowen, Patricia. "Nomination Form: The Main Office of the New Castle Leather Company." National Register of Historic Places. nps.gov. December 19, 1995. https://npgallery.nps.gov/GetAsset/c29ef1e1-8995-40f1-bd35-0640f1996cc1/.
"City History." The City of Wilmington, Delaware. wilmingtonde.gov. Accessed February 10, 2021. https://www.wilmingtonde.gov/about-us/about-the-city-of-wilmington/city-history.
Hoffecker, Carol E. Wilmington, Delaware: Portrait of an Industrial City, 1830-1910. Charlottesville: The University Press of Virginia, 1974. Digital copy found at delaware.gov. Accessed February 10, 2021. https://archivesfiles.delaware.gov/ebooks/Wilmington,_Delaware_Portrait_of_an_Industrial_City.pdf.
Powers, Mathew. "New Castle Leather Raw Stock Warehouse (also known as the Kaumagraph Building and The Lofts at Clifford Brown Walk)." Clio: Your Guide to History. February 10, 2021. Accessed February 10, 2021. https://www.theclio.com/entry/126528
Ross, William Edward. National Magazine, Vol. XLVII1, No. 1, January 1919.
Thompson, Priscilla M. "Nomination Form: Allied Kid or New Castle Leather Raw Stock Warehouse." National Register of Historic Places. nps.gov. January, 1983. https://npgallery.nps.gov/GetAsset/e8a0e36f-f0e1-40a0-8d7b-0daba2991f9b/. 
Image Sources
By Smallbones - Own work, Public Domain, https://commons.wikimedia.org/w/index.php?curid=10698161

Additional Information