Thomas Garrett: Underground Railroad Stationmaster (historical marker)
Introduction
Thomas Garrett, born of a wealthy Quaker family and prominent merchant, became one of the most active and influential stationmasters on the Underground Railroad for more than four decades. It is estimated he had a hand in helping at least 2,700 Black Southerners escape slavery despite almost going bankrupt for a time. Thomas Garrett served as the inspiration for the character Simeon Halliday in Harriet Beecher Stowe's "Uncle Tom's Cabin."
Images
Thomas Garrett, Underground Railroad Stationmaster
Historical marker for Thomas Garrett, Underground Railroad Stationmaster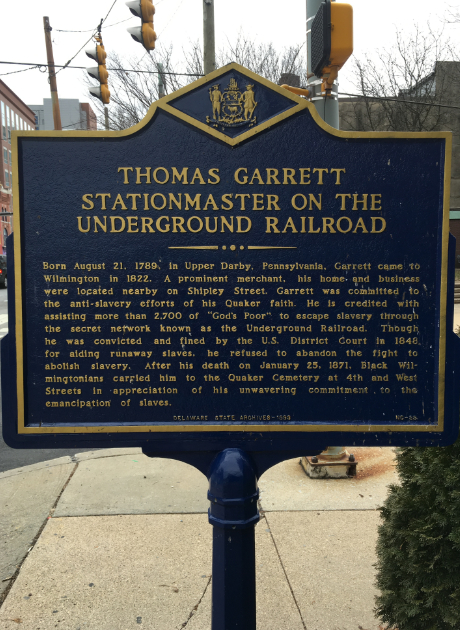 Backstory and Context
Thomas Garrett (1789 - 1871) spent his childhood with his prosperous Quaker family on their Pennsylvania homestead, "Riverview Farm," where men kidnapped one of their free black servants to sell her for slavery, which gave birth to his eventual views on abolition. He is believed to have assisted more than 2,700 Black southerners find safety via his Underground Railroad. Garrett befriended Harriet Tubman, who passed through his station many times. The historical marker states, "After his death on January 25, 1871, Black Wilmington residents carried him to the Quaker Cemetery at 4th and West Streets in appreciation of his unwavering commitment to the emancipation of slaves."
The genesis of his abolitionist views came when, while still a boy, slave hunters kidnapped one of his family's free black female servants and sought to sell her for slavery in the South. The Garrett family rescued her, but the incident bolstered his family's anti-slavery views; all the sons become abolitionists as adults, with Thomas the most active.  
Thomas Garrett moved to Wilmington in 1822 after a religious split between Orthodox and Hicksite Quakers, which forced Garrett to split with his Orthodox family. At the time, Delaware still allowed for slave ownership. So, while he established a flourishing iron and hardware business, he also spent much of his time dedicated to abolishing slavery (and helping current slaves obtain freedom). In 1827, five years after Garrett's arrival, the Society of the State of Delaware changed to the Delaware Abolition Society, with Garrett serving as an officer; he was one of two to represent the group at the National Convention of Abolitionists.
During the 1830s, Garret enjoyed success in gas lighting and heating, but he also openly worked as a stationmaster on Delaware's Underground Railroad. He never hid his feelings about slavery and slave hunters, so he did not need secret rooms until the late 1840s; authorities knew of his activities but chose to look the other way rather than arrest him. However, in 1848, he and fellow Quaker John Hunn were sued in federal court for helping a family of eight slaves owned by two owners escape. The court found Garrett and Hunn guilty of violating the Fugitive Slave Act and received a $4,500 fine, which nearly ruined him financially. Still, Garrett made it clear in court that he would not cease to help slaves. 
Garrett's friends help him keep his house and re-establish his iron and hardware business. In 1851, he wrote a letter that explains his feelings well, "The charge of putting up bills and 23 days of sustenance strikes me as being high, but it might not be more than the usual charges in such cases. Thirty-seven dollars and eighty-four cents of the above sum was raised by members of the colored churches in this city by collections taken up in those churches. It is to be regretted that any white man, more especially a native citizen of this place, could be found mean enough to turn informer against a fellow belonging to this persecuted and despised race, for the paltry sum of $25, when by doing so the probability was, for fine and costs, have been sold into slavery for life, or has been in this case, most of the money to redeem him, raised from a class of people, many of which with difficulty can procure the necessaries of life. Shame on a being in human form, that could stoop so low. Yours, for oppressed humanity." 
Harriet Tubman passed through Garrett's Underground Railroad station several times. Garrett gave her meals, material, money, and clothes. Tubman also received from Garret the means to help her parents (free Black residents) flee the South after Tubman's father faced arrest for hiding runaway slaves. Most estimates place the total number of southern runaway slaves passing through Garrett's station to have exceeded 2,700. In 1870, after the passage of the 15th Amendment that granted Black Americans the right to vote, supporters carried Garrett on their shoulders through the streets of Wilmington and hailed him "our Moses."  
Sources
Dalleo, Peter T. Researching the Underground Railroad in Delaware: A Select Descriptive Bibliography of African American Fugitive Narratives. Wilmington: The Underground Railroad Coalition of Delaware & The City of Wilmington, 2008. 
Parker, Mariah. "Thomas Garrett." Quakers and Slavery. brynmawr.edu. Accessed February 3, 2021. http://web.tricolib.brynmawr.edu/speccoll/quakersandslavery/commentary/people/garrett.php
Pauly, Megan. "History Matters: Thomas Garrett's trial of 1848." Delaware Public Media. delawarepublic.org. February 24, 2017. https://www.delawarepublic.org/post/history-matters-thomas-garretts-trial-1848.
"Thomas Garrett." Quakers in the World. quakersintheworld.org. Accessed February 3, 2021. https://www.quakersintheworld.org/quakers-in-action/122/Thomas-Garrett
Image Sources
Delaware Historical Society via Delaware Public Media, https://www.delawarepublic.org/post/history-matters-thomas-garretts-trial-1848

https://archives.delaware.gov/historical-markers-map/thomas-garrett-underground-railroad-stationmaster/

Additional Information