Old Gas Station
Introduction
The Old Gas Station located on the southwest corner of Price and High Street was built in 1927. This station, with its red tile roof, is reminiscent of the first service stations in this century, and was a package design produced by the Standard Oil Company of New Jersey.
Images
Far view from High Street (view from north to south)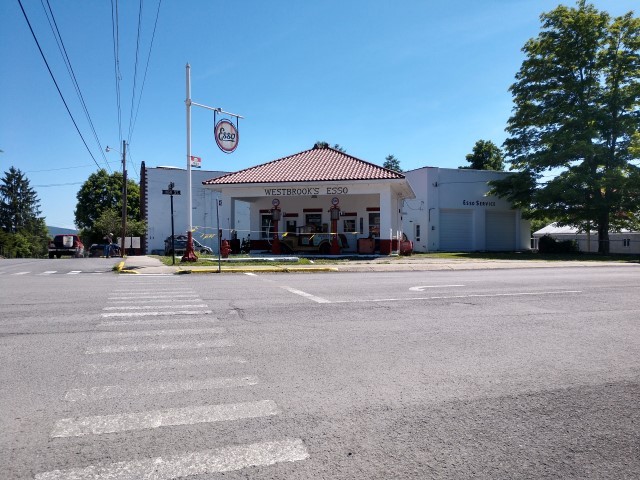 Backstory and Context
A prominent feature is the matched pair of Fry 117 visible gasoline pumps. These pumps were nicknamed "Mae West" because of their curvaceous nature. The station houses a museum of highway nostalgia.
Sources
Ward, Bryan. Kingwood Preservation Plan. Morgantown, WV. West Virginia University, 1997. This book was produced by the Eberly College of Arts and Sciences, Institute for the History of Technology and Industrial Archaeology at West Virginia University for Main Street Kingwood. Printed in the United States of America Copyright 1997 Main Street Kingwood. All rights reserved. Cover illustration by Paul Boxley and cover photograph courtesy of W.G. (Bill) Williams. Main Street Kingwood, 101 East Main St., P.O. Box 357, Kingwood, WV 26537