Iwwerks-Disney Commercial Artists
Introduction
Initially run out of a bathroom in the Mutual Building, this short-lived art studio was Walt Disney's first private venture. Using money he had saved from his time with the Red Cross in France, Walt and his new friend Ubbe Iwwerks, started Iwwerks-Disney Commercial Artists in January 1920. Initially, the studio was proving successful so they moved to an office in the Railway Exchange Building, however, by March Walt had taken a job at Kansas City Slide Company and Iwwerks-Disney was struggling with Ubbe behind the helm. Ubbe joined Walt at KC Slide Co. shortly after and the Iwwerks-Disney studio dissolved.
Images
The Mutual Building c. 1928. Courtesy of Missouri Valley Special Collections, Kansas City Public Library.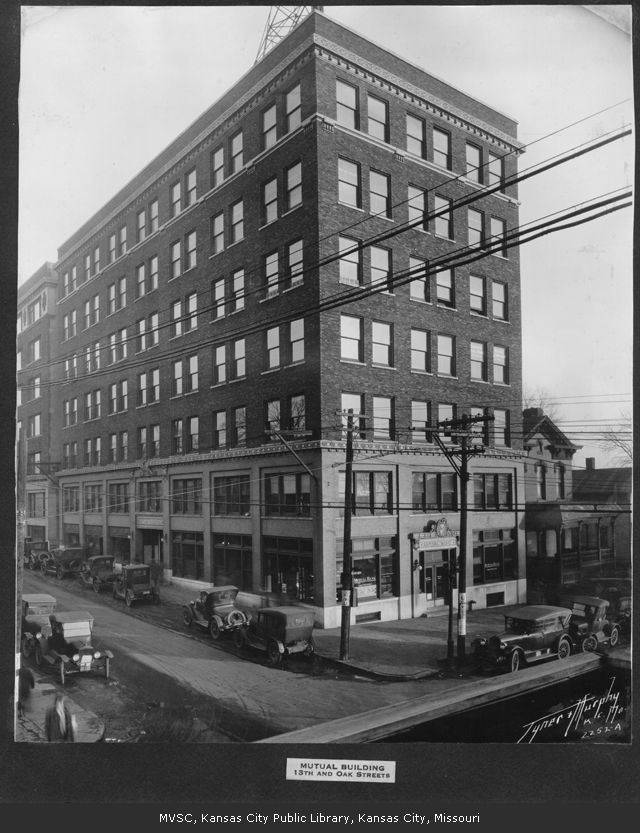 The Railway Exchange Building c. 1928, formerly Midland Hotel. Courtesy of Missouri Valley Special Collections, Kansas City Public Library.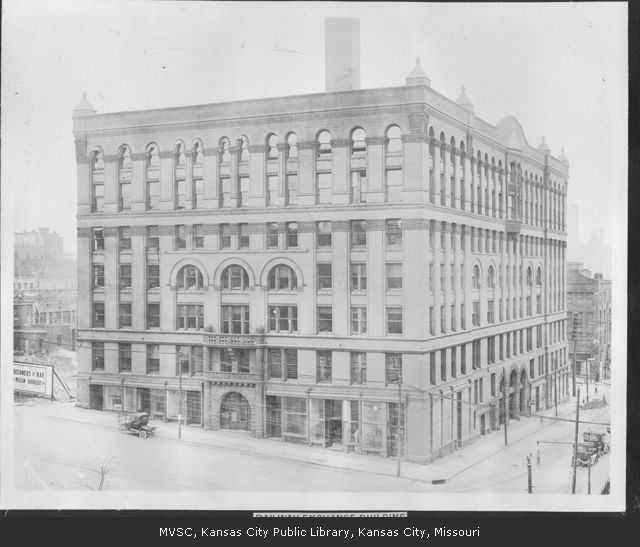 A later photo of Walt Disney (left) with Ubbe Iwwerks (right).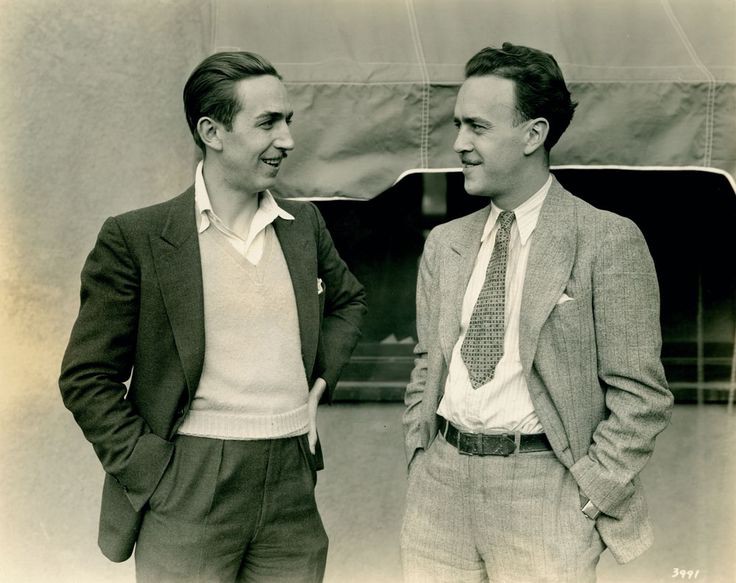 The cover designed by Disney for the Leather Workers Journal. This example is the November 1923 publication.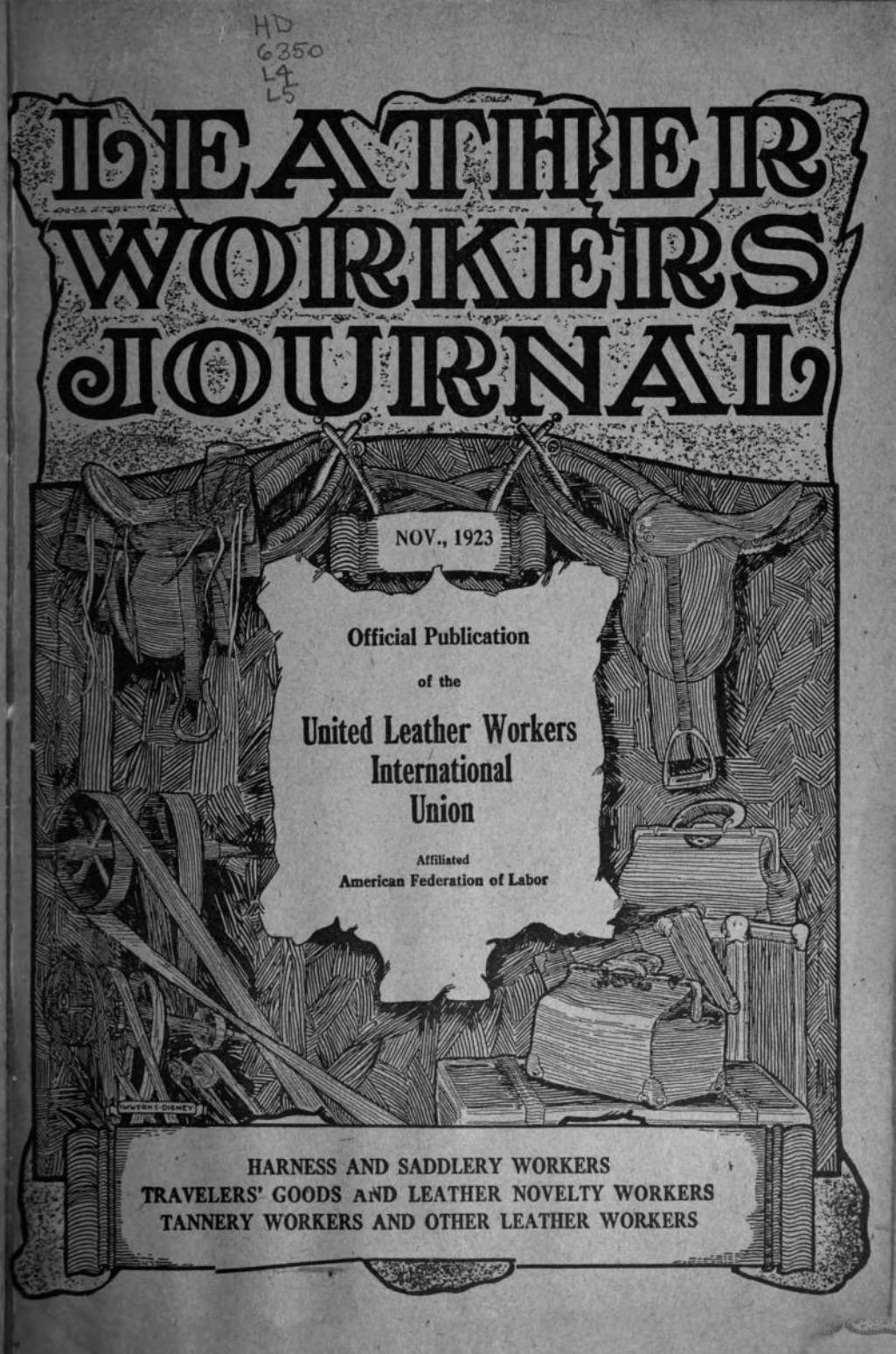 Backstory and Context
In December 1919, Walt Disney was laid off from his first job, where he was as an art apprentice for Pesmen-Rubin Commercial Art Studio. There, Walt met Ubbe Iwwerks, who had started about a month prior to Disney doing lettering and airbrushing. A few weeks after Disney was laid off, Ubbe was faced with the same fate. In need of jobs and confident in the skills they learned at Pesmen-Rubin, they created a partnership. Walt suggested it be named Disney-Iwwerks, but they thought it sounded like an optometrist, so they decided on Iwwerks-Disney.
Iwwerks-Disney's Commercial Artists opened promptly in January 1920. In need of supplies, Walt wrote his mom in Chicago to send money that she had been holding for him since he returned from France in October 1919. Their first job came from Alvin Carder, whose parents were neighbors to the Disney's home on Bellefontaine. Alvin had an office in the Mutual Building at 13th and Oak and was running a free newspaper for restaurant customers called Restaurant News. The men convinced Carder to give them office space in return for custom drawings for their paper and its advertisers. The office turned out to be a spare bathroom in which they had to work around a sink and toilet, but the men kept working. Another job came from another neighbor to Disney and the father of his friend Walt Pfeiffer. John Pfeiffer was the General Secretary and Treasurer of the United Leather Workers International Union and hired Iwwerks-Disney to design lettering for a union publication and the cover of a journal. 
Within their first month, the men had doubled their pay from Pesmen-Rubin, bringing in $135. Ubbe and Disney moved out of their bathroom office and into the Railway Exchange Building at 7th and Grand. On January 29, 1920, a help-wanted ad running in The Kansas City Star caught the men's attention. It read, "ARTIST Cartoon and Wash Drawings: First Class Man Wanted; Steady, Kansas City Slide Co., 1015 Central." The KC Slide Co. was producing slide advertisements for local companies that were screened before feature films in movie theaters, as well as moving cartoon advertisements which were pioneered by the owner, A.V. Cauger in 1915. Disney made his way downtown to introduce himself to Cauger and land himself and Ubbe jobs. However, there was only room for one on Cauger's staff and offered the job to Walt for $40 a week. 
Ubbe continued to run Iwwerks-Disney Studio but regardless of his artistic talent, he was not a salesman or businessman. The studio began to flounder in month two and when a position opened up at Slide Co., Walt lobbied for his friend Ubbe. Iwwerks joined Disney at KC Slide Co. (then named Kansas City Film Ad Service) in March and Iwwerks-Disney Commercial Artists dissolved. 
Architectural History
The Mutual Building - 1301 Oak St
Now known as the Kessler Building, the Mutual Building was built for Charles L. Merry, who owned the Merry Optical Company. The seven story Sullivanesque building was designed by J. C. Sunderland in 1919. The majority of the original exterior facade remains intact while the interior was first remodeled in 1938, along with the neighboring Inter-State Building. At that time, a bay was also added to connect the buildings through the alley, which still remains. The building continues to serve as commercial space. 
Railway Exchange Building - 705 Walnut St
This was the second location of Iwwerks-Disney studio. It was originally built as the Midland Hotel, opening on September 6, 1888. John Wellborn Root designed the building using a granite base, red pressed brick and terra cotta. It was converted to office space in 1908 and razed in 1965. This location is now a surface parking lot. 
Sources
Butler, R. W., Viets, D., Burnes, B. (2002). Walt Disney's Missouri: The Roots of a Creative Genius. Kansas City, Missouri: Kansas City Star Books.
Susanin, Timothy S.. Walt Before Mickey: Disney's Early Years, 1919-1928. University Press of Mississippi, 2011.
Iwerks, Leslie, Kenworthy, John (2001). The Hand Behind the Mouse. New York, New York. Disney Editions.
NPS Form Inter-State Building, Missouri State Parks. Accessed March 29th 2022. https://mostateparks.com/sites/mostateparks/files/Inter-State%20Bldg.pdf.
Railway Exchange Building Vertical File, Missouri Valley Special Collections, Kansas City Public Library. Accessed March 29th 2022. https://kchistory.org/index/railway-exchange-building.
Image Sources
https://kchistory.org/islandora/object/kchistory%3A115077/datastream/OBJ/view

https://kchistory.org/islandora/object/kchistory%253A115071

https://medium.com/@digimane/its-about-time-ub-iwerks-got-his-credit-d0a5048696d8

https://books.google.com/books?id=oj-gAAAAMAAJ&printsec=frontcover&source=gbs_ge_summary_r&cad=0#v=onepage&q&f=false

Additional Information