Kansas City's Newman Theater (1919-1972)
Introduction
The Newman Theater was a popular movie theater that existed on Main Street from 1919 until 1972. It was one of several built by local exhibitor Frank L. Newman. The Newman Theater was known for its opulence and extravagant features, such as Italian tapestries and hand-painted murals. The theater is also noteworthy for being the first site to air a production by Walt Disney, a series of short satirical cartoons called Newman Laugh-O-Grams. They were fully animated by Disney himself and screened during newsreels in 1921. In the 1940s the Newman became a Paramount Theater, and was eventually closed and demolished in 1972. Today the site is occupied by City Center Square.
Images
The Newman Theater around 1928. Image courtesy of the Missouri Valley Special Collections.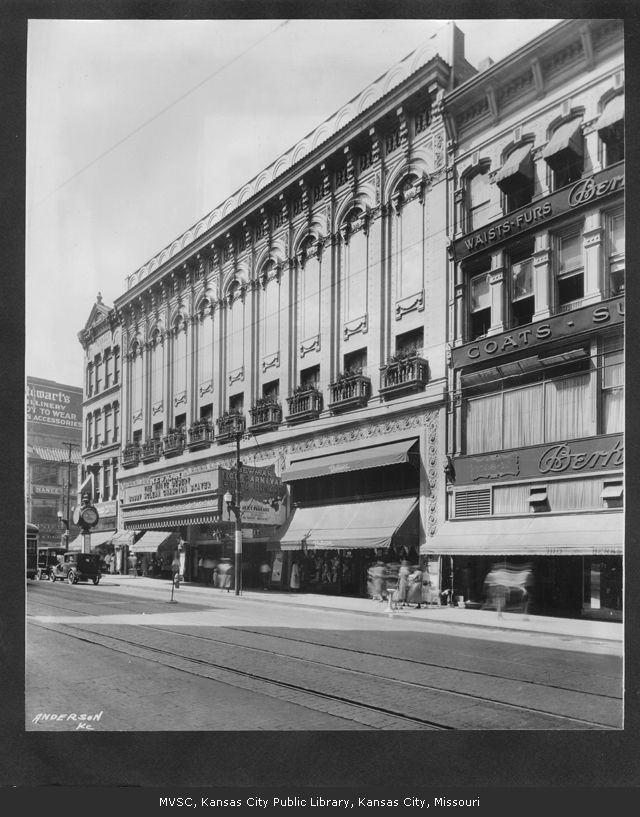 View of Main Street looking north from 12th Street in the 1940s. The Newman can be seen on the left, before it was renamed the Paramount. Image courtesy of the Missouri Valley Special Collections.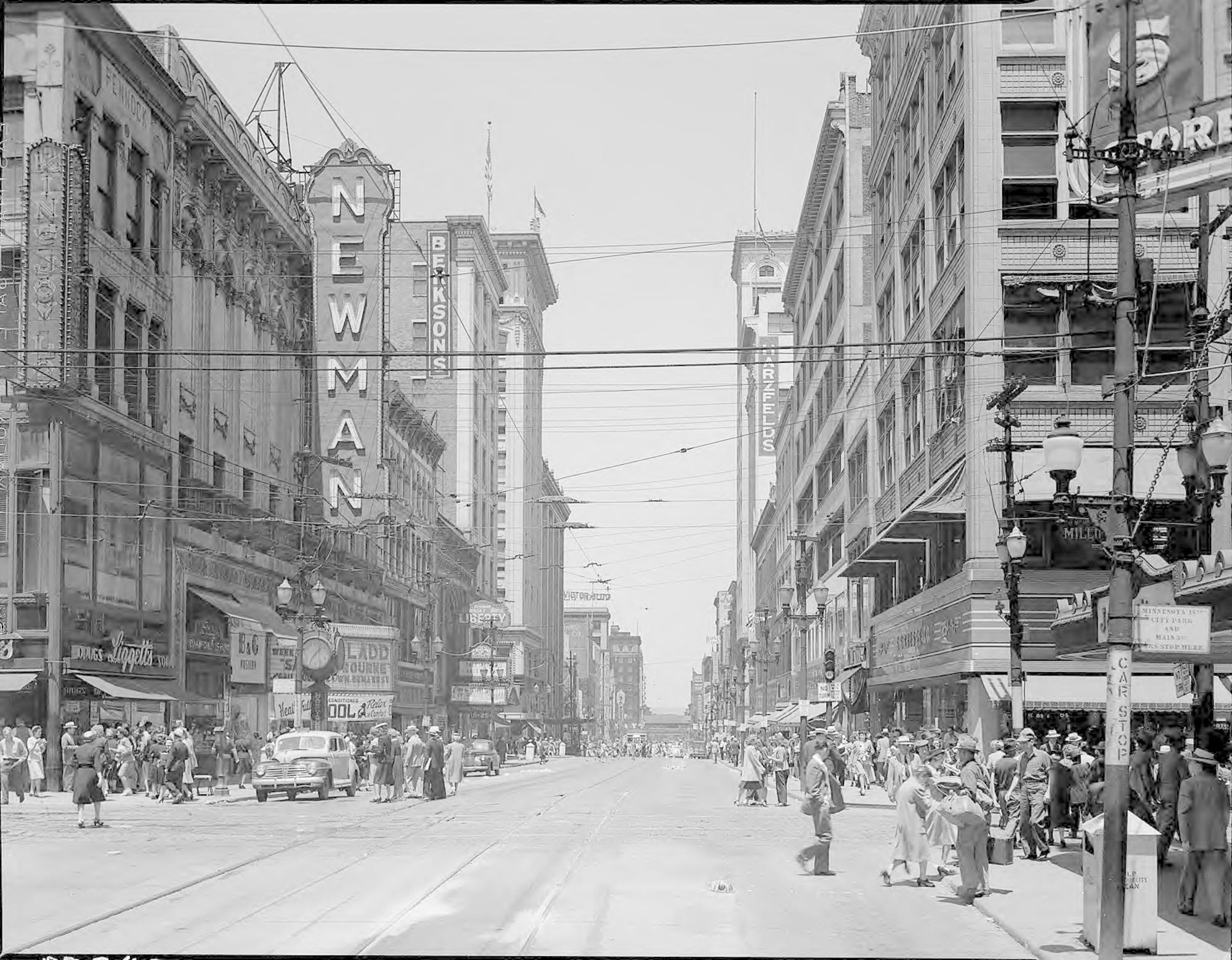 Interior of the Newman from a 1919 postcard shortly after its opening. Image courtesy of the Missouri Valley Special Collections.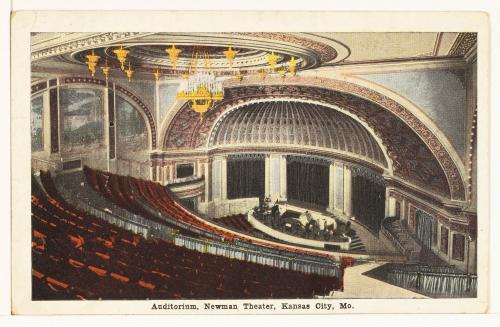 The Newman Laugh-O-Grams screened exclusively at the Newman in 1921. They were the first commercial cartoons ever produced by Walt Disney and aired to the public. Image obtained from Disney Finds.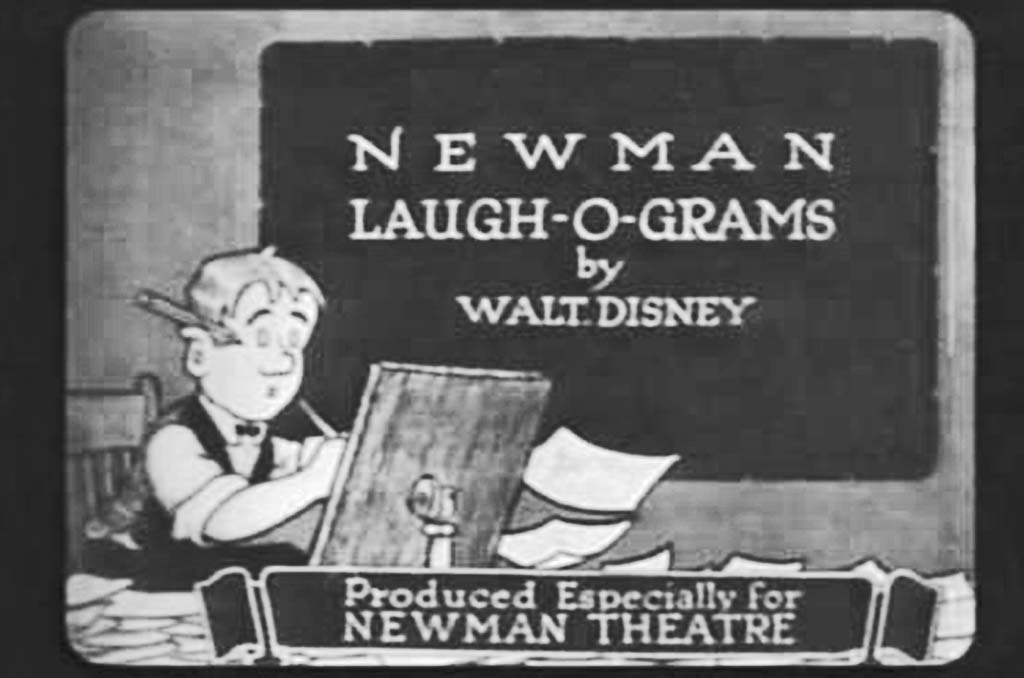 Backstory and Context
The Newman Theater was built in 1919 by Frank L. Newman, the premier exhibitor in Kansas City. While the Newman was his flagship theater, he also owned and operated at least two other others, the Royal and the Regent. The Newman was built on 1114-1118 Main Street at the site of the Brady Building, which had been destroyed by a fire in 1918. The theater was designed in the Colonial Revival style by popular local architect Alexander Drake. It was built using steel and concrete to render it fire-proof and cost up to $400,000; it was reportedly the most expensive theater ever built in Kansas City at the time. Newman included many lavish features in his theater. It boasted Italian tapestries, hand-painted murals, and Greek figures. It had seating for an audience of 2,000, a 35-piece orchestra pit, a mezzanine floor promenade, lounges, and even a nursery. The Newman Theater opened to much fanfare in June of 1919; each year the anniversary of its opening was celebrated with a week of special acts.
The Newman Theater is believed to be the first site to screen a production by animator Walt Disney. Disney had lived in Kansas City for several years and after returning in 1919 following service in the Red Cross during World War I he decided to pursue a career as a cartoonist. He briefly worked for the Pesmen-Rubin Commercial Art Studio at the Gray Advertising Company, where he drew the covers for several issues of Newman's weekly Newman Theatres Magazine. In 1920 Disney got a job at the Kansas City Slide Company (later the Kansas City Film Ad Service) which produced short animated advertisements for local theaters. These animated snippets promoted local businesses and were screened before the films. They were very primitive, with basic drawings and stop motion techniques.
In his spare time, Disney drew and filmed a short set of cartoons he called Local Happenings. They were primarily satirical works addressing current social issues in Kansas City such as crime and ladies' fashion among other things. At the suggestion of his boss, Disney showed the cartoons to Frank Newman, who agreed to screen them in his Newman Theater and asked for a new one each week. Now renamed Newman Laugh-O-Grams, the cartoons were included in a newsreel called Newman News and Views, which covered topics relevant to the Kansas City community. Disney's Newman Laugh-O-Grams debuted on March 20, 1921 during a screening of the film Mamma's Affair; it was the first recorded airing of a Walt Disney production in history. Disney created Newman Laugh-O-Grams for the next several months, before leaving the Kansas City Film Ad Service to open his own short-lived Laugh-O-Gram Studio.
Frank Newman sold his theaters and left Kansas City in 1925 after being offered a job managing theaters for the Famous Players-Lasky Film Corporation in Los Angeles. Around 1941 the Newman Theater was acquired by Paramount Pictures Inc., which renamed it the Paramount Theater in 1947. Business declined, and in 1969 the theater changed ownership and briefly operated as the Towne Theatre before finally closing. It was demolished in 1972. Today the site is occupied by City Center Square, which was built in 1977.
Sources
Hamilton, William and Robert Maes. "Paramount Theatre." Cinema Treasures. Accessed June 10, 2018. http://cinematreasures.org/theaters/3356
Merritt, Russell and J. B. Kaufman. "Walt Disney's Laugh-O-Grams, 1921-1923." San Francisco Silent Film Festival. 2011. Accessed June 10, 2018. http://silentfilm.org/archive/laugh-o-grams
Susanin, Timothy S. Walt before Mickey: Disney's Early Years, 1919-1928. University Press of Mississippi, 2014.
TheClassicsDisney. "Newman Laugh-O-Grams" (1921)- Walt Disney's Laugh-O-Grams. Posted July 7, 2012. Accessed June 11, 2018. https://www.youtube.com/watch?v=51CRL1EtMN4
Images 1-3: Missouri Valley Special Collections
Image 4: https://disneyfinds.wordpress.com/2014/05/17/laugh-o-grams/
Additional Information