Walt Disney and the Isis Theatre
Introduction
In 1922, the Isis Theatre was one of the local theaters showing Walt Disney's animated cartoon reels produced by Laugh-O-gram Films Inc.. Disney also used the theatre to promote the Laugh-O-gram studio, with footage captured during a South Central Business Association parade. Notable music composer Carl Stalling was the theater's organist and became friends with Disney, which sparked a working relationship with Laugh-O-gram Films and Disney Brothers years later. When several months of backdated rent was due to the McConahay building, Disney packed up and moved the Laugh-O-gram studio into the Wirthman Building, where Isis Theatre operated from. He spent one month here before leaving for California. 
Images
The Wirthman Building and Isis Theatre c. 1940. Courtesy of Missouri Valley Special Collections, Kansas City Public Library.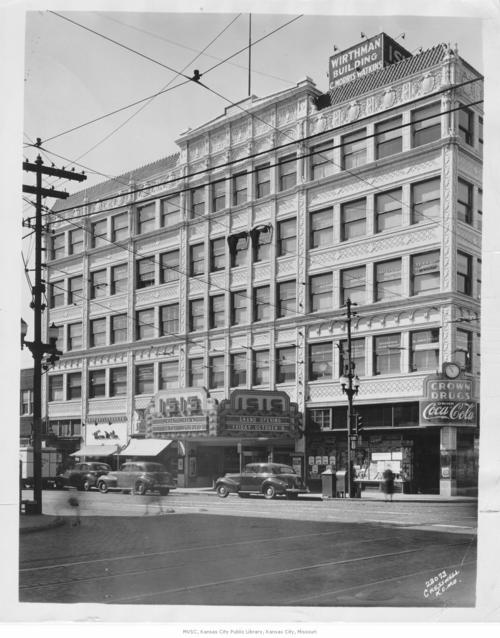 Laugh-O-gram Films Studio appeared in the 1922 South Central Business Association parade with their movie camera tripod in the backseat along with a sign reading "These Pictures will be Shown at the Isis Theatre Tomorrow Night."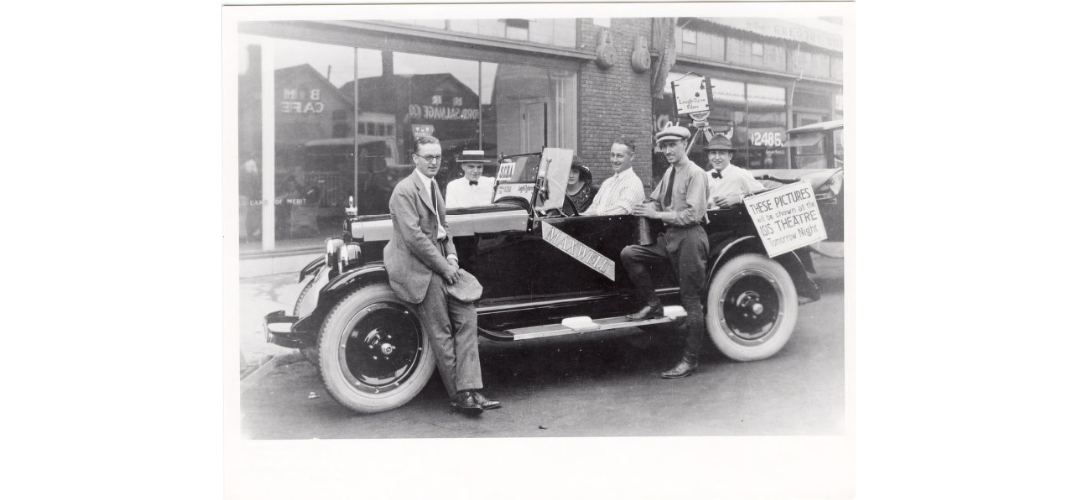 Carl Stalling (left), Walt Disney (center), ad Ub Iwerks (right)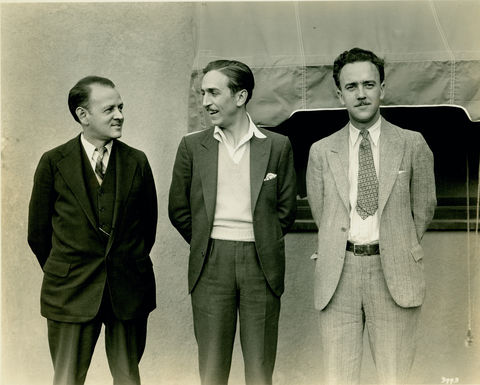 A photo capturing the film set for the Song-O-Reel "Martha" which debuted at Isis Theatre in 1923.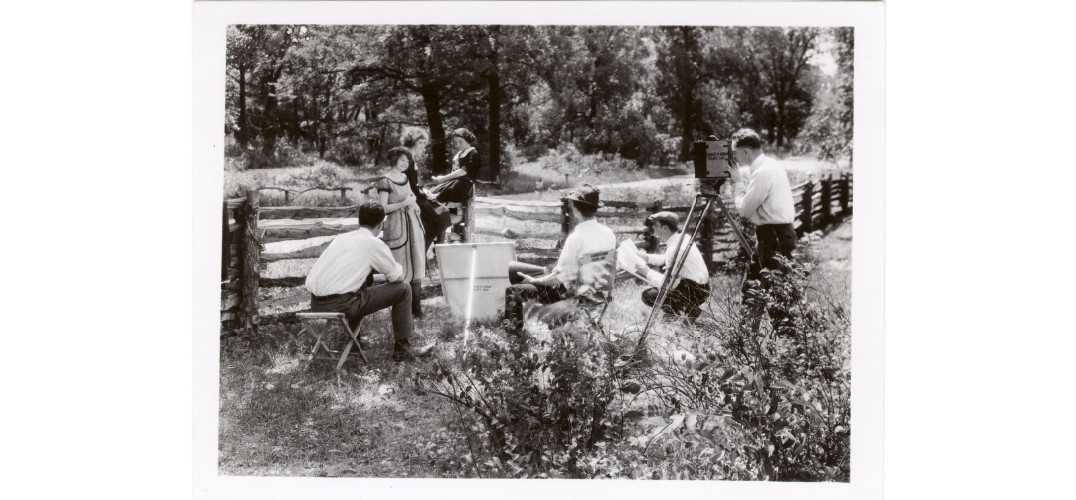 The Coon Sanders Novelty Orchestra around 1920. Courtesy of Missouri Valley Special Collections, Kansas City Public Library.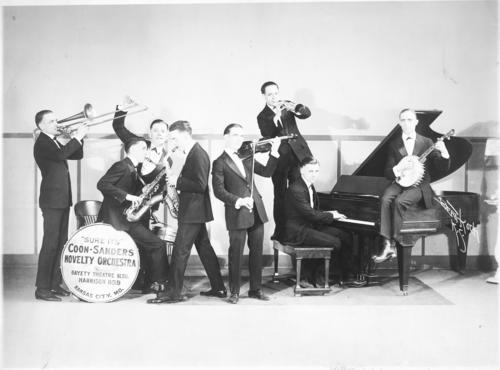 Backstory and Context
Walt Disney's first professional art studio Laugh-O-gram Films was incorporated on May 23, 1922 and was located in the McConahay Building, a block away from the Isis Theatre. In the first few months, business was slow so Walt made many efforts to acquire clients. Around mid-August, Laugh-O-gram Films participated in a parade held by the South Central Business Association, in which they were members. Walt, along with sales manager Leslie Mace and animator Rudy Ising represented the studio. They brought a movie camera branded with "Laugh-O-gram Films" name and placed it in the back seat of their parade car, with a sign that read "These pictures will be shown at the Isis Theatre Tomorrow Night." 
Joseph Wirthman was the owner of the Wirthman Building which housed the Isis Theatre, and so happened to be the first president of the South Central Business Association. Though not verified, the footage caught during the parade most likely ran during one of three segments offered by the Isis; Topics-News, Screen Snapshots, or Home Made Movies. While this footage started the relationship between Disney and the Isis Theatre, Walt also became friends with the theater's organist Carl Stalling, frequently walking through the alley from Laugh-O-gram Films studio to visit. Stalling also supplied Walt and his friends with free movie passes. 
By the summer of 1923, Laugh-O-gram was facing financial difficulty as they had a huge contract fall through and no contracts in the foreseeable future. By this time, the animators were working on Alice's Wonderland with hopes this would be the start of fame as it was the first time a live person was set into a cartoon background. Always advocating for these "Cartoonland" reels, Stalling recommended that Walt produce a sing-a-long film for the song Martha: Just a Plain Old Fashioned Name written by Joe L. Sanders of the Coon Sanders Orchestra. Calling it a "Song-O-Reel," Disney filmed live actors and illustrated the lyrics which showed one word at a time, along with music played by Stalling. "Martha" debuted at the Isis Theatre but had a short run and disappeared. 
Creditors came knocking at Laugh-O-gram's door in June 1923 to collect backdated rent. Unable to pay, Disney moved his studio out of the McConahay Building and into the Wirthman Building. However, Laugh-O-gram Films' time here did not last long as Disney left his struggling studio for California in late July.
Once in California, Walt partnered with his older brother Roy to start Disney Brothers Cartoon Studio. Carl Stalling loaned Disney Studios money in its initial months, before becoming their first musical director. Stalling wrote 19 of the first 20 Disney sound cartoons, the song Minnie's Yoo Hoo!, and the first Mickey Mouse film produced, Plane Crazy. In 1936, Stalling went to work for Warner Bros. Studios where he scored nearly 1,000 cartoons in his twenty two year career.
Sources
Butler, R. W., Viets, D., Burnes, B. (2002). Walt Disney's Missouri: The Roots of a Creative Genius. Kansas City, Missouri: Kansas City Star Books.
Susanin, Timothy S. (2011). Walt Before Mickey: Disney's Early Years, 1919-1928. Univ. Press of Mississippi.
Stahly, Nichole. Isis Theatre, Clio Foundation. April 6th 2022. Accessed April 6th 2022. https://www.theclio.com/entry/148154.
Image Sources
https://kchistory.org/image/isis-theater

https://dl.mospace.umsystem.edu/umkc/islandora/object/umkc%3A11072

https://www.waltdisney.org/blog/composing-walt-disneys-silly-symphonies-historian-ross-care-stalling-after-mickey

https://dl.mospace.umsystem.edu/umkc/islandora/object/umkc%3A11074

https://kchistory.org/image/coon-sanders-novelty-orchestra-2

Additional Information