John Hunt Morgan Statue
Introduction
In Lexington, Kentucky, two monuments to Confederate soldiers stand on the ground which was once the city's slave auction site. One is dedicated to John Hunt Morgan, the other to John C. Breckinridge. Following white supremacist demonstrations in Charlottesville, Virginia over the weekend of August 11-13, 2017, Lexington's mayor stated that both statues will be relocated. The statue of Morgan was erected in 1911, during the Jim Crow era and the resurgence of the Ku Klux Clan.
Images
John Hunt Morgan statue (image from the Lexington Herald-Leader)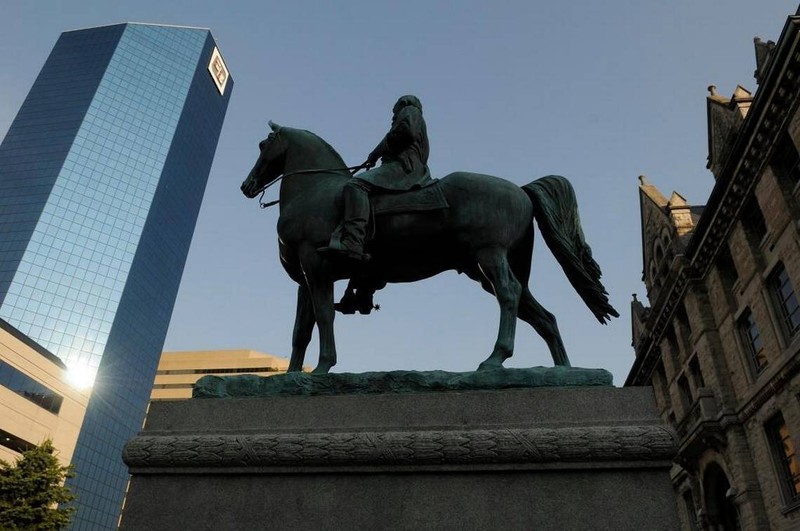 J.H. Morgan (image from the Civil War Trust)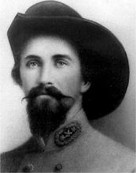 J.H. Morgan statue at Lexington courthouse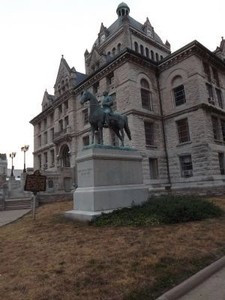 Backstory and Context
Context and History
Nationwide, there are over 700 Confederate monuments and statues on public property such as courthouses and other official buildings, as well as parks. Though some were erected immediately following the American Civil War, there was a sharp increase in public art dedicated to the Confederacy around 1900-1920, particularly in the South. It was during this time, when states passed the oppressive, segregationist Jim Crow laws and the white supremacist Ku Klux Clan (formed immediately after the Civil War) revived, that Lexington's monument to Confederate raider John Hunt Morgan was erected. The accompanying historical marker was added in 1937, extolling Morgan's courage as a romantic symbol of the "Lost Cause."
Born in Huntsville, Alabama in 1825, Morgan's family moved to Lexington in 1831. As the 1937 historical marker notes, he attended Transylvania College in Lexington; what it fails to mention is that he was expelled for dueling with a classmate. Morgan fought with the 1st Kentucky Cavalry under Zachary Taylor during the Mexican War, returning to Kentucky to prosper as a hemp factory and wool mill owner, using slave labor in his trade. He formed the Lexington Rifles Infantry in 1857 with his personal funds, and despite the fact that Kentucky never seceded from the Union, Morgan led the Rifles for the Confederacy. He was made colonel in 1862, fought at Shiloh, and became part of General Braxton Bragg's Army of Tennessee. He and his men began a series of raids in July of that year, destroying both civilian and Union property as well as railroads and telegraph lines, taking prisoners along the way and frequently targeting civilians in his attacks. Morgan avoided open combat whenever possible, and was derisively nicknamed the "King of the Horse Thieves" by the Union Army.
The raiders successfully disrupted the Louisville and Nashville Railroad toward the end of 1862, but when Morgan disobeyed explicit orders from General Bragg by crossing the Ohio River into southern Indiana and Ohio in July of 1863, he was captured within weeks by men under the command of Union General Edward H. Hobson. According to Ohio History Central, "The Great Raid had as many negative effects as positive ones for the Confederacy," since Morgan's Raiders suffered heavy casualties, particularly veteran cavalrymen, without significantly disrupting Union logistics; in addition, the raiders inspired in the civilian population not only fear, but also determination to fight Confederate troops. Of the 2,400 men who rode with him on the Great Raid, only 400 avoided death or capture. Morgan himself was sent to the Ohio State Penitentiary in Columbus. He escaped in November of 1863 and returned to the South. In spite of his insubordination, he was allowed to return to service. However, he was suspended from command in the summer of 1864 for the robbery and looting of civilian populations by Morgan and his Raiders; a court inquiry was set for September 10 to address the charges. Morgan stayed at the Dickson-Williams House in Greenville, Tennessee, where he planned to attack the largely pro-Union city of Knoxville, Tennessee. Just six days before his court date, Union troops arrived and Morgan, trying to escape, was shot by private who had served under him in the Mexican War. Morgan was buried in Virginia, but was disinterred by his brother Calvin in 1868 to be buried in Lexington Cemetery.
Lexington's memorial statue to John H. Morgan stands on the old courthouse lawn, which was once the slave auction block for the city. The Morgan monument was dedicated in 1911 and paid for by the state of Kentucky, the Daughters of the Confederacy, and private donors.

Sources
1. Civil War Trust. "Biography: John Hunt Morgan." Accessed August 23, 2017. https://www.civilwar.org/learn/biographies/john-hunt-morgan.
2. Eblen, Tom. "Time for Lexington to move Confederate statues off old courthouse lawn." Lexington Herald-Leader. August 15, 2017. Accessed August 23, 2017. http://www.kentucky.com/news/local/news-columnns-blogs/tom-eblen/article167372847.html.
3. Encyclopedia Britannica. "John Hunt Morgan: Confederate General." Accessed August 23, 2017. https://www.britannica.com/biography/John-Hunt-Morgan.
4. KET. "John Hunt Morgan." Kentucky Life. Season 19, Program 1920. 2016. Accessed August 23, 2017. https://www.ket.org/kentuckylife/1900s/kylife1920.html.
5. Lexington History Museum. "Morgan, John Hunt." WikiLex. Accessed August 23, 2017. http://lexhistory.org/wikilex/morgan-john-hunt.
6. Light, Christopher. "John Hunt Morgan (1825-1864)." Historical Marker Database. December 1, 2008. Accessed August 23, 2017. https://www.hmdb.org/marker.asp?marker=14014.
7. Ohio History Central "John H. Morgan." Ohio History Connection. Accessed August 23, 2017. http://www.ohiohistorycentral.org/w/John_H._Morgan.
8. Ramage, James A. "Morgan, John Hunt." The Kentucky Encyclopedia, John E. Kleber, ed. University Press of Kentucky. 1992.
9. Southern Poverty Law Center. Whose Heritage? Public Symbols of the Confederacy." 2017. Accessed August 20, 2017. https://www.splcenter.org/sites/default/files/whoseheritage_splc.pdf.
10. Star-Gazette. "Statue to Morgan." Sallisaw, Oklahoma. November 10, 1911. Accessed at Newspaperarchive.com on August 23, 2017.
11. WKYT Staff. "Statues come with hate, support and history." CBS News. August 17, 2017. Accessed August 23, 2017. http://www.wkyt.com/content/news/Statues-come-with-hate-support-and-history-440949373.html.
Additional Information